Artist | Oil Paint
Sherrie Wolf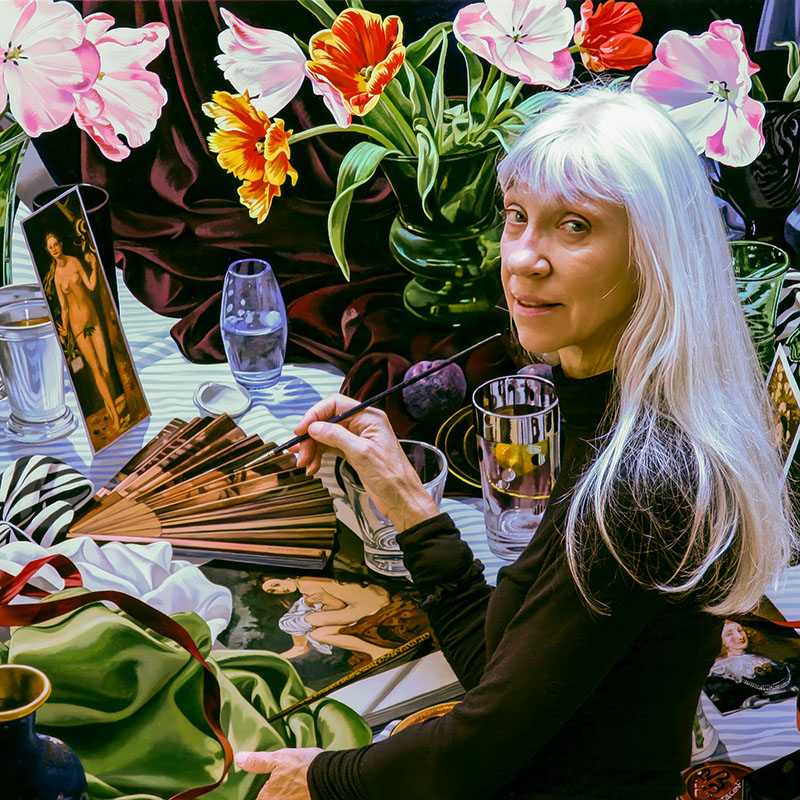 Painter Sherrie Wolf challenges tradition via rich large-scale oil paintings that mix self-portraiture with still life and historical reference.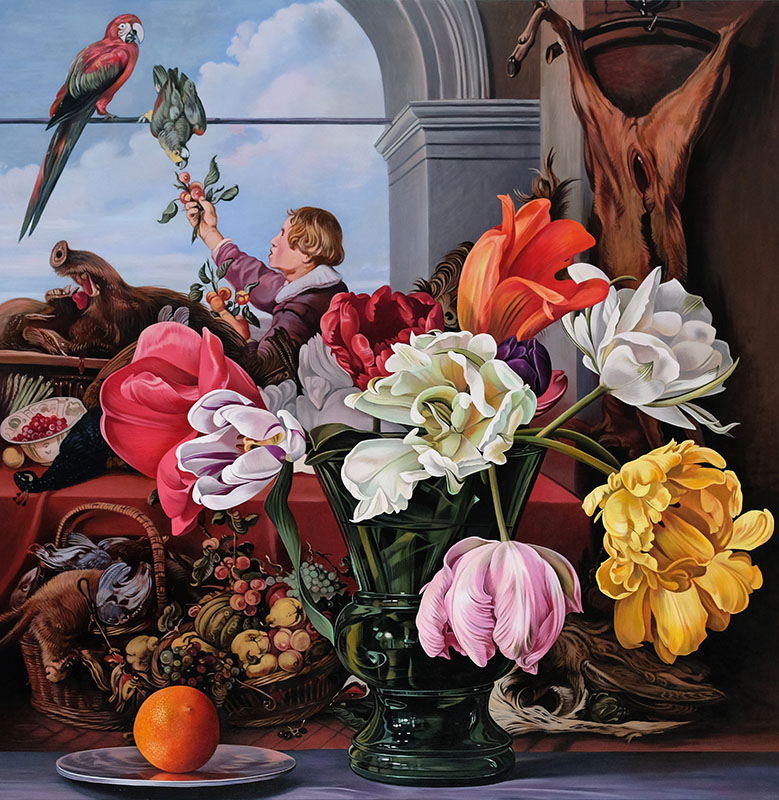 Marriage, 2023 oil on canvas 50" x 50"
While at art school in Portland, Sherrie Wolf rode by bus with friends over 600 miles to San Francisco for a retrospective of Georgia O'Keefe's work. "I saw all these huge paintings of flowers, and they were so beautiful," remembers Wolf, who later took degrees in painting and printmaking. "I thought, 'Well, there's a woman artist who's made a very successful career.' She was a great role model for me." This was in the early 1970s, when Wolf's college curriculum had textbooks that surveyed art history without including any female artists.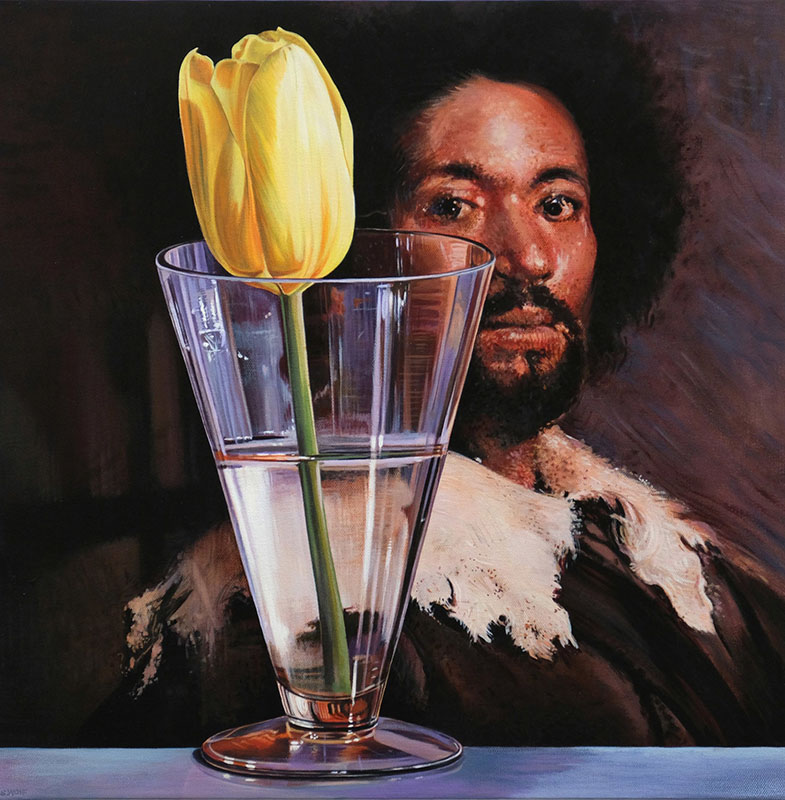 Juan, 2023 oil on canvas 20"x20"
Abstract expressionism was popular at school, but Wolf's work focused on what she loved: still lifes. "I've always liked objects and gone to flea markets, that sort of thing," says Wolf, who in addition to collecting, borrows items from friends, welcomes gifts of seasonal pears and tulips, and takes pictures while traveling of anything she can't bring back to her Manzanita studio. "I just gather a lot of material that I'm interested in," says Wolf. "Then I see what kind of energy and combinations I can make to create something dynamic in composition."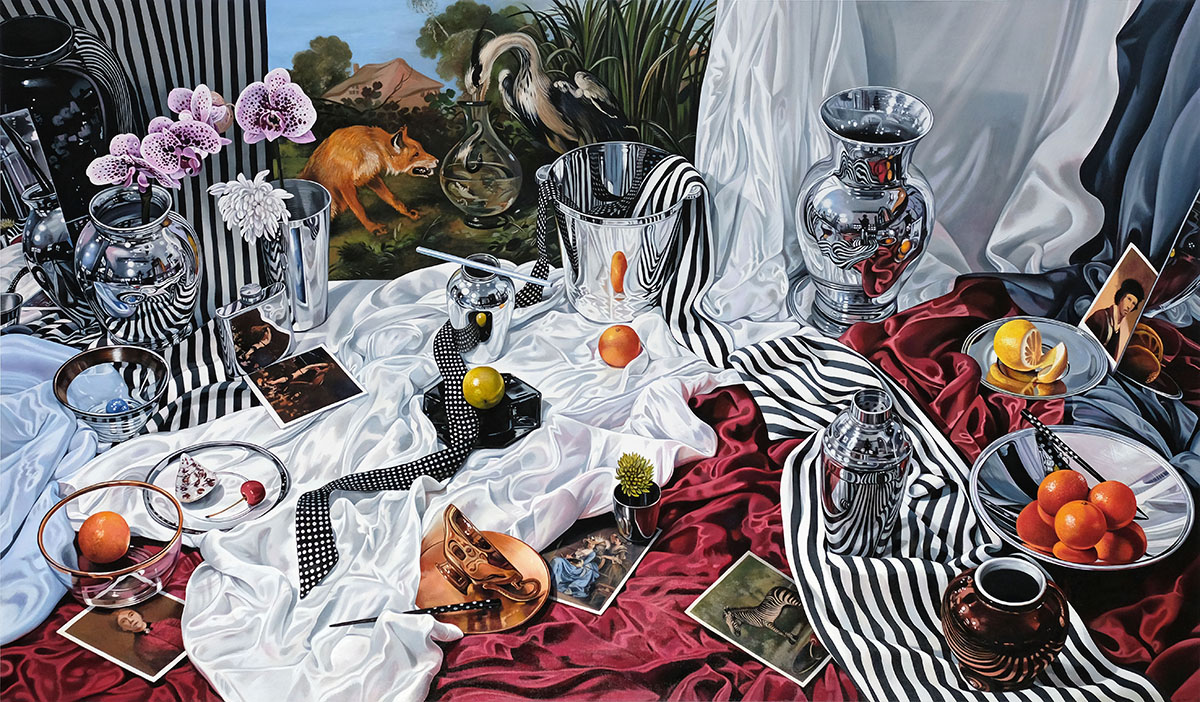 Still Life from Snyders to Oudry, 2023 oil on canvas 42" x 32"
Since 2012, Wolf has merged her still life subjects with historic reference to explore a theme of "seeing herself in history," mixing in self-portraiture and questioning tradition. "There could be concern that beautiful, large-scale images of teacups, tulips and other 'feminine identified objects' might cast me as a dilettante who paints pretty pictures," says Wolf. "I am undaunted by this, with O'Keeffe at my back." For more information visit: russoleegallery.com
---
Artist | Paper Sculptor
Kandis Susol
Kandis Susol makes elegant encaustic paper sculptures from her Orcas Island studio.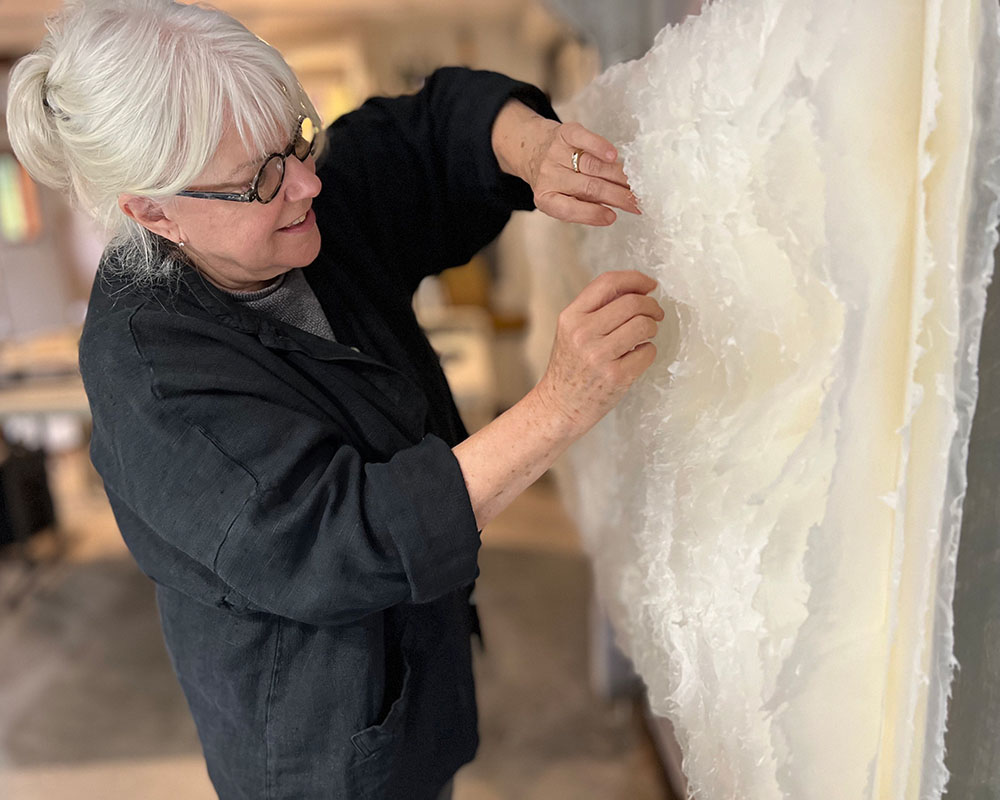 Every encaustic paper sculpture that Kandis Susol creates starts with hundreds of sheets of paper that she makes herself. These are no ordinary, "perfect" pages that you find at the store, with thin, uniform, machine cut edges. Susol's process is less conventional. In fact, "The first pieces of paper that I made were extremely gnarly," says Susol.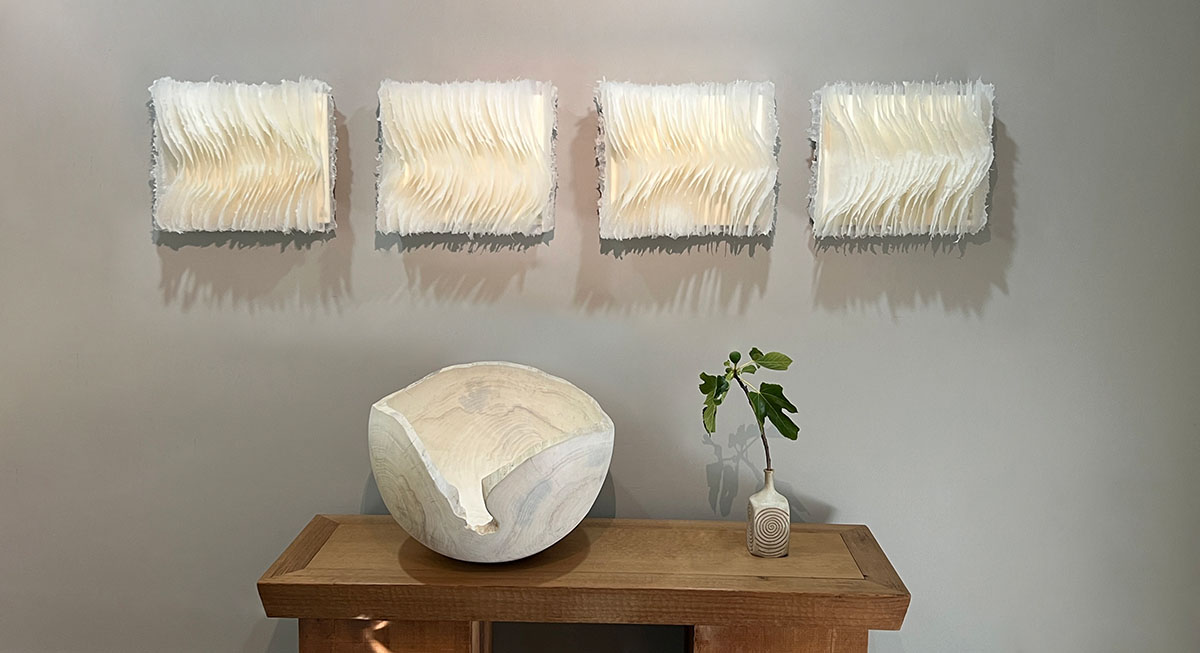 "The Road Less Traveled" 2023, encaustic sculpture 14" x 74" x 5"
In 2005, Susol was living on Orcas Island, using a retrofitted barn as a studio, and transitioning to becoming a full-time artist after owning a hair salon for years. Daily creative sessions involved refining her unique paper-making technique. "It was thousands and thousands of sheets of paper, and lots of time," says Susol. In 2010, she had a breakthrough. "I put rolls of individual squares across the page, and they all stood up and curled across," says Susol. "Everything fell into place at that moment. It was as if the material was telling me what it wanted."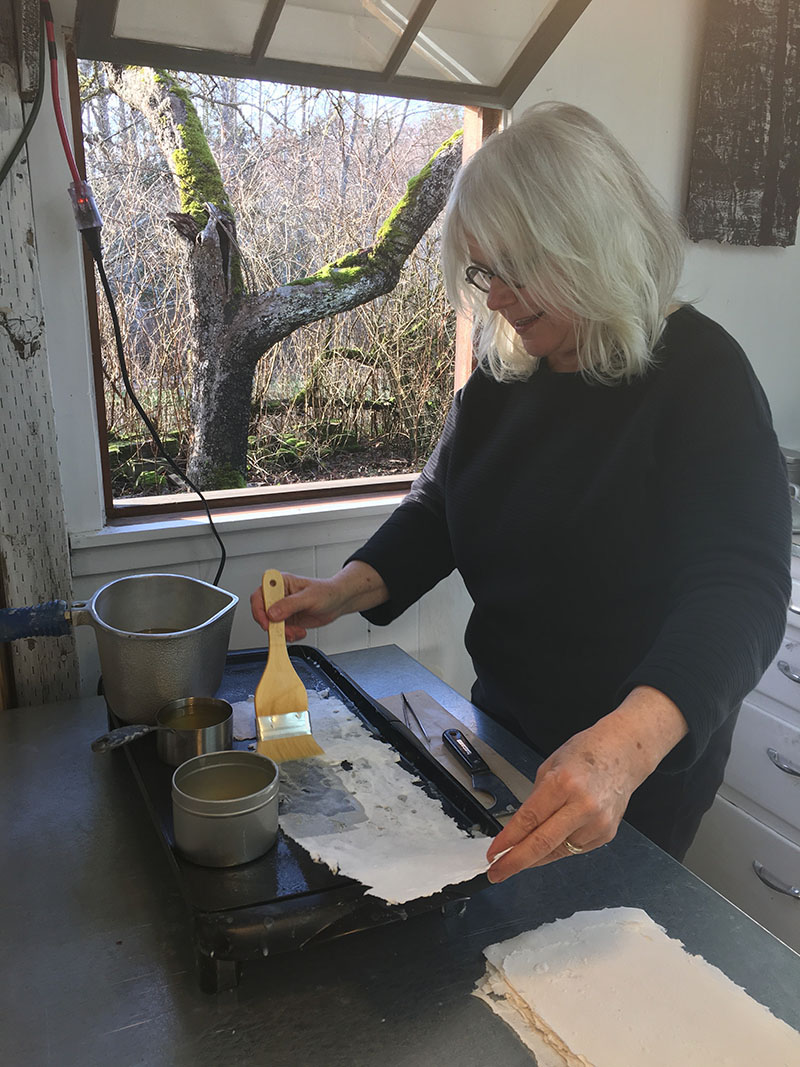 Now, each of Susol's sculptures starts with raw kozo pulp from Japan that is soaked, then sifted with a custom deckle. "When I put [the deckle] in the water to take the pulp out, I slightly lift it up, so the pulp flows over the edge of the frame," says Susol. "That's what gives that feathery quality to the paper." The pieces are molded, pressed, and dried on wood panels. "It's a much longer and more fluid process than trying to make a perfect sheet of paper," says Susol. "I want the flaws in there. I want that movement." Once dried, the paper is painted with beeswax, resin, and iridescent pigment, then painstakingly designed, and laid out into their finished, rippling compositions capturing light and shadow.
As a Buddhist, Susol's day starts with a bowl of matcha tea, a meditation session, and a walk through the apple and plum trees on her property, before entering her studio, called Jakuan, or 'arbor of tranquility' in Japanese. "I have this incredible opportunity, this space, to be able to create something that emanates a peaceful energy," says Susol. "When I see people that understand and feel it, and they're experiencing a moment of stillness, I feel like I'm contributing to peace on the planet and in people's hearts." For more information visit: kandissusol.com
---
Master Blacksmith
Paul Thorne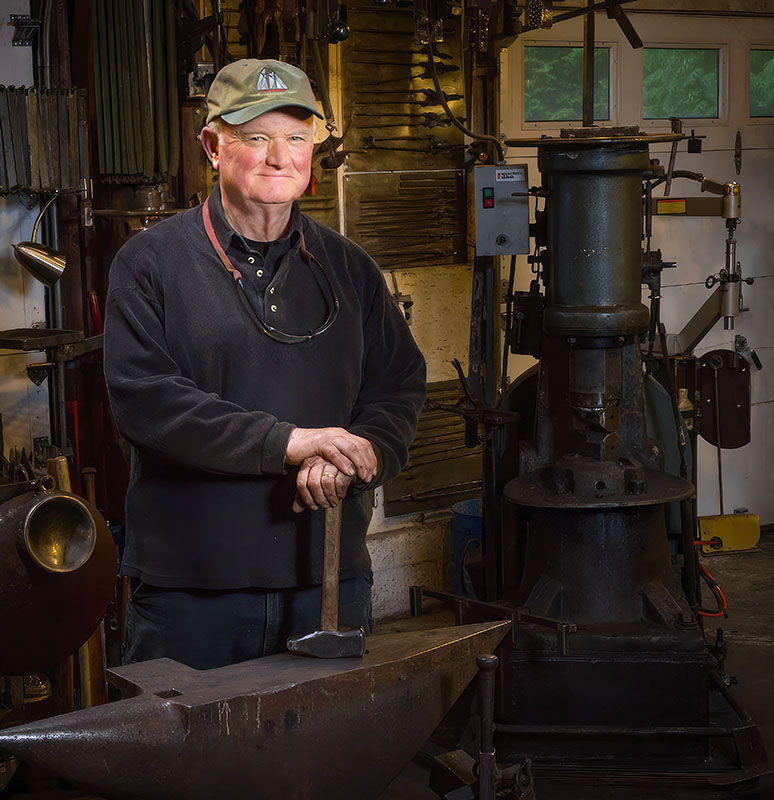 Anacortes blacksmith Paul Thorne has found his life's calling creating useful and beautiful metal sculpture.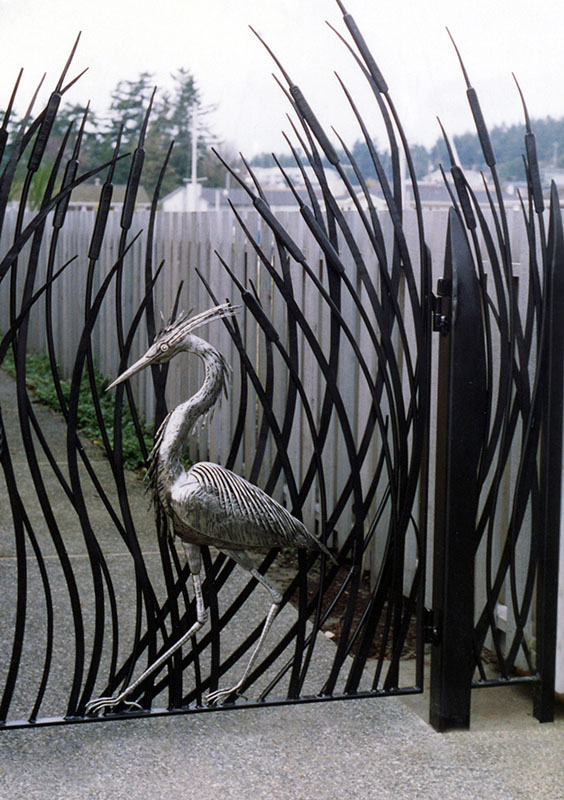 Heron Among the Rushes, Gate, 60 inches x 96 inches, Hand-forged steel
Before Paul Thorne could talk, he was tinkering in his father's basement workshop. "That was one of the happiest times in my life, spending that time with my dad, making little scooter cars, toys, or Christmas presents," says Thorne. Fast forward to 1983, and Thorne was working as a diving engineer, responding to high-pressure, worldwide undersea operations.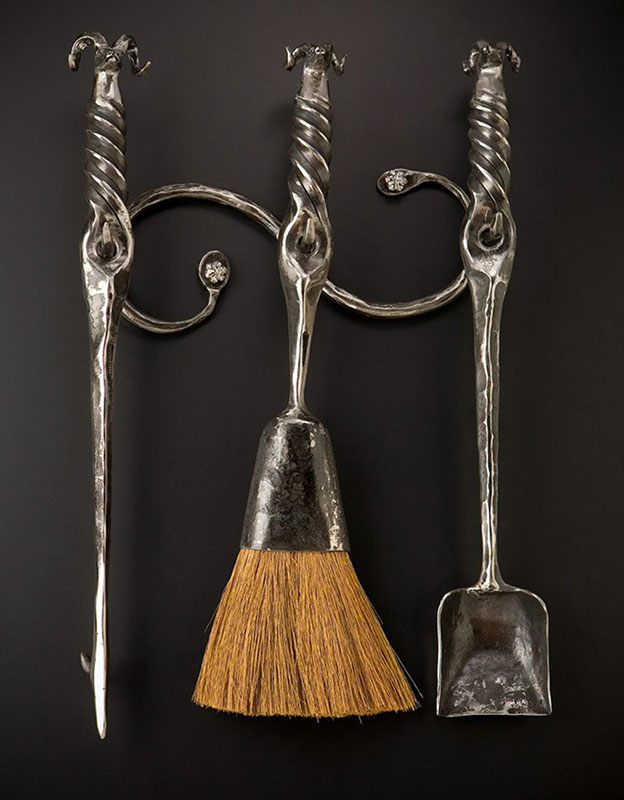 Celtic Fireplace Tools, 18 x 20 inches, Hand-forged steel
One night, Thorne came home stressed and went to his garage. He fitted a three-inch nail in some vice grips, picked up a small butane torch, and started heating and pounding the metal. "I had no intention of making anything. I was just blowing off steam," says Thorne. But by early morning, that nail had become a tiny fork. "I was so stunned," says Thorne. "I just looked at it and went, 'Where did that come from?' It was a revelation to me. I had never even thought about blacksmithing until then." After a few more evenings like this—the next night he made a matching spoon—Thorne was hooked, leaving his engineering career nine months later to become a blacksmith.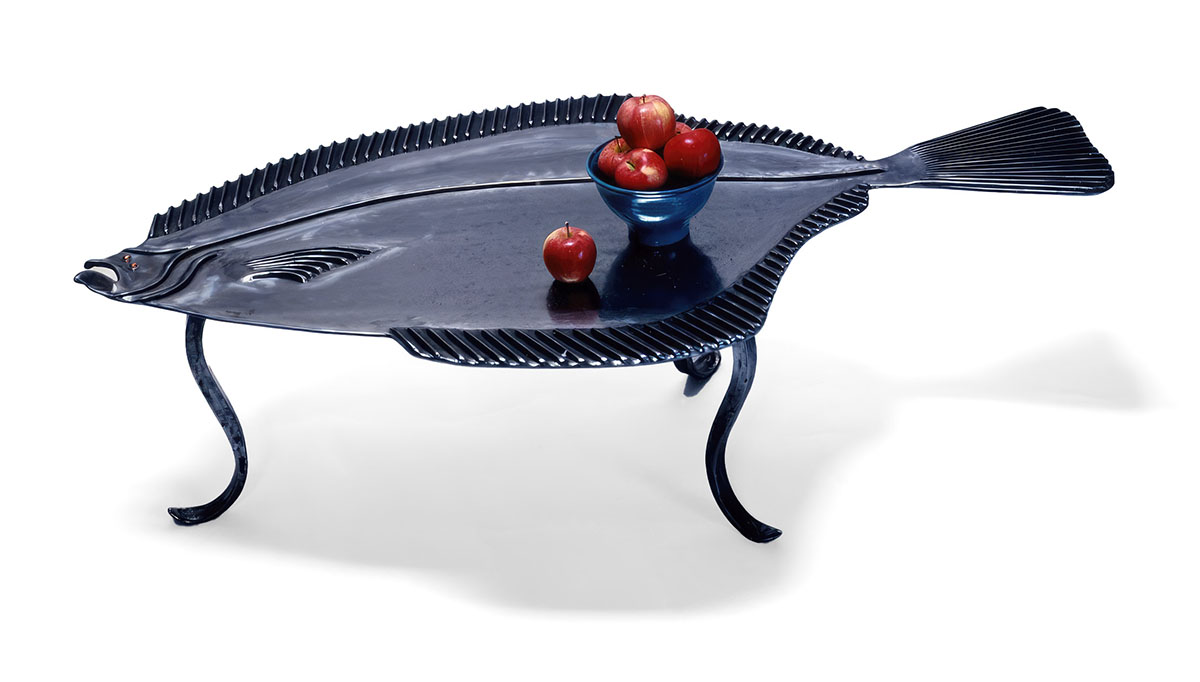 Alaska Halibut Table, 59 inches x 30 inches x 18 inches, Hand-forged steel
In the decades since, Thorne has crafted items big and small, from large-scale sculptures and architectural installations, to finely-detailed plates, in his Anacortes studio, Thorne Metals. Now a Master Blacksmith, he also teaches blacksmithing classes to pass down the art and knowledge of the craft. "My calling is to make useful and beautiful things out of metal," says Thorne. "I love to teach, too. I have to pass this on to as many people as I can. Not just the smithing, but the conviction that you have a calling, and you just need to make it your business to pursue it." For more information visit: thornemetals.com ■