Molly and Scott Finkelstein purchased this 1990 Portland Heights home designed by Portland architect Pietro Belluschi in June, 2016, after the spectacular views had captured their hearts. The all beige walls, ceiling, carpeted living area, flooring, and staircase had not. Consequently, the couple planned to update the entire home, despite a 2009 3-storey traditional restoration of their previous 80-year-old Irvington home that had not gone as smoothly as they hoped. They hired an architect to draw up the plans, but when the cost became prohibitive, they decided to table the work.
Enter Portland interior designer Midori Karasawa of Style Guide Interior Design, with whom they began discussing the possibility of giving purpose to the little-used living room and its amazing view.
"They were spending all their time in the adjacent Den/TV room," says Karasawa, "and the living room was being under-utilized."
After the couple began collaborating with Karasawa via text messages, phone calls and eventually Pinterest, she created a Pinterest page to which they could all upload images. Discussions ensued, which helped to align their overall vision. Karasawa then created a concept that specified the scope of the project, including the color scheme, flooring, new fireplace surface, lighting and furnishings.
She recommended an engineered flooring from Castle Bespoke Flooring, a division of Greenpointe Wood Floor Supply, that offered 10' long planks, the longest length of any company she had researched. "Given the length of the hallway and grand living area, I didn't want the floor to look chopped up," she explains.
"We were only going to work on the living room," says Finkelstein, "but once we saw the major impact the change in flooring had throughout most of the main floor and were blown away, we expanded the remodel scope."
To maintain the gray, black and white color scheme, Karasawa recommended staining the oak Jet Black on site followed by an application of rubio oil for a silvery gray finish by Dion Varadin of Portland Floor. Once the gorgeous white oak was installed, however, the couple wavered.
"Midori told us to 'Stay strong! It's going to look amazing,'" said Molly. "She was right! The dark wood gives the house such a unique feel. We haven't seen anything like it anywhere else."
"The original goal for the color scheme," says Karasawa, "was to frame the city view in the living room with a really dark, dramatic color." They chose Sherwin Williams Black Magic for the walls, ceiling, molding, baseboard and new fireplace shelving.
The color was meant to transition from a light gray entry, but Scott preferred it to be white as a break from the black and gray. Thus, the grand entry is white, the hallway Benjamin Moore Hearthstone with Benjamin Moore Cobblestone Path ceiling, and the living room the very dramatic Black Magic.
Rather than tear out the original beige marble fireplace, Karasawa recommended building a plywood frame around it to create a more modern rectangular form. She then had Shou-Sugi-Ban wood panels installed. This Japanese technique of charring wood requires the paneling to be burned with a torch for 7-minutes to create a protective charcoal layer that resists decay and fire, thus producing a very green, more maintenance-free material that can last up to 80 years.
"You often see it in Japan as exterior siding done in this technique and it's gorgeous," says Karasawa, who was born in Tokyo and at 18 studied at the University of Portland. Upon graduation, she returned home, where she worked for Nike Japan, before returning to Oregon in 1997 to work at the Nike campus, after a stint at the Gap in San Francisco.
"Midori did such a great job," says Molly, "of not only creating something we love, but going above and beyond with things like the Shou-Sugi-Ban that we never would have thought of ourselves for the fireplace."
"That's a call out for Midori," adds Scott. "She told us we'd never regret putting in higher end materials like the Shou-Sugi-Ban fireplace and engineered flooring and she was totally correct."
She also sourced the glitzy Agnes chandelier and sconces by Claire Boutelle from the Lindsey Adelman Studio – where there was nothing but 6" ceiling cans originally.
Topography style Area Environments wallpaper created by a group of artists who turn their mural work into wallpaper, was also part of Karasawa's original concept. "I could see the marbly-style wallpapers were trending, and I liked this one for its organic graphic movement," she says.
Molly and Scott wisely chose the positive topographic version for the living room and the predominantly dark negative one for the black, red and white powder room makeover once their renovation plans began to grow past the living room.
An exquisite pair of Nathan Anthony Luxtan Black and Luxtan White Dali chairs were the happy replacement for the Eero Aarnio bubble chairs that were supposed to hang from the living room ceiling originally. Structural issues with the children's rooms' floors overhead prevented them from carrying out the initial plan.
"The bubble chairs look even better in the foyer," remarks Scott. "They're like an art installation with functionality - something our guests always comment on when they first come into the house."
"In fact," adds Molly, "our girls love using the hanging chairs as their reading perch."
Karasawa found another round element for the living area while scrolling through Instagram. DSHOP Modern Home Décor, located in Baltimore, Maryland, was featuring a marble top table that day, with elegantly designed brass legs, which shipped directly from Spain. The black veined marble acts as a reversed reflection of the white and black topographic wallpaper and is echoed in the black and silver iridescent globe accessory.
When the couple purchased the home, the original color scheme was mostly beige with lots of warm browns. Karasawa's cooler palette had them all wondering whether they should replace the existing molding throughout the house or simply paint it.
"It was so beautiful," says Molly, "and to demolish it would have been expensive from a cost standpoint. Interestingly, painting it completely changed the look by modernizing it. So, in the end, it was a win-win decision keep the molding and paint."
Art plays an integral part in Karasawa's design. The Case of Bass boom box in the girls' reading area adds a touch of Mid Century Modern to the space. Brothers Ezra and Alex Cimino-Hurt delight in recycling other people's castoffs as showcases for their rebuilt electronics. Peter Gronquist, a local painter with clients in London, New York and Los Angeles, who also sculpts, works with a fabricator to create his popular infinity mirrors. Sculptor Eric Boyer fashions his art from wire mesh, using a steel ball, a process he likens to finger painting. "You have some paint, and your fingers and you smear it around, and it just happens." Boyce's human bodies sculptures accentuate the hallway, while a very voluptuous red mesh flower highlights the entrance to the master bedroom.
The original powder room had a tiny pedestal sink situated in the center of a floor-to-ceiling mirror, surrounded by gold wallpaper and a black ceiling. "It had its own 'glam,'" says Karasawa, "but it wasn't my clients' style at all."
"Midori presented us with several unique ideas," says Molly, "but she had me with the red ceiling and door. Scott was excited to have a full-length floating quartz vanity with a built-in sink."
"It all goes back to the hospitality concept," adds Karasawa, referring to her entry design. "In a powder room, you can take a risk with colors and graphics, but I also used lighting to create ambiance."
To stay away from gold, she used the pièce de résistance - a bright red sleek VOLA faucet, created by Danish architect Arne Jacobsen in the 1960s. Tom Dixon pendant lights flank the back-lit mirror backed by black matte ceramic penny rounds from Ann Sacks Tile.
The sensually curved bay window in the former formal dining room also needed a drapery update. Its creamy drapery with sheers were replaced with a Pindler velvet fabric with metallic foil print. The draperies, fashioned by Tatyana Putra of Comfortlines, tie well to the artwork discovered during a shopping trip to Grand Marketplace with Molly.
"The pieces are made of plexiglass, and have a Mid-Century Modern feel, especially after we had them painted matte black," says Karasawa. "Molly and I loved the cutout shapes, which work perfectly here."
Clearly, the transformation has amazed everyone, guests and homeowners alike. "We knew we liked Midori's design aesthetic," says Scott, "but not only is she an amazing designer, she is also an excellent project manager, getting things done in a timely manner, and on budget."
"Yes," says Molly, "I love it! I'll wander into the ethereal powder room and exclaim, 'Mirror, mirror on the wall!' Or sit in the living room whenever possible because everything - décor, furnishings and functionality are all so perfect."
Shoptalk - MIDORI KARASAWA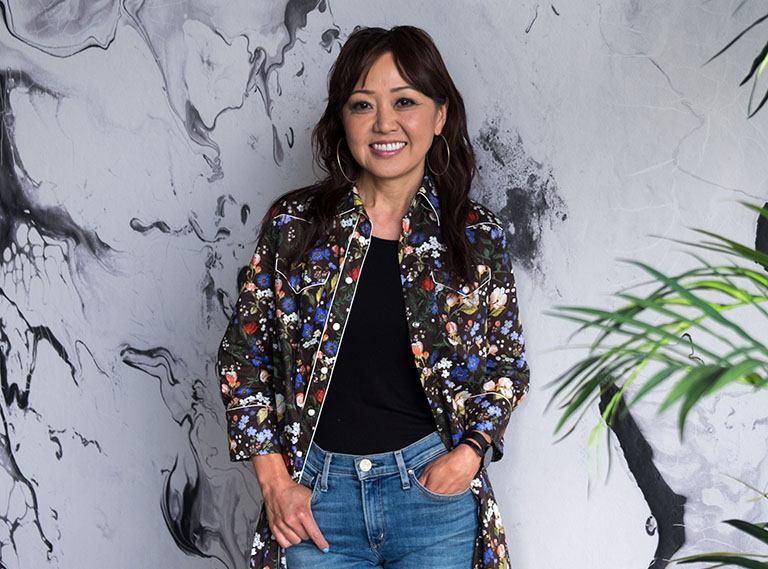 What determined your passion for design? Tell us about the moment when you decided this is the way to go? I was fortunate to have grown up in Tokyo, which offered world-class art and culture. I had annual visits to opera, symphony, theater, and art museums, which shaped my love for art and design. Although I pursued a business career post-college, I worked closely with creative teams to bring a compelling product to market. Influenced perhaps by my mother who brought beauty to our home life, I've always had the desire to design beautiful environments. One thing I know for certain is when I align my passion with what I do for a living, it's a proven recipe for success, and that's why I followed my passion to pursue this career.
Where do you find inspiration?
Hospitality industry: Hotel and restaurant designs evolve around all five senses and creating experiences, I'd like to do the same for residences. Fashion: Having a background in fashion, textile and merchandising at Nike, I seek inspiration by staying current with fashion trends. Travel: I tap into history and cultural insight through form, color, and texture. Every culture represents something unique and that alone can trigger dynamic trends and ideas in another country.
If you had no limits (money, resources), what would you create? I'd love to work with someone like Kengo Kuma, a globally acclaimed Japanese architect, to design/build a boutique hotel in the Pacific Northwest that showcases the beauty of modern and traditional Japanese architecture and design. The hotel would offer world-class Japanese cuisines, spa, garden, along with an art museum, where curated artists from Japan could display their work.
What is your favorite book/magazine on design?
How about your favorite site? Books: Rhapsody by Kelly Wearstler, Designing Design by Kenya Hara; Magazine: Hospitality Design; Online: Dezeen.com, Archdaily.com
What trends do you see emerging in Portland's architecture and design? One emerging need, if not trend, is our homelessness epidemic in Portland. I think we creatives need to ask ourselves how we can solve those problems from a design perspective that creates a city that's safe for everyone.
What are 3 things you can't live without? Smile (I can't imagine a world without a smile), Love, Music.
What part of the world do you most want to visit? Having traveled the world extensively in my 20s and 30s on business, I'd like to explore the Scandinavian countries to study their progressive ways with health care, education and keeping people well and happy. I resonate with Scandinavian design, which resembles Japanese design, in their simplicity, pure thought and stunning beauty.
PROJECT SOURCES
CONTRACTOR
Look Construction LLC
www.lookconstructionllc.com
INTERIOR DESIGN
Style Guide Interior Design
www.styleguideid.com
PLUMBING FIXTURES
Kohler
www.kohler.com
WOOD FLOORING
Castle Bespoke Flooring
www.castlebespokeflooring.com
Plumbing Fixtures: Kohler, Vola; Rugs: Louis de Poortere; Dali Chairs: Nest Portland; Flooring Installation: Portland Floor