Seven rising star winemakers in the Northwest are making their mark in a highly competitive and growing industry. From more than 1,700 wineries, four are from Washington, three are from Oregon. All are passionate about their journeys, career choices and humble beginnings, ranging from harvest interns, growing up in a family of chefs, wine educators, personal fitness, research, singers, pilots, and bartenders.
We look at who inspired them, where they started, where they're headed, and glimpse at their recent gold medals, double golds and other rankings causing all the attention.
Best to discover young talent before the prices skyrocket, or worse yet, that you simply cannot find their wines at any price.
Here is an introduction to seven talented winemakers worthy of more attention and support. In Oregon, meet Sarah Cabot at Battle Creek Cellars and Primarius Winery in Dundee, Ariel Eberle at Yamhill Valley Vineyards in McMinnville and Rob Folin at Belle Fiore Winery in Ashland. In Washington, Casey Cobble is at Goose Ridge Vineyards and Estate Winery in Richland, JJ Menozzi and his wife Kelly own Aluvé Winery in Walla Walla; and Ryan Rader is at Tertulia Cellars, another estate project in the Walla Walla Valley.
Taste their juice, join their wine club and meet them at those special events limited to club members. The hope is that in all six cases you will begin to see why they made this list.
OREGON
Sarah Cabot
Battle Creek Cellars/Primarius Winery, Dundee
www.battlecreekwinery.com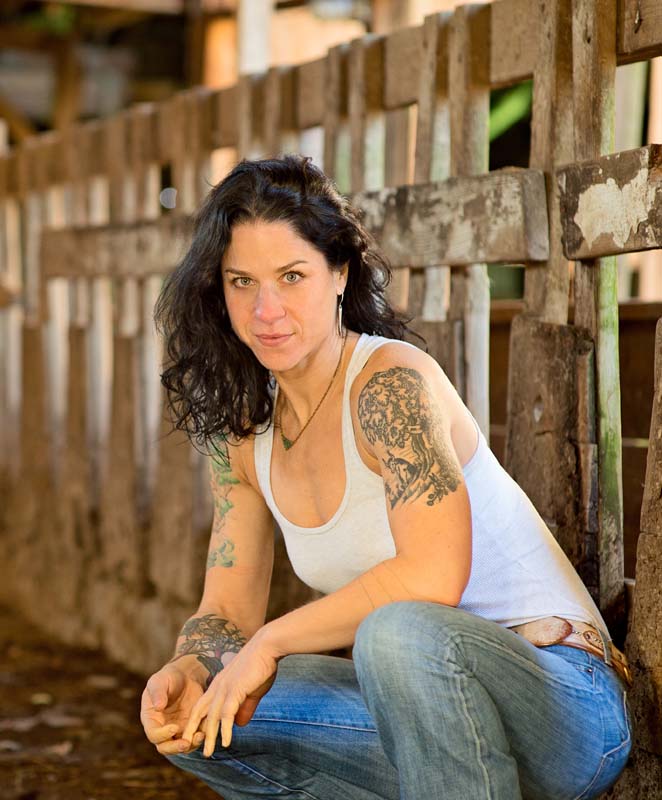 Precept Wine, the largest privately owned wine company in Washington state, took Seattle native Sarah Cabot from a cult producer to corporate winemaker in 2014.
When adding up the production of Battle Creek Cellars, Primarius, the Kirkland Signature Series Willamette Valley Pinot Noir on behalf of Costco and Precept's growing list of clients and labels, no other female winemaker in Oregon produces more wine that Cabot.
"I definitely know my region, and I know my varietal," she said.
Acclaim came quickly. The Primarius 2014 Pinot Noir ($15), her debut vintage, produced a double gold medal at the San Francisco Chronicle Wine Competition. She produced 32,000 cases of that. This spring, her Battle Creek Cellars 2015 Roe Vineyard Pinot Noir ($59) took a gold at the Cascadia International.
"As a winemaker I believe that I'm going to get the first 100 points out of Oregon," she says.
Pinot Noir's finicky reputation fascinated her as a young bartender, and she learned winemaking through South Seattle College's Northwest Wine Academy.
"I used to work in restaurants like Wild Ginger in Seattle and sold a lot of Oregon Pinot and loved it," she said.
She left money on the table at Wild Ginger when she took the plunge as an assistant winemaker at Belle Ponte. Next was WillaKenzie before taking over the lead at Omero. Along the way, she's become a canvas for artist renderings of grape vines and pruning shears. She ranks as one of the most tattooed winemakers in the Pacific Northwest, and the first one disappointed her father, now a professor at Oregon State University. Despite that, they enjoy a close bond, even after she turned her back on the jazz composition degree she received from Boston's vaunted Berklee College of Music.
"My dad still asks, 'Do you still sing?' " she said. "I do. But in order to make it, especially with jazz, you have to have a strong facility for shameless self-promotion. And I do not have that — at all.
Ariel Eberle
Yamhill Valley Vineyards, McMinnville
www.yamhill.com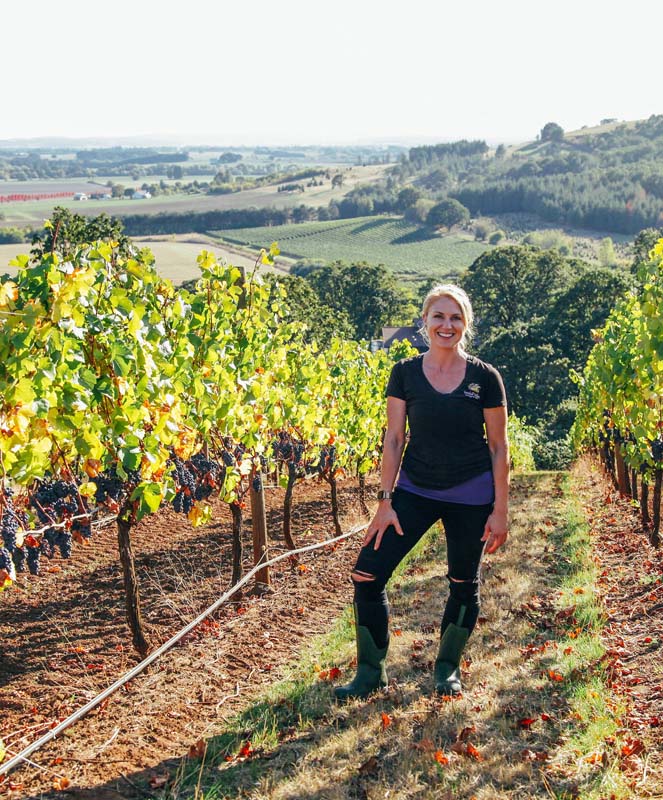 Two years ago, the heir apparent took over at historic Yamhill Valley Vineyards. It was a transition well-timed as Ariel Eberle took over for Stephen Cary, who spent 25 years as head winemaker for Yamhill Valley Vineyards.
Together, they've done a stellar job with cool-climate varieties, particularly in the past few years when Eberle spearheaded the white wine program.
"I will be celebrating 10 years with Yamhill Valley Vineyards in October," Eberle said. "My winemaking career began as a harvest intern in 2008. From the beginning I intuitively knew that this place is something special."
She's making the winery's 35th anniversary extra special. This year, the Yamhill Valley Vineyards 2017 Estate Rosé of Pinot Noir earned the title of best rosé at the 2018 Cascadia International Wine Competition. The voting panel is dominated by winemakers, who by nature are their own worst critics, and it's the largest judging of Pacific Northwest wines staged in the U.S.
This summer, Yamhill Valley Vineyards was among the featured wineries at the International Pinot Noir Conference, a proud moment for the graduate of Wilsonville High, Oregon State University and Chemeketa Community College's Wine Studies program.
"My first job out of college was doing research and development with an experienced team at a pharmaceutical research laboratory in Corvallis," she said. "While I possessed curiosity to seek out answers to questions unknown, I lacked passion for the repetition needed for this type of research."
So she took a year off to teach English in South Korea.
"My time in Seoul helped me realize my obsession with home. It is true we often don't realize what we have until we lose it," she said.
Alas, her winemaking mentor passed away this spring in Portland at the age of 71. Yamhill Valley Vineyards staged its celebration of Cary's life on Aug. 12, and he died knowing that the winery he was a part of for 33 years is in beautiful hands.
Rob Folin
Belle Fiore Winery, Ashland and Ryan Rose Wine, Gold Hill
www.bellefiorewine.com and www.ryanrosewine.com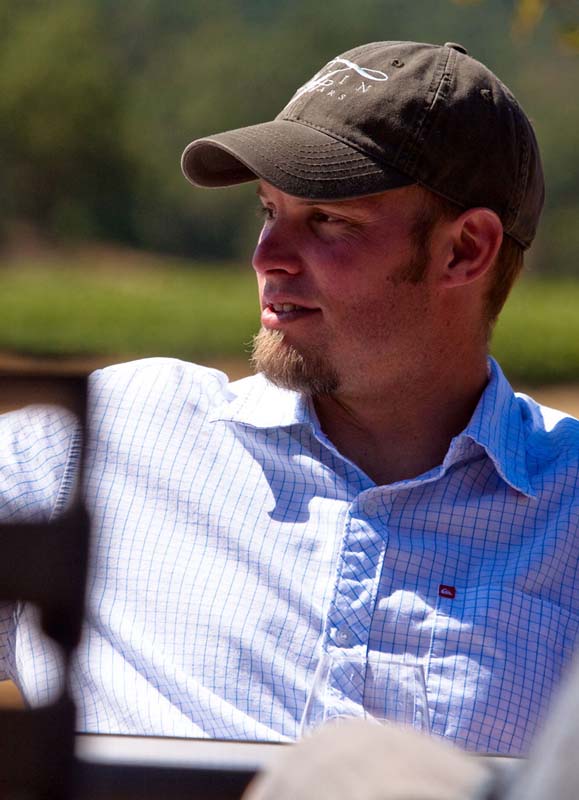 Somehow, Rob Folin remains one of the top winemakers in the Pacific Northwest who few know of. That seems likely to change with his new position at Belle Fiore, a showpiece winery in Southern Oregon that wouldn't look out of place along Napa's Silverado Trail.
His résumé begins with integrity, an internship at iconic Domaine Serene that led to seven vintages working in the Dundee Hills alongside acclaimed Tony Rynders and producing Pinot Noir and Chardonnay for the Evenstads.
"It was really interesting to learn how to make wine when you have the biggest wallet you can imagine," Folin said.
He took those talents, returned home to Southern Oregon and adjusted his winemaking to fit the terroir for the grapes he and his family grew on their estate near Medford. Folin Cellars became an early champion for Rhône varieties in the Rogue Valley, and he showed a deft touch with Grenache, Syrah, Mourvèdre and Viognier. Folin earned a double gold medal at the San Francisco Chronicle Wine Competition for his work with the robust Spanish grape Tempranillo.
"I think we've finally figured out in Southern Oregon to stop trying to make California wines," he said.
His pedigree with Pinot Noir and Chardonnay shows in his new ultra-boutique brand Ryan Rose, launched when his family closed Folin Cellars. Those early releases have drawn praise from Wine Enthusiast.
This spring, he took over at Belle Fiore for Gallo alum Heather Nenow, and he'll get to play with Tempranillo, Verdejo and fascinating Italian varieties Barbera, Montepulciano and Teroldego. And while he's a nose-to-the-grindstone guy, Folin doesn't take himself too seriously, listing his work experience at Folin Cellars as "janitor." (That's an inside joke among nearly every winemaker.)
But aside from fly-fishing, Folin is a family man without hobbies.
"Honestly, I like to work," he said. "I even enjoy being in the tasting room once in awhile.
WASHINGTON
Casey Cobble
Goose Ridge Vineyards, Richland
www.gooseridge.com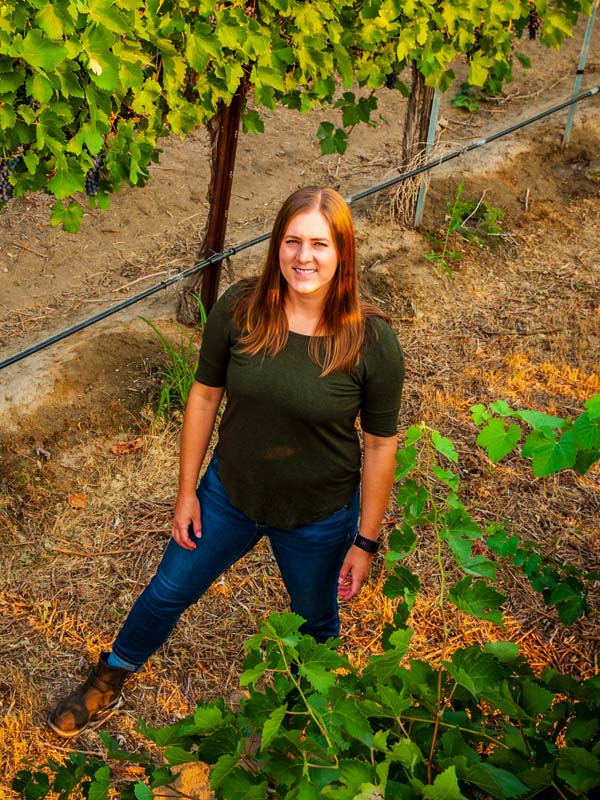 Not long after she finished her career as a University of Washington varsity swimmer, Casey Cobble sought a job that blended physical work with science and creativity.
"I stayed involved with fitness and strength conditioning and being a personal trainer, but I burned out on that," she said.
A tasting room visit with a Yakima Valley winemaker had planted a seed with Cobble, and she considered a career in the wine industry. Wisely, she picked up a few science classes at UW on her way to the psychology degree she earned in four years. So she dived headlong into wine, growing into a role as lead wine educator at Columbia Winery in Woodinville while going back to school at South Seattle College and its Northwest Wine Academy. Her classwork, energy and charisma set her up for an internship with Bob Betz, a Master of Wine and owner/winemaker at esteemed Betz Family Cellars.
"It was a huge blessing for me to get that internship," she said.
Cobble stayed there four years, leaving only when offered the lead winemaking role at Robert Ramsay Cellars, where her work with Rhône varieties set her apart in Woodinville. Last year, she earned four gold medals at the Seattle Wine Awards for Cinsault, Counoise, Grenache and the Mourvèdre-based Par La Mer blend. Her standalone Mourvèdre earned a gold at the Great Northwest Invite.
At Robert Ramsay, she processed 60 tons of fruit and 4,000 cases of wine. This summer, she accepted a job back home in the Tri-Cities at Goose Ridge Vineyards, where she will be in charge of 300 tons and focused club-member wines and those for the Monson family's four tasting rooms across the state.
"We love living in this area, and someday I would love to have my own brand, but my husband is getting his doctorate in physical therapy so we'll have student loans to pay for a few years," she chuckled.
JJ and Kelly Menozzi
Aluvé Winery - Walla Walla
www.aluvewine.com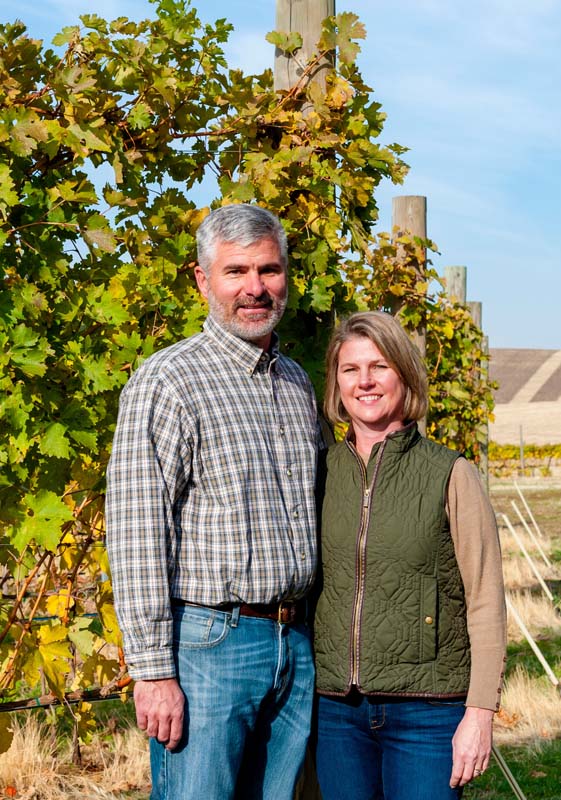 Photography © Richard Duval
The Menozzis have spent most of their adult life serving their country as pilots in the Air Force, and those tours of duty allowed them to travel the globe.
During their 23-year career, JJ flew fighters. Kelly piloted refueling aircraft. Along the way, they developed an interest in the world of wine, constantly scouting potential landing spots for a winery and vineyard of their own.
The winery would be called Aluvè, a mashup of the Italian words for "wing" and "grape." Reconnaissance in 2000 led them to the Walla Walla Valley, and they were befriended by the Dunham Cellars family. A decade later, the Menozzis purchased 10 acres along historic Mill Creek Road. Neighbors include luminaries such as Abeja, Walla Walla Vintners, aMaurice Cellars and Upland Vineyard, owned by the Figgins family of Leonetti fame.
And JJ and Kelly went back to school, graduating from Walla Walla Community College's vaunted viticulture and enology program, to learn how to grow their grapes for their wine.
Success came early. Their 2012 red Bordeaux blend called Primo Volo, Italian for "first flight," earned a gold medal and best of class at the Walla Walla Valley Wine Competition then a gold medal at the Great Northwest Invitational. The 2015 Menozzi Vineyard Chardonnay won best of class at the 2017 Savor NW Wine Awards. The 2014 Menozzi Vineyard Cab recently got 92 points from The Wine Advocate's Jeb Dunnuck.
"In the Air Force we always talked about procedures and techniques," Kelly said. "There are the procedures that you have to follow, and then there are the techniques that allow you to refine your skills, to be a better pilot, to be a better winemaker."
Ryan Raber
Tertulia Cellars, Walla Walla
www.tertuliacellars.com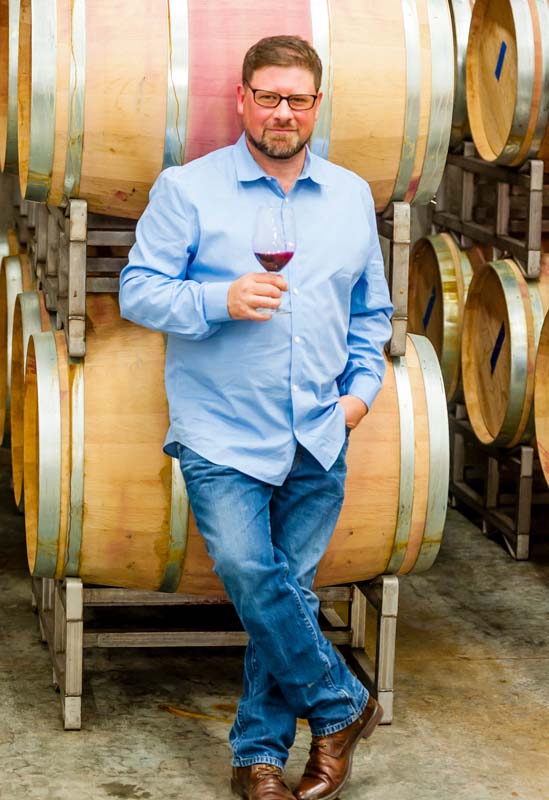 Photography © Richard Duval
Ryan Raber came from a family with passion for food. His great-grandfather, a grandfather and two of his uncles were chefs. His mother grew up cooking dinner for them when they got home from the restaurant.
That begins to explain why there's a food-friendliness finesse that seems inherent in the wines at Tertulia Cellars.
"We don't follow a recipe here," Raber said. "We might pick at 21 or 22 Brix, and we don't crush our fruit. I figure going through a 3-inch hose does that."
And if he's not in the cellar or checking on estate fruit at owner Jim O'Connell's three vineyards — Rivière Galets, Whistling Hills and the terraced Elevation — you may well find Raber playing pétanque somewhere in the Northwest. There's a terrain at the ready at Tertulia, and he totes in his car or scooter a set of competition boules - the specialized palm-sized steel balls used in France's version of bocce.
"You always carry a little measuring tape in your pocket so you can argue with people," he smirked.
If pétanque gets added to the 2024 Paris Olympics, he'll try to qualify for Team USA. In the meantime, he's amassing gold medals for Tertulia. Last year, his Phinny Hill Vineyard Carménère won best of class at the Cascadia International. The Carm and his Phinny Hill Cab grabbed golds at the San Francisco Chronicle. A rosé from estate Tempranillo earned a gold in a Wine Press Northwest magazine judging. Tertulia's Syrah and GSM-style wine — dubbed The Great Schism — produced golds at the Seattle Wine Awards.
Those seeking intensity shows in his Tierra Labrada line, produced from Elevation vines in fractured basalt that yield one ton per acre.
Fortunately, his retail team operates tasting rooms in Dundee, Oregon, Woodinville, Washington, and at the winery near the Washington/Oregon border.
The problem is - and it's a good one - inventory. Raber needs to make more than 5,000 cases.