It's so easy to get into a wine rut. And really, there's nothing wrong with a nice, comfortable rut, especially in the wide world of wine. Chardonnay lovers, for instance, could easily spend their entire lives exploring the myriad expressions of their favorite grape and never drink the same wine twice, then shuffle on to the great wine bar in the sky leaving thousands of wines still unsipped.
Yet there's something to be said for getting outside your comfort zone, if only to refocus on what about it makes you so comfortable in the first place. And today, there's no better place to do that than the Pacific Northwest. While the region may have built its global reputation on Oregon pinot noir and Washington cabernet sauvignon, the number and diversity of grape varieties being grown here is skyrocketing, and an energizing spirit of exploration is animating winemakers and wine drinkers alike.
If you're ready to bust out of your vinous rut, there are few better places to begin than Maryhill Winery in Goldendale, Washington. Founded in 1999 by husband and wife team Craig and Vicki Leuthold, this Columbia Gorge winery is famous for its worth-the-trip views, regular live music, and an expansive portfolio of award-winning varietal wines that celebrate the viticultural bounty of the Pacific Northwest.
After falling in love with wine in the 1980s, fueled by regular trips to Napa Valley and a growing interest in the Northwest's nascent wine scene, the Leutholds decided to make their passion their next career. After dabbling in the industry as investors, they decided they'd rather get their hands dirty and go out on their own. Yet their search for an ideal location was unsuccessful until they were approached by the Gunkel family, a fourth-generation orchardist with property in the Columbia Gorge already permitted for a winery. It was the ideal match, and on Memorial Day Weekend in 2001, Maryhill Winery opened its doors for the very first time.
From the beginning, the Leutholds knew they wanted to do more than just make great wine. "We wanted to create a destination winery, a place where people really want to linger and enjoy," says Craig. That meant building a vine-shaded wraparound outdoor patio to take maximum advantage of the sweeping views down the Columbia River Gorge, adding an onsite gift shop with deli items and offering prepared foods like pizza and charcuterie. While the winery closed its famous amphitheater in summer 2018, live music still makes regular appearances on the more intimate venue of the terrace.
While many wineries specialize in a single variety, the Leutholds took the opposite approach. In addition to their estate-grown fruit, which can be seen flanking the tasting room and spilling down the steep, terraced cliffs above the Columbia, the winery also sources 35 different varieties of grapes from growers in eight of the 14 AVAs in Oregon and Washington.
The range is remarkable, from familiar international varieties to obscure oddities from the Rhône, Alsace, and Spain. At any given moment, visitors can sample wines made from more than a dozen different grape varieties at the tasting room bar, with many more options available by the glass or by the bottle. "It's about providing something for everybody," says Craig. "We want to be about expanding people's horizons. Consumers all like the familiar, but getting them to step outside their comfort zone is our role as winemakers."
One of the reasons the Northwest has so much range as a wine region are the dozens of unique combinations of soil, temperature, precipitation, weather, and culture referred to as terroir. Eastern AVAs like Walla Walla, Red Mountain, and the Rocks are hotter and drier than AVAs on the western side of the Cascades, making them ideal sites for growing Bordeaux and Rhône varieties. On the wetter side of the mountains, the Willamette Valley is home to world-class pinot noir, of course, but is also a hospitable home for other cool-climate vines like riesling, pinot blanc, gewürtztraminer, and gamay.
Further south, the warmer southern Oregon valleys like the Umpquah, Applegate, and Rogue River valleys offer something of the best of both worlds, including top-tier syrah and tempranillo along with Bordeaux and burgundy varieties. Layer on a new generation of young winemakers and winegrowers free from preconceptions about what grapes can grow where, and you have a recipe for innovation and exploration like nowhere else.
For the Leutholds, that diversity is a feast. "We love working with growers from all over the Northwest," says Vicki, "and we're not afraid to make wine from quirky or unusual varieties." On a recent visit, familiar varieties like merlot and pinot noir were poured alongside roussane (a creamy, tropical wine made from a white grape grown in the Rhône) and carménère (A peppery, bright grape recently thought to be extinct until genetic tests revealed Chilean Merlot was actually this old-school Bordeaux variety).
"One of our favorite varieties right now is albariño," says Craig. "It's a white, but it drinks like a red." Bright and full-bodied, Maryhill's 2017 Albariño kicks off with zesty lemon and a touch of fresh cream, segueing into a long, citrusy finish. He's not alone in his love for this variety. Western Oregon is often compared to Burgundy because both sit on the 45th parallel, but some winemakers say the long, dry summers in most parts of western Oregon are actually more like Spain than France, hinting at promise for Spanish varieties like albariño and tempranillo.
For a New World wine region still in its infancy, it's impossible to say which grapes are destined for stardom in the years to come. Sure, Oregon albariño could be the next best thing. Or, there could be another variety that captures the world's imagination. Rogue River syrah? Willamette pinot blanc? Columbia Gorge cabernet franc? Whatever it might be, we're willing to bet that Maryhill will be one of the places you taste it first.
New Varietals
Favorites
Under-the-Radar-Wines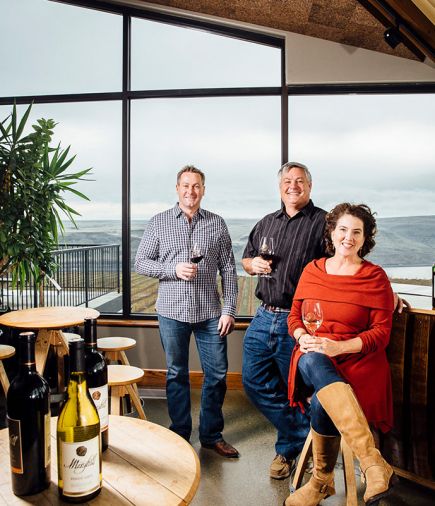 Craig and Vicki Leuthold are experts at matching wine drinkers to new varieties they'll love. Here are some of their favorite under-the-radar wines to introduce to fans of more commonly found varieties.
ALBARINO
"If you like Sauvignon Blanc, you will love Albarino. It is like a red in white's clothing. This is the most widely planted white grape variety in Spain. It is rich and full-bodied like a red wine, but tart and crisp on the finish like a white."
CINSAULT
"If you like Pinot Noir, you will love Cinsault. It is a Rhône variety usually used in the famous Chateauneuf-du-Pape blend. It is fruitier and a little more full-bodied that Pinot Noir, and also less acidic."
VIOGNIER
"If you like Chardonnay you will Love Viognier. It is a Rhône variety and is lightly oaked, but also has more aromatics and tropical fruit flavors in addition to peach and nectarine."
PRIMITIVO
"If you like Zinfandel you will love Primitivo. It is an Italian variety mostly grown in the Apulia region of the heel of Italy. Once thought to be a Zinfandel clone, through DNA testing it is now known to be its own variety. It is more peppery and a bit more tannic, with fewer raisin characteristics."