Some might say an "Act of God" brought Brett Baba of Graham Baba Architects together with one of Architectural Digest's revered "AD 100" interior designers, Terry Hunziker to undertake the third and most dramatic remodel of this once modest 1960s beachside cabin. For when catastrophe struck, and a huge mudslide ruined the house, whose two previous remodels had Hunziker at the design helm since "Day One," this pair of angelic creatives took it down-to-the-studs to begin a totally new revisioning process.
"When the present owner bought the house, he did a remodel," recalls Hunziker, who had first worked on the house as the assistant to Seattle interior designer Jean Jongeward 40 years ago. "Then we worked on it for about 8-9 years before the catastrophe struck."
"The house previously lacked a visual connection to the lake," says Baba, known as the "Zen Master" of design and details amongst his team, "so we added a third floor and reoriented all the major interior spaces toward the views."
"The homeowner was the sole voice for much of the project," continues Baba. "He really trusts Terry, thanks to his long association with him. I admire Terry's work as well and feel that our design sensibilities are very compatible. Ironically, Olson Walker, my former employer, did the 1988 remodel and most of my important mentors were influenced by Jean Jongeward, so I feel like I'm part of that school as well."
Hunziker admits that he always defers to the architecture. "I don't do things that detract from it," he says, "because I'm respectful of the space into which my design fits."
The property's 60-foot drop from entry level to lakeside presented architectural challenges. "The owner wanted to keep the sloping driveway and carport," says Baba, "so we reconfigured the entry steps and created a journey from property's edge to house that ends with this quiet refuge nestled amidst nature."
To enhance the existing view of the water that was seen from the former entry level, Baba used steel beams and columns to create an elegant structural frame, then added aluminum windows to keep the sightlines crisp and minimize maintenance.
"To keep some of the original view experience," says Baba, "we carved big glass slots through the house both vertically and horizontally so a visitor can see right through to the water as they descend through the entry sequence."
Working collaboratively, says Hunziker, often gives him the opportunity to influence the end effect of a home's design. "When I'm working on a project," he says, "I often select a lot of the materials. Nickel-plated steel, for instance, is part of my design vocabulary that I've used over the years. Jean used to use a lot of antique brass, which is how I learned about custom metal and furnishings. I got a bit sick of it, however, and decided to develop this method of antiquing shiny nickel using acid with an artist friend of mine."
In fact, a low nickel-plated steel panel that forms part of the kitchen cabinetry divides the formal dining room from the kitchen, where Hunziker's wall hung ledge displaying a Peter Millet sculpture becomes a buffet with drawers. Collaborating with homeowner and architect on the plaster finish for the powder room, the stone for the double master bath sink and the polished Brazilian quartzite walls, as well as the stain colors for all the doors and cabinetry was key to the overall design.
Baba agrees that working closely with the homeowner was one of the project's most gratifying experiences. "He pushed us to explore the most elegant design that we could. He has great taste and was open to very sophisticated finishes and details – such as polished concrete, stone, cerused and fumed oak, and blackened steel."
When Hunziker began working with the project 16 years ago, the homeowner was single. As their working relationship continued to grow, so, too, did the homeowner's family. Now married with two children, the homeowner worked hard to keep the home's interiors as elegant and sophisticated as possible, while also enabling his children to enjoy its spaces, as well.
Thus, the lower level supports more family-oriented spaces, which Hunziker has simply decorated with an L-shaped sofa, and large television above a fireplace—a real "hangout area" for the kids to gather round. Other basement rooms include a gym, kitchenette, laundry, powder bath and playroom for the children.
"Some areas," says Baba, "were excavated under the kitchen to incorporate a wine room and storage."
Ordinarily, Baba and his team ask homeowners to present images of their vision, but in this case they did not. "We presented scale models to represent the additions/remodel, as well as colored renderings and sketches. As the project evolved," adds Baba, "we used more digital models, but physical models were still used for things like the staircase."
"Although the ground floor faces west to water," notes Hunziker, "you don't see it from the front of the house because of the steep slope. Therefore, the bottom level does not at all 'read' like a basement."
Baba carries through the crisp and spare detailing from the interiors to the exterior, which is rich with texture, including the repeated use of Cor-Ten, a steel product which ages over time from when it is first installed as a flat gray, to a rusty orange and finally to a rich, dark mahogany.
Always working to marry form with function, Baba employed dark stained cedar siding to create visual contrast with the Fleetwood windows, which feature low-iron Starphire glass and are installed with integrated sunshades and fins.
"Brett," says Hunziker, "did a beautiful job of using materials that enhance the architecture and are very conducive to the natural wooded landscape into which the house is nestled – with water, mountains and lots of greenery surrounding the home."
"One of the most challenging aspects of this project," adds Baba, "was the size of the site. The homeowner would have liked to have more spaces to the house, but we couldn't make the home any larger, since we had maximized the allowable lot coverage, as well as the building height."
The collaborative efforts of homeowner, interior designer and architect were, in this instance, truly harmonious with the end results as sophisticated and elegant as the vision that first inspired them all.
PROJECT SOURCES
CONTRACTOR
Lockhart | Suver LLC
www.lockhartsuver.com
ARCHITECT
Graham Baba Architects
www.grahambabaarchitects.com
INTERIOR DESIGN
Terry Hunziker Inc.
www.terryhunziker.com
WINDOWS & DOORS
Fleetwood Windows & Doors
www.fleetwoodusa.com
Shoptalk | Brett Baba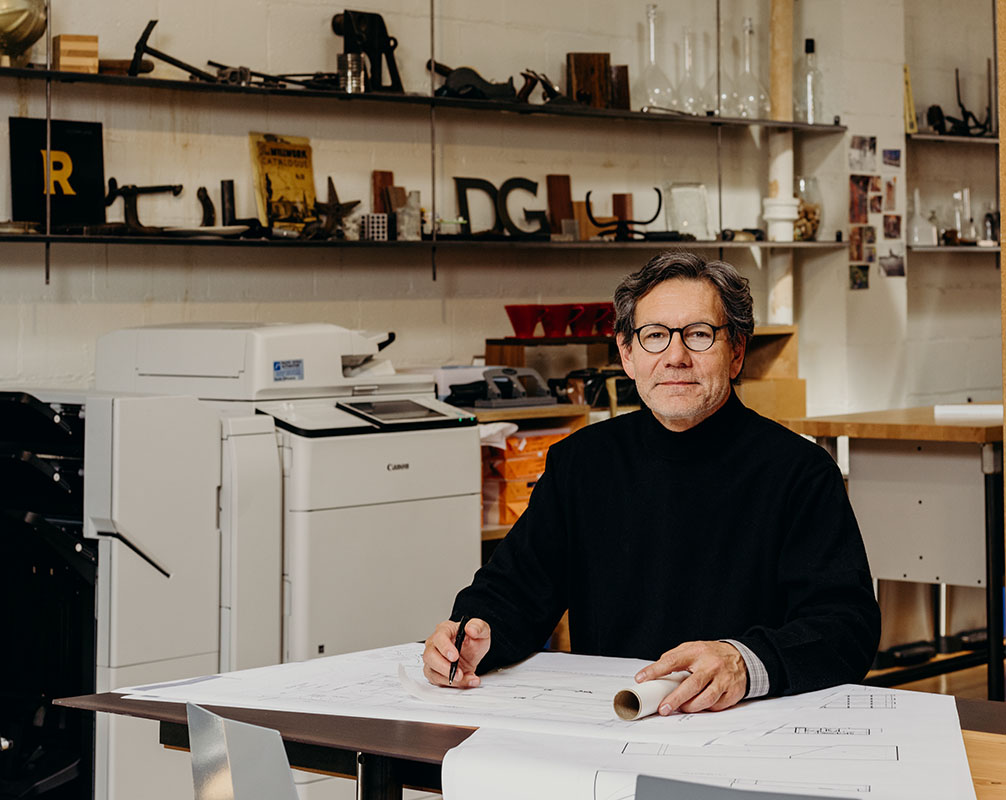 Q: Did you always know you wanted to be an architect?
BB: Yes, as a young kid, I loved to build and draw and a teacher said, "You should be an architect." I didn't know what that meant, it was a new word, but I took that on as my mission and never strayed from it. It turned out to be the best advice. In the 80s, I lived in New England, where I rebuilt a 175-year-old farmhouse. We just don't have those in the Northwest, so I was seduced by the charm and history of it. That undertaking was way too ambitious. I was in over my head, but it solidified my interest in architecture and how, by quite literally building it myself, I learned and came to understand and appreciate the craft of building.
Q: How do you view the evolution of your work since you first started your practice?
BB: Our work has evolved a lot in 12 short years. In fact, Jim Graham, my business partner, and I just gave a talk on our evolution in which we likened our journey to a tree. We had a few branches in the beginning: single family residential and adaptive reuse. We say the roots are our values: authenticity, craft, collaboration and local relevance. Many new branches have sprouted from the adaptive reuse side, like restaurants, public markets, and urban infill projects. Those have branched further into retail, branding, and larger and larger hospitality work.
Now, we are doing huge public spaces in big buildings and developments for large corporations and developers. Lounges for airlines, dining facilities for universities and ground level food and beverage facilities on corporate campuses and high rises are some examples. Most recently, we have been hired for planning work. The work that was our foundation is still strong, and important to us; adaptive reuse and residential. Residential remains the touchpoint for all of our work, and designing houses is the essence of shelter, which is the wellspring of all architecture.
Q: Did where you grew up or your early life influence your career path?
BB: Yes, I grew up in Yakima, an agricultural city in Eastern Washington, about 2.5 hours East of Seattle. I worked there after college but got a bit frustrated by the lack of interest in good design. In the past six years, however, I have done some projects there that are the best of my work. There's been a growing recognition in the value of design—about what it brings to our lives—and I've had the good fortune to be able to make my own contribution to the architecture of my hometown, which has been a real honor.
Q: Apart from architecture, about what are you passionate about?
BB: Nature. I love doing things outdoors: hiking, skiing, watersports. The Northwest has so much to offer. About 10 years ago, I took up kiteboarding. When I can find free time, I now travel the world to kiting hotspots. What I like about it is that the more you are in tune with nature, the better the experience. It is like a parable for life; we should all find ways to be more in tune with nature. I also love to build things. Both Jim and I are hands-on types and often fabricate parts of our projects.
Q: Best way to spend a long weekend in Seattle?
BB: Building things around my house. Adding quirky details here and there. I like woodworking, welding and shaping metal.
Q: If you weren't an architect, what would you be?
BB: A fighter pilot.
Q: Favorite travel destination for inspiration?
BB: I am drawn to Asia, specifically Japan. I admire the Japanese attention to detail and craft. Quiet, simple things are celebrated.
Q: What are you looking forward to at your office?
BB: I love seeing our associates who have been with us since we were founded flourishing and developing into great architects. Several have created amazing bodies of work. Our office offers great opportunities for design authorship to those that share our values. These folks will go on to do great things.
Q: Your firm has a significant commercial portfolio that has garnered multiple awards; what are some of your most memorable commercial projects and/or what commercial spaces are currently on the boards?
BB: The office building for Washington Fruit & Produce is the most memorable. It has garnered more design awards and publications than I can remember. It has a great story which people love. The clear and simple directives from the owner that inspired us to a very unusual building were that he wanted the workplace to be an environment protected from the industrial landscape in which it is located and to be warm, quiet and peaceful. It is one of those projects that I have done in my home town that has elevated the bar for design there beyond anything I could have imagined.
In addition, we have some large, planning projects on the boards that will evolve into architectural design and some very large hospitality projects that we can't discuss.