The Eola-Amity hills are inarguably pinot country. Yet spend a little time with Cristom Vineyards winemaker Tom Gerrie, and you'll quickly learn that pinot isn't the only red grape in town. "Look, I bleed Pinot Noir," laughs Tom. "But my second favorite? It's Syrah."
Tom Gerrie is part of a growing cohort of Northwest winemakers enamored with this Rhône variety. From the Applegate Valley in southern Oregon to eastern Washington's Walla Walla Valley, Syrah has long been a beloved variety for growers seeking a full-bodied red grape that's responsive to site conditions and thrives in a range of climates. Plantings in both states continue to increase, and Northwest Syrahs are garnering national attention.
Yet even as Northwest Syrah's prominence has grown, it has remained an underdog. If Cabernet Sauvignon is the king of red grapes and Pinot Noir the queen, Syrah might be the youngest prince—rich, unpredictable, seductive, and maybe even a little bit raunchy. He's sometimes overlooked, but shouldn't be underestimated. Here's what to know about this deliciously dark side of Oregon and Washington wine.
SYRAH'S GLOBAL CONTEXT
Although the variety is now grown all over the world, France's Rhône valley is Syrah's most famous home. Yet even there, the grape is something of a chameleon. In northern Rhône regions like Côte-Rôtie and Hermitage it's used to produce intense, powerful wines with a savory quality that often verges on gaminess. In other regions, it produces a lushly fruity table wine, and is often blended with other grapes like Grenache and Mourvédre to add weight to a final blend.
Outside of France, the new world has enthusiastically embraced Syrah (or Shiraz, as it's known in Australia). In California, Chile, Argentina, Australia, and South Africa, Syrah often produces big, robust, inky wines with flavors of blackberry, spice, chocolate, and even coffee. Here in the Northwest, a varied topography and a creative winemaking spirit gives Syrah full rein to explore every facet of its character, from textured fruit and spice to savory, smoky wines that mirror the finest expressions of the northern Rhône.
SOUTHERN OREGON
Versatile Southern Oregon is home to several Syrah producers of note, including Cowhorn Vineyard www.cowhornwine.com Plaisance Ranch www.plaisanceranch.com Troon www.troonvineyard.com Reustle Prayer Rock Vineyards www.reustlevineyards.com and Quady North www.quadynorth.com which was founded specifically to focus on Rhone varieties.
As a young winemaker, founder Herb Quady despaired at ever being able to afford the multi-million-dollar investment required to start his own winery in California. But when he arrived in Southern Oregon in 2003 and started working at Troon in the Applegate Valley, he saw an opportunity.
"I really like Rhône varieties, and I thought the Applegate could be a great place to get in, if not on the ground floor, near the ground floor," says Herb. He and his wife bought their property in 2005, a hundred-acre parcel that had once been a motocross track. In 2006, they planted their first section to Syrah, Cabernet Franc, and Viogner, naming it Mae's Vineyard after their daughter.
"Like Pinot Noir, Syrah is really good at showing a sense of place," says Herb. "But unlike Pinot Noir, it can grow in a wide range of climates. In climates like ours, which are on the cooler edge for Syrah, it develops these neat savory characteristics that make it conversational and can pair very well with food."
Four hours north in Portland, Oregon, Kate Norris at Southeast Wine Collective www.sewinecollective.com is celebrating the 2019 release of her 2016 Gamine Syrah, made with fruit grown by Herb at that original vineyard he planted in 2006. "I've always been obsessed with Syrah," says Kate.
So in 2013, her business partner Tom bought her a ton of Syrah from Mae's Vineyard as a surprise. The resulting wine was savory, mineral-driven, and distinctly old-world, right in line with Kate's sensibilities. She's bought fruit from Herb every vintage since. "This 2016 vintage is the best I've ever made," says Kate. "It has so many layers, and an interesting delicate nature. I'm really happy with it."
WALLA WALLA
In the Walla Walla Valley and elsewhere in Washington, Syrah is a big deal. In 2018, it was the third most important red grape in Washington's vintage, with 24,300 tons harvested. For context, Oregon's 2017 Syrah harvest was just shy of 3,000 tons.
Syrah loves the hot summer temperatures throughout Washington, but it's The Rocks District AVA where it makes its most remarkable wines. Just south of Walla Walla, this tiny 3,767 acre sub-AVA only achieved official recognition in 2015, but it's quickly emerged as one of the most promising regions for Syrah not just in the Northwest, but the world. Straddling the Oregon and Washington border, The Rocks District is distinguished by a deep bed of extremely rocky, gravelly soil created by millennia of erosion by the Walla Walla river as it changed course across southeastern Washington and northeastern Oregon.
Here, Syrah takes on an unmistakably savory, saline, almost meaty quality that reminds many of the finest expressions of Syrah from Hermitage in the northern Rhône. "Sometimes when I walk by a fermenter of Rocks District Syrah, it smells just like a delicatessen," says Rich Funk, owner and winemaker at Saviah Cellars www.saviahcellars.com in Walla Walla, Washington. "Smoked sea salt, cured and smoked meats, tapenade, it's all there."
Those qualities are most evident in Saviah Cellars' The Stone Speak Syrah, a single vineyard bottling from the Funk Estate vineyard in the Rocks District. In the tasting room, it stops people in their tracks. "You can almost see them stop and think, 'What's going on here?'" laughs Rich. "That was the first impression when I tasted a Rocks Syrah. I had never smelled a wine like this."
"These wines are singular," says Rich. "I've worked with 30 blocks of Syrah from around the state, and we can't get these textures, aromas, and flavors anywhere else. Really, there's only so many places in the world you can grow this style of Syrah and have it consistently, year in and year out, be exceptional in quality."
THE WILLAMETTE VALLEY
Syrah is usually associated with warmer regions than the Willamette Valley, but Cristom Vineyards www.cristomvineyards.com in the Eola-Amity AVA is enthusiastically exploring the outer reaches of Syrah's cold tolerance.
"We are among the pioneering wineries in the Willamette Valley for Syrah," says Gerrie. After having success with Viogner, Cristom grafted a portion of its Chardonnay to Syrah in 2001, and made their first vintage in 2003. Gerrie says ripening Syrah in a climate as cool as the Willamette Valley can be tricky, but careful clone selection (and a series of exceptionally warm vintages) have helped overcome the challenge.
"We love growing Syrah in a Pinot Noir climate, because you get a lot of the spice without jamminess or any kind of over-ripeness," explains Gerrie. "I think there is a real demand for cool climate Syrahs. They can be really interesting, complex wines with very floral qualities and a balance between fruit and spice."
Cristom underscores that floral quality by co-fermenting approximately 4% Viogner with some of their Syrah bottlings, a traditional strategy inspired by France that brings out lifted floral aromas and helps the wine retain a beautiful, brilliant color. "It's almost an homage to the old Côte-Rôtie styles," says Gerrie. "It adds this floral white honeysuckle component in addition to the classic spiciness of the syrah."
AT THE TABLE
Syrah's big fruit and herb flavors pair beautifully with meat, and its full body can stand up to flavorful marinades and sauces. Lamb is a home-run pairing, especially when grilled, but beef, pork, or even duck can also be excellent companions to a glass of Syrah. Particularly savory specimens of Syrah are great fun to pair with charcuterie like pate, salumi, or bresaola, which echo its meaty, salty character.
"I like Syrah as a food pairing wine because it is so bold, and I like to use a lot of bold flavors," says Althea Grey Potter, chef at Oui! Wine Bar and Restaurant at Southeast Wine Collective www.sewinecollective.com . "It pairs really well with dishes that have a lot of spices, or even some heat. I might do a harissa-spiced lamb with Syrah, and I like that neither the wine nor the dish will eclipse the other."
Northwest wine lovers won't be turning their back on Pinot Noir or Cabernet Sauvignon anytime soon. But if winemakers like these have anything to say about it, we'll soon be making room for local Syrah in the cellar. "The Northwest can also develop into a globally recognized region for Syrah," says Gerrie. "That might sound ridiculous to Pinot Noir lovers, but I really believe that. There's just so much opportunity for it here."
OREGON SYRAH PICKS

CRISTOM VINEYARDS
2016 Estate Syrah $50
Nominated for Best Oregon Winery by The Wine Advocate in 2017, Cristom Vineyards has been making an estate Syrah since 2003, it is produced entirely with Willamette Valley fruit. The 2016 vintage was co-fermented with about 4% estate-grown Viogner, a traditional move that helps lift and lighten the naturally spicy aromatics of Syrah.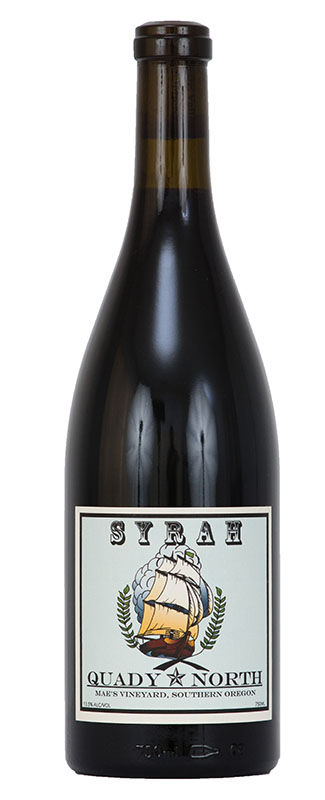 QUADY NORTH
2014 Flagship Syrah $65
Cult-favorite Quady North describes its philosophy as "pan-Rhônish," with a focus on minimally handled, cool-climate wines. The Flagship Syrah spotlights Mae's Vineyard, a LIVE-certified south-facing hillside vineyard named after the founders' eldest daughter. This age-worthy wine is only made during exceptional vintages, and has a dense, concentrated character.

COWHORN VINEYARD
2014 Syrah 8 $45
This boutique biodynamic winery in the Applegate Valley is known for a concentrated, inky-dark, blue-fruited Syrah with layers of earth and spice. Taking a cue from France, the Syrah 8 is co-fermented with a touch of Viogner, giving it an aromatic finish and rounded mouthfeel. Vinous called Cowhorn "the quality leader" for Oregon Syrah.

REUSTLE PRAYER ROCK
2016 Syrah Reserve $42
Named Northwest Winery of the Year in 2017 by Wine Press Northwest, Reustle Prayer Rock Vineyards grows Syrah along with about a dozen other grape varieties in the Umpqua Valley. Winemaker Stephen Reustle strives for balanced, low-alcohol, food-friendly wines. Their 2016 Syrah Reserve was recognized with a gold medal at the San Francisco Chronicle competition, among other awards.

DIVISION WINE CO.
2016 Gamine Syrah $36
Division Wine Co. co-founder Kate Norris' personal label Gamine is all about high-acid, food-friendly wines in an old-world style. Made from Applegate Valley fruit from Quady North's Mae's Vineyard, the 2016 Gamine Syrah is simultaneously lush and transparent, with fig skin, spice, and a refreshing touch of acidity.

TROON VINEYARD
2016 Côtes du Kubli G.S.M. $30
One of the pioneers of the Applegate Valley, Troon Vineyard is in the midst of a transition to biodynamic winegrowing. Here, old-school winemaking techniques like foot treading and manual punch-downs are still in use. This blend of Grenache, Syrah, and Mourvédre gets its name from the Kubli bench above the Applegate River where Troon's vineyards are located.
WASHINGTON SYRAH PICKS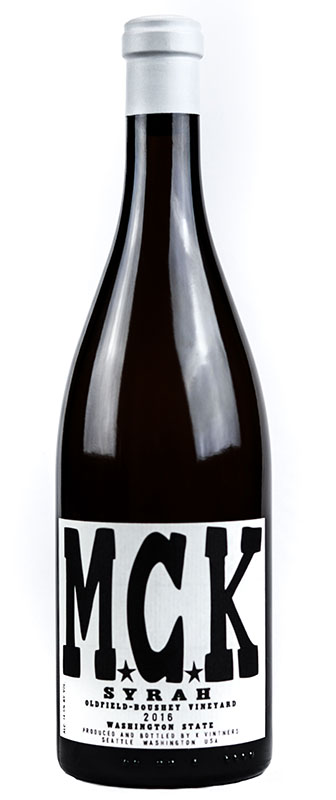 K VINTNERS
2016 Motor City Kitty Syrah $35
Named winemaker of the year by both Food and Wine and Wine Enthusiast, it seems Charles Smith made the right choice when he traded a career managing rock and roll bands for one making wine. K Vintners was his first winery, and when it opened in 2001, its very first release was a Syrah, showing just how important this variety is to Smith.

LONG SHADOWS
2016 Sequel Syrah $60
Founded by Washington State wine luminary Allen Shoup, Long Shadows brings the top winemakers from around the world to Washington to work with their favorite grapes. Sequel Syrah was made in partnership with John Duval, the former chief winemaker at Penfolds Grange, producers of Australia's top Shiraz.

SAVIAH CELLARS
2016 The Stones Speak Syrah $55
Founded in 2000, Saviah Cellars was named one of the top 100 wineries by Wine and Spirits Magazine. Rich Funk loves the meaty, smoky, savory quality of Syrah grown in The Rocks District, a new cross-border sub-AVA in the Walla Walla AVA. The Stones Speak is a single estate wine from the Funk Estate Vineyard.

HEDGES FAMILY ESTATE
2016 Decendants Liégeois Dupont-Syrah $40
Hedges Family Estate founders Tom Hedges and Anne-Marie Liégeois planted their first vineyard in the Red Mountain AVA in 1989. In 2008, they made the leap to biodynamic. Decendants Liégeois Dupont-Syrah is made from grapes grown at Les Gosses Vineyard, and spent 19 months in a mix of new and used American and French oak.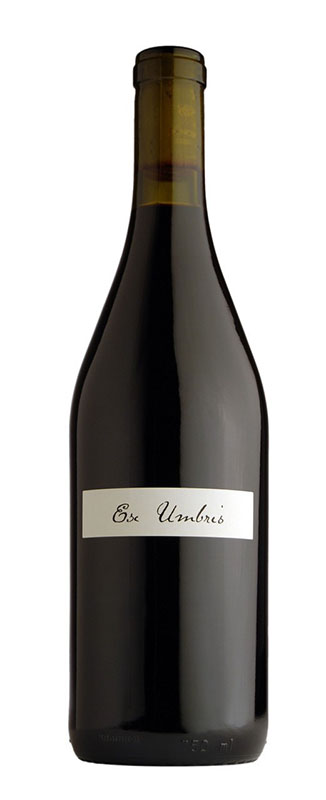 OWEN ROE
Ex Umbris Syrah $21
Made from grapes grown in the Yakima, Columbia, and Walla Walla valleys, Owen Roe's Ex Umbris Syrah commemorates the 2002 vintage, when a wildfire near the vineyard interfered with the grape's ripening and produced a particularly unusual wine. A short stay in neutral French oak barrels keeps the focus on the fruit.

àMAURICE
2014 Estate Syrah "Fred" $45
This family-owned estate producer in the Walla Walla Valley was the first registered sustainable winery in the state, and is known for its light-handed, elegant, food-friendly wines. Partner and Winemaker Anna Schafer is a rising star, one of the youngest ever named Top New Winemaker by Seattle Magazine. Look for bright red fruit and vibrant floral tones