Chef Patrick McKee, whose maternal grandfather, née D'Este, hailed from Rome with genealogical connections to Villa D'Este in Tivoli, loved hanging out in his mother and grandmother's Italian kitchen at an early age. Preparing those all-important Sunday dinners included picking herbs, tomatoes and squash from his grandmother's garden.
"I didn't realize until later that nobody ate like we did. The big meals were on Friday, Saturday and Sunday, which meant starting to prep for them on Thursday," recalls the former long-time Paley's Place chef.
Dinners were mandatory, even as a busy teen. "If you're going to hang out with your girlfriend," his mother would warn, "then she has to come eat with us." That mandate made McKee popular with all his friends who enjoyed leisurely homemade Italian meals accompanied by the sounds of Frank Sinatra.
McKee discovered the Pacific Northwest when his grandparents fell in love with Brookings, Oregon, during a road trip up the 101 from Los Angeles to Seattle in 1977. "My sister and I used to come visit them during the summers while our Dad was away on army maneuvers," recalls McKee. "I added crab, salmon and local blueberries to my culinary tastes – grateful to have been raised on my mother's kohlrabi salad, braised beef tongue with red sauce and polenta, meaty ragus, and lots of homemade pastas."
McKee skipped culinary school to become a pro-kitchen dishwasher. "I was an amazing dishwasher," jokes McKee, "but I wanted to cook, so I found a beginning cook's job to get my foot in the door."
Working at various stations at the now defunct Zefiro restaurant hooked McKee on the idea of becoming a fine dining chef. An 11-year stint at Paley's Place taught him a lot. A family joke recounts how owner Vitaly Paley, who had trained at the French Culinary Institute, had the honor of receiving McKee's mother's marinara recipe before he did.
As head chef at the ill-fated Perlot, McKee started a popular "Pasta Night" tradition that featured recipes he'd grown up with: Cacio e Pepe, stuffed pastas, and his mom's spaghetti and meatballs. He awoke one day, realizing he wanted to start his own restaurant using the Americanized version of the D'este name, changed to Estes at Ellis Island.
The day McKee began working at Jane Smith's pop up restaurant Dame on Killingsworth, things began to come together. (See box at right). Last year's fusion of Estes + Dame formed a perfect union. "The vision we came in with of seasonal food with warm, attentive hospitality was very clear," recalls McKee, "but it's gone from clear to laser focused as we aim to support sustainable agriculture with our food and natural wine list."
Working with Jane at Dame has been a total blessing, he says. "Maybe I'm biased, but the jive between what we're doing with the food and the ambiance of the space is pure Kismet. I don't think I could recreate this somewhere else."
Estes + Dame PARTNERSHIP
What began as a pop-up restaurant relationship between McKee and Jane Smith, owner of Dame, blossomed into a partnership last year when it became apparent that both guests and the whole staff were very excited about what was developing. Estes + Dame now split duties between front-of-the-house handled by Smith, who specializes in natural wines, and McKee's kitchen duties, including maintaining a crew of chefs, food, and equipment. The partnership is highly successful. "We communicate really well," says McKee. "Jane is a wonderful leader who is passionate about hospitality, building a strong team, and sharing beautiful food and wine."
RESERVATIONS
Through Resy and Open Table, 503.227.2669
www.estespdx.com / www.damerestaurant.com
Hours Wednesday to Saturday 5:30pm - 10pm; Sunday 5:30pm - 9pm; Closed Monday & Tuesday

RECIPES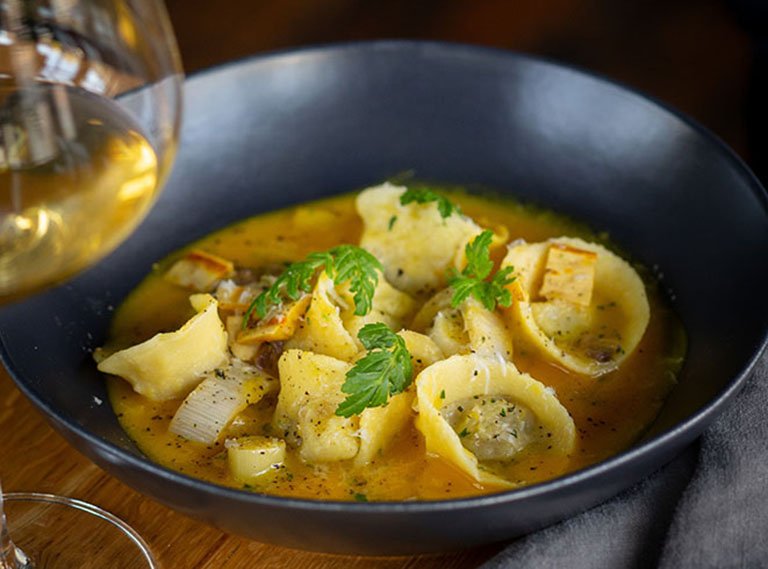 PANCETTA FILLED CAPPELLETTI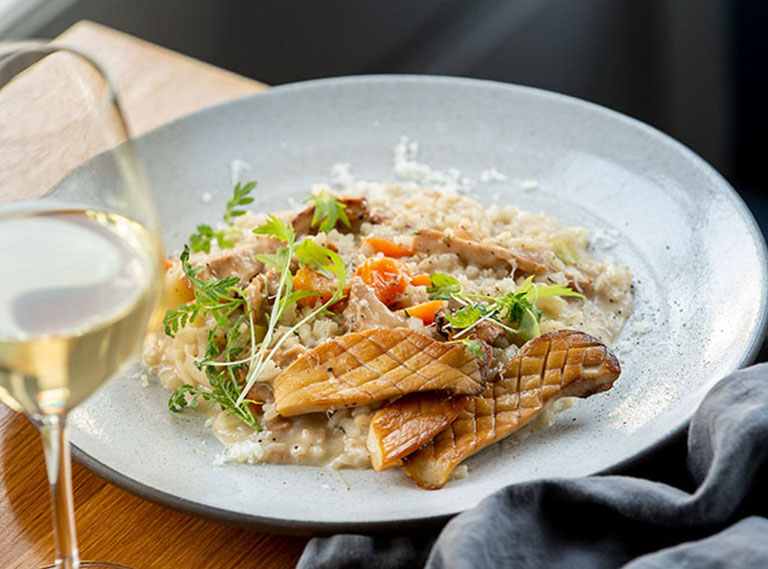 RISOTTO