Sometimes it takes a village to move homeowners from one side of the globe to another. In this case, it was Bob Boyce's sister Ann, who convinced Boyce, who had gone to Shanghai as a graduate of Northern Arizona University for a Chinese language course in 1994, and went on to become a well-known Shanghai restauranteur, that he should move to Seattle.
Coincidentally, friends of Boyce and his husband Victor Ren happened to live on the same street as well-known Seattle contractors Susan and Michael Bellan of Bellan Construction. The men's friend recommended they have Susan do a walk-through of the 4,800 sq. ft. 1927 brick Tudor style home located on Capitol Hill on their same street, which had just come on the market.
"Bob's friend and I walked-through the home after Bob had purchased it," recalls Bellan, who brought Michael Bellan, Senior Project Manager for Bellan Construction along to view the property during a subsequent walk-through as well.
During a later meeting with Boyce present, the Bellans recommended two architectural firms and his friend, a third firm. After meeting with all three, Boyce chose Lisa Chadbourne and Daren Doss of Chadbourne + Doss Architects of Seattle.
"The house was not at all what they expected to buy," recalls Lisa Chadbourne, "but they fell in love with the property and the home's historic details."
Boyce agrees. "It's like living in the country with a great deal of privacy and green space, yet close to downtown. We wanted to park the car and be within walking distance to everything," he says.
One of the deciding factors for selecting Chadbourne + Doss was their shared interest in creating contrast between cozy, historic spaces and more open and modern ones. To that end, the architects asked Boyce and Ren to fill out their proprietary "HOMEwork" questionnaire. Taking that information, the architects presented three very different options.
Chadbourne says, "Although the project began as rather small in scope with just an addition, it grew when the addition was so beautiful that what began as a minor touch up became a total integration. It expanded in order to make the house more cohesive, which included bringing all the shabby and worn portions up to what was new."
Because of the Tudor's complicated roofline, Boyce realized there was no way to open up the back without a full-fledged addition. "It would have been weird to tack on a traditional addition that was trying to be period," says Boyce. "So, we decided a modern approach would be more appropriate and accommodate what we wanted – more light - and needed – lots of room to entertain."
Although the men had traveled a lot over the years, they don't consider themselves "formal" people. "All of our entertaining goes on in and around the kitchen," says Boyce. "Everyone in my family cooks; nobody likes to get stuck in the kitchen with everyone else somewhere else. This design allows us to entertain, cook, and help out in the kitchen without seeming separated."
Chadbourne + Doss' axial kitchen design that connects openly to the adjacent family room provides plenty of counter space and an intuitive sense of workflow that works well for the men's lives. Ren, a horticulturalist, grows succulents that thrive in the south-facing kitchen window on the custom-designed walnut and blackened steel shelving.
By contrast, the men also wanted a place of refuge when hosting their many guests, which led to the idea of turning the former master bedroom into a relaxing dressing room. Originally, a pair of closets that flanked the fireplace hid a pair of windows behind the closet doors. Now light pours unimpeded into the room. Built-in cabinetry topped with Carrara marble displays such objets d'art as a trio of Cambodian rice cutting knives.
"We loved the overall look of the house and its original bones - with a lot of amazing original details," says Boyce, "which we were able to restore without touching much, aside from refurbishing it and bringing it up to a modern standard."
Having traveled a lot over the years, the men had collected furnishings and artwork that were important to them and for which they needed plenty of space to incorporate them into their home.
"The large property which had a lot of plantings and a massive garden that requires a lot of work was daunting, but when we decided we were going to live in it for a very long time," continues Boyce, "we decided to bite the bullet and do everything necessary to make it all work together."
Playing up the contrasts between old and new architecture was a key element of Chadbourne + Doss design. The original architecture features undulating curves in its French Normandy tower, conical roof, rounded windows - particularly the large dining room bay window - curving staircase, arched openings, and rounded mahogany entry closet door. All the more reason, says Chadbourne, to emphasize the contrast created by the clean, straight lines of the new conservatory-style addition designed to bring light into the former dark areas found at the back of the house and to promulgate the desire for indoor-outdoor living.
Bellan Construction stripped the original woodwork, releaded the windows, and refinished the oak floors, staining them to blend better with the original mahogany and the new walnut finishes.
Bellan Construction worked with its subsidiary company Shopworks, LLC, to build all the custom furnishings and casework designed by Chadbourne + Doss for the conservatory style addition – everything from the custom bedframe and headboard for the master bedroom, kitchen island, cabinetry and custom furniture for the dressing room as well.
Just as the men have adjusted to their new home and the garden has filled in and matured, with visitations from such wildlife as blue herons, hawks and even raccoons who flock to their new fountain, so, too, has their enjoyment of the new home grown.
"We love the neighborhood," admits Boyce. "After living in the house for a couple of years, we don't like to leave it or the property. In fact, it's hard to get us out to dinner. We're more likely to have people over."
"For us," says Chadbourne, "the best part of working with Bob and Victor was the collaboration of the design. It was fun to have clients that are very enthusiastic about design details."
"It was such a pleasure working together with the team," says Bellan.
Boyce admits the collaboration was very strong. "Building anything in Seattle when it's in a boom cycle is a challenge for sure, but we didn't have any messy breakdowns. I didn't even have a temper tantrum! It was a very positive experience."
PROJECT SOURCES
CONTRACTOR
Bellan Construction Inc.
www.bellan.com
ARCHITECT
Chadbourne & Doss Architects
www.chadbournedoss.com
INTERIOR DESIGN
Chadbourne & Doss Architects
www.chadbournedoss.com
LANDSCAPE CONTRACTOR
Nussbaum Group
www.nussbaum-group.com
LANDSCAPE ARCHITECT
Alchemie
www.alchemiesites.com
Plumbing Fixtures: Brizo, Toto, Kohler; Appliances: Miele, Sub-Zero
---
Shoptalk -
Chadbourne+Doss Architects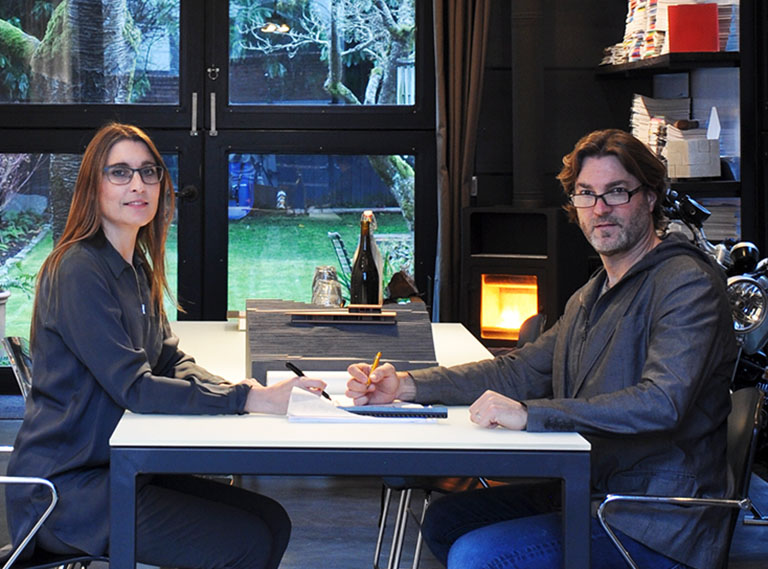 Q: Chadbourne + Doss Architects was founded in 2001. What were the firm's original intentions, and how has the practice developed?
We started our firm with an intention to stay small, provide full service, and remain personally hands-on in every aspect of the architectural process from design through construction. With this approach, we are limited in the number of projects that we can take on. Over time, we have found that we are able to be more selective and find projects that are a good fit personally and professionally. Since we typically spend a few years with our clients, we want the process to be fun, rewarding, and successful for everyone.
Q: As a husband and wife firm, how do you work together?
We work collaboratively on every project, partly because we are a small firm, but also intentionally. We have a process that is iterative and critical. We each constantly push the design forward. Our collaborative process also involves the whole team, including the client and contractor. We are searchers and ideators rather than didacts. We express strong and sometimes different opinions and find that this creates an open dialog that allows everyone to voice their opinions and ideas. This results in the best ideas rising to the top with a deep knowledge and a thorough commitment to the project.
Q: What projects are you currently excited about working on?
All of them of course! We're working on a couple small homes on dense urban sites, including one for ourselves. We're interested in the challenges of designing spaces that don't necessarily rely on a view or a beautiful natural site. Projects that have challenging problems to solve, such as steep slope or unusual program, are of interest to us.
Q: You have completed an adaptive re-use of an historic marine industrial compound. Do you feel that your firm is particularly suited to these types of projects?
With every project, we strive to create an environment that is unique to its user and place. With historic buildings, we embrace the rich context to work with. We love accentuating the contrasts between new and old through form, materials, and details. These projects are often successful because of the appreciation for the historic architecture, and the design is made accessible and further emphasized by the new work.
Q: How do you feel your backgrounds and upbringings have shaped your design principles and philosophies?
Both of us grew up around creative building and have worked on construction sites. This practical knowledge and experience have informed our design and detailing. Our work, travel, and education have given us each different strengths and perspectives. We find that our collaborative process pushes and reveals our differences and promotes progressive design.
Q:Best way to spend a long weekend in the Northwest?
Spending time at our place in Astoria, Oregon - surfing, swimming, eating, and sitting in the hot tub watching the Columbia River roll by.
Q: Favorite travel destination for inspiration?
We have spent a lot of time in Asia, and we went to Japan this year. We are always inspired by how dense urban living can be, and how much design per square foot can be accomplished in quality living spaces that are primarily internally focused. It is especially interesting to see the various strategies to create an indoor-outdoor connection on compact urban sites. Ultimately, we strive to travel with open eyes in our everyday environments, to find poetic inspiration in the mundane.