Older homes have an undeniable magnetism. Built-in cabinetry, paneled windows, and ornate woodwork remind us of the value of craftsmanship and attention to detail. But for many of us, older homes no longer best serve how we live. Small, closed-off spaces now feel confining, and formal traditional design can sometimes come across as stuffy and uninspired.
But this home in Seattle's Seward Park neighborhood proves that crown molding and built-ins can peacefully coexist with vibrant graphic tile and open layouts. A thoughtful 2017 remodel made it possible to have the best of both worlds by pairing the feel of contemporary space planning with the romance of a vintage structure.
After purchasing a well-sited 1940s home, these homeowners turned to Board & Vellum, an architecture and interior design firm specializing in custom residential projects. Led by project architect Jeff Pelletier, the team developed a remodel plan that would make this vintage home live more like a modern structure while preserving all of its period charm.
"The project really focused on two areas: the kitchen and dining room, and the master suite upstairs," explains Jeff. In the kitchen and dining room, the team began with structural updates first. Unwanted dividing walls were removed, as was the ceiling, repurposing some of that unused attic space to create soaring high ceilings.
"The ceilings of an attic are usually structural, so we had to make sure when we opened up that space that we created a new structural system to tie it all together," explains Jeff. "So we installed a giant new ridge beam at the top, as well as that wood truss in the middle. Metal collar ties help as well."
With a new interior defined, the team turned to the aesthetic. "The house felt very classic and very formal," says Jeff. "We knew we wanted to give it a more modern, crisp edge. To do that, we used pieces like lights and furniture to pop some contemporary elements, but let the bones remain period-appropriate," says Jeff.
The team retained the built-in bench and cabinetry in the dining room, mirroring it with custom kitchen cabinetry trimmed out with crown molding and painted in two different colors. The built-ins also provided inspiration for the ceiling itself, which is finished with tongue and groove board. "The built-ins have a paneled groove on them, so we thought, let's not ignore that," says Jeff. "The tongue-in-groove on the ceiling makes it all seem purposeful."
These homeowners are avid cooks, so Jeff designed a centerpiece range for the kitchen offset with a geometric tiled backsplash framed by an enormous tiled shroud camouflaging the hood. "We knew we wanted to anchor the end of the room with something dramatic," says Jeff, "and the homeowner wanted to feel like the range was the center of the room." Careful design around the hood space created a sense of enclosure without sacrificing counter space or pot handle clearance.
Upstairs, the retained portion of the attic was transformed from totally unused space into a cozy, retreat-like master suite, complete with a full bath, built-in storage, and an expansive view over the city. Jeff says sloped-ceiling spaces like this one can pose challenges, but nothing that can't be overcome with good planning. "The primary thing is figuring out the path of travel through the spaces, and ensuring you have enough head height at the main paths of travel," says Jeff. For example, Jeff designed a half-wall at the head of the bed to move the bed out into the middle of the room, rather than tucking it under an eave. "You don't want to knock your head when you're making the bed," he explains.
Applying that same use-oriented philosophy in the bathroom resulted in a space that utilizes every square foot to maximum effect. "At first, nobody thought it was possible to have a master suite in this space," says Jeff. "It kind of feels like we won a master bathroom in the lottery." Vertical sconces on either side of the sink draw the eye upwards, drawing attention to the height of the room. A low-ceilinged area towards the back of the bathroom was too short to stand up in but provided the perfect opportunity for a bathtub illuminated by a skylight. "That space was otherwise useless," says Jeff, "but you're not standing in a tub."
It's that kind of creative thinking that led to such a successful outcome. After living in the home for two years, the homeowners say they appreciate the way the space functions for their family and for their friends. "Entertaining here is amazing," says the homeowner. "We open up the French doors onto the patio, and it has a great flow for summer parties and barbecues. I absolutely love it."
PROJECT SOURCES
CONTRACTOR
Armada Design & Build
www.armadabuild.com
ARCHITECT
Board & Vellum
www.boardandvellum.com
INTERIOR DESIGN
Board & Vellum
www.boardandvellum.com
Kitchen Appliances: Thermador, Fisher Paykel, Sub-Zero; Plumbing Fixtures: California Faucet, Waterstone, Rohl, Frankie
---
Shoptalk - Jeff Pelletier,
AIA, CPHC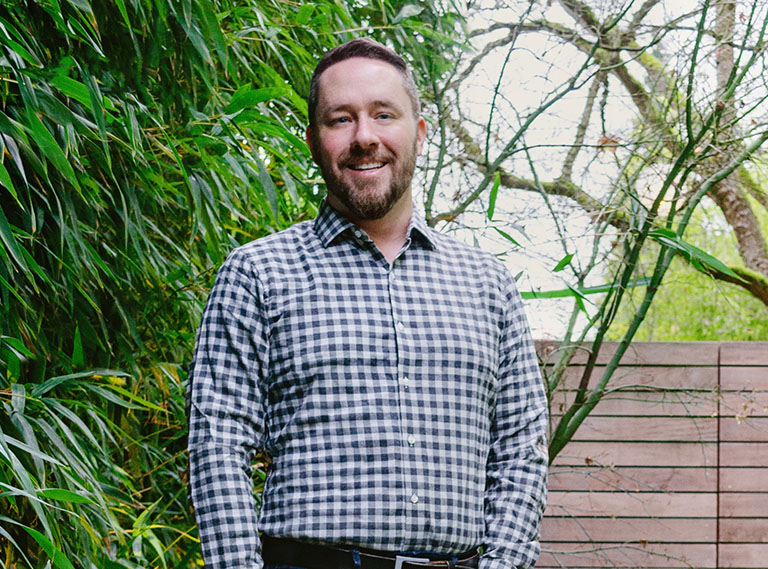 Q: When you founded your firm, what were your goals and how have they evolved?
When I founded Board & Vellum, I focused on advocating for clients I really connected with, regardless of their preferred aesthetic, rather than working only on projects of one architectural style. I wrote a lot of blog posts and tried my hardest to give out as much free advice as I could in the interest of client advocacy.
As the company has grown over the years, I've enjoyed passing on those lessons to our team, letting their knowledge and input refine my initial vision. In addition to creating internal training programs on how to elevate client care, I've also found that beyond taking care of clients, taking care of employees and advocating for our team has been a natural evolution.
Q: What's your favorite stage of a project?
I absolutely love the early schematic design phase. Getting into a client's head and figuring out solutions to their challenges is one of the greatest loves of my life. There are literally times when I'll yell out with joy when I feel like I've found a great solution. Sharing that journey with a client and seeing the excitement in their eyes when we find a plan that just "sings" is fantastic.
Q: Board & Vellum has received many sustainable and green building awards, is there a notable project that epitomizes your firm's efforts in sustainable design?
The Fremont High-Performing Home was a wonderful project, really showcasing a realistic solution for urban homeowners. Projects can certainly be more sustainable, but in balancing the project goals, we helped identify specific approaches that both made sense for the project and matched the client's values. A high-performing home shouldn't just be inexpensive to operate, but should also be comfortable, have wonderful air, and simply feel right. This project did all those things while also respecting the scale of the neighborhood.
Q: Tell us a bit about your approach as an architect in a multidisciplinary firm.
Besides architecture and interior design, our firm includes a large sitedesign / landscape architecture studio. Bringing landscape architects in-house was absolutely the best decision I've made as a business owner. I'm frankly in love with the outside environment, and it is one of the reasons I moved to Seattle. Having a really talented team of landscape architects and designers in our studios means we look at our projects comprehensively: from outside in and from inside out.
The Backyard Reading Retreat is a project that shows the true value of collaboration between architects, interior designers, and landscape architects. Without all three of those disciplines on the team from the start, the project would not have been as successful. Most of our projects now are designed comprehensively across disciplines and they just end up better for it.
Q: What's your favorite part of the workday?
I love our design crits. All our projects are sent through an intense critique open to everyone in the office. You get varying opinions about design choices and it is always a lively and productive conversation. Leaves me inspired every time.
Q: Top travel destination for inspiration?
I love a good urban environment with cozy alleys, outdoor seating, and dynamic retail. Cities like Barcelona feel like home when I'm there. Having neighborhoods with a mix of indoor and outdoor spaces – and commercial spaces that excite you – are what make being in a city so rewarding. That said, my favorite places are still the beautiful outdoor environments that just take your breath away. I recently did a 9-day backpacking trip in Bears Ears National Monument in Southern Utah and the shapes and textures of the environment really allowed me to step back and appreciate the beauty of scale and our place in the world.