In 2003, Chelly Wentworth, now owner of C-Change Design, and her husband Phil moved from the Santa Cruz mountains to Portland, where Chelly began working for Neil Kelly as a Design Consultant. The couple was drawn to this 1925 English Tudor Cottage Revival home in Eastmoreland, despite its cobbled together popsicle sticks fence, defaced exterior marred by vinyl siding and a cheaply updated hall bath and kitchen that were already showing heavy wear.
The updated kitchen cabinetry was big box style Thermafoil (plastic over particle board). One cabinet door melted from the heat of the couple's toaster. Red vinyl composition tile flooring that had been glued to the original fir floor was peeling at the edges from the day they moved in.
"Although we wanted to remodel the kitchen right away, there were other pressing needs," says Chelly. "So, our concept for the house was 'Jewel Box,' meaning we'd do the best we could and wait until we could afford to do it well."
That meant foregoing the kitchen remodel while they tackled the exterior and first-floor bathroom.
A few years passed, Phil retired, and for the first time in their long marriage, he was inspired to start doing the cooking. Coincidentally, Chelly finally had the time and the money to afford to redesign the kitchen. So, with Phil now as her official "client," the couple came up with a working kitchen design that would fit Phil's needs as the family chef.
"I was prompted by the home's cottage style, but I didn't want an all-white kitchen," says Chelly. "And since we're both big fans of a black and white color scheme, I began combing the web for ideas for further inspiration."
Two-tone cabinets seemed to fit right into the scheme. The original cottage windows and glass were renovated and became a big keeper. The same 2" x 4" honed Carrera marble she had sourced for the hall bathroom tile would also be utilized as the kitchen's backsplash. "It was a great way to create visual flow," adds Chelly.
By this time, Chelly had gained invaluable training, working at Neil Kelly and other Portland design build companies such as Craftsman Design & Remodel and Arciform, and decided to form her own design company. In February 2017, she used her connections in the industry to find the ideal construction company for her needs and chose co-founders Hata Hill and Daniel McCurry of Coda Construction for the job.
"I was used to having contractors built into a project, so this was an opportunity to audition local construction companies. Working with Hata and Danny gave me immediate confidence and we've been working together on projects ever since."
Rather than replace painted-shut, old windows, Chelly had Coda restore the original ones with new ropes, weights, and weatherstripping. Now, when the sun shines through their wavy glass, "It feels like we're living in an Impressionist painting."
The red vinyl tile flooring, however, made the nook feel cold. Replacing it with wood, she thought, would warm it up. After removing the cheap vinyl flooring, the original fir floors the previous owners had tried to paint red, along with the glue residue and excessive wear, could not be salvaged.
"I knew we'd never be able to match the original top nailed oak floors in the dining and living room, so we chose reclaimed, sustainable tropical fishtail oak, made from Mexican shipping crates, which resembles rift cut oak. Given our working kitchen theme and the fact we'll always have a dog, the slightly beat up look was the way to go."
Painting the window sashes in the same Wrought Iron color as the lower cabinets created an eye-catching "eyeliner" effect. Replacing the divided sink with a wider, deeper Kohler Cast Iron single bowl made it easier to wash large items. Caesarstone "Sleek Concrete" honed finish countertops by Alpha Stoneworks completed the look.
Phil praises Chelly's new layout. "I wanted to get rid of the electric stove and the free-standing refrigerator, which blocked everything, and made the room feel smaller. Chelly switched its placement with the stove and boxed-in a stainless steel Liebherr refrigerator there. A Blue Star gas range lines the entry wall, which opens up the entire room. She also taught me a lot about the technology of hoods, ranges and dishwashers."
Both agree that working with Coda Construction made the three month-long remodel a pleasure. "I've worked with a lot of contractors," adds Phil, "and they were spectacular."
Most of all, Phil really enjoys cooking in Chelly's newly designed kitchen. "It feels like home."
PROJECT SOURCES
CONTRACTOR
Coda Construction
www.codaconstructionpdx.com
INTERIOR DESIGN
C-Change Design
www.c-changedesign.com
APPLIANCES
Eastbank Contractor Appliances
www.eastbankappliance.com
APPLIANCES: Eastbank Contractor Appliances: Bluestar, Liebherr, Vent-A-Hood, Miele; Plumbing Fixtures: Kohler, Rohl
Shoptalk - Chelly Wentworth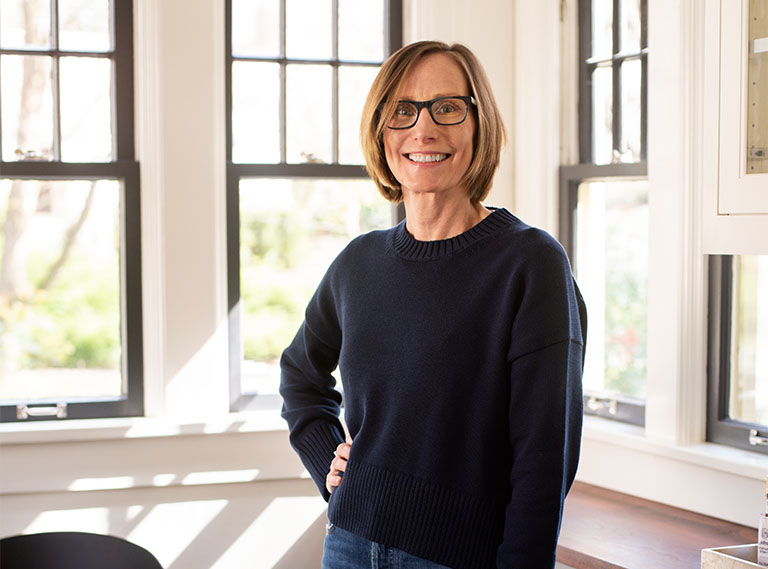 Owner, C-Change Design
What was your first design project?
WENTWORTH I just finished design school when I was hired to help a single gentleman with the design of his two bathrooms. It was in a really cute San Jose Bungalow. What I remember loving the most about the project was sourcing the tile directly from nearby Fireclay Tile www.fireclaytile.com. That was thrilling! I still love their tile today.
After working with several of Portland's Design Build companies, what inspired you to start your own design firm?
WENTWORTH I wouldn't trade my experience of working in Design Build for anything! I gained so much knowledge about the entire industry after working for a large, then a small, then a medium-sized company. Having learned so much about the construction end of the business has made me a much better all-round designer. As a result, I understand the entire process and thus, can better guide clients through it, plus provide contractors with all the required information and support they need to build a sound project on time and on budget. It's all about creating an effective team. I've always wanted to have my own company and I finally decided I was ready for a new challenge, so I started C-Change Design.
How do you utilize your passion for art, architecture and design when working on a design project?
WENTWORTH When I see a piece of art or architecture that I like or that speaks to me somehow, I study all its elements individually, like color, texture, shape, and composition, and then look at how the artist or architect brought them all together. That gives me a strong, visceral feeling. In turn, I love bringing each and every element together to create a design. I am also fascinated by the underlying stories, and the history of each piece of art or architecture. For me, it's always about the people. I think that's why I like Residential Design so much. I get to help create something unique and personal for the people for whom I'm designing.
What's your biggest design addiction at the moment?
WENTWORTH Mixing clean, modern elements in older homes while preserving the integrity of the original architecture.
You've worked on a variety of homes with differing architectural styles. Which is your favorite?
WENTWORTH II can't pick just one! They are all favorites and it would be unfair to make be name just one! Victorian, Craftsman, Tudor Revival, Dutch Colonial, Mid Century and then some. I love them all!
How does your degree in Clinical Psychology help you assist homeowners in sharing their design ideas and needs?
WENTWORTH Since I'm designing their home environment, my understanding, empathy, compassion, and listening skills have helped me to pick up cues, understand priorities, and help them through the process.
Where's your favorite travel destination as inspiration?
WENTWORTH Europe - especially Italy and France. I love all the history.
Apart from interior design, what else are you passionate about?
WENTWORTH Cooking with and for friends and family. That's why I love to design kitchens so much!