A few years before Lane Williams Architects was brought on to transform this single-story 1960s Clyde Hill rambler into a modern, two-story home, the homeowners asked Shapiro Ryan Design, LLC, to create a terraced backyard landscape. This Seattle bedroom community, known for its large properties, had plenty of acreage to satisfy this professional couple's desire for both a basketball court and a vegetable garden. "They hired us," recalls Clare Ryan, "to redesign the broken-down sports court, create a play area for their children and a terraced, raised-bed vegetable garden."
In 2016, the couple contacted Lane Williams, AIA, with whom Shapiro Ryan often worked, to extensively remodel their modest rambler. After an exchange of ideas working from a collection of images and sources of inspiration, Williams presented three different design concepts. "In most cases," says Williams, "clients don't simply pick one, but give me feedback on each, from which we come back with two more ideas, until we've worked through those options and arrive at a good, solid plan, with all the relevant details inside and out."
Perhaps the most transformative alteration from the original architecture was Williams' idea to maintain most of its footprint while expanding the modest home's square footage to 4,500 sq. ft. and relocating the garage from the main floor to the lower level. "The concrete garage structure," explains Williams, "provides an economical, substantial base beneath the main floor, with the concrete acting as structure, siding, and interior wall finish, while also creating a waterproof plant balcony for the master bedroom." Relocating the original too-small garage from its overly prominent position atop the home's driveway to a more obscured location beneath the master bedroom meant the garage doors would not dominate the front of the house.
Then, he turned the layout on its axis, making what was once the living room the master bedroom enrobed by a concrete balcony. The former driveway is now a beautifully landscaped entrance with a broad, poured-in-place cement walkway whose graduated steps slow one's pace past a plethora of Japanese-inspired plantings – Red Dragon maple, Dwarf Mondo grass, Dwarf pittosporum Wheeler's Dwarf and spikey Yucca. Adjoining the entry is a cloistered courtyard off the family room that acts as a buffer from street traffic. "The courtyard becomes a private garden viewed from the family room," says Williams, "visible through a large Weiland sliding door that disappears into a wall pocket."
A vertically installed new fiber cement product by James Hardie Company – V-rustic siding – finishes the exterior, found replicated in the metal roof's trim fabricated from the same dark gray product. Williams' sloping metal roof sits atop a custom gutter system with a flexible membrane liner. Although the gutters disappear, twin large steel tube downspouts add a striking, yet pragmatic element to the architecture. "If one downspout gets clogged," explains Williams, "the other will still function."
When the women first worked on the landscaping, access to the backyard, says Clare, was mostly relegated to a door off the garage. After moving the garage to the new basement level, Williams not only improved access to the backyard, but added enough square footage to include a guest bedroom, two children's bedrooms and a multi-purpose arts and crafts room with home office.
One of the inspirational images the couple offered the team was a photograph of a Japanese restaurant in Mexico with a screen protecting its exterior courtyard. "Such imagery is not meant to copy, but to help me understand what appeals to homeowners visually and functionally," says Williams, who proceeded to sketch the details of a courtyard screen with wood and steel atop a steel plate on a concrete wall. "We tried to replicate Lane's design for the fencing along both sides of the property," says Martha Ryan, "but it would have been too costly, so we paid homage to his design aesthetic using only wood fencing instead."
Together, Williams, Shapiro, and Ryan created a seamless transition from outside in, bearing in mind the homeowner's desire for a clean, modern aesthetic throughout. "We love working with Lane," says Shapiro. "His architectural design sense is always consistent, which enables us to stick to his aesthetic, and also make the clients happy."
Williams often lets them work independently, feeding off his design. "On this project," says Ryan, "it pushed us to think beyond our initial preference of a lot of plants and detail to something new, different and simpler."
"The landscape was a very critical element to the overall design," agrees Williams, who starts his work with pencil sketches. "As the design evolves, we build a 3D-virtual model that the clients can walk around and through on their own device. We show the exterior materials, siding, and roofing, interior finish details, lighting, and cabinets. By the time we have completed the model, the contractor, Stuart Feldt of W.S. Feldt in this case, can rely upon the model when his team is building the house."
The homeowners say they are thrilled with how the design was able to capture their vision. "It blends indoor and outdoor spaces with an open floor plan, and a place for us to spend time with our friends and family," they say.
PROJECT SOURCES
CONTRACTOR
WS Feldt General Contractor
www.wsfeldt.com
ARCHITECT
Lane Williams Architects, PC
www.lanewilliams.com
LANDSCAPE ARCHITECT
Shapiro Ryan Design
www.shapiroryandesign.com
APPLIANCES: Lynx, Vent-A-Hood; Plumbing Fixtures: Hansgrohe, Toto, Victoria+Albert
Shoptalk - Lane Williams, AIA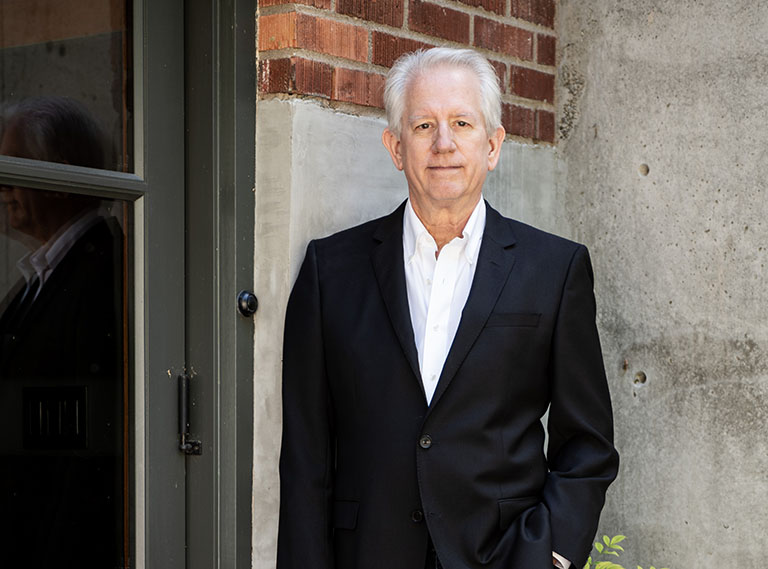 Owner, Lane Williams Architects
Who or what were the early influencers in your career?
WILLIAMS At the University of Washington, I had some excellent professors that included Bob Small, Galen Minah, Grant Hildebrand, and Doug Zuberbuhler. Most of what I needed to know about architecture was learned in my three years there. In my first couple years of practice, I was fortunate to learn from Richard Hobbs and Jim Olson. And then there were the works of architects whom I greatly admire, like masters of mid-century modern architecture Richard Neutra and Rudolph Schindler.
What is your take on sustainable design?
WILLIAMS We encourage clients to salvage existing structures, when feasible, and to not build more house than they really need. The addition of green features such as roof gardens and solar panels are great, but don't necessarily offset what may already be a large carbon footprint. Nearly every new home is now super-insulated, with high efficiency heating and ventilation, so the steps we take beyond those requirements are often subtle. We like to use woods from the Pacific Northwest, which are a renewable and carbon-neutral resource, and minimize the use of materials that have a large carbon footprint, like steel.
As a specialist in custom home design, is there a particular size or type of project that you prefer?
WILLIAMS We see a fairly large range of projects, with some under 2,500 square feet and others exceeding 5,000 square feet. Most are intended to be true family homes, with serious budget limitations, and not a weekend getaway or expansive estate. There is still great satisfaction in working that middle ground. But the best project experiences are when I have the opportunity to design a new home for a former client. The communication and trust essential to good work are already established.
Best way to spend a weekend in Seattle?
WILLIAMS Our residential neighborhoods are what make Seattle special, with endless possibilities for walking tours and scenic drives. My own neighborhood, Queen Anne Hill, includes Kerry Park with outstanding views of the downtown skyline and Elliott Bay. Be sure to diverge from the well-beaten tourist path, and meander up the hill to Queen Anne Avenue and some of the tree-lined streets filled with a mix off classic and modern homes. Stop at one of our excellent coffee shops and enjoy an outdoor table to watch the passing scene. Lunch at the Hilltop Ale House, and enjoy dinner—be sure to book ahead—at How To Cook A Wolf.
What would you like to be remembered for?
WILLIAMS One of my greatest pleasures is revisiting homes I designed 10 or 20 years ago, and seeing them enjoyed by my clients, and sometimes by current owners who purchased from my clients. I stress the importance of livability in my designs, and the proof of that is when the design ages well, with durable materials, a comfortable floor plan, and flexibility in accommodating changing family needs. I want to be remembered as the architect who prioritized livability over fashion.
Has anything in your recent travels provided new inspiration?
WILLIAMS In a recent visit to the southern Pacific coast of Mexico, I toured Casa Wabi, a retreat for working artists designed by the superb Japanese architect Tadao Ando. It is elegant in its simplicity and understatement, with an aesthetic that has universal, timeless appeal.