Finding the right mix of creatives to design an award-winning home like "The Houghton House," which garnered The New Home Council's 2018 Tribute Award for "Best Custom Home Design," an award shared by Kolin Taylor, owner of Taylor Building & Design and Phil McCullough of McCullough Architects, is an art in itself. Kolin was drawn to Six Walls Interior Design, an all women design team, of Mercer Island, for a myriad of reasons, including their handiwork with one of the oldest cabinetmaking companies in the world – Poggenpohl – founded in 1892 in Germany to bring the kitchen out of its humble hiding place in the back of the house and into the very heart of the home.
"Kolin had seen our work with Poggenpohl on a previous project," recalls Jennifer Kowalski of Six Walls, "and wanted us to collaborate on the kitchen design using their product."
Jennifer points to the 128-year-old company's ability to create kitchens that have all the right components, look exceptionally clean and modern, but never sterile. "The cabinetry is very welcoming and inviting," she says. One of her favorite features are the elegant, jewel-framed, very thinly constructed drawers that easily pop out, yet are extremely durable.
"Working on this kitchen with Kolin, who is so creative," says Jennifer, "was great fun. He really respects what the designer brings to the table in terms of function and aesthetic appeal, a fact which enabled us to explore designs that pushed us outside the box to the very limits of what a beautiful kitchen can be - one that's as unique as the home's architecture."
Homeowners Tere and Peter Thompson, recent empty nesters who love to cook and entertain, purchased the home after it was completed and are as delighted with the kitchen's functionality as well as its beauty.
"Our former house was beautiful, but much more traditional," explains Tere, "with the kitchen, dining, and front rooms all distinctly separate from one another. We decided we preferred something more modern, in an open setting. We've been pleasantly surprised by how easy it is to cook in this kitchen with everything so accessible."
One of the kitchen's features the Thompsons enjoy is the dual purpose of the 42" height of the bar island, which they often use as a buffet when entertaining, but which also provides room for guests to sit and chat with those working at the sink, and can act as a visual barrier for those seated in the living and dining rooms.
"If there are dishes or items left from cooking," says Jennifer, "you don't have to put everything away, because they are hidden from view. It's more friendly that way."
"While the kitchen is very open," adds Tere, "a lot of it is hidden. For instance, I can prep without anyone even seeing me in the area tucked away in the corner along the oven wall."
Jennifer designed that area for multiple purposes, whether it's to store overflow platters for entertaining, or as a designated bar for guests to serve themselves from the wine cooler fridge without interrupting the chef at work.
Although the white cabinetry has hardware, Jennifer chose the "+Segmento" handle-free Poggenpohl push system for most of the kitchen drawers for a cleaner, sculptural look.
To add warmth to the kitchen's contemporary feel, the island base, and lower range cabinetry feature horizontal walnut graining, which creates a sense of intimacy even amidst the room's high ceilings. A pair of Arteriors Caviar polished nickel pendants add task lighting, while heated 23" x 47" Porcelanosa Ferroker floor tiles in Alumino add further comfort to the cooking experience.
The all Miele appliances in this ultra-modern kitchen include a Miele espresso maker handily tucked into the oven wall. "I love the coffee produced by the Miele machine," says Tere. "It's truly superior."
The Miele range top functions similarly to a range, putting out a lot of BTUs, with the heat capabilities of making even wok or stir fry dishes.
The custom hood, says Jennifer, was Kolin's vision. "We took a reliable hood liner – Zephyr - and spent some time studying how to devise the right ratio of hood to wall, given the high ceilings." BFC Metals helped to realize Kolin's vision, using the mirrored finish he had first imagined. Together, he and Jennifer decided to add the soffit detail that completes the look, making the hood a gleaming focal point in the kitchen.
"Kolin has absorbed a lot of knowledge over the years," continues Jennifer, "working with the best architects and designers in the industry and wants the homes he and his brother Kimball build to be perfect."
"He is a very talented guy," adds Tere, "and he wanted this home to be an artist's piece."
Jennifer met Tere while doing a walk through with her on how to utilize all the features in their new kitchen, including adjusting shelves to fit the items she and Peter were bringing into the space, along with an overview of how to operate and care for the appliances, stone and cabinetry. "It was so nice to meet the person who is getting to enjoy the space we created," she says.
Emily Doden of Six Walls, who worked with Kolin on the master bathroom design, had also previously worked with architect Phil McCullough and was familiar with his unique style.
"One of the biggest challenges with the master bathroom design," says Emily, "was to make the space – 18' long and 9' wide - warm and inviting, despite its very tall ceilings."
By placing the 70" Waterworks Oval soaking tub in satin finish against a backdrop of thin, linear Cepac Rudiment Metallic Gray tile, not only does the tub get center stage, but the mirror that rises out of the tiled wall aligns perfectly with the skylight that runs across the ceiling toward the double vanity, where it meets a dual mirrored wall.
"The mirrors bring the sky down, making it feel warm and inviting without feeling small," says Emily. While the light-filled home continues its magic even in the master bathroom, it is the heated bathroom floors that help to ground the experience. "If you live in the Pacific Northwest," says Tere, "heated floors are a necessity, and these are awesome."
Collaborating with Kolin on the bathroom design was, says Emily, very gratifying. "This is a very special house, with a beautiful view, and it's also a good representation of how when people of the design world collaborate, you can elevate your design even further, stepping out of your comfort zone to try things, discuss options and find subtle ways to make such a contemporary home welcoming as well."
PROJECT SOURCES
CONTRACTOR
Taylor Building & Design
www.taylorbuildingdesign.com
ARCHITECT
McCullough Architects
www.mccullougharchitects.com
INTERIOR DESIGN
Six Walls Interior Design
www.six-walls.com
CABINETRY
Poggenpohl: Six Walls Interior Design
www.six-walls.com
APPLIANCES: Miele, Zephyr; Plumbing Fixtures: Dornbracht, Julien, Kohler
Shoptalk - Dawn Wilkinson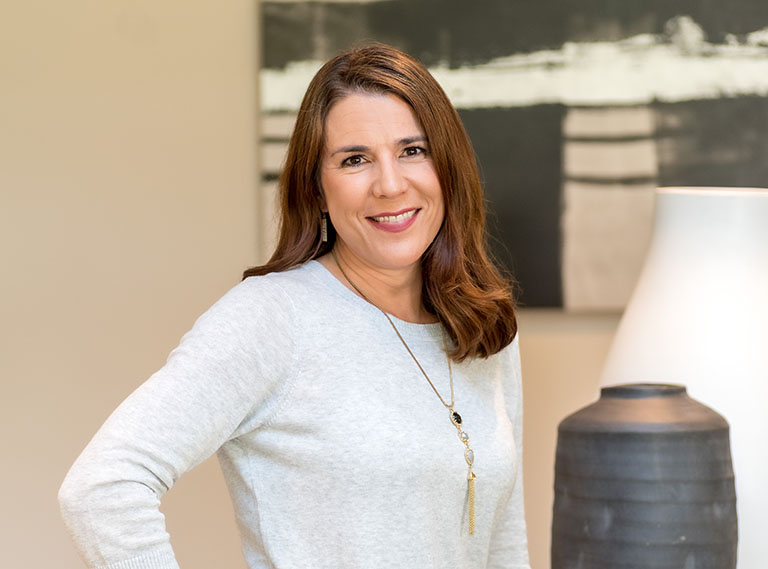 CEO, Six Walls
When you founded your firm, what were your goals and how have they evolved?
WILKINSON Six Walls opened its doors in the fall of 2003 with a goal of making interior design approachable and attainable for a wide audience of potential clients. We did that designing a retail/studio space where clients could purchase home décor and a specialty line of interior paint—and have a quick chat with a design professional. By pairing design/color consultation services, to the products we offered—a customer could schedule an hour of time with us, making design time accessible to anyone who needed a bit of help with a project or a plan. As Six Walls evolved, we have stayed true to our roots and original goal. We still offer one-hour consultations and we believe maintaining this accessibility has been key to our success. We do not push a design agenda, but instead focus our knowledge towards helping clients find solutions to fit their own personal styles, budgets, and expectations. It's clear to me we built many of our long-term client relationships upon that one-hour consultation.
What led you to interior design?
WILKINSON I was studying psychology during my freshmen year in college and was having a tough time learning by way of two-hour lectures. I found myself checking out the architectural periodicals in the library instead of studying my psychology texts. In my sophomore year, I changed my course of study to interior design, and space planning courses and I never looked back! I immediately identified with the hands-on techniques of pulling resources together for different purposes, understanding where and how they intersect, and then pulling them all together for a client. That is where the Six Walls logo came from: the six walls of an interior space, in 3D, unfolding. You wouldn't make a decision on one wall without understanding how it impacts the other five.
When decorating, where should people splurge and where should they save?
WILKINSON I do think understanding the value of the design time and process is very valuable. While this may seem like a splurge, it leads to an understanding of where you can save. All decisions in the design process are not commodity-based. For example, through the design process, you may uncover a beautiful hardwood floor you didn't know existed under a layer of carpet or linoleum. Your re-finished hardwood flooring will look like splurge to your guests, but you have saved money uncovering it. When it comes to commodity pieces, invest in quality materials you're using every day, like your sofa. You spend a lot of time on your sofa! Then, change out a few accessories every few years to give a room a fresh look. In the kitchen and bath, invest in good quality cabinets, countertops, and appliances, and do something more budget friendly on other items, like your backsplash. Choose classic in your splurges, so you can meet changing styles in your accessories down the road.
What types of projects is your firm currently working on?
WILKINSON The gamut! Currently, we have two studio locations, one in the Seattle metro area and the other in the Denver metro area. We have a combination of new construction and remodeled homes in Boise, ID, the Oregon coast, the southern wine country of California and more. The locations are a geographically diverse as they are too in their design elements, budgets, and goals. We have some multi-year projects and a few that were completed in only a few weeks.