When Lori and Jeff Wenner of Richland, Washington's Aura Homes were married in 2010, their blended family grew in double digits: two girls and two boys - and so did their need for a larger home. The couple, who were both interested in Pacific Northwest modern architecture, ventured to Seattle after interviewing some local architects without finding a match. The first firm they met with – a large, well established group - seemed a bit "stuffy" for their needs. A meeting with AIA architects Taylor Callaway and Kevin Witt of First Lamp Architecture and Construction of Seattle held on a job site clenched their decision. "They were dressed in jeans, t-shirts and tool belts and sat on 5-gallon buckets" recalls Jeff. "They grabbed a piece of sheetrock and started sketching ideas."
It was a seminal moment for both parties back in 2012. Jeff would, for the first time, become a general contractor working with Ken Holle of Urban Street Homes on his own Badger Mountain house, while Taylor, who studied architecture in Vicenza, Italy, would garner AIA Home of the Month for his design.
The first site visit gave Taylor a lasting impression. "No trees, big sky, so open!" he says. "I was raised in West Texas in a similar landscape, totally open, nothing obstructing the view, which led to the long, linear design I created that reflects the line of the horizon that seems to go on forever." One critical element for the Wenners was the need for a daylight basement that did not look like all the ones found in the surrounding area.
To avoid the typical stacking of the house upon the basement, Taylor integrated the home into the hill by making the concrete and stucco walls of the daylight basement as linear as the main upper floor. By pushing the upper floor back to reveal the basement's roof as a type of terrace for relaxation and wrapping the main floor in warm tongue and groove clear Western red cedar, it created an eye-catching visual, embellished by a switchback set of concrete stairs emboldened by differing geometric shapes at each turn.
"We wanted the entry steps to resemble a winding trail like the hiking trails found on Badger, not one, long daunting task," says Jeff. "It plays a trick on your mind, making you think you haven't gone that far by giving you a chance to look behind you, going up and going down." Separate garages, one for the adults on the upper level with easy access to the kitchen for unloading groceries, and one on the lower level for the teen drivers add appeal to the exterior design.
Mandy Callaway of Mandy Callaway Interiors frequently joined Lori and Jeff in Seattle to shop for furnishings and finishes like the silver travertine fireplace, and the kitchen sandstone backsplash.
"I wanted to tie the finishes to the Eastern Washington desert landscape," says Mandy, who describes the sandstone's dramatic dark grays, tans, and linear pattern with relish. For contrast, she chose soft white leather bar stools that swivel for easy conversation between rooms. The walnut table echoes horizontal walnut kitchen cabinets and wood wrapped columns indoors and out. Black leather and walnut dining chairs from Bellevue Scan Design finish the look.
The outdoor cabana includes an oft-used kitchen adjoining the pool and spa with a sports court featuring basket and pickleball on the terrace. Jeff suggested installing the Avante by Clopay roll up garage door off the guest room overlooking the pool. "We wanted a two-sided experience," says Taylor. "One felt urban, the main living room connecting to both the pool courtyard and looking out over the town lights to the expansive Columbia River view - the other inwardly focused on Badger Mountain, with glass bringing light in from both sides."
"We love the house," says Jeff, "but the friendship we gained from the experience of building it with Taylor and Mandy is probably the best outcome of the whole process."
PROJECT SOURCES
CONTRACTOR
Aura Homes
ARCHITECT
First Lamp Architecture and Construction
www.firstlamp.net
INTERIOR DESIGN
Mandy Callaway Interiors
www.mandycallaway.com
Shoptalk - Taylor Callaway AIA, LEED AP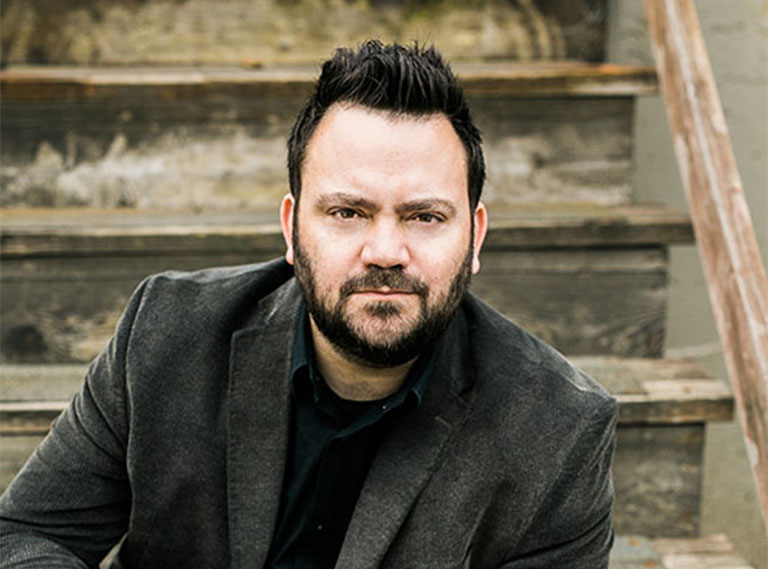 Taylor Callaway AIA, LEED AP
How did studying abroad influence your viewpoint on design?
I spent a summer studying Architecture in Vicenza, Italy, when I was 22 years old. It had a tremendous influence on my trajectory as an Architect. There is so much care and craft to designing buildings that last for hundreds of years, not to mention the history, culture and mythology that went into their conception. Seeing how buildings, music, art, and food impacts their culture also changed my perspective.
What was a "lightbulb" moment for you in expanding First Lamp's commitment to high performance architecture and environmental responsibility?
My business partner Kevin and I were always interested in building resilient and sustainable buildings, but when we first started our company it was not necessarily our top priority. About halfway through our first project, we went to a seminar about how buildings failed and created an unhealthy environment for the folks living in them. That got us into the concept of "Building Science" and how to build homes that would last multiple lifetimes while also being warm and healthy for the people living in them.
Your work has garnered numerous awards including AIA Home of Distinction, what are some awards you are most proud of?
One of our projects was recently awarded a Zero Energy Ready Home Housing Innovation Award by the Department of Energy. That was a national award recognizing great design that generates as much energy as it uses.
How do you stay inspired?
My clients. Being a residential architect affords me the ability to get close to the people I work with. A custom home is extremely personal, and each one is unique. Every home I design is special to that family, and a new journey, which you never know where it might lead.
Favorite architectural detail of your childhood home?
Our house had a mezzanine that was open to both sides that me and my two brothers used to climb on and jump from. It probably looked cool to the adults, but to us it was just fun. It's also a reminder not to take everything we do too seriously since some kid will probably just treat our design like their own playground.
If you were magically given three more hours per day, what would you do with them?
I love playing music. I grew up playing the piano and have recently started playing the guitar as well. It is my stress relief and accesses a different part of my psyche which gives me both inspiration and balance.