It was a very brief timeline. An Australian family recently arrived to Seattle had purchased a 6,500-square foot home and needed it remodeled and fully furnished within seven and a half weeks. "And we did it," recalled Kate Robertson who is partners with her sister Susie Bumstead in Trove Interiors. "It was crazy, but we got it done."
"We just got each other," said the homeowner of her first meeting with Trove. "They were so knowledgeable and had lots of good ideas. I also like that they are sisters; they're a team. You can tell they have a very deep, strong relationship. I have a sister and I understand that, too."
"We were living in a short-term furnished rental, and we were desperate to get out," recalled the homeowner. "We settled on this house because it had very good bones, and we thought the work would mostly be cosmetic."
The chosen house had an exterior reminiscent of homes found along the Atlantic in New England or New York but an interior that was a mix of Northwest Lodge and Tuscan styles. Accustomed to the pale woods, pale colors and light and airy style of Down Under, the homeowners were taken aback by the use of large rocks, dark woods and finish materials.
As much as the project's time line was brief, the scope was not. Included in the remodel were the entry, mudroom, kitchen, family room, dining room, playroom, five bedrooms, three full baths, two powder rooms, back patios (with outdoor dining and seating) and establishing a vegetable garden.
"The homeowners wanted everything cleaned up and made light and bright with more classical architecture while not being locked into one particular theme," said Bumstead. "They wanted it to look good for the next fifteen years."
"It really was a rush, so we chose vendors who could work with the deadline," said Robertson, "but in many ways it was the same process that we always go through." Much work was done simultaneously starting with the bathrooms and plumbing then moving onto cabinetry, counters, bookcases and furnishings.
Some of the most extensive work occurred in what was a Tuscan-theme kitchen and the adjoining lodge-style family room.
The kitchen's footprint was maintained, but dark cabinets, granite and tiles were replaced with white cabinetry, white statuary marble counters and basso marble tiles in the backsplash and new appliances including a 48-inch Wolf range.
"People have an emotional reaction to marble," said Robertson of the counters and backsplash. "They like the feel of it and the patina. As it ages, it becomes its own piece of art. The technology of having marble in the kitchen is much improved, and there are not the issues with staining that there used to be."
Elsewhere, cabinets were custom measured to ensure everything would fit. Parisian bistro stools were placed by an island and a nearby table and antique chairs were added for casual family meals. A large pantry harbors the family's foodstuffs, a bookcase holds the homeowner's extensive collection of cookbooks, and a desk and large blackboard provide areas for messages and notes.
The family room is the space that the sisters feel is the most emblematic of the changes brought to the home. Previously, it was distinguished by traditional wainscoting, a raised hearth with large river rocks forming the surround and arched dark bookcases that stopped just short of the ceiling. Now the room's only artifact of its prior existence is the wainscoting. River rock was replaced by statuary marble, the hearth was lowered and new white bookcases reach to the ceiling.
The furnishings may be all white explained the sisters, but they are very user friendly. The family room sofa is upholstered in an indoor/outdoor fabric (now often referred to as performance fabric) and the chairs are covered in a Rogers & Goffigon linen that was stain treated. A leather ottoman adds texture and softness and, most important for a family with two young sons, it is okay for leather to get distressed.
"We're obsessed with the how of how people live. Our Danish mother taught us that your home should be cozy and durable and full of love," recounted Robertson of the sisters' choices of fabrics and textures and their practice of mixing the antique with the new.
As successful as their partnership has been, the sisters did not always intend to work together: Bumstead established Trove and worked with a residential clientele, while Robertson worked in the commercial area of design. "But I started helping Susie and 'saw the light,'" said Robertson with a laugh. "I officially joined Trove in 2012. We haven't looked back since and, because we are sisters, I think we offer something special. We also can't imagine having worked this hard on this home with someone who wasn't family."
It was such as smooth journey," said the homeowner of the project. "It was so enjoyable and fun. We didn't have the luxury of time to work ourselves up about everything. They saved us time and energy. And now the house looks so good and put together, and I get compliments all the time."
PROJECT SOURCES
CONTRACTOR
King Construction
www.kingcon.com
INTERIOR DESIGN
Trove Interiors
www.troveinteriors.com
PLUMBING FIXTURES
Waterstone
www.waterstoneco.com
Kitchen Appliances: Sub-Zero, Wolf, Miele
Shoptalk - Trove Interiors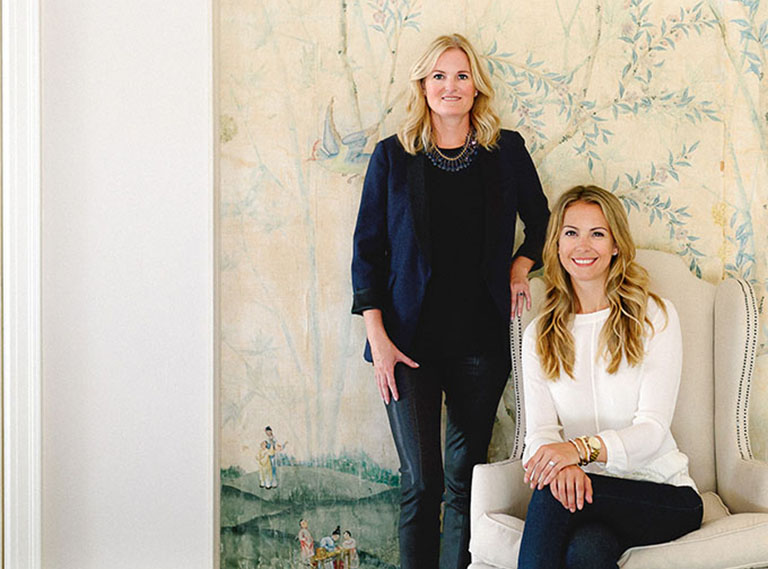 (left to right) Designers Kate Robertson and Susie Bumstead
What was the "a-ha" moment you knew you wanted to be an interior designer?
Susie: It wasn't so much an "a-ha" moment, rather a way of life from the very beginning. My childhood was filled with houses that played a big role our lives and emotions, and it was impossible to overlook how much I loved that. My grandpa was a Hollywood art director, designing sets and telling stories with them, so I think I've always been very aware of its influence in my life.
Which section of your portfolio are you most proud of?
Kate: It's not immediately obvious because our portfolio features the finished products, but the homes we work on undergo such a huge transformation. I'm most proud when I think back to the before and consider how changed the houses and our clients are when we're done. Susie and I tend to look at things from different perspectives but through the same lens, so I also see that collaboration in our portfolio and I think our clients really benefit from our dynamic.
Do you have an inspiration board, and can you tell us what is inspiring you now?
Kate: I tend to collect things that I can reference as part of our problem-solving. I'm most inspired when beautiful things are the solution to everyday problems, and I think that is what keeps my curiosity alive and why I am always looking around for something new to learn and incorporate.
Susie: Lately, I've been most inspired by monochromatic rooms that are still layered and interesting. I think bringing in natural elements help those spaces feel casual and livable, but they always look put together and soothing
Favorite travel destination?
Kate: I'm anxious to get back to Denmark. It checks all the boxes for me: family, classic architecture, sidewalk cafes, beaches, wonderful food and great shopping.
When visiting a foreign country, which accessories do you collect and are there any special local items you look for?
Susie: I usually come home with a few pieces of art, old oil landscapes typically, and anything blue and white that fits in my suitcase.
If you enter a room what is the first thing you pay attention to?
Kate: If I'm not distracted by the architecture, it's impossible to overlook the furniture arrangement. It's hard to not pick up pieces and start re-arranging right then—we've been known to flip houses on end based on how our clients use them. I'm also immediately curious about the people who live in that room. It's kind of like reading the back of a book–what does it say about the people who live there and is it doing its job of providing comfort and beauty?
What are your favorite products to work with, e.g. paints, wallpaper or textiles and which designers do you admire?
Susie: We're always telling clients that we don't want their homes to look "decorated," and I think that's done best with things that have a story, even if it's new to you. Antiques help a space look good yesterday, today and tomorrow and, in the end, we're about classic spaces that make people happy to call them home.