When laura thomas and her husband went searchingfor their seattle bungalow in 2018, they got everything on their list—including the bad kitchen they said they would take to make the rest of their wish list come true.
"The kitchen had dark cabinetry, six-inch-thick concrete counters, an awkward peninsula and a wall that cut the kitchen in half," Thomas explained. "My husband is a gourmet cook, and there is no way he was going be a gourmet cook in that kitchen."
Thomas quickly started hunting for a designer who would help implement her vision for the new kitchen. It was a tough search: None she found had the education, experience and gravitas that she was looking for. "I finally Googled Seattle's top twenty-five designers and started looking at portfolios, and that's how I found Anna."
"The house is absolutely charming and the owners are serious cooks," said Anna Popov of Interiors by Popov. "The kitchen needed to be gutted and rebuilt. We needed to make sure that the living room flows into the kitchen and take into consideration the architectural details." Beyond removing the bisecting wall and adding new cabinets, Thomas wanted increased storage, green cabinetry (the color of which was taken from a green vein in the Taj Mahal quartzite she chose for the counters), a big island, and an eclectic style. More-specific requests included a Thermador range and corbels integrated into the island's design. Working with Maks Koshelnyy of Makswell Construction, the old cabinets, flooring and offending wall were removed.
"Both Anna and Maks were totally transparent in their dealings," recalled Thomas. "I was anxious to get started, but they were insistent about all the background work of planning, getting materials and making choices beforehand."
"With older homes there are always things that the homeowner does not expect," said Koshelnyy who, along with Popov and the homeowners, was ever mindful of the budget and project schedule. "You never know what's behind the walls."
Green Shaker-style cabinets now line the kitchen. "When you walk in, your vision should carry about the room and wind up with the shelves and the china cabinet," said Popov. "The whole kitchen is full of smart solutions. There are tray dividers in the cabinet above the refrigerator, a pullout spice drawer near the range for oils and vinegars, a pullout recycling center and an under-counter microwave. In the back corner there is an appliance garage with bi-fold doors that hide a roll-out tray with a coffee station, and the glass cabinets have integrated LED lights to showcase the china collection."
Sitting center stage is the requested island. "The house didn't have a dedicated dining room," explained Thomas, "and my husband and I thought 'well let's bring in this concept of the island as the dining table,' The island is a great success. The landscape of our lives is on this island. We prep meals, leave notes, use it as a dining table, and put groceries on it."
A small breakfast area adjoining the kitchen was brought into the redesign with the same new flooring used in the kitchen, which was selected to match flooring in the living areas. A black light over the small table ties in with the green refrigerator, black fixtures above the kitchen sink and the matte black trim on the French doors leading to the garden. Trim in the living areas was also painted black to not only unify with the new kitchen and eating area but also to echo existing black trim used in the home's other areas.
"I loved Anna. She saved me from terrible decisions," recalled Thomas. As an example, Thomas cited the light now hanging over the small table. When she first saw it in the showroom, she had her eye on a more traditional fixture. "When I asked why the one I saw was a 'no,' Anna said that I had told her I wanted eclectic and that other fixture would be expected. And it was true, that's exactly what I had told her. And now it is eclectic; it's delightfully eclectic."
Among the other decisions made to meet the criteria of eclectic included choosing star-and-cross rather than ogee tile on the kitchen's back wall, not painting the island green to match the cabinets, and on the cabinets using oval rather than round knobs.
"Anna did what fits me. She got a really good assessment of what I wanted. I didn't want someone who would rubber stamp me. I wanted to learn the difference between good and bad design. My only regret," said Thomas, who acted as project manager for parts of the remodel, "is that I did not ask her to manage it all."
PROJECT SOURCES
CONTRACTOR
Makswell Construction
www.makswellconstruction.com
INTERIOR DESIGN
Interiors by Popov
www.bypopov.com
Appliances: Thermador, GE, Sharp, Zephyr; Plumbing Fixtures: Brizo, Kohler
Shoptalk - Anna Popov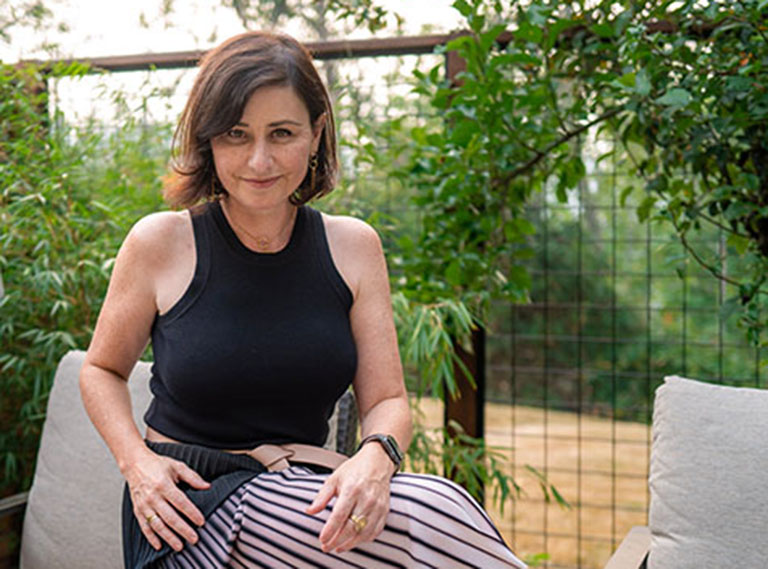 Anna Popov, Interiors by Popov
How did your years overseas influence your design approach?
The first half of my life was spent across the Atlantic. The culturally diverse, dynamic, and historic urban landscapes of Moldova and Tel-Aviv cultivated within me a deep admiration for European period architecture, which has stuck with me to this day. In every project we take on at Interiors By Popov, we reflect this influence.
When did you realize you wanted to pursue interior design?
When I was finishing my business degree, I was living in Tel-Aviv. It was at this time that I became acutely aware of human-centered design's effect on a person's experience of daily life. I noticed that when a mug fits one's hand perfectly, the experience of drinking tea is different. Work becomes easier when light is correctly positioned in the room, and when the walls are the correct color and texture. Architecture and interior design have an immense impact on one's physical, mental and spiritual well-being. This realization was deeply inspiring and led me to pursue a career in the field of interior design.
You mentioned that you specialize in European design. What does that mean?
It's important to understand that European design is not a specific style. Rather, it is a philosophy that informs how we approach designing a space. My work adheres to a set of classical design principles, which emphasize precision when applying historically correct architectural elements, and balance when evaluating scale and proportion. This approach to interior design leads to spaces that feel entire individualized, yet familiar.
How do you stay inspired?
Art is the biggest source of inspiration for me. It's so exciting to take elements of famous artists or periods in art history, and apply them to modern interiors. We have an ongoing series on our blog dedicated to art-inspired interiors!
Travel is also a source of endless inspiration. I practice a creative exercise which involves paying attention to the combinations of color and patterns that exist in new environments, whether manmade or natural. For example, the contrast between a blue pot on a fire escape to the brick wall behind it in Port Townsend, or the way the California sun illuminates the vibrant green leaves of succulents in Laguna Beach.
What are your favorite colors or materials at the moment?
This season, I'm absolutely obsessed with four natural materials: stone, cashmere, live-edge wood, and silk. Combining these materials in a variety of ways can transform an ordinary space into a one of refinement and luxury.
In your opinion, what is the most fundamental element of interior design? Where does one start?
We always start with the function. Never with aesthetic. A house becomes a home when it is designed to support every aspect of its inhabitants' lives. This is what's important, and this is where the true beauty lies.
What is the best way to spend a weekend in the Northwest?
That's an easy one. This year, we completed a renovation of our own home. So, now, perfect weekend is sitting in my backyard with a book and a glass of chilled Chablis!