For decades, this Pacific Northwest family spent their summers on the shores of Lake Chelan in a charming 1920s fishing cabin filled with memories. In 2016, two of the family's siblings, Susan Gellatly of benchstrengthcoaching.com and her brother Kirk Riedinger decided to forge new memories at the lake for their respective families on an adjoining property created after a decades earlier flood shifted the course of the river and filled in previous waterfront for property.
The families interviewed a Sun Valley architect but preferred someone with more windy beachfront property architectural experience. "A friend of Kirk's recommended Hoedemaker Pfeiffer, who were well-known in Seattle," says Susan, "so we met with Steve Hoedemaker, whose concept we really liked."
"Every time the team visited the site, however," recalls Steve, "there was no wind!" So, the families had to impress upon Steve and principal Kelly Jimenez the need for protection from winds up to 50 mph.
Steve says he begins every architectural project with a series of dialogues with clients that includes imagery, diagrams, information about the site - sunrise, sunset, seasonal differential, weather, and survey data. The team then uses that information to create a vision that is worth sharing with the client.
"Working with both families," says Kelly, "brought a broader perspective to the design process. Meeting the desires and requirements of two different families meant creating a very flexible house for everyone to occupy and enjoy."
Kirk's wife, fine artist Kathryn Riedinger of Kathrynriedinger.com, who was involved in the 18-month-long process, was impressed by the team's fresh ideas, especially how best to position the house on the land. "We were thinking of orienting the house to the view north with mountains. Steve and Kelly brilliantly suggested pointing the house across the lake, which gives you more privacy, yet still sees uplake."
"With the presence of the sun on the wooded side of the property," adds Steve, "we wanted to give them the ability to occupy both sides of the house."
In the end, the opposition between vernacular and modern architecture and the resulting visual tension between the differing architectural styles best answered the needs of both sets of clients. "It was really about creating vernacular forms similar to those existing on the property with a space in between that connected them to the outdoors – with the water on one side and the land on the other," explains Steve. "That is how the Great Room became, conceptually, a great big covered porch that allows you to open up walls and windows on both sides of the house, depending on the wind or other mitigating circumstances."
To find the "sweet spot" between rustic and refined interiors, the Great Room reiterates elements found in not only its raw materials – tight knot rough sawn cedar, for example – but also outside in the building's vertical siding.
"We fashioned the home's color palette after the very bark on the pine trees that surround the property," adds Kelly. Along with Project Manager, Brittney Prince, the team paid special attention to the selection of every material used inside and out. Susan told Steve that while she wanted things to be simple and durable, she also wanted a balance between, "It's beautiful, but also a cabin." Although she's not sure it's really a cabin inside, it is in the way both families use it. The best way to achieve the simplicity necessary for the architectural goals Steve envisioned meant playing with the most iconic, simple version of a building and really thinking about the pitch of the roof and width of volume. "It was a game of minimum embellishment with maximum richness."
By making the buildings as long or short as necessary, he was able to slide the kitchen element forward, and the bedroom element back and tilt the view of the lake, while simultaneously improving privacy by screening the bedrooms from the family cabin next door, and the outdoor area from the campground opposite. "It's a small-not-oversized house," says Susan, whose goal was to intrigue boaters on the lake to wonder what was that place that looked so different from all the other old traditional farmhouse style homes on the lake.
"We wanted the cabin to have a contemporary feel yet balance that against the vernacular elements found in apple orchards that surround the area," says Kelly.
Interior designer Laura Morawitz of M Design + Interiors in Sun Valley, Idaho, was hired by Kathryn to furnish the vacation home. "Laura was really good about recommending durable, long lasting furniture and spending more money on quality custom sofas," says Kathryn, who worked closely with her on the interior design, lighting, and easy-to-maintain wide plank flooring. "When our source fell through, Laura found one in her native North Carolina."
"When I have the privilege of working with super architects," says Laura, "I'm always deferential to their vision, taking the lead from the architects as much as from the client. The Hoedemaker team was super inclusive, even sharing finishes, which came to me beautifully presented in a little box."
"From an artistic standpoint," says Kathryn, "I really appreciated how beautiful the architects made the spaces and their use of the footprint. We all spend a lot of time in the great room, kitchen, and covered porches, which are great for entertaining family and friends."
Steve also created an unplanned nook off the kitchen he likens to putting on a favorite sweater. Small, no bigger than a glorified closet, where multiple generations gather, kids be tucked in, teens watch sports, adults take a nap, with window seats wide enough to accommodate sheets for overflow sleeping.
For Susan, however, it became a source of contention with her brother Kirk who was staunchly against it because they had never had a television at the old cabin. "I told him my boys wouldn't come up here in the fall if they couldn't watch football!" Now, when the siblings' parents visit, they, too, enjoy watching a movie at day's end, or using it as a reading nook. A pocket door gives it total privacy.
"I learned a lot working with Kirk," admits Susan. "It was a different relationship than brother and sister. Truly my joy is much more, we are both building memories with each of our families around Lake Chelan, which is huge for both of us in the little ways we can honor our past in a house that looks like the future – thanks to the Hoedemaker team."
TOP LEFT In this view from kitchen to powder room, one of Kathryn Riedinger's paintings, "Moonlight," adorns the entry - its watery hues echoed in the landscaped blue and white rug. TOP RIGHT Hoedemaker suggested adding window seats wide enough for sleeping to this last-minute reading nook area off the kitchen. Storage drawers by Traditional Woodcraft.
PROJECT SOURCES
CONTRACTOR
Rimmer & Roeter Construction
www.rimmerandroeter.com
ARCHITECT
Hoedemaker Pfeiffer
www.hoedemakerpfeiffer.com
INTERIOR DESIGN
M Design+Interiors
www.mdesignandinteriors.com
LIGHTING
Circa Lighting
www.circalighting.com
WINDOWS
Windsor Windows & Doors
www.windsorwindows.com
DOORS
LaCantina Doors
www.lacantinadoors.com
Kitchen Appliances: Sub-Zero, Wolf, Zephyr, Liebherr, Bosch; Lighting: Circa Lighting, Schoolhouse Electric, Tech Lighting, Restoration Hardware
Shoptalk - Hoedemaker Pfeiffer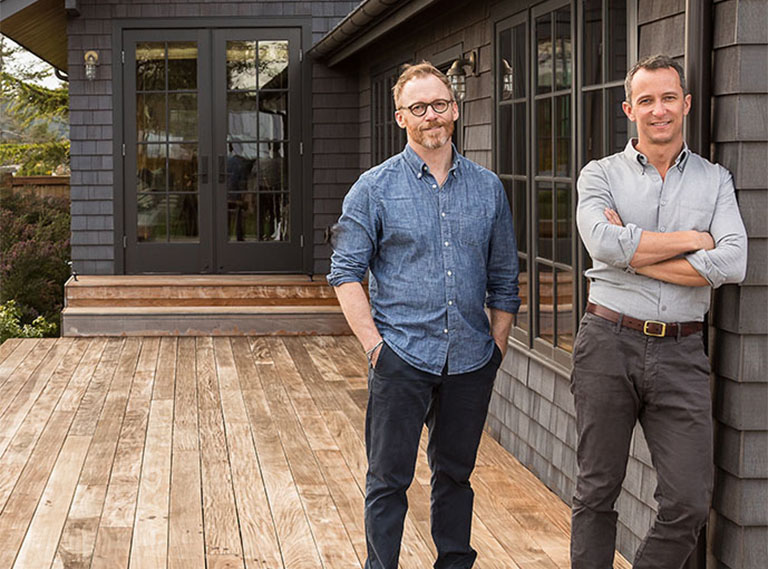 (left to right) Tim Pfeiffer and Steve Hoedemaker
Can you tell us about your introduction to architecture and why it originally interested you?
Hoedemaker: Residential architecture really represents an opportunity to craft a unique set of spaces around a family. The mix of the truly personal and often ephemeral with the science of building is something that I was introduced to from an early age in a family of builders and designers. Where those things meet there is an act of faith and an element of art. It is that space that motivates me every day.
Pfeiffer: As a kid I was fascinated by the grand Victorian home my great-great grandparents built in Port Townsend where my father grew up. My grandmother shared generations of storied lives inhabiting the sprawling place. She literally painted a picture with the furnishings and art that filled that world. I drew that house and those rooms and many of the town's great houses over and over as a kid. Those memories hooked me into the notion of the built environment as the place for our shared experience.
When you founded your own firm, what were your goals? Was there something different that you wanted to accomplish?
Hoedemaker: The firm was founded with the idea of working with a limited number of clients to create elegant and timeless homes. Over decades of work we have come to think of the firm as a place to explore all aspects of home from architecture and interiors to art and furnishings. The mix of disciplines and passion gives us a huge toolbox for helping people tell their personal stories of home.
Pfeiffer: Until 2013 my career had focused on designing specialty lifestyle, retail and hospitality 'branded environments' that took inspiration from residential design. The key design focus was creating a specific physical experience…a customer journey through the designed space. When I partnered with my friend Steve Hoedemaker in our current firm, it was a natural next step in my creative evolution. I now focus on creating living experiences specific to the personality of a family with unique aspirations, histories and complexities. My prior work had taken me across six continents with the opportunity to work with crafts people from around the globe. I wanted to bring my adventures and experiences in the art and decorative markets everywhere to our firm. I also dreamed of opening a sibling gallery/showroom to house my passion for art, furniture and objects and in Steve found a partner who shared my vision. That has been realized as Housewright Gallery—recently named one of AD's Top 40 Home Decor Stores in America. So, we now occupy a unique space in the architecture and design world—distinctly full-service.
Do you have a dream project you would like to work on, or a location that you would like to work in?
Hoedemaker: The best architecture is about more than spaces and materials, more than light and shadow. The best work is transformative. The dream project is to be able to create a beautiful stage on which a family can live their life. That work tells a story, delights, surprises, calms, and lives in our memory and experience.
Pfeiffer: I would love to develop design plans for a destination, multi-platform eco resort. Today much of our key design work focuses on smaller scale island and ranch versions for family compounds. Moving into the resort space with sustainability as a driver would allow the multidimensional design of amenities and experience to be shared by many. We have exciting new work budding along the California coast!
What aspects of your background and upbringing have shaped your design principles and philosophies?
Hoedemaker: I grew up between a modern house in the city and a farmhouse in the country. Both houses were remodeled extensively and that experience shaped my understanding of what home can be and how homes live and change over time. I love the idea of French poet Gaston Bachelard that houses become repositories of memory. The memories of those homes lives in the work I do today.
Pfeiffer: I learned to design homes around the way people live. I grew up in a house with a large extended family that highlighted organization and an understanding of personal and shared spaces. For me there's nothing more important than the unseen design that creates a fluid and efficient way of living. For most of our projects that means focus on programming and on comfort in spaces that flex to accommodate many whilst still intimate enough to feel personal. Every client has an individual family history, needs and aspirations for their project. My greatest design satisfaction lands on manifesting those complex desires while fulfilling my own fantasies for life in their home.
Outside of architecture, what are you currently interested in and how is it influencing your design thinking?
Hoedemaker: The practice has always focused on sustainability and with ongoing developments in building technology we are excited about taking projects off grid and creating enduring buildings that are even better citizens of the built environment. Our relationship to nature feels more tenuous and important than ever. I am thinking a lot about how a house can be a tool for providing different levels of protection with a goal of always connecting us to the world outside the walls.
Pfeiffer: Where my heart and mind wander. I love landscape and gardening. From the Olmstead Brothers grand schemes to small Japanese Zen gardens, I find great satisfaction in the cultivation of the natural world. This shows up while partnering on landscape for our projects to insure seamless, focused integration of interior living to the outside environment. Sustainability wears many hats and I am a treasure hunter. The search for and reuse of furniture, art and objects make me a things guy. Nothing holds my attention more than wandering the Paris Flea market in search of the imperfect treasure. Hand built and crafted pieces and the artists and artisans who have brought them to us fascinate me. In every space I design, I look for the opportunities to draw the eye to placement in order to take the individual on a storied journey through the home. A collected environment with mixed in heritage furniture and art give substance and history to a home. In this way we too support the artisans who create future treasures and the collectors who preserve the beauty of the past.
Favorite way to spend a weekend in the Northwest?
Hoedemaker: Sometimes it helps to leave all buildings behind. My favorite northwest weekends are spent sailing, where elegant technology meets wind and water in a way that can be pure poetry and total escape.
Pfeiffer: In this pandemic summer, an island beach house, paddle boarding in the morning, gardening in the afternoon, BBQ with a few pals and a bonfire at days end.