What began in the minds of these homeowners as a home office renovation of their custom-built Snoqualmie Ridge home, grew, with time, into a full-on updating of their home.
"For years," says Andy Patterson of Patterson Ruehlmann Design + Architecture of Seattle, "I had recurring conversations with the homeowner about his need for a home office space that wasn't a rudimentary bare concrete floor installation."
Working with a homeowner who loves architecture and the process of design, "A once he's in, he's in 100% type," says Patterson, made the project exciting from start to finish. Patterson collaborated with interior designer Danielle Krieg of Studio AM Architecture + Interiors on the project, which began, not on the lower floors, but rather on the main floor instead. Spaces were transformed, elements were resurfaced, a media room and that longed-for office all came together over a long period of time, creating a beautiful visual flow that was often inspired by the homeowner, who sent his greatest thoughts in lengthy emails during the middle of the night.
"This couple," adds Patterson, "is super welcoming and great to be around. The design is an extension of their personalities: sumptuous, yet cozy, with a warmth and casual elegance. Using that theme, we pushed for materials with warm wood tones, colors that are soothing, comfortable and dramatic without being gawdy."
The original bluestone accent walls became an anchor for the color scheme. Wrapping columns in warm wood—a vertical grain Douglas fir with custom stain that carefully avoided its natural orange tendency was crucial to the look. "We needed the right amount of green tint to get the red back to a nice chocolate," explains Patterson.
Another benefit of a long-running relationship between Patterson and the homeowners was the chance to develop a rapport that helped him to define who and what their values are. "It's a type of shorthand, I can anticipate what each person wants to see or not see and enjoy the process."
"As designer," says Patterson, "I realize this is not my house, but their house. So, it takes a lot of conversation, pictures that they each like and how they want it to work. My job is to make sure like the bumper in a bowling game that I keep the ball rolling in the right direction, consistent, on target and in bounds so we stay on track."
Krieg and Patterson worked together in a similar way. "Andy and I would always throw ideas off of each other, working hand-to-hand even on the furniture," says Krieg.
The decision to tone down the original polished granite kitchen countertop was an intentional choice. By honing the granite to a matte finish, the eye travels instead to the true focal point, a custom metal and cast glass table that shines like a diamond. "Nick Mayer of Mayer Design, Inc. designed this incredible metal table that draws you over to look, touch and feel its beautiful elegance," says Krieg.
With the fireplace being one of the drivers for the overall project, Patterson suggested eliminating the existing, very generic, appliance type glass front fireplace. "As we started talking about what it could be," recalls Patterson, "the Greens asked, 'Do we have to have the glass?'" At that point he recommended the 3-sided fireplace without glass that was integral to opening the upstairs living spaces to one another. "It was a creative, custom solution that made it work," he says.
The master bedroom—also on the main floor—was woven into the open plan by replacing its original generic entry door into handsome, warm wood French doors that echo the newly wrapped Douglas fir columns nearby. The entire master was re-envisioned. "We decided to move the master bedroom, clean it up and make it more functional," says Patterson.
Patterson came up with a concept to create symmetry in the room by expanding the wood paneling on the left to frame the bed and also provide context and cover for the door on the right. "It appears as if that is the end of the house," says Patterson, "when, in fact, you are entering the master closet and bath."
The former master closet, which resided in a small drywall room behind the master bath, was about one-half the size of the newly designed, sleeker version with hanging space above and drawers below. When the couple decided to jettison their bathtub for a walk-in shower to both save space for a bigger closet and make use of a lush limestone—Silver Sands from Bedrosians—it also made way for a dual integrated vanity sink directly opposite. "For the master vanity," adds Krieg, "local artisan glass artist, Scott Chico Raskey of SCR Studios, made the slender pendants that hang above the Pental quartz integrated sinks."
"We're super fortunate," adds Patterson, "to have had such wonderfully skilled and talented artists to work with on this project." The powder bath features Amboise Sconces by Jonathan Browning and an integrated sink—Coffee Gray from Meta Marble—cut by Architectural Stone Werkes, a slab fabricator. "We draw it up for size, they cut the slab, build it and match the grain," says Krieg.
"The homeowner had a sample of the stone for a year. When slabs were getting low in inventory, we used that stone to maximum effect in the powder room – which was a great, showy place to feature it!"
To repurpose the rarely used rec-room into a space that would draw both family and friends to it was a key goal. When not camped out on the Holly Hunt Waterloo sectional watching the big screen, feet nicely warmed by the fireplace beneath it, guests can hang out at the glass bar by Mayer Design.
"The bar was initially designed when the kids were younger and there was a concern about liquor," recalls Patterson. "So, I made a liquor shelf on an upside-down TV lift that raises and lowers into upper and lower cabinets—just a button away from cocktail hour!"
The homeowner discovered the last three slabs of Invisible Blue marble that became the office backsplash and hearth while walking through a stone yard. "Once we determined where it was going to go, we chose beams, casework, and fireplaces to finish out the space," says Patterson. "It isn't just a room, it's a destination with a warm aesthetic and welcome feel."
The homeowner agrees. "In my line of work, we are involved daily with amazing residences that are designed and executed by the best architects, builders and tradespeople. I've always appreciated the meticulous attention to detail that it takes to make something special. So, when it came time for my own family's project, we were fortunate to draw upon so many talented professionals/artisans to create a home uniquely us. None of it was easy and we couldn't be happier with the result!"
PROJECT SOURCES
CONTRACTOR
Dovetail Construction
www.dovetailgc.com
ARCHITECT
Patterson Ruehlmann Design+Architecture
www.prdastudio.com
INTERIOR DESIGN
Studio AM Architecture | Interiors
www.studioamarchitects.com
DOOR HARDWARE
Sun Valley Bronze
www.sunvalleybronze.com
WINDOWS
Pella Windows
www.pella.com
KITCHEN APPLIANCES
Miele
www.miele.com
Shoptalk - Andrew Patterson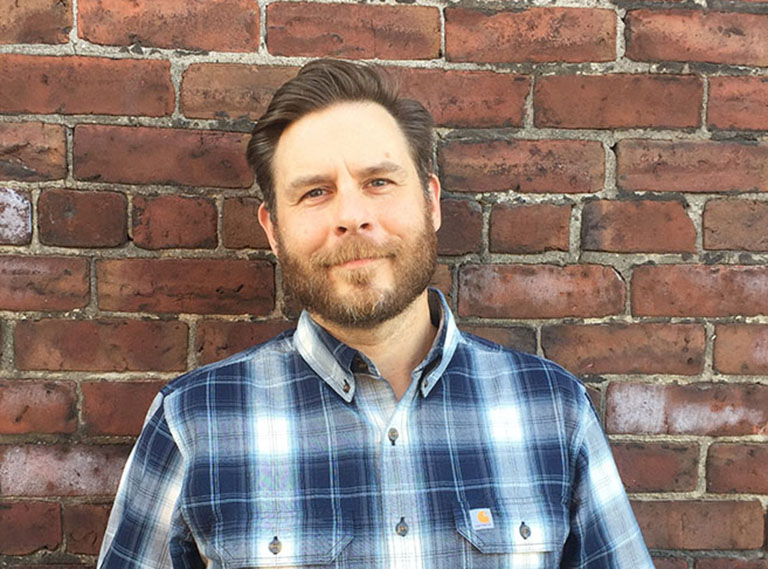 Andrew Patterson, Patterson Ruehlmann Design + Architecture
Where did your interest in architecture come from?
I think from a genuine fascination with how things work. Even as a little kid I would dismantle all sorts of machines and devices to find what parts were within while drawing elaborate mega-structure imaginariums that my future self would live in. Buildings are reflections of so many parts, elements, and pieces - it's a thrill to play a role in how the parts come together to make a building – to create a home.
What keeps you going in your work?
Relationships do. I enjoy working with clients and talking with them about their lives and how they live. I also enjoy working with my team every day as well as with our extended team of builders, craftsmen and artists.
Since starting PRd+a, what has been the greatest team/company accomplishment in your eyes?
I am particularly proud of the PRd+a team and how we are currently overcoming the challenges of living and working through the Covid-19 pandemic. We are continuing to do our best work and while physically apart, are working closer together than ever. The balance of work / life is important to us and we are overcoming this by pulling together as a team.
What are some of the current influences on your work?
I am influenced by what I believe are the best principles we live by and want to draw from those in how we approach design for others – with authenticity, forward thinking and refinement.
What does regionalism mean to you and your work in the Pacific Northwest?
Regionalism is about respecting the time and place of a project. It is the idea that the project reflects not just a client's expectations but additionally the intentions and values of that specific place. Bringing the resources we have here in the PNW into our homes and buildings connects us to this place.
How do you find inspiration for a new project?
Inspiration comes from many places but finding that special idea for a project comes from simple perseverance and determination to stay with the problem until I find an idea that sticks. It isn't a material, a particular view, or lifestyle that is the inspirational thing – it is putting in the time to draw from all of those elements to discover a concept and develop that idea though the entire arc of the project.
Most memorable project?
My most memorable project is the greenhouse I am currently building for my wife. It is a timber and polycarbonate structure that keeps me humble and appreciative of the builders and tradespeople we work with every day that make our ideas come to life and look good!
What are you working on at the moment?
One of the things we are currently working on are the finishing touches to a substantial renovation of a waterfront home built in the 1920s. It was a wreck, to say the least, and due to the proximity to the Puget Sound, it could not be replaced with new. We painstakingly preserved what gave the house soul and brought it from near collapse into the present with a wonderful client and hard-working builder. It will be a beautiful home and we are so pleased with how the team was able to salvage and transform the house into something special that will last into the future.
What are some of your interests outside of architecture?
I live on a mini-farm and care for a very large garden, along with all sorts of farm animals, which feeds my family for a good part of the year. Being a dad to two boys, a farm hand, spending time hiking and in the outdoors, archery, motorcycles, daydreaming in the shop - all keep me occupied.
Favorite travel destination?
These days, it's in the garden, or working on the greenhouse.