Imagine two sisters growing up on a homestead, in Alaska's Aleutian Islands in a fisherman's family, exposed to all the natural beauty that Alaska, its waters and the bounty of its fish at sea have to offer, and you have a thumbnail sketch of what awaits you when you delve into Emma Teal Laukitis and Claire Neaton's cookbook "The Salmon Sisters: Feasting, Fishing, and Living in Alaska" (Sasquatch Books 2020). Not only did the women become fisherwomen working on the family's fishing boat, but they also became avid gardeners, tilling the soil for the necessary organic vegetables that accompany their fabulous fish recipes – 50 in all – featured in this delectable book.
Tales of growing up from humble beginnings in this idyllic life on sea and land are interspersed amidst tantalizing yet not-impossible-to-make recipes and photos depicting life at sea.
Salmon Sisters is a company founded by Laukitis and Neaton. "It celebrates coastal heritage and the wild places where we live and work," explain the women. "We strive to tell the story behind wild Alaska seafood through quality products and design, and to strengthen ocean stewardship amongst our community."
The company also gives 1% of its net profits to the Food Bank of Alaska, in the form of wild fish caught by Alaskan fishermen.
The painstaking journey the women have undertaken is illustrated with events that inspired some recipes. Readers attest to reading the book from cover-to-cover as if they were indulging in a good novel. Ingredients that might be hard to find include alternatives easily found in most kitchens.
Tales of the women's mother at "The Stonewall Smokehouse" depict the lengths to which this woman had to go to dry fresh-caught salmon at heights high enough to prevent bears from dining on the delicious strips as snacks. The process requires patience and skill, they say, and yet even then puts the dedicated worker to the test against weather and time.
There are even tales of cooking on board ship for boating fans, and the rules one must follow – first and foremost – "Eat Food Before It Rots!" Recipes to space out the life of vegetables onboard sound delicious, including sweet potatoes, sliced thin and sprinkled with salt and cinnamon and baked until crispy.
Finally, as commercial fisherwomen, Laukitis and Neaton offer up recipes that help those not always adept at cooking with the bounties of the sea tackle such mouth-watering recipes as Spicy Seafood Cioppino, Halibut Chowder, and Coconut Curry Soup. Other recipes include Pickled Beets, Rhubarb Custard Pie and Sautéed Purple Potatoes with Butter and Chives.
At a time in our world when nourishing our souls is as important as fueling our bodies' needs, this book offers a glimpse into the hard work, dedication, and belief in the importance of working together for a better outcome. As one reader said, it's so much more than a cookbook. "It is about working hard to nourish the body…working together… sharing good food. A book of true stories, true images, and truth."
RECIPE - SPICY SEAFOOD CIOPPINO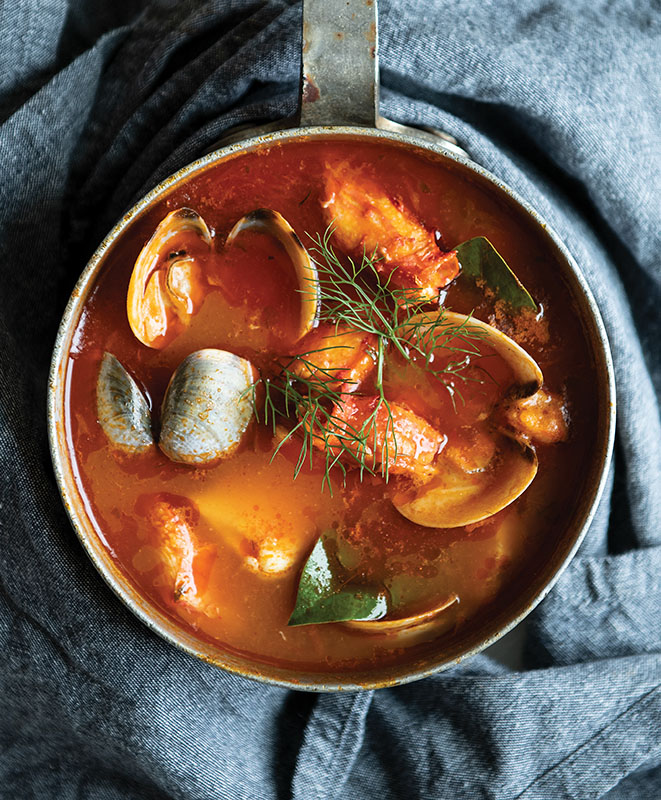 makes 6 to 8 servings
Experience the ocean's freshest delicacies with our mom's favorite fish stew. Originating in San Francisco, this Italian American dish was traditionally made from the cold and salty Pacific Ocean's catch of the day stewed with juicy fresh tomatoes in a wine sauce. Our mom's recipe pulls in Alaska's seasonal shellfish, halibut, crab, and shrimp. The beautiful thing about it is seafood can be substituted according to seasonal availability. This dish calls for store-bought arrabbiata pasta sauce as the base, which is typically made with tomatoes, garlic, and spicy red peppers cooked in olive oil. Serve the stew with crusty, buttery, toasted sourdough bread for dipping and prolonging the rich flavors of the sea.
3 tablespoons extra-virgin olive oil
1 large yellow onion (or 3 shallots), diced
1 medium fennel bulb, thinly sliced
2 stalks celery, chopped
2 large carrots, diced
4 cloves garlic, roughly chopped
2 teaspoons kosher salt
1/2 teaspoon freshly ground black pepper
1 (24-ounce) jar arrabbiata sauce
1-1/2 cups dry white wine
6 cups fish or chicken stock
1 bay leaf
Fish sauce, clam juice, or anchovy paste, for seasoning (optional)
1 pound manila clams, scrubbed
1 pound mussels, scrubbed and debearded
1 pound firm fish, such as halibut or salmon, skin removed, cut into bite-size pieces
1/2 pound scallops or large
shrimp, peeled and deveined
1/2 pound crab legs or prawns (optional)
1/4 to 1/2 cup chopped fresh parsley
Heat the oil in a large, heavy-bottomed pot or Dutch oven over medium heat. Add onion and fennel and sauté for 5 minutes, stirring occasionally. Add the celery, carrots, and garlic and continue sautéing for 5 more minutes. Season with the salt and pepper. Add the arrabbiata and wine. Bring the liquid to a simmer and allow it to reduce by half before adding the stock and bay leaf. Taste and adjust the seasoning. If you would like to create more depth in the broth (especially if using chicken stock), add a splash of fish sauce, a small bottle of clam juice, or even a few teaspoons of anchovy paste.
Once the carrots are tender, the broth is ready. It will take about 10 minutes to cook the seafood, so the broth can rest on the stovetop until just before serving. You could also make it ahead of time, refrigerate it, and reheat at mealtime.
Add the clams, mussels, fish, scallops, and any other seafood to the pot. Cook for 10 minutes, or until the clams and mussels have opened and the fish is cooked through. Ladle the stew into bowls, garnish with the parsley, and serve with crusty buttered bread.
RECIPE - PAELLA with Chicken, Shrimp, and Mussels
makes 6 to 8 servings
Our mom taught herself how to make paella after bringing home a giant paella pan from a trip to Europe. She brings it out when friends fill her kitchen, to delight them with this spectacular seafood and rice dish. Friends and family give her saffron for her birthdays in hopes that this gesture will keep the paella cooking. Paella is a dish that shows off its ingredients against a bed of vibrant yellow saffron rice—whether it's shrimp, chicken, scallops, mussels, clams, or sausage. It's a complete meal in a pan and delightful to watch simmer on the stovetop while sharing a bottle of white wine in the kitchen.
1/4 cup water
1/2 teaspoon saffron threads
1-3/4 cups arborio rice
16 debearded mussels or steamer clams, scrubbed
6 tablespoons extra-virgin olive oil, divided
6 to 8 bone-in, skin-on chicken thighs, excess fat trimmed
5 ounces chorizo sausage, casings removed, cut into 1/4-inch slices
2 large yellow onions, chopped
4 large cloves garlic, crushed
1 teaspoon paprika
3-1/2 ounces chopped green beans or 3/4 cup frozen peas
5 cups fish, chicken, or vegetable stock
1 teaspoon kosher salt
Freshly ground black pepper
16 raw shrimp, peeled but tails left on
1 red bell pepper, chopped
Chopped fresh parsley, for garnish
Combine the water and saffron in a small bowl and let it infuse for a few minutes. Meanwhile, rinse the rice under cold water until it runs clear. Set aside. Inspect the mussels and discard any with broken shells or that do not close when tapped. Set aside.
Heat 3 tablespoons of the oil in a 12-inch paella pan, skillet, or oven-proof casserole over medium-high heat. Cook the chicken thighs, turning frequently, for 5 minutes, or until crisp and golden. Transfer to a large bowl. Add the chorizo to the pan and cook, stirring, for 1 minute, or until beginning to crisp. Transfer to the bowl with the chicken.
Heat the remaining 3 tablespoons oil in the pan and cook the onions, stirring frequently, for 2 minutes, then add the garlic and paprika and cook, stirring, for another 3 minutes, or until the onions are soft but not browned. Add the rice and green beans, stirring to coat with oil. Return the chicken, chorizo, and any accumulated juices to the pan. Stir in the stock, saffron plus soaking liquid, and salt and pepper to taste. Bring to a boil, stirring constantly. Reduce the heat to low and simmer, uncovered and without stirring, for 15 minutes, or until the rice is almost tender and most of the liquid has been absorbed.
Arrange the mussels, shrimp, and bell peppers evenly on top, then cover the pan and simmer, without stirring, for an additional 5 minutes, or until the shrimp turn pink and the mussels open. Discard any mussels that remain closed.
Taste and adjust the seasoning if necessary. Sprinkle with the parsley and serve immediately.
Recipes and Images ©2020 by Emma Teal Laukitis and Claire Neaton. Excerpted from The Salmon Sisters: Feasting, Fishing, and Living in Alaska by permission of Sasquatch Books.