Sometimes the perfect storm becomes a moment of synchronicity as opposing forces come together to create a magical, breathtaking whole. That's a road Mike Geri travelled when the sale of his 1977 home fell through. Luckily, the team he had hired to build his next home - architect/designer/landscaper Paul Moon of Paul Moon Design and builder David Elwell of DME Construction – intervened by suggesting Geri rebuild on the home's existing footprint. After all, the location was outstanding, and ripe for redevelopment with the right permitting. Smartly, Geri took their advice and never looked back.
Although this was a first-time collaboration between Moon and Elwell, Geri had known and respected them and their work individually for some time.
"It was hard to tear down an older contemporary, usable house," recalls Geri, "but it was dark with cut off rooms. And yet, I loved the lot, which is totally private on all sides, bordering on a quiet 14-acre spirituality center in a park-like setting."
"Mike was clear," recalls Moon. "He did not want to remodel the existing house, because it didn't fully take advantage of the views or let in natural light. It was such a dynamic site with mature trees, a healthy forest, and spectacular sunsets. I envisioned building a big tree house with private rooms, big windows and floor-to-ceiling glass."
Elwell praises Moon's key structural feature – an oversized moment frame made of blackened steel to prevent twisting and shifting in an earthquake - which became an integral part of the home's interior aesthetic as well. He reveals the eye-catching blackened steel in the kitchen, where it pops against the stunningly sleek SieMatic kitchen cabinetry, reiterating the black Miele appliances.
A signature element in Moon's interlacing of architecture, landscape, and interior design is his dramatic staircase flanked by glass walls. Seen from the kitchen, its steel landing appears to float freely alongside views of the landscape, surrounding forest, and a reflection of the lake.
Every critical detail was discussed between Moon, Elwell, his Vice President, Eric Ulfwengren, and their fabricator until it was perfect. "To answer the challenge of making it appear as if it's floating," says Elwell, "Paul used glass panels instead of walls. We then supported it from the upper flanges going into the unseen structural beam. We also wrapped wood around a portion of the steel landing to streamline some of the steel. That's how impressive Paul's talent is and why it was so fun to work with him."
Moon started by photographing the existing home and site. "Our core approach," he says, "is clarity in scope and budget first. If the homeowner, designer, and builder all feel the scope matches the budget, then we will have a successful project. When we lead a project, we can build a cohesive design, fully integrating architecture, interiors, and landscape design. By performing these items in-house, we also limit different communication styles and personalities."
Never having built a home before, Geri knew it was crucial to find a team he trusted. "The number of decisions I needed to make during the design meetings with Paul and his in-house designer, Karin De Young, were astonishing."
Work with the topography and foundation followed: "The bottom floor would be for entertaining around the pool," explains Moon. "The second floor became the main interior with exterior deck, kitchen, central staircase and an opportunity for an office overlooking the trees. At the top, are two rooms for Mike's teenage boys that include a lounge resembling a college dorm. A long hallway at the top of the staircase looks straight out to the water."
When the idea for a wine cellar was discussed, Moon tucked another architectural surprise beneath the staircase. The glassed-in cellar features walnut flooring, and pegs Geri found on his travels.
Mike fell in love with the SieMatic kitchen cabinetry he'd seen at a warehouse. "It is so cool," says Geri. "The drawer system alone is spectacular, and the clean lines are gorgeous." After choosing marble slabs at Meta Marble, he met with Skyline Tile and Marble's stone fabricator. "The guy's eyes lit up when we let him decide how to cut it," says Geri. "It's truly a masterpiece and matches the tub we had imported."
Elwell will never forget craning the 1200 lb. custom carved marble tub up three flights before the building was completed. "We had to get it inside during the framing stage, then keep moving it from place to place depending on where we were working. 'Where's the tub?' got to be a nightly refrain when Mike dropped by each night."
After DME Construction completed Moon's home design, they paused before carrying out his landscaping and pool redesign. "There was an existing saltwater pool," says Elwell. "We replastered the whole pool in white concrete and integrated Paul's spa design. He softened the pavers using artificial turf, added palm trees, a cabana, and landscape lighting."
"Paul is great," says Geri. "I loved working with him, his collaborative nature, expertise of what's possible, and super cool designs. Loved the pride Dave took in creating the house. He was fair, honest, and professional. He stopped in on a regular basis, his entire team was there all the time, his foremen were very responsive to us and any concerns we had."
Moon's ritual when a project ends is to stand first in the yard, then inside to touch hard surfaces and watch natural light working in harmony with spaces. "I'm grateful for everyone on this project," he says. "Mike had a lot of healthy, personal input, great taste in design and constant traveling from which he'd come back with ideas to try. For my team, Dave and his team, and all the trades people who worked so hard to turn those hand-scribbled ideas into something tangible. The finished product is a gift and an amazing opportunity for which I am thankful."
PROJECT SOURCES
CONTRACTOR
DME Construction, Inc.
www.dmeconstruction.com
ARCHITECTURE/INTERIOR DESIGN/LANDSCAPE DESIGN
Paul Moon Design
www.paulmoondesign.com
CABINETRY
SieMatic
www.siematic.com
Shoptalk - Paul Moon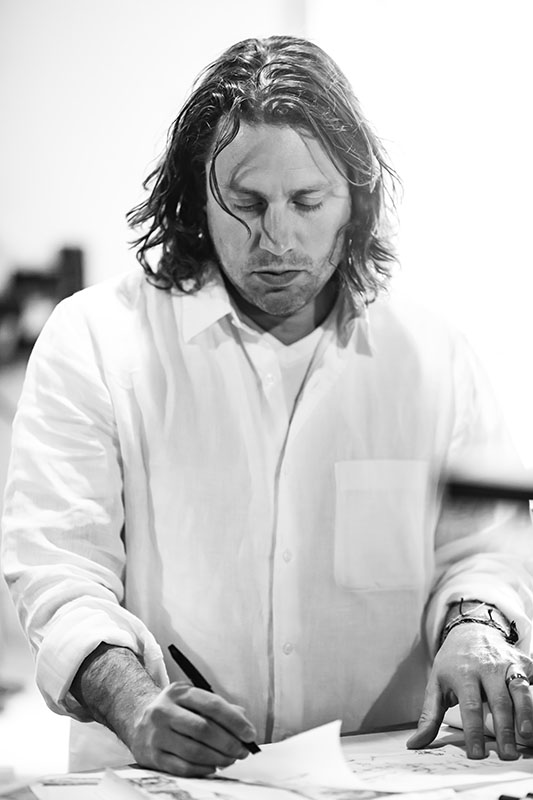 Paul Moon
What were your goals when you founded your firm and how have they evolved?
I founded my firm by necessity. At age 30, I'd left architecture for a few years to start a digital event photography company, Photozone.com. We were successful and grew quickly. It folded when the stock market crashed in 2000. I started my design business in my basement with a used fax machine from St. Vincent de Paul. My goal was to do excellent residential design, so I also got my contractor's license. I built days and designed evenings. Eventually, as I was able to secure more design work, I realized I liked designing better, and left the building to the professionals. Our team has grown, but our goals have stayed true – to do great architecture and integrate it with interiors and landscape.
What is your design style?
Some designers have a distinct signature or style. When you hire a designer like that, you're asking them to express that style uniquely in your home. We are more contextual and respond to homeowners' tastes and style, then express them on a specific site. I enjoy the challenge of many different styles and climates. It keeps me energized. We have done everything from Tudor to Contemporary from Alaska to Australia.
How is working on a remote job different than one in Seattle?
The Digital Age allows a designer to work almost anywhere. Every job starts with visiting the site – learning the exposure, the slope, the zoning requirements. Teaming with the best is critical. We need a builder who knows the jurisdiction and has contacts for consultants and vendors. The team must use technology to communicate so we can get drawings and specifications to the building site efficiently. Video calls are for team meetings, as well as with the builder, who walks me through the site.
Beyond Seattle, your firm also has an office in Bend. How does the natural environment in Central Oregon influence your design?
Much of our drafting occurs in Bend. I grew up in Oregon, and know Central Oregon is a special place. There is nothing like smelling the Juniper and that crisp, fresh air. The High Desert humbles you. The work needs to respect and complement it. We've done work in Tetherow and Northwest Crossing and are equipped to expand our presence there as the region grows.
How do you feel when you're standing in front of a finished project?
Typically, I'm standing in a garden having selected every hardscape, fixture and even the individual plants and pots. Then I walk inside and feel all the hard surfaces and watch the natural light working in harmony with the spaces and think back to the original site visit with owners and initial hand scribbles that were just ideas. I then have gratitude for everyone from owners, to my team, the builder, and trades people that have put this together. It all starts with an idea and ends up in something tangible - a gift to all who worked on it.
Beyond architecture what inspires you?
Fortunately, many of our projects give me the opportunity to travel, which I love. My wife and I use those opportunities to explore. I'm also a history buff and garden mornings and evenings to wind down. My Seattle garden is tropical with everything from palms to pomegranate. When not gardening, I often ride my electric bicycle through Seattle, dropping in on friends, exploring streetscapes or looking for incredible architecture or gardens.