The Williamses loved everything about their new home east of Seattle surrounded by beautiful land, the house has a light, open and airy atmosphere. It was the perfect slate for pulling together a harmonious symbiosis of their personal aesthetic: nature-forward minimalism tempered by classic elements. Unfortunately, the kitchen was an outlier.
"The kitchen plan was highly functional but at odds with the rest of the main floor. It was very dark, with heavy wood cabinets and cold lighting," said Tamar Kestenbaum of the design firm Sienna & Sage. "It was a disconnect from the rest of the house and adjacent living spaces – and the forest views."
The kitchen is one of the first areas observed upon entering the home. Design decisions made here would have a high impact on the home's character. Without entirely rethinking the layout, Kestenbaum reworked a few key details to maximize the kitchen's impact and utility, making it feel more open, light, and functional. Kestenbaum's first order of business was to remove all the upper cabinetry to create space for large and expansive windows, inviting nature inside. The range shifted a few inches, providing space for a new custom hood box and a backsplash of handmade Fireclay tile. The sink was relocated to a new window with a beautiful view out to the open backyard.
The Wiliamses wanted to sprinkle the design with a hint of French farmhouse charm, which would also dovetail with the home's existing farmhouse ambiance. But they didn't want to depart wholesale from their own preference for minimalism and modernity. Traditional touches like the apron-front sink and the paned windows make the point without being heavy-handed. The rustic flooring throughout the ground floor had a strong character of its own – but it couldn't be duplicated. Builder Doug Dolman of Hamor & Naegl Custom Builders expertly feathered remnants of the existing flooring into the new floor plan to retain visual constancy.
Kestenbaum was also tasked with striking the right mix of their personal preferences, which diverge between masculine and feminine. The sheen of brushed nickel fixtures, the warm "Pale Oak" Benjamin Moore paint that graces the cabinetry, and the textured upholstery of the bar stools are a soft counterpoint to the strong black soapstone countertops and darker metals featured in the windows and lighting fixtures. The painted cabinets also bring visual calm to the original floor.
Small details like bringing the windows all the way to the countertops; re-orienting the island for more symmetry and less visual distraction; including the soapstone backsplash throughout; and even lowering the ceiling soffit for the proper perspective on lighting all add up to a significant impact. "Tamar's attention to the little things is what resulted in such an overall sophisticated effect," said Marcee Williams.
"I can't say enough about how amazing it was to work with this team – and that we have a home worthy of being featured in a publication. Every day in the kitchen, we talk about how much we love it. Plus, how did ever live before without a coffee bar?"
PROJECT SOURCES
CONTRACTOR
Hamor & Naegl Custom Builders
hamorandnaegl.com
INTERIOR DESIGN
Sienna & Sage Interior Design
siennaandsage.com
KITCHEN PLUMBING
Best Plumbing
showroom.bestplumbing.com
PAINT
Benjamin Moore
benjaminmoore.com
Shoptalk - Tamar Kestenbaum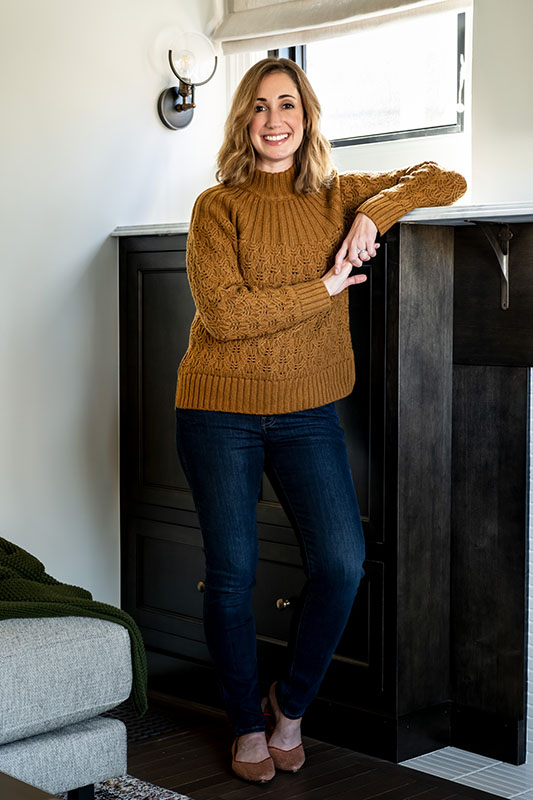 Tamar Kestenbaum, Founder | Sienna & Sage Interior Design
You completed your studies in Interior Design and Art History and have worked at a premiere New York art gallery and at NBC Universal; how has your background influenced your viewpoint on design?
My background equipped me with a strong foundation in understanding the history of art and design, and enabled me to confidently form my own perspective on aesthetics. I'm a process-oriented thinker, and being in a field which requires creative thought and innovation constantly pushes me to think outside of the box and remember that following rules is not always a good thing. My educational background gives me the gumption to do that; in the moments when I'm uncomfortable with challenging standards and presenting new ideas, I remember that great art and design has come from risk-taking and a willingness to embrace moments of vulnerability.
When working with older homes how do you balance the aesthetic and functional goals of your clients?
Working primarily in Seattle, I'm often tasked with planning remodels of older homes. This is my favorite kind of work. The functional needs and aesthetic interests of my clients are my top priority. And still, older homes have strong opinions and needs. I believe that some of the best design work is born out of a call to produce strong work within a given list of guidelines and constraints. Usually in these situations, homeowners are asking me to find a way to accommodate their own needs and also adhere to the very real constraints of their home. This is my favorite type of work because I'm given a starting place, and from there I'm able to exercise all of my creative energy to turn these homes into treasures that will really work for my clients.
How do you approach working with homeowners who are getting involved in construction for the first time?
I myself have been a homeowner getting into construction for the first time, so I have real clarity about how daunting that is. The world of construction and remodeling is overwhelming and frankly, somewhat obscured. One of my goals in this business is to demystify construction for my clients. Early in the process of obtaining business, long before agreements are signed, I discuss the details of construction with prospective clients; I aim to provide a linear understanding of what the process may look like, what challenges clients will need to consider planning for, what sort of team they may want to consider hiring, and most importantly from my perspective, what role they can expect a Designer (myself) to play in the process. I do this early on because I want to be sure that people who are considering entering into construction are equipped with some real, usable information before they get too far down the road. Remodeling, and making a house into a home, can be one of the most privileged experiences that life offers; it can also be quite trying! My goal is to involve myself in projects where I can mitigate the challenges and maximize the triumphs.
Describe your design aesthetic.
My design aesthetic evolves over time. I'm constantly seeing new things in the design world, and opening my mind to new possibilities. That said, I am drawn to all things that are layered. I enjoy layers of color, texture, pattern, and materials in a variety of settings; traditional, classic, transitional, contemporary, eclectic… and, I especially love design that for a moment transports us to another time, and makes us feel like we are in a space that has been lived in and loved by many before us.
Outside of interior design, what are you currently interested in and how is it influencing your design thinking?
My two kids have become, for now, the main attraction for me. They have been the most impactful for me in influencing my design thinking. Outside of being motivated as a business owner out of a desire to show myself as a strong female role model for them, I am constantly made increasingly aware of the realities of what it looks like to share a space as a family. As my children grow, they teach me new lessons about making a home function really well for a changing family, and for a variety of individuals.