Feeling constrained by their fast-paced lives in city-dwellings, this couple began to crave a more expansive living environment in which to raise their future family. Accompanied by Farhan Qazi and Kathy Vuong of FQ Designs Group, with whom they had collaborated on the interior design of previous homes, the couple flew to Portland to interview architectural firms. Residential Designer Rick Berry, a Principal at Scott Edwards Architecture, who was the final interviewee, became their first choice.
"Rick was very humble while showing us his incredible projects," recalls Kathy Vuong, Project Designer on the home's interior design. "He is incredibly talented but takes the time to ask the clients lots of questions about what they are looking for and gives them an expanded voice in the design process."
"We'd discussed the program of the home," recalls Berry, "a bit of Asian influence, with Northwest regional style and Japanese flare to reflect their travels overseas." After Berry serendipitously spotted a hillside lot for sale with a beautiful grove of trees, he recommended having their realtor look at it. The find proved providential, allowing Berry to do a code analysis to confirm the lot was legitimately buildable. He also noted how to shield the residence from neighbors, and where to nestle it into the hillside so that both front and back open onto the "mini forest." "When the Weiland Liftslide doors are opened in the great room during summer mornings," remarks Berry, "a warm breeze filters through, allowing you to experience the nature that surrounds you."
It took the skill, expertise, and precision of Otis Construction, says Berry, to execute the clean lines needed to support the open framework of beams, columns, wide openings, and towering fireplace that comprise the horizontal U-shaped plan. The tranquil primary bedroom suite and active gym, media room, guest suites, wine, and whiskey rooms are tucked away on the U-shaped ends. The primary bedroom, gym and great room look out on the private inner sanctuary, replete with pool, spa and firepit looking toward the forested view to the north.
Berry brought on the landscape architectural firm 2.ink Studio during the early design stages. "There is such an intrinsic value to get their input from the beginning," he says. "It is crucial that the garden be an extension of the home's architecture and design and Jonathan Beaver and his team did a wonderful job."
Collaboration is an integral part of Berry's method of working, especially with the team of interior designers. "The creative spirit and professionalism of Kathy Vuong and FQ Designs," says Berry, "blended seamlessly with the architecture." Vuong returns the compliment, calling Rick's concept very strong. "Not only was he concise about his focus on design, laying the groundwork for everything from footprint to space planning, but he also left room for our input, as well as the voice of the client."
FQ Designs Group chose to balance Berry's strong symmetrical horizontal lines with asymmetrical aspects to both the furnishings and kitchen design. The custom Studio Roeper "Domus" dining table, for example, features a double finish with deep walnut on two-thirds of one end and metal on the rest. With the homeowner loving to cook and entertain, the need for efficiency was paramount in the kitchen, where Cross Grain Coarse Slate Oak Leicht kitchen cabinetry faces off with an asymmetrical island with Silestone quartz countertop and matte white-lacquered cabinetry.
The U-shaped floor plan looks out from the great room to the private back patio whose central focus is the pool. Designed to be both functional for lap swimming, it doubles as a natural pond when not in use, because of its darkened interior that reflects the surrounding landscape upon its still waters. Undulating native California Fescue grass flanks the descending stone steps, thus softening the necessary terracing to help mitigate the substantial grade change from the street side to the back, says Beaver, who also planted a strong hedge row of Columnar Hornbeam to bolster the existing screening on the west side of the property.
The home's 7,800 sq. ft. are visually deceptive, thanks to the "hidden" floor, accessed from the entry foyer down a set of steel stairs with cedar treads, leading to the Whiskey Room, a speakeasy, whose entrance is disguised behind a moveable bookcase.
Although the homeowners wanted a contemporary Japanese aesthetic to the landscape as well as the structure, they requested that the landscaping also be appropriate to the Pacific Northwest. "That aesthetic played prominently in a lot of the discussions," says Beaver, "including some of the material choices, such as the stone with an adze finish, which gives it a hand-hewn quality. All of those things were developed in concert with Rick Berry's team."
Berry's primary goal was to create a Northwest contemporary home that felt comfortable and timeless. He did so by analyzing and responding to what the site had to offer, then positioned the home to maximize interior light while fully capturing the forested views in both directions. The roof's large overhangs protect from the elements, wooden trellises block the hot summer sun yet allow light in the winter. Floor-to-ceiling glass blurs the line between indoors and outdoors. Although the fireplace is the great room's focal point, it's the windows that rise to the ceiling, giving it the sense of a floating roof, making you feel a part of nature with the forest all around you. "That," he adds, "feels really good, comfortable, casual, and not a museum space."
Vuong echoes Berry's admiration for the remarkable team. "For me," she says, "this project was such a beautiful collaboration between teams we'd never worked with before, all brought together by our clients. I can close my eyes and still see every inch of this house."
PROJECT SOURCES
CONTRACTOR
Otis Construction
otisconstruction.com
ARCHITECT
Scott | Edwards Architecture
seallp.com
INTERIOR DESIGN
FQ Designs Group
fqdesigns.com
LANDSCAPE ARCHITECT
2.ink Studio
2inkstudio.com
APPLIANCES
Eastbank Contractor Appliances
eastbankappliance.com
Vent-A-Hood
luwaluxury.com
DOORS
Portland Millwork (Weiland Doors)
portlandmillwork.com
WINDOWS
Portland Millwork (Kolbe Windows)
portlandmillwork.com
SIDING
Lakeside Lumber
lakesidelumber.com
AUDIO / VIDEO
Lewis Audio Video
lewisav.com
Shoptalk - Rick Berry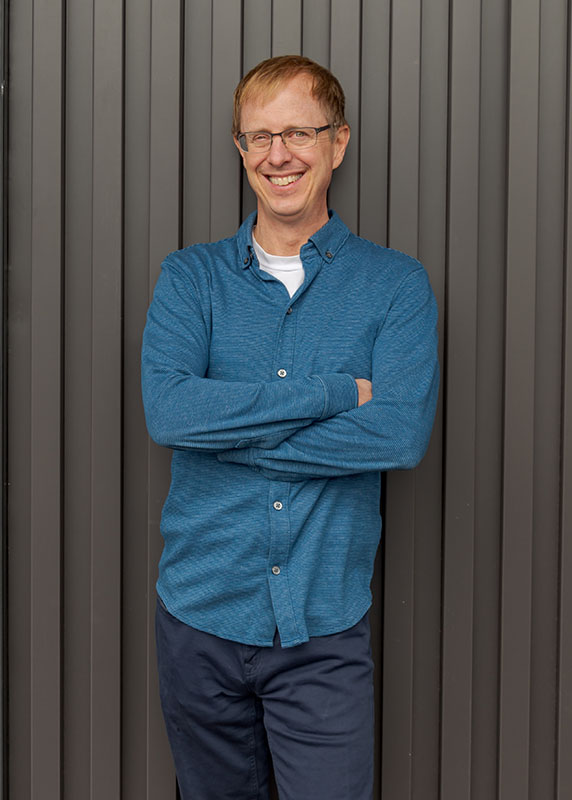 Rick Berry, Principal | Scott|Edwards Architecture
Can you tell us about your introduction to architecture and why it originally interested you?
I was 8 years old and living in the northwest when my family drove by a company that manufactured cedar homes. I asked to check it out and we pulled over. We walked through the facility, and I saw a floor plan flyer and was immediately intrigued. I went home, started drawing, and haven't stopped since.
What were your goals when you joined S|EA and how have they evolved?
I wanted to learn from an expert, and having many years practicing under the founding principals, I knew S|EA was the right place. My goals evolved to include getting better by creating a strong architectural language throughout my work and constantly pushing design.
You've built a reputation for excellence in what is often referred to as Northwest Regionalism Architecture; is this architectural style something you've always felt strongly about, or was it a gradual process of finding your voice?
Growing up in the northwest, I feel a strong connection to the outdoors and how the built environment can respond, existing as a part of the natural surroundings and not in competition with them. Simple, clear architectural moves such as large overhangs to shield from the wet winters, glass to let the light in, and comfortable, human-scale spaces are foundational elements to my memories of growing up here, and I have followed them in an instinctual pattern in design.
The Residential Team at S|EA, which you lead, has been recognized by the architectural community with numerous local, regional, and national awards, what are some awards you are most proud of?
Two AIA awards stick out as defining moments. The first is a clustered housing development, Shorepine Village, that we worked on in Pacific City – our design blends it into the natural surroundings of the Oregon coast. The other, Glass Link, is a home that embodies all the characteristics of Northwest Regionalism as it rests comfortably on its forested site, a retreat for the residents.
As a native of the Pacific Northwest, what does regionalism mean to you and your work?
Creating spaces that are fun, energetic, timeless, and comfortable that respect the natural environment. This is how we all hope to live in this beautiful part of the country and ideally our architecture can complement it.
You've built up a notable body of residential work. What are some major takeaways from designing homes?
I am always trying to simplify designs to their essence. I try and get inside my clients' head, to understand how they want to live in the space and how to create something specific to them.
As you look to the future, are there any ideas you think should be front and center in the minds of residential architects?
Being better stewards to the earth by designing homes that respond to the specific environment, are more compact, and are energy efficient.
Favorite architectural detail of your childhood home?
The swing set, and that mysterious clothes chute in my bedroom.
Favorite way to spend a weekend in the Northwest?
Backpacking in the summer and skiing in the winter.