In just five short years after starting his own design firm in Portland, Oregon, Max Humphrey has become a media darling touted as a "Change-Maker" by Apartment Therapy, "Next Wave" designer in House Beautiful, and one of Country Living's 100 Most Creative People. His book "Modern Americana" encourages readers to hone their DIY design talents in much the way he found his calling – by devouring design books, haunting Craigslist, vintage stores, and defying the rules.
All the accolades for designer Max Humphrey make one thing abundantly clear. He doesn't follow the rules. He changes them. By his own words, he's a "hustler," who broke into the world of interior design following a 2-year-long tour of the U.S. and England, playing bass in a punk rock band signed to a major label. Upon returning to Los Angeles, where he had been a freelance PA in TV Production – a gofer job that didn't live up to the glory he imagined from his Emerson College days – Humphrey found a basement apartment to call his own. Not only was it a refuge from life on the road with no personal space, but it also became his very own canvas for a growing passion for interior design.
"I'm a great procrastinator," admits Humphrey, "while I was supposed to be job hunting, I'd spend hours at Barnes & Noble reading every design book I could get my hands on." Cruising L.A. on his Vespa scooter, he began to pick up furnishings, art, accessories, and whole collections of 1970s Architectural Digest from Goodwill, Salvation Army, and Craigslist to decorate his apartment. "I literally had a light bulb moment, wondering if there was a job version for decorating."
Reading about the history of interior design in Hollywood with such luminaries as Tony Duquette, who designed costumes and settings for films, as well as interiors for Mary Pickford, and Billy Haines, talented actor turned interior designer was another "a-ha" moment.
Soon Humphrey began to sell himself as a self-taught designer, competing with those with real credentials. "I was hungrier than anyone else and broker than everyone else," he admits. His passion for design was the selling point that garnered him an entry level job in a small design firm, lasting 7 years that led to his opening his own firm in Portland, Oregon.
What are a few keys to the modern Americana aesthetic?
To me, it's the design sensibility rooted in nostalgia. I grew up in a not fancy old house in New England, surrounded by pine furniture, buffalo check curtains, stoneware, and quilts. All things my parents used to go to antique stores and are now called vintage malls on weekends. I hated it; I wanted to be in the woods playing GI Joe! But it gets in your blood and sticks with you. Elements rooted in my childhood, New England sensibility, patterns, textures and styles in our house and my grandparents' house have come back on trend. Even fashion runway shows are using quilts.
Tell us about your first professional design job in Portland?
Interior design is all about relationships and connections. Emily Henderson, an L.A. designer friend, recommended me to her friends here. I didn't have a huge portfolio then, but they took Emily's word for it and hired me. It was an older Raleigh Hills home with a rarely used living room. I took them to hip furniture stores, vintage places, and to establish relationships also introduced myself as a new designer in town. We're on our third project together.
What is your favorite design rule you use again and again?
I have a lot of vintage shopping superstitions. One is to completely clear my head if I'm looking for something specific. If you go looking for something specific, you'll never find it. If I go in clearheaded, I can trick myself into thinking I'm not looking for a blue chippy bench that's 82" long and I'll find it and other things I never knew I needed.
Tell us about the aesthetic inspiration for your recent window coverings line with Hartmann&Forbes.
Hartmann&Forbes reached out to me about a year ago, saying they liked my style. Would I like to collaborate? I was familiar with their natural handwoven grass shades and had used their product. Their headquarters are conveniently located near my house. I came to them with several clear ideas, sketches, old quilts, fabric remnants, and patterns that are nostalgic to me: gingham, cable knit, grain sacks. They helped me to translate them by talking me through their weaving techniques. The design director and I have the same sensibilities, so she guided me in terms of scale that are usable for designers.
How do you like to work with your design clients?
I use the same technique I apply to my own home. Design TV promotes the big reveal at the end, going from empty to fully decorated in 30 minutes. Some designers are hired by clients to do a full design presentation with all the furnishings trucked in in a single day. I prefer to collect a few things over time, what I can afford and am looking for, and keep moving them around, eventually filling in the blanks. When we shop together, I watch where their eye goes. If they're excited, I see that and draw it out in them. I'll let them know if things will pair well together.
What's your favorite job?
My favorite job is always my next one, but my house in Portland is the first place I've ever owned. I've always decorated my apartments and then lost every security deposit I put down, because of wallpaper, nail holes from hanging art, and painting the floors. This house was a bank-owned, late 1970s boring ranch that the bank sprayed everything beige, walls, trim, ceiling, using $.50 sq.ft. carpet, so I didn't feel bad about ripping it all out. I designed a new kitchen and created a cozy cabin by adding pine tongue & groove paneling with a cedar tongue & groove ceiling.
What's next?
I'd love to design a coffee shop; coffee is my biggest love. I've worked on several commercial projects, including Oregon wineries, but I don't drink wine. Coffee shops are often light and bright, and I don't associate that with drinking coffee. I would design a cozy dark spot.
HARTMANN&FORBES
Humphrey's new window covering collection for Hartmann&Forbes in handwoven natural textiles celebrates modern Americana with a nostalgic twist. Available through The Dixon Group at the Seattle Design Center, thedixongroup.net
MODERN AMERICANA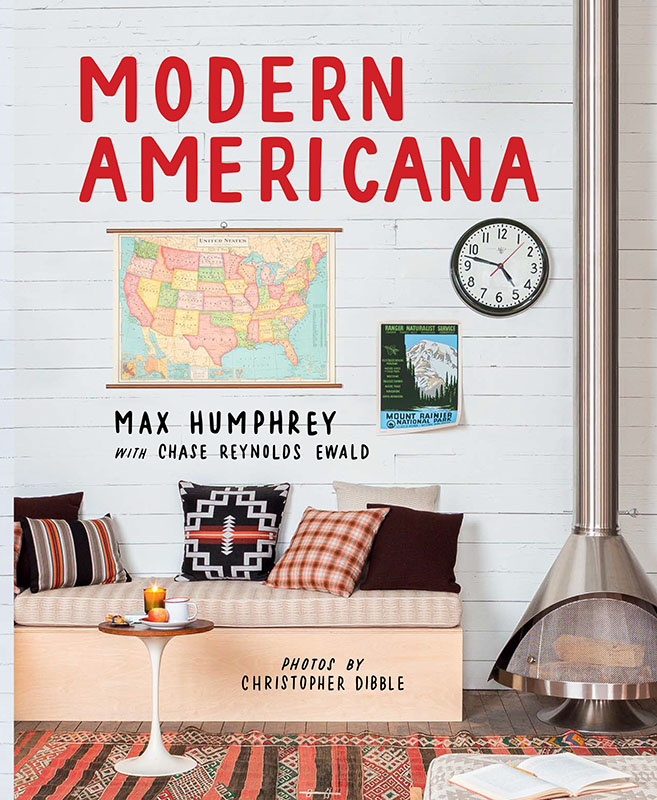 By Max Humphrey
with contributor, Chase Reynolds Ewald
Photography by Christopher Dibble
2021, from Gibbs Smith
Modern Americana by designer Max Humphrey celebrates the elements of modern Americana and shows how they can drive personal decorating styles in traditional country settings, contemporary urban lofts, and everything in between. Photos and personal anecdotes highlight collectibles and DIY-ables from Max's design and styling portfolio.