This story starts with a rooster. Specifically, the rooster that Frederica Rose and James Chacon owned in their suburban home outside of Seattle. The year was 2019, and that summer, the couple bought some backyard chickens. Or so they thought. "One of our new chickens that we'd gotten turned out to be a rooster," remembers Frederica. "And technically, where we were, it wasn't illegal to have a rooster, but it's really unfortunate for your neighbors."
In their attempt to muffle the rooster's morning crow, the couple would put him in the laundry room at night. That was enough to inspire Frederica to take a property scroll on Redfin. "I was like, 'James always said that he'd move out to the country, and maybe we could get acreage,'" says Frederica with a laugh.
To their surprise, the very first home they visited was a winner: an expansive, recently-built Saltbox on ten acres in Duvall, Washington, forty-five minutes away. "It was really the first and only house we toured seriously," says Frederica. "We thought it was kind-of funky. It had a magenta fireplace."
After purchase, Frederica wanted to work with a designer to make better color and lighting choices – no one being too keen to live with a magenta fireplace – and found interior designer Rebecca Rowland's Instagram account, filled with the vibrant color and pattern that guides Rowland's designs. "A lot of new construction feels really soulless to me," says Frederica. "I wanted something with personality. I did not want a designer who was going to come in and give me the same white kitchen. That's just not how Rebecca designs. She's a pattern mixer and matcher."
On the first walk-through together, the group discovered that there was more to the house that didn't suit the couple's lifestyle: things like cheap cabinets in the kitchen, and a small dark shower and "faucet to nowhere," says Frederica, in the primary bathroom. "I started with asking, 'How can we make this house work better for you?'" says Rowland.
The answers led to a new design plan that refreshed every room, either gutting and reorganizing it, like the primary bath, or touching up paint and lighting. In short order, contractor Rick Rahlfs of Lakeville Homes joined the team, and builder and designer developed a strong rapport solving site problems. "She's a great listener, which I appreciate," says Rahlfs. Adds Rowland: "The best part about the partnership is that they would take my ideas and figure out a way to make them possible."
The biggest overhauls were in the kitchen and primary bathroom, with the kitchen transformed by a new suite of cabinets in a rich teal color that Frederica fell hard for. "We looked at a lot of pictures of older style, English country kitchens," says Frederica. "Once I saw a teal-colored cabinet somewhere, it couldn't be anything else." Rowland was immediately on board. "I'm never afraid of bringing dark colors to a kitchen. Sometimes it can feel fresher, not dark and moody, but just lovely and homey," says Rowland.
The interior designer balanced the jewel hue with a patterned tile backsplash, black granite counters, and Mafi wood floors from Greenhome Solutions. At the windows, Rahlfs crafted open shelves from reclaimed wood and galvanized pipe, and at the center of the room, a large island wrapped in bright white quartz steps down into a dining table, designed by Rowland and custom built by Rahlfs and United Wholesale. Surrounded by vintage chairs, and placed in front of an existing fireplace, it's a set-up the couple gravitate to constantly: "We spend so much time in the kitchen now," says Frederica.
Instead of a formal dining area, the adjacent room was turned into a dedicated games room. For it, Rowland designed custom navy-blue shelving, with grass cloth walls and a curated selection of wall art from the owners' collection. A round table, perfect whether the couple are playing cards, Dungeons & Dragons, or recent favorite Wingspan, is encircled by upholstered CR Laine chairs that are comfortable to sit in for long sessions. At the ceiling, a surprise: wallpaper that depicts a map of the world, carefully installed between the painted box beams. "That was inspired by their travel photos," says Rowland.
Equally personalized was Frederica's craft room. There, Rowland specified custom cabinets painted Saybrook Sage by Benjamin Moore, for art and knitting supplies. An inky wallpaper sports a bird and nature motif, while a large table lets Frederica spread out projects, and various lighting picks by Rowland enable crafting no matter the time of day.
In the primary bathroom, Rowland introduced a large walk-in shower with patterned tile on the floor, and a mural-like tile scene in the shower. "In finding that tile for them, I was able to use it like a wallpaper," says Rowland. When a vanity needed to stay below an existing window, Rowland specified suspended mirrors that Rahlfs installed seamlessly. "I don't know how our bathroom manages it, but it both fits in a farmhouse and makes me feel like I'm on vacation in Hawaii," says Frederica.
The end result is a home for Frederica and James woven with a consistent thread: that of brilliant color and pattern mixing that feels personal to the clients' passions in life. "There's not a lot of trends here," says Rowland. "The goal is to not make someone's home a time capsule, but to make it somewhere that they're going to love for a long time. When I look at this project, that's what I see."
And as for the rooster? He's got a private coop and plenty of new friends. "We have about sixty chickens at this point," says Frederica. "That's what happens when you live out here."
PROJECT SOURCES
CONTRACTOR
Lakeville Homes
lakevillehomes.com
INTERIOR DESIGN
Rebecca Rowland Interiors
rebeccarowlandinteriors.com
SELECT FURNISHINGS
Seattle Design Center
seattledesigncenter.com
SELECT FLOORING
Greenhome Solutions
ghsproducts.com
Shoptalk - Rebecca Rowland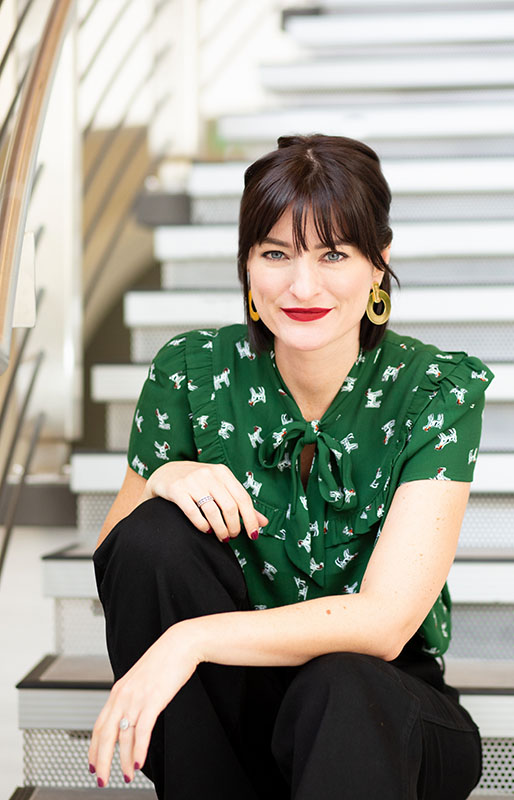 Rebecca Rowland, Owner & Principal | Rebecca Rowland Interiors
Your design firm is known for imaginative, character-driven design of vintage homes; how do you approach this aesthetic?
For me, more powerful than any Pinterest board a client might give me is what I see and hear when I'm walking through a space, so I always start there. Every home is asking for something as particular as the client, and I consider it my job to make them both happy. I want to polish the house to be its best self, so that my clients can live their best life. Moreover, bringing back or creating character is a careful balance. I aspire to avoid time capsules in older homes or dissonance in new builds. Instead, I aim to create a sense of layered timelessness. No one should walk into one of my projects and easily discern the year it was completed.
When did you first become interested in design and what was the journey to eventually building your own firm?
I've been staring at walls and reworking rooms in my imagination for as long as I can remember. I just didn't know that interior design was a profession that I could explore. The journey to my own firm was through visual merchandising and retail marketing – creating spaces that draw in the customer led me to create beautiful spaces in the home and soon I decided to make it my sole career. Working for corporations like Amazon gave me the skill set to be an entrepreneur. As much as I wish my job was just picking out pretty things, the level of detail and business operations involved requires a lot of discipline and process and other tasks that we take on, so our clients don't have to worry about them. But the best part about being a growing firm is that I'm slowly getting to spend more time on design thanks to my talented team: Kimberly, Jocelyn and Emily.
What kind of reaction do you hope to get from people that live in your spaces?
That it's more than they ever dreamed of but exactly what they wanted.
Your projects are infused with color and pattern; do you have an inspiration board, and can you tell us what is inspiring you now?
Nature is my go-to inspiration – where better to look for bold colors and textures working together harmoniously? My current inspiration is the dwellers of the National Aquarium – the variety of patterns under the sea is an incredible feast for the eyes. I've been studying and drawing them since my last visit and plan to incorporate my interpretations into future wallpaper and fabric designs.
Favorite design detail of your childhood home?
Built-in bookshelves – I've always been obsessed with beautiful library spaces.
Prized possession?
A vintage mid-century modern dresser that I inherited from my mother.
Favorite city to visit? London. I never tire of it. Before the pandemic, I'd go at least once a year.
Favorite era of design? Art Deco. The patterns and architecture - love.
What is your dream project?
A funky, fun vacation home that allows for tons of bold choices.