When this newly built, contemporary style home on Mercer Island with came on the market in 2015, its newest owners jumped at the opportunity to buy it. They liked the home's incredible views, the large glass doors and windows that fostered indoor/outdoor flow, and that there was a primary suite on the main level. The only problem? It's a high-end builder spec home, and many of the finishes needed to be upgraded and improved.
In short order, the couple contacted local interior designer Colleen Knowles, who founded Colleen Knowles Interior Design and has been working in the industry for decades. "I really just love all the parts and bits that go into a big three-dimensional work of art, which is what a custom house interior is," says Knowles. Over several years, Knowles refreshed the home's interior to bring it up to the owners' taste, exploring their passion for art and modern design and addressing an assortment of rooms, from the entry, to the main living spaces, to the primary suite.
The process started with an all-new furniture plan, with Knowles introducing iconic modern brands like Donghia, Saarinen, and Tom Dixon, alongside custom-designed pieces, into the contemporary setting. An elegant color palette, composed of a medley of pale greys in the main rooms, further balances the graphic lines of the architecture and contrasts beautifully with the green of the trees outside. "I find the colors that are in the house to work really well with the Pacific Northwest light," says Knowles.
In the living room, the interior designer's starting point was the high ceilings, equally capacious black-framed windows and doors, and pale wood floors. Knowles anchored the room with a generous sectional from J Redmond on a Tufenkian rug from Driscoll Robbins, then layered in eye-catching sculptural forms, like a glass and metal Donghia coffee table. In the dining room, the Melt Pendants by Tom Dixon from Inform Interiors are suspended over a McGuire dining room table. The pendants are "really well-designed. They're magic," says Knowles, who likes how such artistic pieces create "bold, interesting moments" in the overall scheme.
Updates to the kitchen followed, including a new Ann Sacks marble mosaic tile backsplash to replace the boring subway tile that was there before, and the primary suite, which now serves as a luxe retreat. In the bathroom, a geometric soaking tub sits atop an Ipe platform for a relaxing bath moment in front of a large window. The adjacent bedroom has a wall covered in textural Kneedler Fauchere wallpaper, a custom rug from Driscoll Robbins, and a Saarinen Womb Chair, all creating a feeling of being properly ensconced.
"I just love the bedroom," says Knowles, which takes after the rest of the house now. "It all just feels so good in a really modernist, clean way. It feels fabulous."
PROJECT SOURCES
INTERIOR DESIGN
Colleen Knowles Interior Design
colleenknowles.com
Shoptalk - Colleen Knowles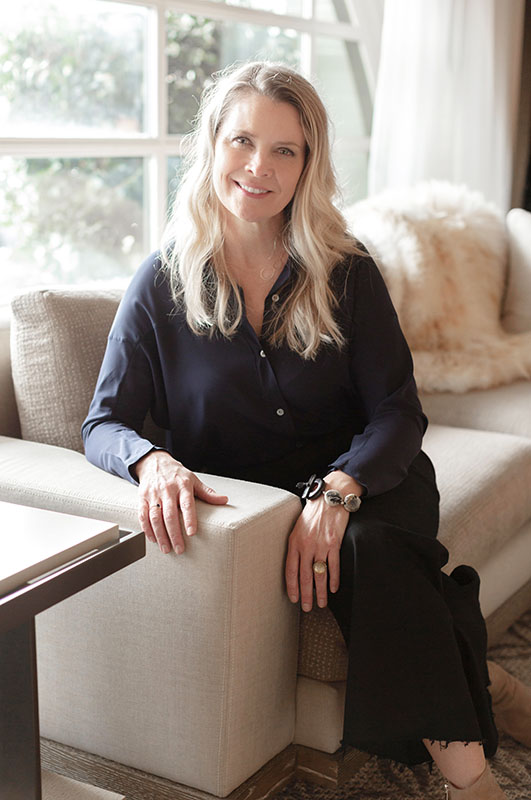 Colleen Knowles, Principal | Colleen Knowles Interior Design
With over 30 years designing luxury properties on Mercer Island and in other prominent Seattle enclaves, your work has spanned everything from comprehensive interior design and project management to custom furniture design and art selection. What part of the design process do you find most rewarding?
The interactions with people; those on my team in the office; the clients that share their lives so deeply with me; and the makers that build, fabricate, detail and put together the myriad of things that go into building a custom home. It is a true collaboration of many, many folks with valuable expertises. I love how the group can put together something more than any one person could do alone.
What was the "lightbulb" moment when you realized you wanted to pursue interior design?
I shadowed an interior designer in 5th grade as part of a class project and from then on it was my path through college and my career. It is a combination of creativity, art and organization that suits my personality.
Several of your projects serve as family retreats; what is your approach to these spaces that make them unique in comparison to a family's primary residence?
A retreat home starts with a story, a mood and feeling. As clients get further from their everyday lives they open up about their truest selves and that is special to incorporate into the design and planning. We build a story about what the home can become and the design can provide that vision and magic. Client's have more emotion about a retreat and they live differently in them so we get to loosen the design reins and allow for more playful moments as well.
Do you have a dream project or location where would you like to work?
I respect good architecture and my dream project is any that has a top notch architect and builder and understanding client working with me. I truly love working in the PNW but I've spent a lot of time in North Idaho and I'd love to do a project at Priest Lake ID if I'm dreaming.
How many projects do you take on throughout the year?
About 10
Latest design discovery?
Cashmere shag and roman clay paint.
Hidden talent?
Skiing
Favorite city to visit?
Jackson WY
Favorite way to spend a weekend in the Northwest?
Backcountry skiing or boating on Lake Washington.