Before Kari and Michael Lubitz started building a beach house in Arch Cape, Oregon, they knew what they didn't want: nothing too large, or skewed towards traditional beachy style. In 2014, the couple bought an oceanfront lot four miles south of Cannon Beach, but they didn't want the shingle-style and white trim that's so prevalent along the coast. "We have a traditional house in Portland," says Kari. "But for this one, I wanted to make something that felt like it belonged there in the topography."
The couple reached out to Holly Freres, Principal of JHL Design, as they'd worked with the interior designer since 2005, on projects that included their company offices and personal home. "I knew Holly is really easy to work with, and that she would take her design aesthetic and make something very comfortable for us," says Kari.
Freres took the lead on the home's interiors, with husband and Principal at JHL Design, David Horning, designing the core and shell. "One of our main objectives was to create an architecture that would get out of the way and really focus on the beauty of the Oregon coast," says Horning. The fact that everyone knew each other so well was a strength for the process. "We had a lot of trust and freedom to design something that met their mission," says Freres.
The site though, it turned out, had constraints, being long and narrow, with ten-foot setbacks on both sides. It was close to the ocean, which was a plus, but also had flood plain restrictions that stipulated how high the finished floor could be off the ground. And then there were overall height limitations. "That really dictated the shape of the building, which is basically just a simple rectangle," says Horning.
So, Horning topped the home with a sloped butterfly roof that echoes the form of the nearby Neahkahanie Mountain. Floor-to-ceiling windows and sliding doors on the ocean side frame the views. Those large expanses of glass from Portland Millwork, are balanced elsewhere by high, clerestory windows, which capture the distant mountain tops and maintain privacy from the neighbors.
The entry is centered on the front façade, and the sequence into the house plays with the Frank Lloyd Wright idea of compression and release, thanks to the roof's shape. From the front door, it's possible to look through the length of the home, and glimpse the view at the back. Proceeding inside, the ceiling slopes gently down, creating a bit of tension with the perceived compression. Then, upon entering the main living spaces, the ceiling rises back up to meet the large windows, and it's as if the architecture is expanding to draw in the natural surroundings and focus the attention.
Horning's 2500-square-foot plan accommodates three separate bedroom suites and a lofted bonus space, in addition to the main living areas. The primary suite is also at the rear of the house so as to benefit from the view, separated from the main space by an eight by ten foot, 650-pound, custom steel sliding door that pockets behind the fireplace. That way, the couple can leave it open and enjoy how the entire back of the house is spanned with glass, or close it for more privacy when they have guests.
The material palette, inside and out, was kept restrained, so as not to distract from the natural beauty, and to make the home a true sanctuary from everyday life. "There's only one kind of cabinet finish for the entire house. There's one paint color. There's the same materials throughout – wood, steel, concrete, and stone – but they're very simple materials," says Freres. "Nothing makes a statement." That simplicity is also practical, making the home easy to maintain and clean. "It's built to be really rugged," says Kari. "Basically, everything is very durable."
The exterior is clad entirely in vertical strips of cedar that will patina gray with age, and suits the coastal context. "Originally, I wanted a multi-material exterior – maybe some metal and wood – but the environment there really dictates what's best for the coast," says Kari. That cedar was then carried throughout the interior, lining the walls in the principal bedroom, covering the ceiling, and brought outside to underscore the eaves for a seamless touch.
Regarding the curated selection of furnishings and artwork, no detail went unconsidered, from the colors and textures, to a number of pieces Freres customized to the couple's daily life. In the living room, the orange-toned leather sofa and vibrant painting play beautifully against the ocean setting, and in the dining room, Freres designed and commissioned a white oak and brass dining table large enough for family meals and puzzles to spread out.
"The mission that they had in building this house was to have this retreat," says Freres. "And for it to feel like a shelter where they could really unplug," which explains why the home has since been dubbed Shelter House, and there's no televisions to be found. "The house brings so much comfort and peace. From the elements it's made from, to the way it's designed, it just belongs there," says Kari, which was exactly what she wanted from the beginning. "It's nothing but relaxing."
PROJECT SOURCES
HOME DESIGN & INTERIOR DESIGN
JHL Design
jhldesign.com
LUMBER
Lakeside Lumber
lakesidelumber.com
WINDOWS
Portland Millwork
portlandmillwork.com
APPLIANCES
Vent-A-Hood
luwaluxury.com
Shoptalk - JHL Design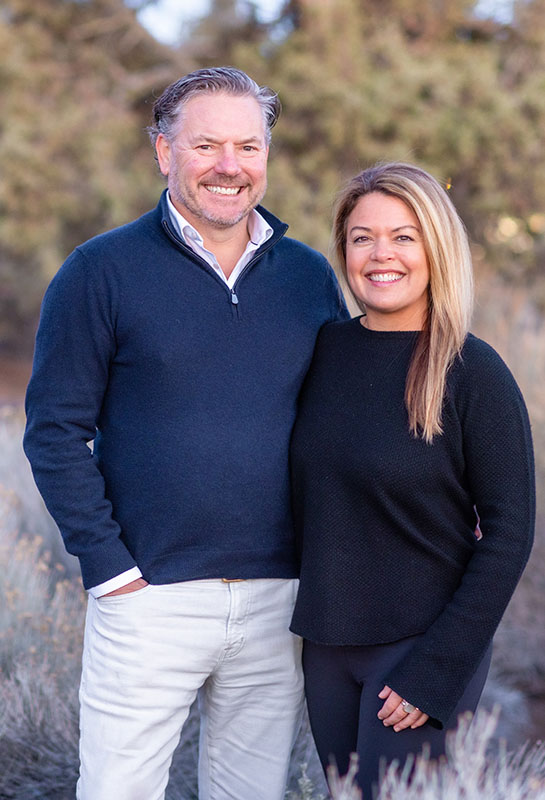 David Horning & Holly Freres, Principals | JHL Design
How would you describe each of your respective design styles?
Freres: I love a modern mix of vintage and new. When clients have antiques or family heirlooms, I am thrilled! I love a good story for bringing pieces together to add a personal touch to a space. We recently completed an interiors package that included pieces that were over 100 years old from the family that was building the home. Defining the personality of the space, whether it's for a home or hospitality project, is a crucial part of our process. Although we live in a modern home, I love working on a traditional mix when I get the opportunity.
Your team thrives in both high-end residential and commercial design. Does one area of design inform the other?
Horning: They can both influence each other. More than half of our clientele engages JHL for their homes as well as, their offices or development projects. Our clients come to us for great design ideas that are unique, and a level of service they know they can count on. Our projects are all specific to each directive and go through a meticulous process to understand the mission and vision. We get very intimate on the details of how people live and what a space needs to provide.
What does building design and interior design collaboration look like for your team?
Horning: More and more clients want a one-stop shop. We tackle the big picture: how to site a home and determine where it will have great light. We also know how to make a space livable all the way down to the smallest details: how the window shades operate and where the shoes get tucked away. Our architecture team and interiors team work together throughout the entire process. We have design critiques from both teams along the way to make sure the design is consistent throughout. Some of our employees have been designing for more than 20 years, so there is a lot of knowledge to give. Holly and I met working together 15 years ago and have always appreciated how we can bring together the big picture and the most intimate details that make a space feel so considered.
What aspects of your background and upbringing have shaped your design principles and philosophies?
Freres: My upbringing was a mix of living in Oregon and Louisiana - it was quite a contrast! With that in mind, I have many influences that inform my design principles. I love a well-curated museum, and I also love an eclectic French farmhouse. My mother brought me into the industry in the late 90's; she taught me that every detail matters and never to compromise on quality. I am grateful for my family's influence – both of my parents had family-businesses, so the work ethic and drive has been a constant part of my life. My family is deeply rooted in the wood products industry, so we love using wood to warm up a space. Our studio library is currently full of essentially any kind of wood species and finish you could dream up. I love a formal space, but practicality is solidly rooted in all my designs. I want a space to look great, but if it doesn't live well then it won't last. Our approach to design and environmental awareness is to do something once, and do it well, so that it lasts for decades.
Favorite place to travel?
Freres: Cape Town, South Africa
Horning: Greece
Perfect weekend in the Northwest?
Freres: Being out in nature with my family – skiing, hiking, all of it. Horning: Wine country
How does your extensive travel and wanderlust impact your design style?
Freres: My background is peppered with extensive travel and wanderlust. I feel very fortunate to be able to draw on many different cultural influences. My most recent overseas travel was to Indonesia, where we went on a wonderful shopping excursion and came home with some stunning artifacts, including hand-woven Ikat fabric that I just adore. There are still so many places I want to visit – especially Greece and Morocco. My design is constantly influenced by what is out there – the global deep dive you can do from a magazine or online is invaluable, but there's nothing better than spending a few weeks in a culture vastly different from your own to open your eyes.