Tucked in an area of Seattle known for its imposing mansions is a purposefully unimposing property hidden behind a mature evergreen hedge. It is embraced by a series of peaceable gardens that skirt a low-slung, multi-level home whose connection to the outside and the all-important natural light is key to its raison d'être. It is the brainchild of Chris Chin of Vizit Studio, who studied architecture at Washington State University in Pullman in the early 1980s. Chin met Tim Hossner when a game development company he worked for hired his firm, rho Architects, to rework several floors of their high-rise office space. "Chris parachuted out of his professional career as an architect and landed in the virtual design world," recalls Hossner, "but he never stopped being an architect. We had much in common back then and hit it off and stayed in touch."
After enjoying 16 years in a modest 1,600 sq. ft. English Tudor home that Chin and his wife Mandy had carefully remodeled in Portland, Oregon's Eastmoreland neighborhood, the Chins were sad and excited to relocate to Seattle for job opportunities. "I was forever looking for Seattle real estate," recalls Chin. "I had shown Mandy so many sites before I found this vacant lot and we both thought, 'Why not?'" The challenges, however, were many, including its odd shape, proximity to a very busy street, and elevational changes. Therefore, Chris turned to Hossner to co-design the home which was beginning to form in his mind. "Tim's knowledge of building code and construction, and shared design sensibility were crucial in developing my ideas," says Chin. "In my current work, I typically design with 3D modeling software. For this house, however, I went back to my roots, drawing it initially by hand, which allowed me to break the house down and understand it better spatially. All design decisions rigorously supported the main concept once it was set."
"Working with Chris is amazing," says Hossner. "He starts with a conceptualization of the house, then we collaborate very closely with designs and 3-D models back and forth. Initially, some of the notions being developed were beautiful, but not terribly efficient or practical from a constructability standpoint. We spent a lot of time exploring widely ranging ways of developing his ideas. Where we landed is very different from the first images."
The lot's constraints were also very demanding says Brent Heath of E&H Construction, chosen for his knowhow with clean, simple, modern construction. "The lack of storage space for lumber, trying to maneuver within it, and parking construction vehicles on the busy streets of Seattle were big concerns." A saving grace for the Chins was the well-maintained evergreen hedge on two sides of the triangular shaped property. "Preserving that hedge was very important to them as a screening device," says Heath, who was charged with protecting it during construction, "and I understood why."
Working together with Chin and Hossner from the project's inception, Heath created a preliminary budget and game plan for addressing the property's needs. These included its lack of utilities and street noise mitigated by specifying a thicker laminated glass for the all-important clerestory windows enveloping the upper story and executing a water feature to mask the sound.
From the start, Chin had envisioned the way the house would lay out with courtyard garden spaces between the house and the main, busy thoroughfare. "That turned out beautifully in the way he intended," says Hossner, who calls it 'really powerful.' "A lot of what we were doing with transparency was borrowing visually from the outside. The relationship between interior and exterior spaces are very carefully composed and considered," he says. Custom-built screens add layering from the inside looking out, while enhancing the architecture from without. They also filter the environment and provide privacy as needed. Chin's conceptualization of the space delighted Hossner when after suggesting certain walls could display art, Chin replied, "Let's make the walls be the art." That, says Hossner, is awesome for an architect to hear from a client.
Other architectural details include running the interior ceiling finish through walls of floor-to-ceiling windows and clerestories to covered outdoor spaces, blurring the lines between inside and out with one continuous look. Additionally, the finely crafted concrete wall that separates the entry from the living room flows outdoors to define the home's exterior entry from the private deck off the living room. While Heath praises rho Architects as a great, very detailed oriented firm, Chin praises Hossner's flexibility, lack of personal agenda, ability to challenge things he proposes with one goal- simply to make the design better.
Mandy may not have been present at the architectural meetings, but she was for most of the construction meetings, where she weighed in about important pragmatic aspects of the kitchen and private garden areas. "I feel at home here," she says, "Chris has achieved real calm and coherent spaces." To which Chin adds, "The space is very gracious, comfortable, bright, and light, thanks to everyone involved at rho Architects and E&H Construction who took ownership in the project. When people take ownership, you can't help but have a good project."
PROJECT SOURCES
CONTRACTOR
E&H Construction Company
ehconstructionco.com
ARCHITECT
rho Architects
rhoarchitects.com
DESIGN & VISUALIZATION
Vizit Studio
LANDSCAPE ARCHITECT
Alchemie
alchemiesites.com
LANDSCAPE DESIGN
Withey Price Landscape & Design
witheyprice.com
WINDOWS & DOORS
Cherry Creek Windows & Doors
cherrycreekwindows.com
PAINT
Benjamin Moore
benjaminmoore.com
Shoptalk - Christopher Osolin & Tim Hossner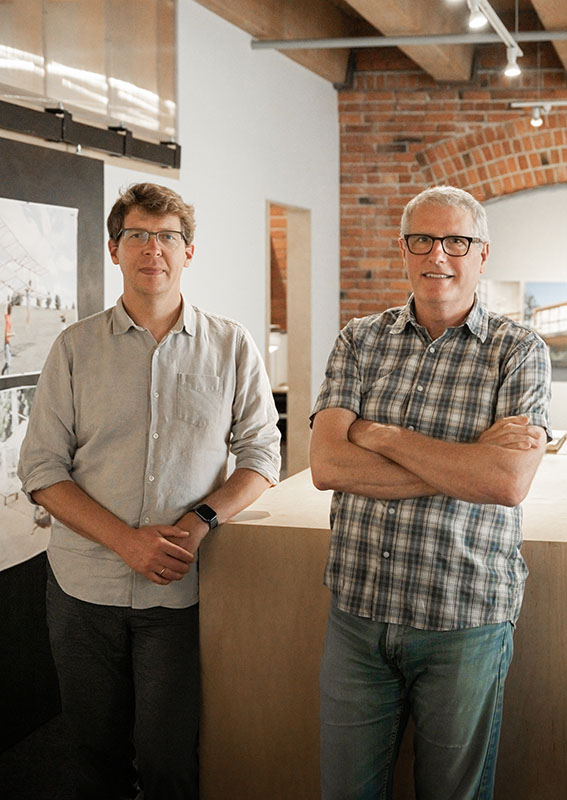 Christopher Osolin & Tim Hossner, Partners | rho Architects
What was the journey to building your own firm and how has your practice evolved?
Christopher: We started as three partners who had previously been at the same firm in the 80's and 90's. We worked out of home offices for more than a decade before setting-up a central office to accommodate growth. At first, every project was a collaborative effort involving everyone. With a larger office now, we continue to approach projects openly and collaboratively.
Tim: After climbing the ladder in a couple larger firms, I found myself drawn to the single-family projects that occasionally found their way through the door. I was fortunate to find partners who are like-minded in their interest in smaller scale, highly crafted architecture. We've evolved into a studio of 10 who practice our craft on an intimate scale with our clients at the center. Everyone works shoulder to shoulder and finds themselves up to their elbows in a little bit of everything.
Are there common themes that distinguish your work?
Tim: One common theme is less is more. This can present as abstract minimalism or as iconic vernacular forms that have been distilled to their essence. A colleague once impressed me with the idea that our most important job as designers is editing.
Christopher: Authenticity, collaboration and looking for that unique perspective. We have the drive to provide genuine and authentic design solutions while working to realize our clients' "dreams" for their homes.
What part of the design process do you find most rewarding?
Tim: I like collaborating with clients and colleagues. I enjoy conception where ideas are sorted out and their potentials are weighed. I like when ideas begin to take a life of their own. And I really like the fine-tuning, where it comes into sharp focus and becomes real.
Christopher: Working with the client to discover and refine the driving force of the project. It is through this distillation process that we amplify the core of the project and realize the most success.
What are your favorite building sites?
Tim: Sometimes within four walls of a kitchen, other times a vineyard in Provence. Every site has something to contribute to a unique design response. That's what makes our work and our jobs interesting and never stale.
Christopher: Sometimes the site with the most constraints such as steep slopes or a tight urban lot. Challenges can become opportunities to push for highly inventive and creative solutions.
Do you have a dream project or location where would you like to work?
Christopher: It probably revolves around the places I like to visit the most. Some remote mountain or waterfront property. I love to cycle and ski and constantly think of project ideas while in these locales.
Tim: I'm a dreamer, so everywhere.
What contemporary influences are inspiring you now and how does that impact rho moving forward?
Christopher: As building and energy costs continue to escalate and we grapple with the environmental impacts of our industry, we start to look more and more at Passive House, recycled/recyclable materials, and prefabrication. Our industry must adapt to these ideas if we're to survive the results of our own success.
Prized possession?
Christopher: My daughter's watercolor painting of a tower she did when she was 8 or 9 years old.
Tim: I have few precious things. What I cherish most are family, friends, and experiences.
Favorite way to spend a weekend in the Northwest?
Tim: Anywhere outside.
Christopher: Bike riding and skiing in all their various forms.