When Ames McArdle and Lance Lockett purchased their Craftsman-era home, they knew it had been well cared for over the years. "It was in great shape," said McArdle. "It just wasn't our taste."
Their friend, Scott Butler, introduced them to Gabrielle and Nathaniel James, the husband-and-wife team behind The Pavilion Company, a design-build firm in Seattle. "We loved what the James' did in Scott's home," said Ames. "It was clear they were on the same page as us with what was possible for our home."
The goal was to bring a contemporary, casual elegance and visual cohesion to the house while retaining its historical legacy. "When remodeling, we want to respect the original home in everything we do," says Gabrielle James.
Working through the home's main floor, the Pavilion team identified ways to realize a brighter, more modern, circular living plan.
"One of the challenges was to create a sense of space between the dining room and the kitchen, which both have a small footprint," James said. A new pass-through framed in soapstone opened space for conversation and connection between the kitchen and dining area, including additional storage and bar seating for entertaining. The addition of a small island is another anchor where guests can gather.
The kitchen cabinetry combines updated originals and custom work done in-house by Pavilion. The contrast of white and dark, with blackened steel mesh insert, are fresh and modern. "The dark mesh adds texture and interest within a traditional shaker cabinet frame. The clients can style items that will show through the mesh in variable opacity depending on the angle of view," said James.
Pavilion's manifest is always to create contrast in both colors and materials. They apply a balance of something metal, something wood, and something stone to build character and maintain a timeless quality through natural materials. James is also sure to include a bit of reflective metallic or a glass accent. "It adds a glow or sparkle to a room, so it won't read too austere or serious," says James.
For this project, the homeowners wanted to incorporate color into the décor. James uses a high contrast background of black and white, acting as a dynamic neutral canvas for the brighter, more contemporary details. "In this way, the fixed and built elements retain enduring appeal that allows the homeowner flexibility to rotate or change accessories and decorative elements at will," said James.
A sunroom-slash-bonus room off the back of the kitchen was brought into the footprint and given specific functionality as a bar and prep zone that doesn't compete with kitchen floor space. The large-format blue hexagon tiles define the individual personality of this room. Built-in cabinets reflect those in the kitchen.
"What was a very under-utilized space before is now an integral part of the circulation and livability of the space," said James.
Throughout, Pavilion retained traditional elements like period French doors, windows, and original millwork. "We preserved the original staircase and refinished it in a bold color, adding a playful, striped runner in natural materials from Abbey Flooring. It's now the focused design feature of the entryway which allowed us to tie together accent colors found throughout," James said.
Where original materials couldn't be preserved, Pavilion still nods to history, but in a novel way. For instance, in the main bath, the black marble penny round mosaic flooring has been around for 100 years, but the oversized treatment is consistent with a modern aesthetic.
Throughout, there is a masterful balance of continuity and delightful surprise. White oak is the natural wood of choice from the kitchen through the dining room to the powder and main baths. It appears as a custom floating shelf in the kitchen, the dining table and bar stools, a custom surround at the main bath, and in the powder room sink consul. "If we are adding something new to the home, we carry it through all the spaces, so there is intentional cohesion and calmness," said James. "Then we can layer the client's personality. In this case, with pops of color and some unexpected drama."
In the case of McArdle and Lockett, Pavilion leaned into their love of the ocean, especially the deep hues and moods of the Sound, including a dark marine blue paint in the dining area and dramatic wave motif wallpaper in the powder room. "We have several pieces of ocean and water-themed art. We wanted to find a way to bring that signature Pacific Northwest element into the design that didn't feel forced or derivative," said McArdle.
Finally, the team looped back in Butler. "Scott really leaned in on the house's styling," said McArdle. "He helped us see how our existing pieces could complement the new changes. Together, the team at Pavilion was instrumental in envisioning a new design language for the home. It's set up to live well for another 100 years."
PROJECT SOURCES
CONTRACTOR & INTERIOR DESIGN
The Pavilion Company
pavilionco.com
PAINT
Benjamin Moore
benjaminmoore.com
Shoptalk - Gabrielle & Nathaniel James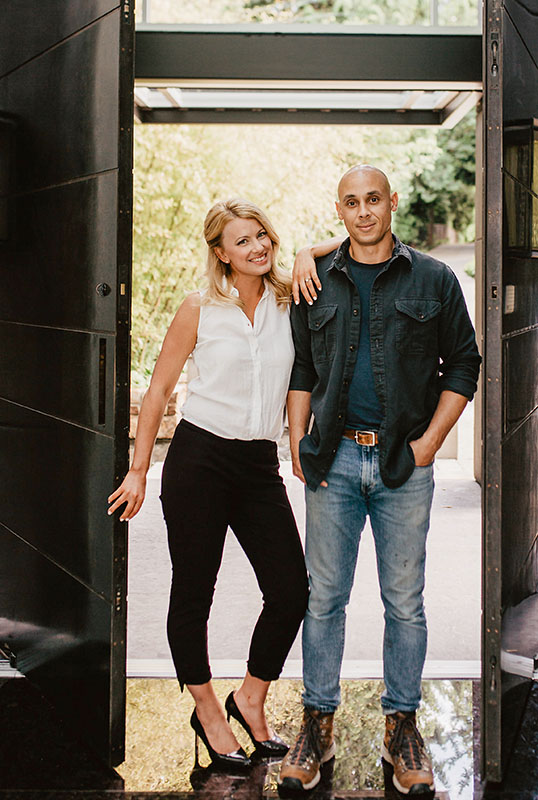 Gabrielle & Nathaniel James, Owners | The Pavilion Company
As a design/build firm what are a few of the key benefits clients realize when working with the Pavilion Company?
We are with our clients through every step of design and construction…from the first lines on paper to the last fluff of the pillow on the bed in your newly built or remodeled home. We are involved in every step of dreaming, planning, budgeting, building, and moving in! Because we are with you for every step, we get to know each other through every major milestone. Our team gets very invested into the project and it motivates us to do our best work possible on your behalf. Our team is doing all the tasks so there is no pointing fingers at each other, it's about solving design and construction issues and moving forward together. Each end of our business tries to impress the other one, so it becomes a rewarding process for both our team and our client's end result.
Tell us a bit about your approach to design and what has shaped your vision.
Gabrielle: Design is an intimate process between us and our clients. We talk about all the emotion-inducing things: money, what irritates us, and what brings us joy. Providing a beautiful and functional design is a baseline, but as we intertwine design and getting to know clients during the process, we can create something deeper than just the pretty pictures at the end.
Each of your projects is always full of fresh and interesting ideas—how do you stay inspired?
Gabrielle: I stay inspired by my team and clients. We are always pushing to try to build something better and that inspires me to push details farther and create things to represent our client's lifestyle in a truly custom way.
What are a few indulgences you like integrating into a space?
Gabrielle: For a kitchen, I love using a honed natural stone whenever we can afford it in projects. While it can be more maintenance than quartz or other manmade materials, I love the buttery, solid touch: even the wine stains become part of the story and proof that we enjoyed our entertaining spaces.
For bathrooms, bring on the steam! A steam shower is probably the single item that can change a "normal" bathroom into a little daily vacation.
Was construction something you've always felt strongly about or was it a gradual process of finding interest in the trade?
Nathaniel: When I was younger, most of my friends were working in construction jobs and to hang out with them I had to be useful too. I liked making things and really loved working with wood and started making furniture pieces. Those furniture pieces got larger and escalated into making homes.
In every Pavilion project there is a wood feature crafted by you; what are some of the most memorable features you have worked on?
Nathaniel: I carved white oak pieces for a herringbone pattern applied on a ceiling. My intention was to give the pieces a subtle "knuckle-like" feature as if the wood had been squeezed from hands. I also built a bar and wine storage out of walnut and made it to look like an old-world bar. I enjoy using wood to create custom pieces that are used daily and are beautiful, yet functional as well.
What's on your inspo boards now?
Jewel tones, darker wood tones, cognac color leather and ceramic light fixtures.
Travel destination for inspiration?
Mendocino Coast, specifically the MacCallum House, which has permanently destroyed all other Bed & Breakfast establishments for us.
Best materials to splurge on?
Good cabinet hardware, wood-clad windows, Calacatta marble, and outdoor heating.