Kurt Harmon grew up going to his grandparents' house on Green Lake and would visit the park from an early age, for family gatherings and to watch Fourth of July fireworks. "I learned to kayak and canoe on Green Lake," says Kurt. He and husband Joe Yanity bought the family house in October 2018, but thirty years as a rental had taken its toll. So, they decided to build anew, tapping architect Ryan Stephenson of Stephenson Design Collective and Alchemy Building Company for the job.
Balancing the views – into the home, and out to the lake – was key to the new design. "You might love where you're at, but you want some separation from it at the same time," says Stephenson. "You want to feel like you can sit in the front yard without being on display."
To that end, Stephenson sunk the lowest level of the home a bit below grade, and located the bedrooms there, with the primary suite in the rear. It has its own secluded courtyard, which was ideal for the couple, who both work in medicine and might sleep nontraditional hours. "We used to live in downtown Seattle, on the 34th floor of a condo building," says Joe. "We had so much light and glass that we were done with the view in the bedroom." Out front, a concrete and steel perimeter fence with a steel gate for the entry provides additional privacy to the bottom floor.
With the layout flipped, the main living spaces occupy the middle floor, with glass doors pocketing out of sight to open to the balcony facing the lake. "We liked Ryan's vision and his creativity," says Joe. "He goes big. We tell him we want a view, and the next thing you know, our entire South window opens all the way up."
The top floor hosts a family room with a wraparound terrace and green roof, its elevated perch putting it out of eyeline of park-goers while still offering up a great view of the water and treetops. "There's levels of privacy throughout the house and levels of connecting, or disconnecting, to what's out front," says Stephenson.
Such a configuration made it possible to ensure that the three-story house doesn't loom over pedestrians in the street. Each level of the façade is stepped back as the building ascends, with the steel railings creating further porosity, all the way up to the roofline, which is unexpectedly staggered. "It's a standard gable pitch, but I broke it up to give a bit of modulation," says Stephenson. "If I brought that entire mass up uninterrupted, you would feel the weight of this three-story house. But by pushing against those vertical planes, you start to break up the heavy mass."
Regarding the interior, the couple had gathered a yellow legal pad of notes over the years, taking stock of what they liked, and didn't like, in all the places that they've lived. For instance, after owning a Ravenna Craftsman with "tiny closets and tiny rooms," says Kurt, the couple knew they wanted an open floorplan for their main rooms that flowed easily to the outdoor spaces.
Concrete floors and sleek, flat-front kitchen cabinetry are paired with timeless materials, like clear cedar at the ceilings, walnut stair screen and floors in the entry, a quartz slab in the kitchen, and marble-effect porcelain tile in the primary bath. Everything has a place, from the counter appliances tucked in the pantry to the hidden powder room door, so there's no visual clutter. "If you start to clutter it, you immediately are unhappy," says Kurt. "It's not fussy looking, or overly ornate. People arrive to the house and it feels welcoming, not stark."
Although construction primarily took place during the pandemic, architect, builder, and clients developed a good rapport and communicated well throughout, resulting in a house that everyone is proud of upon completion. "We all got the house that we wanted," says Kurt. "Even during the stressful times, each of us allowed us to be who we are, and we respected each other. We knew that they were the experts, and Ryan and Travis very artfully guided us through the process and kept us on track."
PROJECT SOURCES
CONTRACTOR
Alchemy Building Company LLC
alchemybldg.com
ARCHITECT
Stephenson Design Collective
stephensoncollective.com
SELECT EXTERIOR MATERIALS
Mutual Materials
mutualmaterials.com
WINDOWS & DOORS
Cherry Creek Windows & Doors
cherrycreekwindows.com
Shoptalk - Ryan Stephenson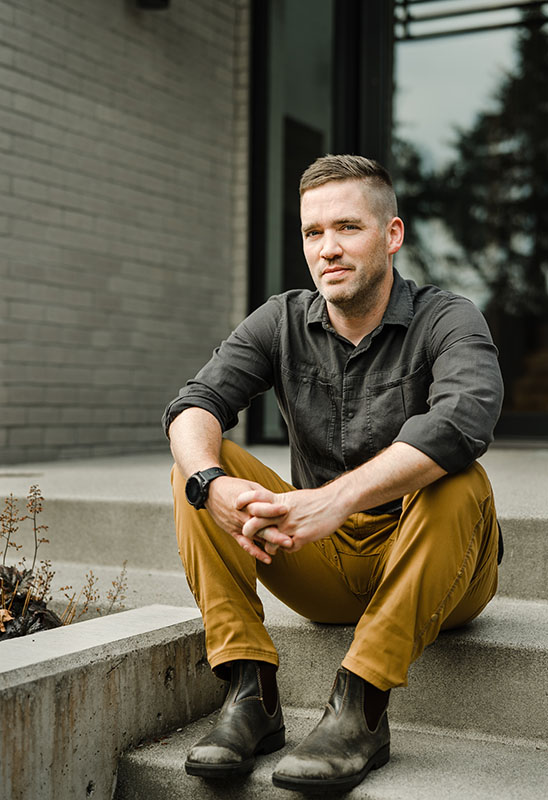 Ryan Stephenson
Can you trace your interest in architectural design back to a particular influence?
As a kid, wanting a structure or space to house myself or whatever toy I was playing with and spending time to create it was heavily influential in my path. It gave me the opportunity to understand what worked and what didn't, and hopefully why. I was lucky to realize at some later point that this could lead to a life and career that I love.
During your studies at the School of Architecture, Planning and Landscape Architecture of Auburn University you spent time working with Rural Studio®, an off-campus design-build program that coupled research on sustainable and healthful rural living; how did this experience impact your approach to residential design?
I think it became the foundation of my approach. We quickly learned that we had to become immersed in the community and client to completely understand the problem and opportunity or it would fail. These weren't weekly studio pin-ups inspired by your favorite firm. You lived it as the community did, and it humbled you. Every line on paper had to be deliberate and defendable because there were realized consequences. I learned to understand that what I did had the potential to be permanent and have a positive, or negative effect on a community. I take that same mindset into every project that comes through the door.
Outside of architecture, what are you currently interested in and how is it influencing your design thinking?
I have enjoyed spending extended amounts of time in the mountains with my wife and boys. I believe it is important to fully experience the natural world before you attempt to add to it.
Many of Stephenson Design Collective's award-winning residences focus on balance through the creation of space and light. How does your firm approach creating spaces with functional beauty within the natural environment?
The structure of a home should lightly fill in the spaces around the process of living. The less you think about a home as you are moving through, the better. The same can be said for its surrounding environment. The home is secondary to the beauty of the place.
What's next on the boards?
Location and experienced-based homes. The understanding and requirements of a home have recently changed for the better and people have placed a greater importance on their experienced environment.
Best travel destination for inspiration?
A trip to Iceland was more influential than I expected as it was mostly just the natural landscape. You experience an environment that has come from geological violence but is still somehow a place of incredible beauty. Then to observe how people have learned to live with that natural violence is amazing.
What is your favorite space in your own home and why?
The kitchen is the easy answer, but honestly, the living room. If I am here, its probably the end of a day and my wife and I are taking a minute to relax. I designed a living room in my home that has views into multiple exterior spaces, so there is a feeling of balance and connection in this area of the home, with a ton of natural light.
What's on your radar?
Residential architecture coming out of Australia. The limited urban space and unique rural environment seem to be inspiring some really great work.