Landscape designer Scot Eckley's clients wanted to reclaim front yard space into private, outdoor living. The modest 507 square feet of available garden was exposed to the bustling urban neighborhood road, had views to the driveway, and encompassed the access route to the front door. The small family wanted to create an urban oasis where they could as comfortably linger outside as they would in any room within the house.
"I approached the design the same way an architect would approach building a custom home," said Eckley. "What is the family's lifestyle, and what rooms and functionality do they want? In this case, a living room and an outdoor workspace, connected by an outdoor hallway and an entryway allowing access to the front door."
Eckley works with the same golden rules venerated by interior designers when considering spacing, furnishings, privacy, and light. "For a small space like this, functionality comes first." His grounding philosophy is that a garden space becomes an extension of the residence, giving reason and invitation to go outside.
The garden is now contemporary but luxurious, with a layering of colors, heights, and distinct rooms. The eye is encouraged to roam using high-contrast materials like concrete, steel, and cedar, experiencing depth and perspective despite the humble footprint.
From the driveway, entrance is granted via a large custom metal gate by Tetters Metal Fab through the vestibule of overlapping concrete walls. Even if the gate is open, the garden is obscured from view. Once inside, a gathering room with a custom-poured concrete fire feature and durable outdoor seating is to the left. The home has traditional outdoor dining on its sun-exposed west side, so this space is what Eckley calls "resort-style dining." The large lip of the fire feature provides ample room to prop drinks, plates, and feet.
Passing beyond the home's front door, the cast-in-place concrete pavers lift and separate, stretching to the outdoor workspace. "Conceptually, the idea is to encourage a slowing down to conscious movement as you walk to the deck," Eckley said. "The homeowner wanted an inviting, comfortable, and calming room. As you walk, you're obligated to bring awareness to becoming present in the space. It's a subtle shift in perspective."
Overall, the homeowners wanted a space inspired by the lush retreats they had seen in Bali. Eckley accomplished that tropical lushness in the temperate environment of the Pacific Northwest with two fundamental techniques. First, he utilized raised planters throughout, bringing green and organic elements comfortably into eye level.
Secondly, he mixed an array of plants that would look attractive and full in the visually arresting hardscapes throughout the change in seasons. "Plants like Japanese Forest Grass that get cut back four months out of the year simply reveal more of the garden's beautiful base structures," Eckley says. "This foundation allows for the use of plants that have some seasonality without the garden looking dead during the winter months."
For this garden, the variety of textures, sizes, and colors happen without flowers, another technique for building in year-round, consistent lushness. Other thoughtful details include artistic landscape lighting with sophisticated and discreet fixtures, a built-in sound system with subwoofer and directional speakers, ceramic accent planters, and a sweet, half-stone water bowl for the resident pup.
"Outdoor lighting is important in creating intimacy and accessibility to a garden space," said Eckley. "It gives the garden a second life at night." In addition to the pathway and features lighting, Eckley added an up light across the base of the steel and cedar slate wall in the outdoor work and meditation room. "It bathes that whole area in a warmth from the illuminated edge."
The result is an integrated extension of the home's living spaces which just happen to be outside. "Every detail here was carefully considered to play well together," said Eckley. "It's a cohesive, multi-functional space that's beautiful any day of the year."
PROJECT SOURCES
LANDSCAPE DESIGN + CONSTRUCTION
Scot Eckley Inc.
scoteckley.com
Shoptalk - Scot Eckley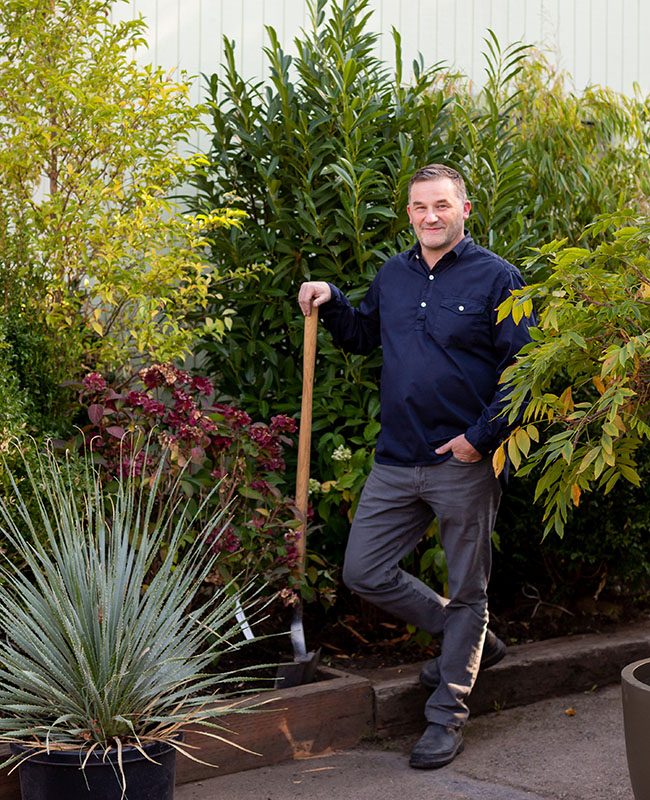 Scot Eckley, Owner | Scot Eckley, Inc.
Can you trace your interest in landscape construction and design back to a particular influence?
I am a landscape designer because I am not a very good swimmer. In college, I wanted a summer job where I could work outside, and I knew I would not pass the lifeguard test. A friend got me a job with the landscape company where he worked. I worked on the construction crew. The company designed and installed beautiful residential gardens, so I was exposed to some amazing landscapes throughout Puget Sound. One of the first job sites I worked on was installing the landscape at Paul Allen's estate on Mercer Island. At the time, I was finishing an English degree at the University of Washington and was interested in studying fashion design. I had started teaching myself how to sew and pattern making. Slowly, plants, stone walls and hardscape design began replacing my fascination with fabric, seams and fashion.
What is your firm's ideal project?
We love creating spaces for outdoor living — spaces for gathering, lounging, dining, cooking and play. We especially enjoy the challenge of designing and maximizing small or awkward spaces.
Your work is nationally recognized for using materials in new and novel ways and coming up with creative, cost-conscious solutions. Does the ambition of installing or designing a unique, forward-thinking garden mean that the bar is continually raised for you personally?
I have always been driven to find great solutions for our clients in response to the their goals, the site and their budget. Each project is unique, so it makes sense that each design and response is unique.
Your firm often works with and installs gardens designed by notable landscape architects; how does the collaborative process foster innovation?
When I first started SEI in 2000, most of our work was installing gardens and landscapes designed by some of the Northwest's top landscape architects and garden designers. I consider working with these designers to install their projects my master's degree. In the past 10 years, SEI has grown and we now focus on working with clients where we both design and install the landscape. SEI is a great group of landscape architects, landscape designers, project managers, and craftspeople, so now the collaboration takes place among our team, our clients, and building partners.
How do you approach or decide on the overall "feel" of a garden?
This is a blend of numerous factors. The home, the site, the client's input, the budget, and our perspective and expertise are all part of this. That said, our natural inclination is for designing low maintenance outdoor spaces with strong hardscape designs that look great all year long.
What's next on the boards?
We continue to work on spaces for outdoor living and entertaining. We're currently designing several covered outdoor dining and lounging spaces. We're working with a company that specializes in the fabrication and installation of these and are excited by the possibilities. One of the dining spaces we are working on will include heaters, lighting, a TV and a decked out kitchen.
Favorite travel destination for inspiration?
Anywhere with my wife. She is an interior designer with a background in art history. We are always traveling somewhere new.
What are some of your favorite public or private gardens?
The High Line, The Sound Cylinder (Parc de la Villette), Twin Silo Community Park in Fort Collins and the Baroque and Renaissance gardens of Italy.
Three words that most appropriately sum up your approach to landscape design are…
Design for enjoyment.