Executive Chef Annie Cuggino, known for peppering her dishes with the finest local produce farmers have to offer, has excelled at navigating the ever-changing waters of the restaurant business for over two decades. Not in just one successful Portland restaurant, but two. The New York native transformed the Veritable Quandry (VQ) from casual bar to dining haven, turning out delectable dishes from a kitchen she describes as so tiny you felt trapped. "For anyone who worked with me," she says of her 22-year-tenure there, "that was the most challenging job they ever had. You had to design your menu to suit the number of burners and size of refrigeration to create the best you could with what you had." When Multnomah County announced the popular restaurant had to vacate, Cuggino felt her talented team "wasn't done yet!" In the end, after owning VQ for 45 years, owner Dennis King agreed to sell the restaurant to Multnomah County, which promptly razed the iconic brick building to build its high-rise Courthouse.
In 2016, long-time regular guests, Mazen and Katherine Hariri, who had had their first date at VQ 20 years ago, stepped up to help Cuggino, whom they hadn't met but whose food they loved, to realize her vision by opening another restaurant just a few blocks away in a new building at 828 SW 2nd Avenue and SW Taylor. Delighted and flattered by their desire to create a family-run restaurant with her at the helm, Cuggino called on her years of culinary experience to collaborate with both Andee Hess (Ava Gene) of Osmose Design and the Hariris on the restaurant's design. By enlarging and modernizing the whole restaurant, kitchen included, Q Restaurant & Bar has become an airy, fresh space, delighting guests. The bar's panoramic windows open onto outdoor seating in fine weather. Magical house cocktails including the "Vesper-ish" James Bondage, are prepared at the expansive bar, giving guests a front row seat on the entertainment. Enthusiasts will appreciate the Q's curated wine list. Non-alcoholic cocktails like Fresca del Dia offer refreshment. At the center of it all are Cuggino's uniquely delicious and creative farm-to-table culinary delights, to which her long-time Executive Sous Chef, Victor Martinez, regularly adds authentic Mexican dishes.
One of Q Restaurant's key features is its chef's counter that enables guests to chat with the chefs as they prepare meals before them. Cuggino says the idea was derived from her experience of working as a 19-year-old with Emeril Lagasse in New Orleans before his famous TV days. "I worked at this big concrete chef's counter he designed that sat 5-6 diners who could chat with the chef. I could see how Lagasse enjoyed standing there, looking out at his entire restaurant. So, when we were designing the restaurant from scratch, I knew I wanted to have a chef's counter so guests could enjoy the interaction. It's also nice for us to look out at the diners enjoying themselves. It does something for the morale!" Guests from nearby hotels often enjoy the setting, returning sometimes nightly to try the extraordinary dishes. As one TripAdvisor reviewer put it, "We enjoyed our seat at the Chef's counter from beginning to end! Watching the ballet, skill, and non-verbal communication of the entire team was better than any show on Broadway."
Necessity, says Cuggino, who received her culinary degree from the Culinary Institute of America in Hyde Park, New York, is the mother of invention, especially in the culinary world. She recently created a delectably spicy recipe for Grilled Spanish Octopus that features delicate tentacles awash in smokey chile adobo, lime pickled onions and fresh berries for under $20. The results are both visually and mouthwateringly extraordinary. When French Bouche de Lucay cheese was not available to toast before adding it to a favorite apple and pear salad, she experimented by making a Crottin Frico on a thin crostini and warming it in the oven before placing it on the salad.
In looking for something different, she says, sometimes even better ideas come up. "When we think of a dish, we think of temperature and textures," she says. Even her desserts have different textures and temperatures, often sprinkled with nuts or pepitas to add interest. "Whether it's savory or sweet, it more interesting if it's not homogenous!"
Cuggino works differently today with her beloved local farmers than in the past. "We no longer call and ask if they have a given product. Instead, they call us with a list they have. It's more like the European style and makes more sense. It's up to us to do something with whatever is available. The limitation is often an inspiration that teaches us what's in season and is at its best." When deliveries are slowed, she'll scour local farmers markets to get products like Kiyokawa Family Orchards pears and apples for such recipes as Roasted Brussels Sprouts & Kiyokawa Orchard Apple Salad, Crispy Duck Confit, or Kiyokawa Apple & Pear Crisp. Cuggino has worked with Stacey Givens, owner of The Side Yard Farm & Kitchen on a one-acre North Portland plot for 15 years, enjoying adding among other things her exquisitely flavorful baby radishes and baby carrots with their tops to various recipes. All of the above enables Cuggino's team at Q Restaurant & Bar to deliver the very finest food, libations and excellent service that have made them #1.
Q Restaurant & Bar is in Portland at 828 SW 2nd Avenue, corner of SW 2nd Ave. and Taylor. It is open Tuesday-Friday 11:30-9:00 for lunch and dinner, and Saturday 5-9. They are closed Sunday and Monday.
www.q-portland.com (503)850-8915.
RECIPES
By Executive Chef Annie Cuggino, Q Restaurant & Bar
GRILLED RACK OF LAMB CHOPS

Serves 4
I highly recommend seeking out Oregon grown lamb if possible.
LAMB
2 ½ – 3 pound rack of lamb
Trim the racks of excess fat., leaving a thin layer or more if desired.
Cut racks between the rib bones into 8 chops.
Season the chops generously with sea salt, freshly ground black pepper and sprinkle with a few fresh thyme springs.
Grill lamb chops over a medium high heat to create a nicely charred crust.
Cook to desired doneness, I recommend a nice medium rare center.
Serve with the warm jalapeño, peach and Cipollini onion jam and a few crisp fresh assertive greens. I suggest a mix of radicchio, frisée and arugula.
JALAPEÑO PEACH CIPOLLINI ONION JAM
Mix together and set aside
1/4 cup sugar and 1/2 ounce pectin
In a small pot combine
1 quart peeled fresh peaches sliced thickly
1-2 fresh jalapeño seeded and sliced thinly
1 cup peeled Cipollini sliced thickly
1/2 cup sugar
Pinch salt
Bring to a simmer
Cook 3 minutes
Whisk in pectin mixture
Cook another 3 minutes
Remove from heat
Can be served warm or cold.
OLIVES AND FRIED CHICKPEAS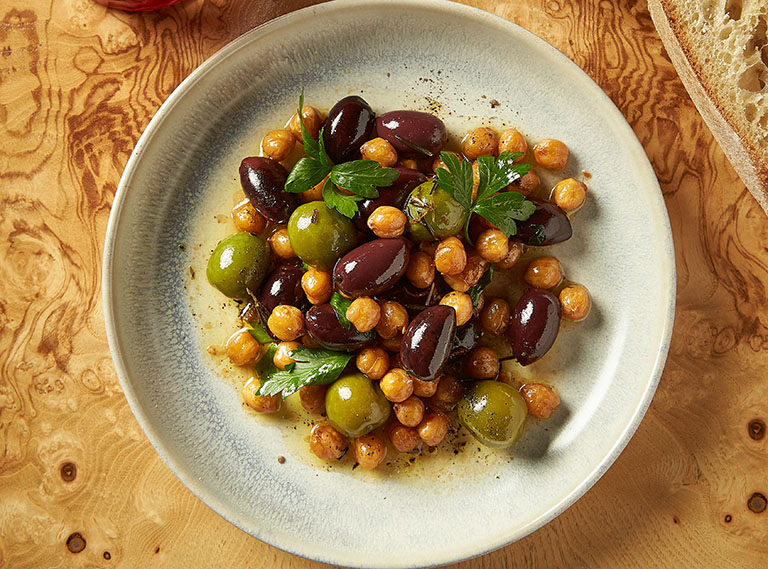 1 quart of your favorite olives with pits
(one of my favorite combinations includes castalvatrano, kalamata, niciose and Moroccan oil cured)
1 orange both the juice and the julienned rind
1 teaspoon red Chile flakes or more to taste
1 tablespoon fresh rosemary sprigs
1/2 cup extra virgin olive oil
2 cups fried chickpeas
FRIED CHICKPEAS
Use fully cooked chickpeas (canned chickpeas will be an acceptable substitute)
Deep fry the chickpeas at 350 degrees until crispy. 2-4 minutes. Drain well before tossing with the olives.
COMBINE IN BOWL
When ready to serve, Warm the olives with their juices briefly in a sauté pan and toss with 2 cups of freshly fried chickpeas right before serving.
CANNOLI WITH BING CHERRY SAUCE

Makes enough for a big party
CANNOLI DOUGH
4 cups flour
1/4 cup sugar
1 1/2 teaspoon cinnamon
1/2 teaspoon salt
1/4 cup shortening
2 yolks
3/4 cup marsala wine
RICOTTA FILLING
1 lb. ricotta cheese
1 cup powdered sugar
1/2 cup shaved dark chocolate
zest of 1 orange
1/2 teaspoon cinnamon
BING CHERRY SAUCE
1 quart Bing cherries
1/2 cup sugar
1 cup port wine
1 tablespoon cornstarch
2 tablespoons water
squeeze of fresh lemon
pinch of salt
DOUGH
Mix flour, sugar, cinnamon, and salt in mixer bowl until well incorporated. Add in shortening and mix in by hand until course and crumbly. Add yolks and marsala, knead by hand until incorporated and mix with dough hook on low for 10 minutes. Chill for at least two hours before rolling.
Rolling: roll using pasta roller, dusting with flour to keep from tearing. Roll to the #2 setting on pasta roller. Then cut into 3 inch circles. Wrap around cannoli rings and fry submerged until brown and crispy. Cool.
FOR THE FILLING
Mix ricotta, powdered sugar, orange zest, shaved chocolate and cinnamon on high for 1 minute. Put filling in a pastry bag and pipe the filling into the cannoli shell.
Dust with a little powdered sugar. Serve with fresh bing cherry sauce and roasted pistachios.
FOR THE FRESH BING CHERRY SAUCE
Wash and pit 1 quart of bing cherries
Put in a small pot with 1/2 cup sugar and 1 cup port wine
Bring to a simmer.
Thicken mixture with a small amount of slurry (1 tablespoons cornstarch mixed with 2 tablespoons water)
Cook briefly. 1 minute.
Finish with a big squeeze of fresh lemon and a small pinch of salt.
May be used as a warm sauce or served chilled.