"There was just something 'off' about the kitchen," said homeowner Lisa Simpson. "It was awkward to move around in and felt oppressive."
The Simpson's 1990s-era kitchen was heavy on manufactured wood finishes and busy granite countertops popular at the time. It also had a massive, five-sided, two-level island that wasn't working for the family of five. They had made the best of it for years, but the space felt disjointed and chaotic. They found they didn't like to spend time in what should arguably be the heart of their home.
"We hired Emily Ruff of Cohesively Curated to help us make sense of the needed changes and how to bring our own personal style to life," said Johnson. The first thing to go was the kitchen island.
"By replacing that island with one aligned squarely in the room, so much more space and utility was realized," said Ruff. More structurally complicated than it appears on the surface, the island required new wiring, ductwork, and plumbing. But it also provided the opportunity for expansively more storage. "I really appreciate the extra storage accessible underneath the new bar area," said Simpson. "It's space that usually goes unutilized."
Once space planning was sorted, the fundamental transformation could take place. "Everyone does a white kitchen," said Simpson. "While those look nice, we find ourselves drawn to darker colors." Working collaboratively, Ruff and the Simpsons started by identifying the countertops they wanted. They chose a Leblon quartzite from Trio Surfaces with a depth of character, including blue, green, and grey veins. To highlight the beautiful surface, Ruff used a thick, three-inch overhang on the island and painted cabinetry in a rich grey with blue undertones.
From there, stylistic choices are based on fine craftsmanship and timeless details. Inspired by European deVOL kitchens, cabinets are built with carpentry techniques that give them the appearance of furniture rather than a fixture. They have been extended to the ceiling to fully use the space. The beadboard on the island adds an additional bespoke touch. The backsplash is of handmade farmhouse Clé tiles with speckled glazing, imbuing artistry and warmth to functionality.
Lighting fixtures and other hardware have a subtle industrial vibe, offset by the warm wood of the furniture and accent shelving. "I like to call this "transitional eclectic," said Ruff. "The Simpsons were drawn to a mix of traditional and contemporary, and these elements can be brought together in a complimentary way. It becomes a collected space rather than a cookie-cutter one."
Ruff mixed matte black and brass Brizo faucet fixtures with a dark charcoal quartz sink. Every detail was considered for cohesive design impact, like the knurling on the faucet handles, pendant lighting, and a matching quartzite trim around the window. "I like to use the countertop or marble window trim in kitchens instead of millwork," Ruff said. "It's a practical and durable choice when water staining is likely to occur."
Ruff's livability and user flow facility was also a big perk for the homeowners. "Ruff helped us realize family-friendly systems and functionality that helps everyone feel empowered - but is also easy to keep looking neat and tidy," said Simpson. A bar area to the left of the refrigerator is an accessible prep surface adjacent to drawers stocked with plates and cutlery and a handy beverage fridge. The microwave is hidden in a pull-out drawer when not in use. A similar strategy was used for the coffee station near the sink.
Finally, bespoke touches pull it all together. "I styled the kitchen with vintage artwork, ceramic bowls and vases, and other found objects, including a vintage rug runner," said Ruff. "These one-of-a-kind details bring warmth and character to the modern space."
PROJECT SOURCES
CONTRACTOR
RoofWorks Northwest
roofworksnorthwest.com
INTERIOR DESIGN
Cohesively Curated
cohesivelycurated.com
COUNTERTOP FABRICATOR
Trio Surfaces
triosurfaces.com
Shoptalk - Emily Ruff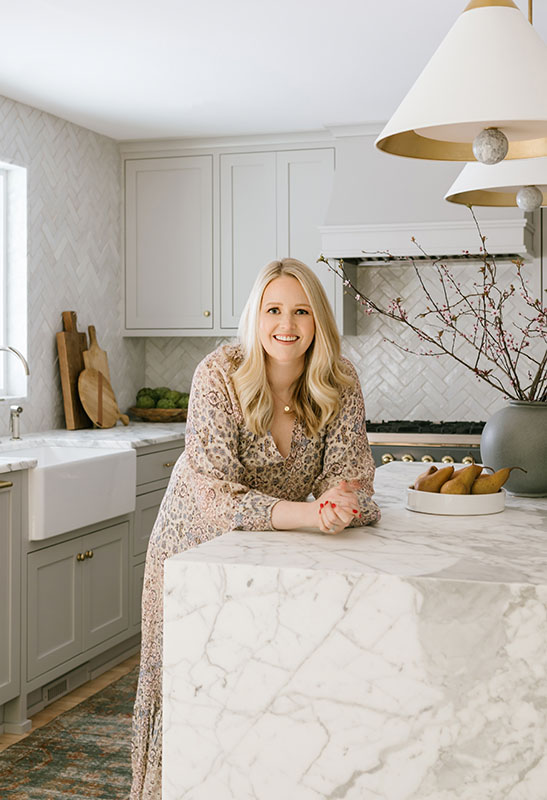 Emily Ruff, Owner & Principal Designer, Cohesively Curated
Has there been a defining experience that has significantly influenced your design viewpoint?
The projects that are most defining for me have been projects in my own homes. I started my business with my previous home as my only portfolio project and have gone through multiple renovations and decorating projects in our current home. Designing for yourself is much more challenging and has also allowed me to truly empathize with my clients during the design and construction process.
What are some of the current influences on your work?
I really love European style of cabinetry and all details and elements that make it feel like furniture. I try to include some vintage elements (usually rugs) in my designs to bring warmth and character to brand new spaces.
Specializing in new construction, how does that impact your design process?
We do conceptual design first and then we bring in contractors to bid the project. I always recommend that clients give us their full wish list to have priced out at the beginning and then we can scale back if needed once the estimates come in. We don't start detailed design and material selections until we are aligned on the scope of work and what that truly costs.
What was the journey to building your own firm and how has your practice evolved?
I started my business in 2017 as a side hustle while working full time as a Project Manager at Amazon. I focused on décor-only projects initially and then went back to school for kitchen and bath design and started doing more renovations and new construction. After four years of juggling both jobs and having my daughter, I decided to transition into running my business full-time in the summer of 2020 and haven't looked back.
What kind of reaction do you hope to get from people that live in your spaces?
I always want them to love the way the space flows and functions daily. I also want clients to feel like the space is a reflection of them, but something they couldn't have achieved on their own. Well-designed spaces should bring happiness and ease to day-to-day life, my biggest goal.
What's the first thing you notice when you walk into a room?
I notice what isn't working from a layout perspective. Whether it is cabinetry size and location or furniture size and configuration, I am quick to pinpoint what could be improved.
What is your favorite space in your own home and why?
My kitchen, breakfast nook and family room area is my favorite space in my home. It was the first space we renovated six months after buying the house. It is long and narrow, so the layout was tricky to figure out. We spend 80% of our time in these spaces and I still love everything about them after two years of being here.
What's on your radar?
Color! I love neutrals and how calming they can be, but I am really inspired by the way some designers mix color and pattern so effortlessly. I am pushing myself and my clients to be more daring with color and pattern instead of playing it safe with neutrals.
Favorite place to travel? London.
Favorite era of design? Hollywood Regency, 1920s-1950s.