Rick Berry can sum up the ethos of his work in two words: People first. "That's our motto here at our architecture firm," says Berry, principal designer at the Portland-based Scott Edwards Architecture. "I listen to exactly what they want, and then create the interest and excitement, so that they look forward to coming home every day."
That purpose came into play for this recent custom project on a gently sloping, half-acre site between Portland and Beaverton. The clients needed a place to retire, and to easily host their adult children and extended families. When they couldn't find anything existing that fit, they decided to build on the vacant lot that they'd purchased years before, starting the process by tapping Hamish Murray Construction, whom they'd worked with on various projects since 2007. Berry and project manager Ryan McCluckie from Scott Edwards, and Katy Krider Interior Design, then joined the team. "I always say that we basically had a must-have list and a wish list," says the homeowner. "And they gave us everything on both."
The resulting three-level, 7500-square-foot home forms an L-shape that wraps an entry court. Three guest ensuite bedrooms sit above the garage, while the main volume is lined with glass on the front and back sides and layered with slat screens for visual interest and privacy.
Inside, the living room occupies a double-height space, with the kitchen and dining room nestled under a lower ceiling. An upper-level catwalk captures sightlines into the home, and out the front and back at once. With this layout, the guest wing above the garage can essentially be closed off – it's even equipped with a separate HVAC system so as not to be conditioning unused rooms. "Most of the time it's just the two of us," says the homeowner. "We love that when we walk into the main living area, it almost feels like we're in an apartment. It has everything we need."
A 30-foot-wide sliding glass door spans the living spaces, with no support post in sight to mar the views of the Coast Range. "That was on my husband's 'must-have' list," says the homeowner. "It was very important to him that we didn't have any support post that obscured the view or interfered with the living, or the entertaining space."
To accomplish that, a hefty structural steel beam encompasses the opening. "It was designed so well," says contractor Hamish Murray. "There are so many loads coming down on top of that door. For it to slide nicely, there's no tolerance for movement. So, that is a huge beam that runs the whole backside, weighing about 10,000 pounds and requiring a hundred-ton crane to lift it into place. It was quite the undertaking."
And one that the designers were excited to see executed so well by Murray's team. "Hamish is a dream," says Berry. "He's super professional and easygoing. He just understood the architecture from the very beginning, and when it got to the details, he was very thorough and brought up good ideas for constructability."
Now, the glass doors slide open to a sleekly covered outdoor room ideal for the couple to entertain. There, an opening in the roof is fitted with a louvered screen to modulate sun exposure and provide cover during the rainy season. A cedar slat wall picks up the theme from the front façade and provides privacy for the adjacent endless pool.
In the times that either homeowner prefers to be alone, they each have their own "go-to" spaces, with her office stacked on the second floor above his music room. The challenge there was to accommodate his love of music, often played at loud volumes, with her need for contemplative quiet to write, so the team brought in a sound technician to calibrate the soundproofing. "Now he can play his music as loud as he likes in there, and she can't hear a thing," says Murray.
For the interior plan, the couple hit it off with Katy Krider of Katy Krider Interior Design. "She's another great listener," notes the homeowner. Krider remembers their first conversation being about the "interior as canvas." "They have collected pieces throughout their lives and travels, and a lot of the pieces are very large, colorful, and graphic," says Krider. "To me, that was the cue that the interior wanted to be more minimalist, more quiet, and basically a canvas for the collection of artwork."
To that end, the palette in the main living spaces was kept simple, with Krider balancing "warmth and cool," and "light and dark," by combining wood features – like walnut floors, custom casework, and cedar-encased ceilings and overhangs – with white walls and charcoal accents. At one end of the main room, the soaring fireplace façade is covered in textured, large format granite tile, while at the other, the kitchen is fitted out with a dark gray lacquered Bulthaup cabinetry system. The custom cabinetry culminates in a gorgeous wall of casework in the husband's music room designed by Krider, inspired by the clients' travels to Japan, and perfectly accommodating his music collection.
Aging-in-place details, including flush thresholds to prevent tripping and an elevator, round out the home, so that it accommodates the owners now, and well into the future, as well as checking off every item on their lists. "They literally gave us everything we asked for, and more," says the homeowner.
PROJECT SOURCES
CONTRACTOR
Hamish Murray Construction
hamishmurray.com
ARCHITECT
Scott Edwards Architecture
seallp.com
INTERIOR DESIGN
Katy Krider Interior Design
katykriderdesign.com
LANDSCAPE ARCHITECT
Shapiro Didway
shapirodidway.com

LUMBER
Lakeside Lumber
lakesidelumber.com

CEILING VENT HOOD
Eastbank Contractor Appliances
eastbankappliance.com

Shoptalk - Katy Krider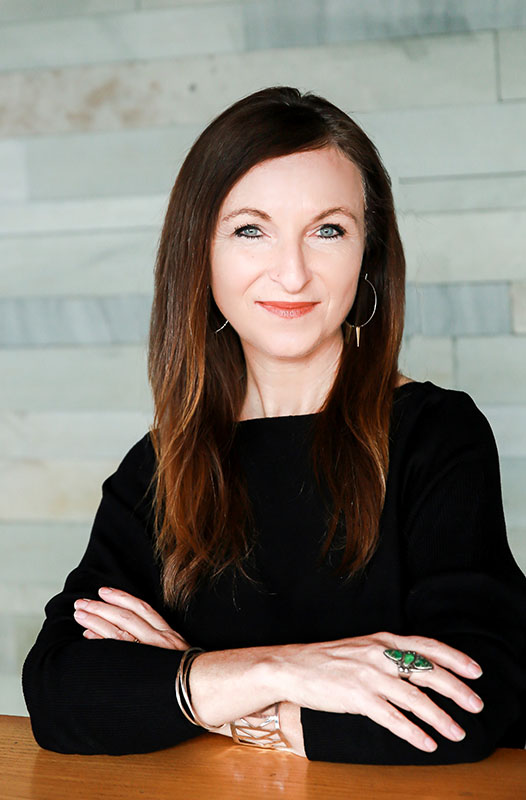 Katy Krider, Owner, Katy Krider Interior Design
Each of your projects is full of fresh and interesting ideas—how do you stay inspired?
My inspiration can come from just about anywhere. I am always finding inspiration in nature, a trip to the Portland Art Museum, travel and great design work that resonates with me. Every project is unique, and I try to establish the elements of inspiration early in the design process, which is an interactive process with my clients.
You've worked on a variety of projects, has there been an experience that has significantly influenced your viewpoint?
Having spent the first twenty years of my career working for some of Portland's top architectural firms, I have come to value interdisciplinary collaboration as the ideal way to design and build. I was fortunate to have amazing opportunities to be involved in all aspects of a project: working hand in hand with clients, architects, engineers, and contractors in a collaborative environment. The Maple Rock project was a great example of that! It was a pleasure working with Scott Edwards Architecture and Hamish Murray Construction to bring our clients' dream home to fruition.
How would you describe your design style?
l would describe my personal design style as "modern organic." I love spaces that balance a sense of contrast, texture, proportion, and light using natural materials like wood and stone and a few carefully considered details that add an element of craft. When working with my clients to design spaces that they will love, I begin every project by understanding their personal design style that sets the tone for the project. The range of projects in my portfolio reflects that philosophy, of first listening, understanding and then designing to reflect my clients' unique vision and style.
With experience in commercial and residential design, how does each impact your design process?
Drawing on my thirty years of experience, I tailor my design process to each unique client and project, whether it is residential or commercial. Since starting Katy Krider Interior Design in 2016, I have focused almost exclusively on residential interior design. I have really enjoyed the shift in scale that comes with residential design and the ability to offer a more personal and client-focused design process.
What is your favorite space in your own home and why?
I am my own client. Our house continues to evolve as we renovate and make it our own. It's a funky old farmhouse that has had many renovations over its 122-year lifetime. I do love our living room which is anchored by a big wood burning fireplace with rustic basalt rock that was quarried from the site. The walls and ceiling are paneled in circa 1930 oak paneling. It's soulful and warm and I may just leave it 'as is' in homage.
How do your interests outside of work keep you motivated?
To stay motivated and creative it is so important for me to seek balance between work, life and play time. Outside of the studio I enjoy horseback riding, skiing, and spending time with my family.
Best materials to splurge on?
The best materials to splurge on are the ones that makes you happy. In this market, installation labor and construction are often the most significant budget line items. Often, in the scheme of things, the difference between the cost of an average ceramic tile versus the stone tile that a client really wants is negligible based on square footage. I always encourage my clients to prioritize what makes them happy, because the cost to install the average tile is the same to install the tile that they really love — and will live with for years to come.