In 2016, Josiah and his wife decided to relocate their growing family. Their daughter was two, and their second on the way, so they knew they needed more square-footage than their current condo, and also wanted to be closer to family in West Seattle. Then they came across a listing for a home just a block from where Josiah's grandparents had built their own house in the 40s, with a trail down to the very beach that Josiah had frequented growing up. "I spent a lot of time in this neighborhood as a kid," says Josiah. "So, lo and behold, when a property became available, we jumped on it."
Nostalgia wasn't the only appeal. The lot came with a view of the Puget Sound, which the couple had always dreamed of having, although not much else about the existing house fit them well. The couple preferred a more modern aesthetic, and still needed the extra space. On the recommendation of a friend, they reached out to Dovetail General Contractors for a remodel and addition. "We really like modern design and Dovetail had a great portfolio in that regard," says Josiah.
The contractor then recommended Heliotrope Architects, as the two companies had worked together on numerous projects. "There's just a lot of trust that's been built over the years," says Dovetail project manager Ashley Sullivan. "Heliotrope are very strong advocates for their vision, communicate clearly, and we have a good understanding of their design intent to be able to perform."
Looking through the firm's portfolio, the couple liked Heliotrope's approach. "I didn't feel like they had a set kind of house that they design," says Josiah. "Each was very unique to the location and client." This proved essential once everyone realized that building new on the couple's lot would be more cost-effective than a down-to-the-studs overhaul. "There was going to have to be so much retrofitting to meet code," says Josiah. "It was going to get super expensive to 'MacGyver' it to a point where we felt safe, comfortable, and were getting the design we wanted."
Still, the lot had many constraints. Shaped like the state of Oklahoma with that three-foot-wide path to the beach, there were the usual building setbacks from the sidewalk and neighbors, and the need to keep a certain distance from the shoreline. Additionally, the location on a busy arterial street meant noise, privacy, and the sweeping passage of headlights shining into the living room at night were all issues. Then there was the large tree out front.
To everyone's surprise, the large evergreen Photinia turned out to be a city heritage tree – so learned when a city tour showed up one day to look at it – and would need to be protected. Fortunately, the architects had already decided it was essential. "The tree was a huge component of the privacy screening for the house and central to the design of the outdoor spaces," says architect Joe Herrin.
In order to meet the spatial needs of the family, the new 3,500-square-foot home utilizes all of the available buildable space, with three floors fit against the lot's slope, which drops a full story from street to rear. Now, the main floor and living spaces sit level with the street-side courtyard, with three bedrooms and laundry placed above, and auxiliary rooms, like a yoga studio and a media room level with a water-side garden, below.
Heliotrope project manager Chris Wong refers to the house's form as "stacking boxes." Adds Herrin: "Basically, we took two boxes and split them apart. Then we sat another box on top of that which spans across. The space that's created in between the three boxes is the living, dining, and entry." The architects capped the opening on the front and back facades with wide stacking glass doors, fostering an incredible transparency through the middle of the home, and connecting to the distant water views from all angles. To ensure this transparency was balanced with privacy from the street, a cast concrete wall by Fieldworks Custom Concrete bisects the front yard, neatly dividing it into two courtyards, one public and one private.
In the public-facing courtyard, there's the driveway, garage access, and an artful entry sequence – an "outdoor vestibule," says Herrin, that mitigates the transition from the street. There's also the heritage tree, which was painstakingly preserved throughout construction. For it, Dovetail consulted with an arborist, who suggested bringing in a compressed air-powered tool. "That blows air to expose the roots, so you get a better idea of where they are, and which ones absolutely need to be avoided," says Sullivan. Under the arborist's supervision, the team drove pin piles into the earth to support the concrete wall without impairing the tree's growth.
A split in the concrete wall forms the basis of a custom metal water feature that lines both courtyards, so the sound of trickling water buffers street noise. In the private courtyard, a patio of cast concrete pavers is surrounded by a lush landscape by Ohashi Landscape Services, and perimeter fences layered with tall plantings foster seclusion. Josiah also needed a covered spot to grill year-round that was in close proximity to the indoor kitchen, so there's a custom awning that closes up and hides the barbecue when not in use. "Now I can be out there grilling in the snow," says Josiah.
While the front façade doesn't have many windows – there's one behind a wood screen in the upstairs laundry room and one that flanks the front door – "That was intentional," says Herrin. That approach enables all of the windows to be in "conversation" with the water on the other side of the house.
This starts at the front door, as one enters and catches a glimpse of the Puget Sound through the floating stair tread and a panel of glass. Turning left offers up a wider view in the main living areas, with an exterior deck surrounded by a transparent railing so as not to hinder the sights. Then there's a "postcard" of a window in the kitchen, slotted above a bookshelf. "We'll see ferries, sailboats, orca whales, or sea lions," says Josiah. "It's like a National Geographic picture outside the windows every time we turn around."
Highly crafted details, courtesy of Dovetail's in-house wood and metal fabrication shops, are woven throughout the home, from the front yard's metal fountain and the hammer-formed brass pull on the front door, to the custom dining table and rift-cut oak veneer panels painstakingly aligned to wrap the four sides of the fireplace column. "The partnership between Dovetail and Heliotrope was pretty amazing," says Josiah. "We felt really good about the whole process. And I pinch myself every day when I wake up here."
PROJECT SOURCES
CONTRACTOR
Dovetail General Contractors
dovetailgc.com
ARCHITECT
Heliotrope Architects
heliotropearchitects.com
INTERIOR DESIGN
Inform Interiors
informinteriors.design
LANDSCAPE DESIGN
Ohashi Landscape Services
ohashilandscape.com
CUSTOM CONCRETE
Fieldworks Custom Concrete
fieldworksconcrete.com
Shoptalk - Joe Herrin & Mike Mora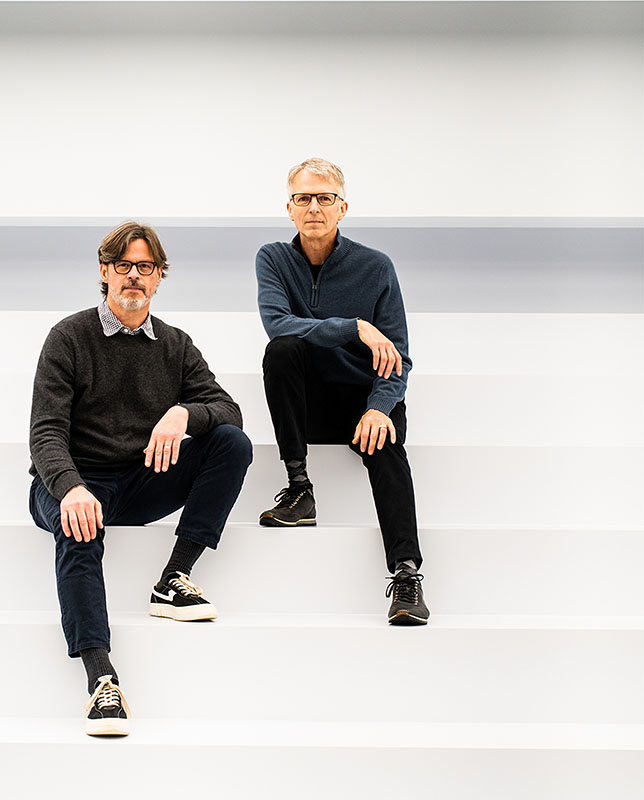 Joe Herrin & Mike Mora, Principals, Heliotrope Architects
When you founded your own firm, what were your goals? How have those evolved over time?
We started our firm in 2000 with the goal to create works that withstand the test of time. Works that weather well, that transcend style and trend, that resonate emotionally with the user and that have a lasting positive impact on their environment – whether that be an urban retail environment or a rural home. While these remain first principles, designing and building more environmentally sustainable work has become a major priority. We have also become increasingly focused on the character and quality of our studio culture, helping it become a thriving, nurturing, collaboratively creative environment for our team and those with which we partner.
Tell us a bit about your approach to architecture and what has shaped your vision.
We try to start each project as a blank page, minimizing preconceptions. We approach the work as modernists, with an interest in form, function, context, etc., but we don't approach it with a preconceived design vocabulary. We prefer to get to know the client, site and project parameters and see where it all leads. The process of discovery is very exciting for us.
How would you describe your firm's design style?
We're focused on context, value and quality. It's important for our values and those of our client or users (or community at large) to drive the characteristics of the architecture throughout the process. We explore how context shapes what we design, how it sits on the land, and how it orients to a view or away from street noise. Qualitative concerns determine material selection, roof shape, and detailing. It's through answering these types of value-driven questions that we find more enduring architectural solutions.
Outside of architecture, what are you currently interested in and how is it influencing your design thinking?
Joe: I have a lifelong fascination with boats and am always interested in ways we can learn from a well-designed yacht's efficient use of space, its self-contained systems, and the way beauty can be derived through form following function.
Mike: I am interested in the creative process as manifested by those operating in fields outside of architecture, such as musicians, writers, filmmakers, and artists. I am also interested (but very much a lay person) in the behavioral and social sciences and what makes us all tick.
Favorite way to spend a weekend in the Northwest?
Joe: We tend to spend many, if not most, weekends at our beach cabin on Orcas Island. In the summer we are either cycling or boating around the San Juans and north into British Columbia.
Mike: I like to work in the office on Saturdays and work in the yard on Sundays. I hang out with my wife and kids, read, or hit a favorite restaurant. I hike or ski when possible.
Favorite travel destination for inspiration?
Joe: I visited Japan for the first time last October and it was a kind of paradise for me. Both the historic and contemporary architecture there is incredibly inspiring, as is the natural environment (and the food – can't not mention the food…)
Mike: NYC, Tokyo, Europe. Just bought plane tickets to Morocco for the spring and expecting gobs of inspiration there.