In the world of residential home building, the builder is often brought on by an architect to realize his/her vision in conjunction with an interior designer. The Home Builders Association of Metro Portland (HBA) turned that paradigm on its end in 1975 when it initiated a yearly summer PNW event that features the crème de la crème in residential construction. Last year's NW Natural Street of Dreams® (SOD) location in Newberg, situated high atop a crest overlooking the wine country, was the inspiration for Del Boca Vista builder Chandler Willcuts' vision of a rustic Napa Valley style home. "Hewn," so christened for the ample use of Tualatin company Hewn Elements' wood products throughout the home, was powered by Pacific Office Automation to create the ultimate experience of working from home "without leaving the view."
"The HBA approached us in October 2021 for the July 2022 opening," says Willcuts, who put together a team worthy of the demands necessitated by such an enormous time crunch. Although the team Willcuts created had never worked together previously, his trust in their talents gave Brittainy Tiffany and Alyssa Wavra the ability to work unfettered toward a highly successful outcome – sweeping 18 out of 20 SOD Awards.
Alyssa Wavra of Wavra Design Company, who did the architectural drawings, felt an instant connection to Willcuts' vision. "Alyssa knew what I was going for and nailed it in three revisions," says Willcuts. "Everything we did," adds Wavra, "was around the view. With two primary suites on the main level and the push for multi-generational living inside and out. We also included a private ensuite bedroom on the second floor." Upstairs, an oversized rec room resides alongside a hidden speakeasy that can double as a home office.
"It's tough to build a spec show home that would normally take a year to build in just a few short months," admits Willcuts, who lost a week to a rare April 2022 snowstorm. He chose Brittainy Tiffany, of Tiffany Home Design, to partner with him to build this rare four bedroom, five and a half bath dream home. "Chandler and I were in sync from the beginning," says Brittainy, who calls the award-winning home her eighth SOD venture. By envisioning a prospective buyer who would purchase such a home, she was able to create such "takeaway" ideas for show visitors as the Tile Bar's Tropez Foliage Blanco oversized tiles in the powder bath as a twist on today's trending wallpaper ideas.
Central to any home, however, is the kitchen. For Willcuts and Tiffany, the stunning Bertazzoni stove delivers a timeless farmhouse appeal amidst the rustically vaulted great room. Crowning it with a last-minute wood-trimmed rangehood by Hewn to replace the initial metal one solved supply chain issues. "Sometimes," notes Tiffany, "when you have to make a quick decision to alter an original design, it's better than what it would have been."
Adding a touch of glamour to the rustic tongue and groove spruce great room ceiling are a series of three Matrix Havana gold fluted glass chandeliers by Varaluz from Globe Lighting. "Each crystal," recalls Willcuts, who gives a big nod to his talented subcontractors, "had to be twisted in individually. It took 24 hours straight to install them. So, we fed the team, and they took turns sleeping."
Tiffany worked closely with Trinity Flooring of Portland to create a unique unexpected "wow" for the tile and countertops throughout. "We wanted to allow the beautiful elements in the home to soften it and make it more timeless," she says. "I kept it all in a neutral palette with more texture than color and relied on live plants in the home and the outdoor landscape for color."
The Speakeasy was Willcuts' inspiration, which incorporates a venting system to allow for cigar-smoking. Tiffany added the built-ins and the Regina Andrew chandelier to enhance the cozy, surprise element. "What I learned from working on a house of this caliber," adds Tiffany, who calls collaborating with Willcuts 'A Dream,' "is that it takes all trades working together to come out as beautifully as it did."
PROJECT SOURCES
CONTRACTOR
Del Boca Vista, LLC
delbocavista.dev
ARCHITECT
Wavra Design Company, LLC
wavradesignco.com
INTERIOR DESIGN
Tiffany Home Design
tiffanyhomedesign.com
LUMBER & WINDOWS
Parr Lumber
parr.com
APPLIANCES
Standard TV & Appliance
standardtvandappliance.com
LIGHTING
Globe Lighting
globelighting.com
FIREPLACE BRICK
Mutual Materials
mutualmaterials.com
Shoptalk - Brittainy Tiffany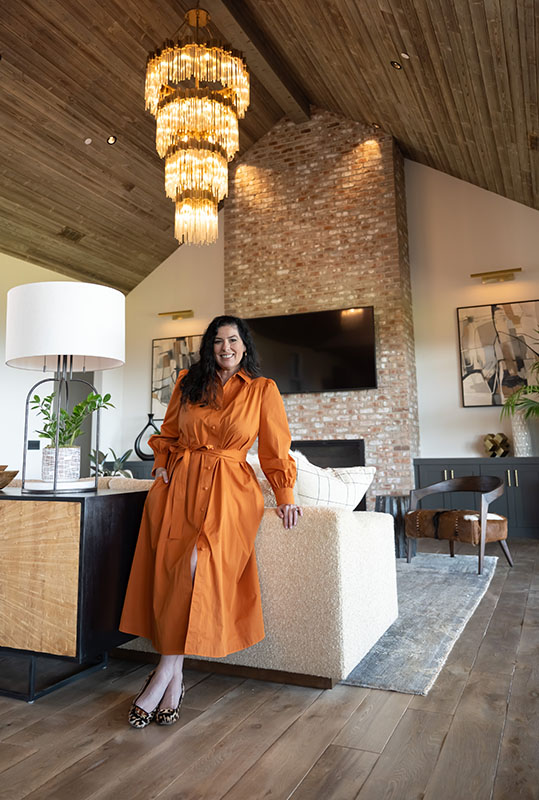 Brittainy Tiffany, Owner, Tiffany Home Design
Favorite part of the design process?
My favorite part of the design process is seeing the client vision come to life. My favorite question to ask clients early in the discovery process is, "Every home tells a story, what are you wanting your home to say?" This pushes the clients to think through how they want to live in the home, so the design process comes together from there.
Can you tell us about a recent collaboration that was integral to one your designs?
I was fortunate enough to be the interior design firm for the first custom residential home in the U.S. designed by renowned architect Kengo Kuma. As part of this amazing collaboration, Kengo Kuma and his team flew me to Japan to tour his design projects in Toyko, and then spend time visiting traditional temples and culture in Kyoto. It was a once in a lifetime design experience.
What is your dream project?
I have been fortunate to work on many amazing design projects throughout my career. One dream would be to collaborate and design for a boutique hotel in Oregon Wine Country.
Tell us a bit about your approach to design and what has shaped your vision.
My design approach is pretty simple. I like to incorporate what I call a "high/low" approach to each space we are designing. Meaning, we could have a gorgeous custom sofa mixed in with a cost value rug or pillows. My goal is to always work within the client's budgets and timelines. I attend furniture markets multiple times a year to stay on top of design trends and look for the latest new furniture and accessory lines.
What aspects of your background or upbringing have shaped your design principles and philosophies?
I had a love for interior design and fashion at a young age and would flip through design and real estate magazines. My mother was a real estate agent, so I saw firsthand how a home can create emotional connections. I have a degree in business and psychology and have found both have been very helpful creating my company.
What are a few indulgences you like integrating into a space?
Incorporating elements such as beautiful light fixtures can turn any room into a truly custom-designed space. I also like to add wood elements such as beams, natural ceiling wood treatments or for a modern look, beautiful wood vertical slats. Adding a fun unexpected moment with stunning wallpaper can instantly create a WOW.
What is your favorite space in your own home and why?
My laundry room. When we built our home, it was one of the spaces I took extra time to make sure the space was going to be functional, and more importantly, pretty. I have a large family which means a lot of laundry.
Favorite way to spend a weekend in the Northwest?
My favorite activity is to visit Oregon Wine Country. The Willamette Valley is known for its picturesque vineyards and quant towns. I enjoy finding new boutique wineries, farmers markets and then staying at the Allison Inn for a fabulous dinner/stay.
What is the best moment of the day?
The best part of the day is early morning, before my family wakes up and I can enjoy my coffee and plan the day.
Prized possession?
In my early twenties, I backpacked through Europe for three months. I knew I didn't want to just bring home t-shirts, so I invested what little money I had and bought beautiful handmade Christmas ornaments throughout my travels. Each one has such a memorable story.