For years, Paul and Deanne Rhynard admired this Dutch Colonial house from afar, as they lived just seven blocks away, and frequently passed it on walks through the neighborhood. Upon seeing it up close the first time, there was even more to appreciate. The couple marveled at the intact historic details, like the hardwood floors, the living room's picture rail, even the mullions of the original windows. "I loved everything about it," says Deanne, even though there was also some obvious deferred maintenance. "It just looked like it was a beauty that hadn't had that person to look after it the way that it needed."
The couple's first offer to purchase was declined, but months later, their second offer was accepted, making this particular love story a second chance romance. "We looked at a lot of homes, but were patient to wait for the right house for us," says Paul. Keys in hand, they started assessing what updates to make.
For starters, the kitchen was cut off from the rest of the main floor, and the couple wanted better connection between rooms. A powder room took up too much space: "You could fit a twin bed mattress in it," says Deanne. Meanwhile, the mudroom didn't have enough, and consisted of a row of hooks in a hallway by the back door, with the latter not opening all the way when said hooks got too full of coats. Plus: "There was a lot of green marble," says Paul.
The couple met with a few designers to facilitate their vision for a remodel. K&L Interiors, founded by Kelly Lyons and Lauren Hockema, stood out from the rest. "Many of the designers we met with seemed very set on their own style," says Paul. "We wanted to ensure our style came through. Lauren understood our desires clearly and brought us quickly to options that met our goals."
The couple's main goal was to modernize the Dutch Colonial's function without losing the original charm they so loved. To do so, Hockema paired with boutique contractor Ainslie-Davis Construction, as the two firms have worked on several projects together over the past decade. "They do a really nice job not only with project management, but the quality of their work is just superior," says Hockema. "We've developed this relationship with them wherein we know each other's style of work, how we like to communicate, and everything just flows well."
The team opened up the living room to an expanded kitchen for better circulation throughout the main floor, connecting the rooms with a wide doorway cased in period trim. Hockema specified inset cabinets, unlacquered brass hardware, and honed marble for a more timeless palette than the green marble. The wide doorway makes a large central island possible, with seats on one side proffering satisfying views through the house. "There's so much natural light, it all flows into the kitchen now, so it's a much brighter space than it was before," says Hockema. A nearby deep blue built-in hutch is actually a custom coffee station, complete with a sink to rinse cups, hidden refrigerator for chilling milks, and built-in knock box to catch grinds, for Paul's "three times a day" coffee fix.
The powder room was tucked under the stairs, "made smaller but more efficient," says Hockema, and wrapped in Serena & Lily wallpaper to become "a little gem." Relocating it freed up space to enlarge the mudroom and outfit it in custom storage that has more than enough room for all of the coats and more.
Upstairs, Hockema converted an enclosed porch into his-and-hers offices and a sitting room, all attached to the primary suite, which also has its own enlarged bathroom and custom closet. The hall bathroom was also redone; the navy, marble, and brass palette syncing up with the rest of the home.
At the entry, the staircase connecting the two floors had previously been walled off and lacked natural light. "We really wanted to make that stairway more of a focal point when you enter into the house, to be beautiful and interesting, not just another small room," says Hockema. The team worked with master craftsman Loren Dugan from Beautiful Custom Stairs to craft a new staircase that looks like it's always been there, fitting seamlessly with the home's vintage character. It's a moment that never ceases to make the Rhynards happy. "This is how an entryway is meant to be in a home like this," says Deanne. "It was just not being done justice before."
PROJECT SOURCES
CONTRACTOR
Ainslie-Davis Construction
ainsliedavis.com
INTERIOR DESIGN
K&L Interiors
kandlinteriors.com
WINDOWS
Windows, Doors & More
windowshowroom.com
Shoptalk - Lauren Hockema & Kelly Lyons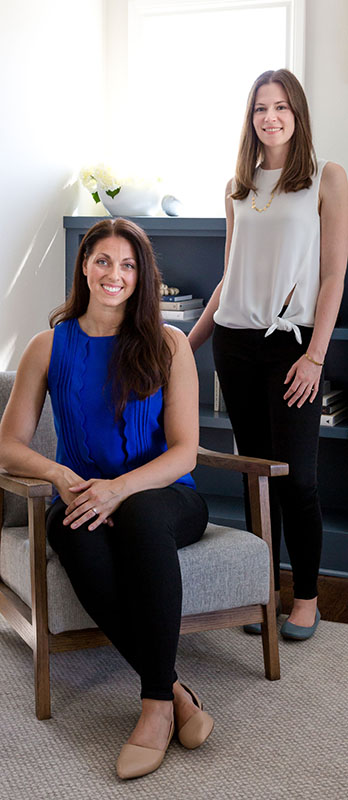 Kelly Lyons and Lauren Hockema, Principals | K&L Interiors
When did you first become interested in design?
Lauren: I've always been interested in design. I'm one of those stereotypical designers who was regularly rearranging my room at a young age, but always drawing a floor plan on graph paper first to make sure the layout would work. As a kid I was also fascinated by the floor plans included with the home stories in my mom's Better Homes & Gardens magazines.
You describe your firm's design style as balancing function and aesthetics; how does this effect your design process and philosophy?
A finished design is only successful when function and aesthetics are in balance. It's one of the things we focus on most while designing for our clients, and our process involves a lot of give and take to make this happen. For example, if a space looks amazing, but doesn't flow well or lacks the storage that it needs to be comfortably lived in, then it's not a successful design. Likewise, the opposite is true when a design puts too much emphasis on how the space will be used, and the aesthetic value gets lost.
Can you tell us what is integral when collaborating on your designs?
The most important collaboration is the relationship we form with the contractor when we design for a construction project. When we're all on the same team and have open communication, the project goes so smoothly. We love being involved in the process during the home build too, and meeting on site periodically with the contractor and homeowner so we're all in the loop. This helps immensely when we're verifying details as they go in, and allows us to suggest alternate solutions when unexpected challenges come up.
Outside of design, what are you currently interested in and how is it influencing your thinking?
Lauren: I love cooking, gardening and reading while I'm at home. For me, it's important to put my focus elsewhere and calm my brain, which allows me to recharge.
Kelly: Spending time with family. My husband and I recently welcomed our first child in 2022 and he inspires in new ways every day. I've always kept functionality and durability in mind, but having a little one at home brings that to a whole new level!
Favorite part of the design process?
Space planning, whether it's reconfiguring a home's floor plan in a construction project or for a furniture layout. It's kind of like a puzzle and is really satisfying when you get it right.
In your opinion, what is the most fundamental element of interior design?
For us, it's ensuring that the design of the interior blends seamlessly with the architecture, whether it's a remodel, new build, or even just furniture. It doesn't necessarily mean that we need to be historically accurate for older homes or that we can't have some fun integrating unique elements. Making sure that we respect the architecture and avoid including anything that's visually conflicting goes a long way.
Latest design discovery?
Finishes that patina over time – marble, unlacquered metal, etc. They add such a distinct layer to a home's character.
Favorite detail of your childhood home?
Kelly: I grew up in a farmhouse that's been in our family since the early 1900's. We had a dumbwaiter that went from the kitchen on the main floor to the basement cook's kitchen where they would feed the farm workers. It was such a unique feature and still to this day I get excited when I see one in an older home. The best part about our dumbwaiter was that inside the door was written a shopping list from many decades ago, "6 dozen eggs, 5 lbs flour, 2 lbs sugar, bacon and milk", as well as an old recipe for doughnuts!