Vicki and Albert Rosellini had never worked with longtime friend renowned Seattle architect Stuart Silk until they suggested he drive them to a home they were thinking of buying within Seattle's Broadmoor community. What they found in the 85-acre gated community with 18-hole golf course was an overgrown property with a dilapidated house that was clearly a teardown.
The empty nesters, who wanted a change of architecture, lifestyle, and place, asked Silk if it was feasible to design a modern home on that site. "Stuart said absolutely," recalls Vicki. "Lucky for us we decided to ask him to do it!" Working from pencil sketches to Revit 3D renderings, Silk proceeded to answer the couple's needs with various iterations, going from one story to two with basement. "I wanted less walls and taller ceilings, and Albert more intrigue," says Vicki, "so by picking up half the house and putting it at a slight angle, Stuart created the unexpected awe we wanted with a custom dramatic 12' entry door and corridor that leads to our beloved 20' high artwork by Anna Skibska."
"The door was important," says Silk with partner Amanda Cavassa. "It was an interesting challenge to modulate the volumes to create a composition that provides visual interest on a residential scale that is in context with the existing neighborhood of single family homes. Although Vicki wanted a lot of glass, we found a happy compromise by limiting the amount of glass on the street side and using clerestory windows for light."
Christian Grevstad was recommended to the Rosellinis by a friend who admired his design work and frequented his Grevstad Gallery, which showcases prominent artists. Vicki describes their meeting with verve. "It wasn't just his aesthetic, we also felt he would ultimately deliver what we were looking for, in design, palette, and sourcing. We hired him right then and there and whatever he did to the interior architecture made it 'King.' With his eye for color or lack thereof, he created an environment that is beautiful, quiet, and peaceful."
Thus, Grevstad's and Silk's teams began to work together seamlessly. "I have so much respect for Stuart," says Grevstad. "He is always such a pleasure to work with." Both teams took their cues from Vicki's elegant sensibility and dress. "She has a strong sense of neutrality," says Grevstad, "and how to use color harmoniously on a different level." Silk and Cavassa's striking exterior features charcoal gray aluminum panels contrasting stylishly with limestone tiles, a palette which continues inside. After an exhaustive search to find the exterior limestone tile in the U.S., Albert began contacting manufacturers in Italy and Spain. "I even got an importer's license," he says. Ultimately, he called upon both teams' expertise to narrow the 100 lbs. samples down to three finalists. "In partnership with Grevstad's team, we chose the Todogres Limestone tiles from Spain's Kronos Blanco and minimized the grout lines for better visual flow of the exterior volume," says Cavassa.
Silk designed the floating fireplace, which is suspended from the ceiling, without glass, but worries about grandchildren's fingers caused him to glass it in. Grevstad engaged Seattle decorative artist Cathy Conner of Studio C, to create a rippled texture on the fireplace's off-white plaster to contrast with the adjacent staircase's blackened steel. Albert's request for a bar inspired Grevstad to tuck a piano bar with a freestanding glass block shelf beneath the staircase. To ground it all, Grevstad chose soft gray porcelain flooring tile.
Silk's staircase design featured treads cantilevered off the wall to support the ¾" thick solid steel railing, weighing thousands of pounds. "I was worried that the staircase would be too prominent," says Vicki, "but with the blackened steel, plaster, and oak treads Christian designed, it became a work of art—a bold, structural, muscular element in perfect counterpoint to the home's interior airiness,"
The Rosellinis' main thrust to both teams was to build an inviting home for their children, grandchildren, and friends, for as Vicki says, "There's always room for one more at our table." Consequently, Grevstad designed a custom flame sprayed metal dining table for 16, which she describes as 'magnificent.' "Like any house," says Albert, "the kitchen is bridge command center. When it's just the two of us, we sit at the big island that Christian spec'd with Zimbabwe Absolute granite, something we were not familiar with. Having taken down all the walls, the kitchen flows into the adjacent bar and family room with materials and color open to one another."
"The house functions very well when it's just the two of them or entertaining many. A sliding door leads to the poolside and a long bar with stools where Albert can man the grill and host guests," says Silk. Albert says the outdoor living spaces work fabulously for both entertaining adult guests and creating a magnet for the children and grandchildren. "The place I start my day," says Vicki, "is a rare moment of sitting on the family room floating concrete hearth, feeling meditative and grateful for people we cherish like Stuart and Christian who are now part of our family."
PROJECT SOURCES
CONTRACTOR
Kroons Construction
kroons-construction.com
ARCHITECT
Stuart Silk Architects
stuartsilk.com
INTERIOR DESIGN
Grevstad
grevstad.com
CABINETRY
Urban Cabinets
urbancabinetsnw.com
SELECT FURNISHINGS
Christian Grevstad Collection, Ltd
grevstad.com
Terris Draheim Outdoor
outdoor.terrisdraheim.com
Seattle Design Center
seattledesigncenter.com
Shoptalk - Christian Grevstad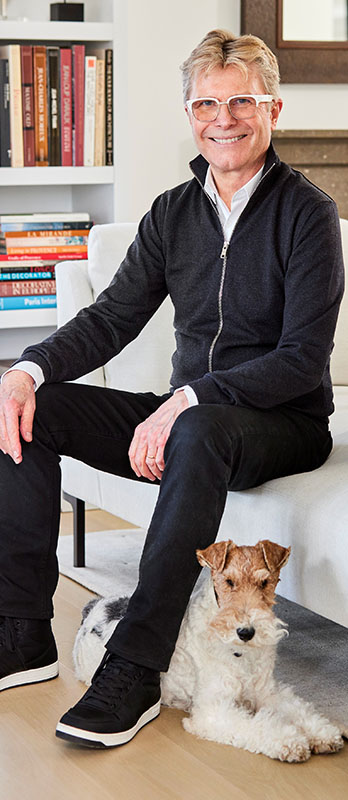 Christian Grevstad, Founder & Creative Director | Grevstad
Wire Fox Terrier, Peter, is a VIP member of the team.
How did your first brush with the power of nature as an 11-year-old on a commercial Alaskan fishing boat morph into an award-winning interior design career?
The immense, wild beauty of the Alaskan territory was so profound that my next quest was to see more of the world. These experiences motivated me to find fulfillment studying fine arts and architecture, paving the way to my interior design career. Early on in my career I was fortunate to work with notable architectural firms where my design projects took me back to Europe and abroad. In 1989, I opened my design firm Christian Grevstad in downtown Seattle.
What has influenced you the most regarding your ability to weave interior design and architectural interiors into one complete whole?
The observation of the project setting and a desire to create a harmonious integration of the interior and exterior that's cohesive with nature's surroundings. This study is essential in both extravagant and humble dwellings past and present. Working side-by-side with several creative and highly respected architects and craftsmen coupled with the trust and confidence of my clients. Holding in high esteem all involved in that process is essential.
How does your familiarity with Southern France, its ambiance, textures, and style imbue your unique flare for design?
There is a romantic, classical, and yet very real organic and honest edge to the overall qualities and ambience of that area. There is a distinguishable light and atmospheric quality that charges all the senses, especially the visual ones.
What are some of the design elements that are crucial to the Grevstad design practice?
Almost always, woods and metals, singularly or in tandem. Adding an honest and organic component. Careful attention to color, scale, and proportion as it relates to the architecture and all other elements seen in a well-executed and comforting interior space. Lighting, natural and artificial, is paramount to the successful execution of any project. A studied application of texture to provide definition of all surfaces, wood, metal, textiles, floor, rugs, window treatment, art, sculpture, and accessories.
Tell us about the Christian Grevstad Collection Ltd. textile and furnishings lines represented in showrooms around the world.
My line of furnishings and textiles epitomizes the values and sensibilities that have driven my design perspective for decades, utilizing sources of the highest quality natural materials. All our textiles are hand-woven in the Pacific Northwest. Everything we produce consists of the finest fibers, expertly woven by accomplished artisans.
What makes your ability to work with such a talented team unique?
We, like most successful teams, are devoted, dedicated, diligent, respectful, communicative, and genuinely like each other. We work hard but rarely is there a day without a good belly laugh!
What extra steps do you take to make your interior design reflect the needs of your clientele?
I think that what we do is very intuitive, without formula or roadmap. We are keen and sensitive observers. There are meetings and communications at all levels, but we watch, observe, listen, and look for all messages— rarely missing a single one.
Are there common themes that distinguish your work?
There is restraint with an edge. Working consistently with a team of disciplines assures greater continuity, and a common theme. We forego an abundance of color – a splash here and there in either art, accessories or somewhere unexpected. I am very sensitive to color hue, value, and its impact on the overall aesthetic, applying it with great regard and care.