Young architect Daniel Toole had recently moved to Seattle after completing his degree at the University of Oregon School of Architecture. Serendipitously, he met Liliane and Michael Flacco through a mutual friend of one of their sons. Over dinner in 2009, Liliane, a native of Switzerland, shared her dream of building a European-inspired modern concrete home. Toole knew immediately he wanted the opportunity to design it.
The Flaccos and Toole kept in touch over the years as he pursued his graduate degree at Harvard and trained with his architectural heroes in the U.S. and Berlin, including Tucson-based architect Rick Joy, known for his modern regionally-inflected structures.
The Flaccos had raised their family in a traditional home in Madrona. Their large lot had plenty of space to subdivide. Instead of looking for another property, or tear-down, the empty nesters decided the time was right to build their final home right next door. They reached out to Toole.
"The Flaccos knew they didn't want a typical infill house. They wanted something with a sense of mass and permanence," said Toole. "The house would be smaller than their older home and would need to be thoughtfully designed to make the most of the landscape as well as for adaptive aging and single-level living, if necessary."
Toole worked with a senior architect, mentor, and friend Carsten Stinn, for the design phase, taking the reins solo for the build-out with contractor PH Robison. The home was designed as a concrete mass of thick walls, including a poured-in-place double fireplace. Textured by rough-hewn wooden boards, the concrete is an inverse reflection of the traditional Japanese Accoya Shou Sugi Ban wood siding cladding the upper levels.
Set in a U shape, two wings flank an open courtyard creating a private outdoor room with views of Lake Washington. "We have close neighbors on both sides," said Michael Flacco. "The house looks inward and toward the open center where we spend as much time as weather allows, including meals."
While the exterior may have monolithic whisperings, the interior is anything but austere. The open-concept living is bright and airy, with lofting ceilings and abundant natural light. "When I told our friends we were building a concrete house, they were a bit concerned," says Liliane. "But it is not bunkerish – it's warm and bright, surrounded by natural views."
The key to the result was orientation on the lot, orienting long and short views, and diffusing daylight from walls, roof, and large openings where possible. "During the day, the owners would rarely need to use electric lighting, even during our grey Pacific Northwest winters," said Toole. Large windows and sliders are focused on views. Skylights bring diffused light to the zones where window placement would have exposed the neighboring homes.
Sustainability is the quiet backbone of the home. Concrete consumes minimal materials, energy, and other resources for construction, is a natural insulator, and requires little to no maintenance. Eschewing an air conditioner for environmental reasons, the house is built with passive heating and cooling principles. Skylights are on a heat sensor to open for passive stack ventilation. Radiant ceilings and floors use high-efficiency hydronic heat. The home has a green roof and other permeable surfaces that handle stormwater onsite.
But for the Flaccos, the serene beauty of the interior takes center stage. "In our old house, we had a lot of artwork," said Michael Flacco. "We've lived in this house for over a year now, and we still haven't hung any of it because it's beautiful as-is."
Toole worked directly with the Flaccos on the home's built-out features, including the rustic English white oak flooring and other white oak casework. The kitchen island and other components are from Leicht Seattle. "These pieces were brought directly from Germany, and Yuval Sofer at Leicht was integral to tailoring the Flaccos' specific kitchen desires to the home," said Toole.
Many of the furnishings were the homeowners' own iconic modern Italian designer pieces from their travel over the years. "Some of these pieces, like the Ligne Roset chair and the Cassina dining chairs, we purchased 40 years ago," said Michael Flacco. "These chairs look just as relevant now as the day we bought them. That's what timeless design can do."
"It will be the same with this home. It has been built with truly exquisite craftsmanship that will stand the test of time."
PROJECT SOURCES
CONTRACTOR
PH Robison Construction
ARCHITECTS
Daniel Toole Architecture
danieltoole.com
Carsten Stinn Architecture
carstenstinn.com
LANDSCAPE ARCHITECT
Fredericks Landscape Architecture
CUSTOM CONCRETE
Fieldworks Custom Concrete
fieldworksconcrete.com
LIGHTING
Seattle Lighting
seattlelighting.com
Shoptalk - Daniel Toole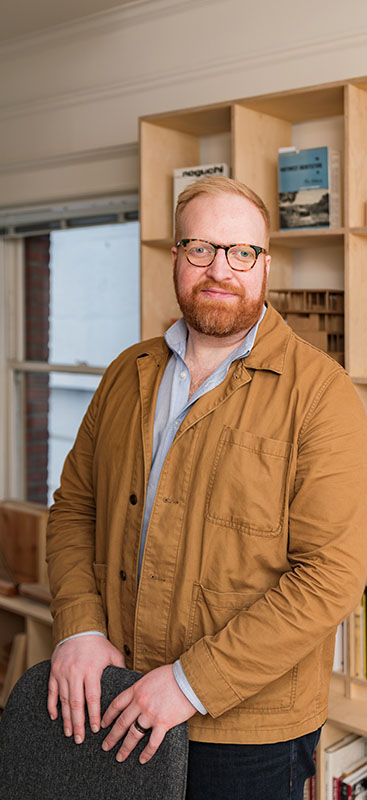 Daniel Toole, Principal | Daniel Toole Architecture
Can you trace your interest in architectural design back to a particular time or influence?
My interest in architecture was influenced by family. My aunt, a high school art teacher, had a house filled with her drawings, paintings, sculpture, and artifacts from adventures around the world. I would spend summers in Indiana at my grandparents', where I would watch my engineer grandfather tinker and draft his next project on his drafting table. He taught me how to draw, sketching on church bulletins on Sundays. In middle school, I found a book on Frank Lloyd Wright at a local library. I was instantly hooked, and my mom encouraged this interest, constantly slipping architecture books into my stacks of skateboarding magazines.
Having worked on projects in both Portland and Seattle, are there particular differences in what clients are looking for?
Working primarily on houses in the Seattle area, and commercial buildings in Portland, I see a fundamental difference in the culture of private life being more of people's focus in Seattle, and community the focus in Portland. This has long been the case, with the Seattle's booming industry and Portland's emphasis on planning, neighborhoods, and the pedestrian, setting a national precedent. I feel these differences have recently begun to blur in the work from home era, where public and private life take place in the home, and need not be directly in the city.
You utilize a variety of building materials, what do you find works best for your designs?
Often, a primary building material is identified early in the design process that will best situate and characterize the project within the cultural and physical place that it is being designed for. Each material has a specific, inherent physical and expressive potential, and once selected, begins to make decisions for you, and continues to refine its role and how it is expressed.
How has your varied career, from book publication to serving as an adjunct professor, shaped your vision?
It is all about architecture. I was fortunate enough to realize what I wanted to do early, and I've seen that the architects I admire have survived through continually balancing the development of their mind with the development of their craft. Teaching and research continue to do both for me, and strengthen and enrich my ideas about architecture, while simultaneously giving back to the next generation, something that's very important to me.
What is your ideal project?
An ideal project is a client looking to create something very special, but with an open mind to what it wants to be, as well as the process to find it.
What did you take from your time in Arizona, New York, Paris and Berlin and how did it influence your design style?
From Arizona, a sense of purity, mass, and the importance of designing buildings of heirloom quality. From New York, the energy of the city, progress, fearless experimentation. From Paris, the origins of modern art and architecture, Corbusier, the Grands Projets of Mitterrand, and a love for getting lost in the alleys, courtyards, and passages of the historic metropolis. And from Berlin, a love of concrete, the importance of atmosphere, and a precision approach to craft that is different in tone and history to that of the Pacific Northwest.
When you were growing-up, do you recall feeling amazed by design?
Discovering Frank Lloyd Wright's "Fallingwater" in middle school, I could not stop looking at the pictures, I think I even hung a poster up of it in my room.