This property in the Laurelhurst neighborhood had a great existing house and prime lake frontage, but the dilapidated carport and garden shed weren't contributing much. The homeowners asked SHED Architecture & Design to create a new site plan that would add flex space – a place to work, sleep guests, store boats, and rinse off after a swim – that also related to the main house and the surrounding landscape. SHED's design, called the Black Pine Cabin, is a mighty multipurpose plan in a petite, 404-square-foot package.
The simple gabled structure sits atop a concrete foundation dug into the hillside, with the foundation's interior excavated for boat storage. The upper-level cantilevers over the perimeter wall to create a protected area below, which includes an outdoor shower. SHED clad the exterior, both on the accessory structure and the main house, with authentic Shou Sugi Ban siding from Nakamoto Forestry, accented by custom black metal accents on exterior doors, fences, and gates. New landscaping, by Alchemie Landscape Architecture and Ohashi Landscape Services, incorporates a path that winds between the two buildings and leads to the water and firepit patio, effectively knitting the site together.
The interior layout of the cabin is split between a street-facing garage and rear living quarters, with an entry foyer sandwiched between. Blackened steel plate walls conceal the bathroom, which is accessed via a discreet metal door. In a play between dark and light, the multipurpose living space is covered from floor to ceiling in custom-milled Sugar Pine tongue and groove wood.
"We thought about this as an overturned hull of a boat," says SHED Principal Prentis Hale, who worked with builder John Whelchel at Whelbilt Homes for construction. "It's not a traditionally framed structure. It was framed as a series of structural bents or frames, just like you might make a boat."
To that end, built-in cabinetry along one wall handles storage, while a niche in the blackened steel plate holds the freestanding Morso fireplace. A wall of glass captures lake views and the elegant black pine trees in the yard, and also leads to a protected exterior porch. A built-in custom steel desk floats in front of the glass, for an inviting place to work.
Since finishing the project in 2020, the owners have been enjoying the extra space for all its intended uses, and even expanded on the original plan by installing a full gym and 1,733 bottle wine cave in with the boat storage. For a smaller building, "it's been huge," says the homeowner. "We use the gym six mornings a week, and the office five days a week: for solitary work and reading, private meetings, and even the occasional nap."
PROJECT SOURCES
CONTRACTOR
Whelbilt Homes
ARCHITECT
SHED Architecture & Design
shedbuilt.com
INTERIOR DESIGN
Jennie Gruss Interior Design Inc.
jenniegruss.com
LANDSCAPE ARCHITECT
Alchemie Landscape Architecture
alchemiesites.com
LANDSCAPE CONTRACTOR
Ohashi Landscape Services
ohashilandscape.com
SHOU SUGI BAN SIDING
Nakamoto Forestry
nakamotoforestry.com
Shoptalk - Bill Beleck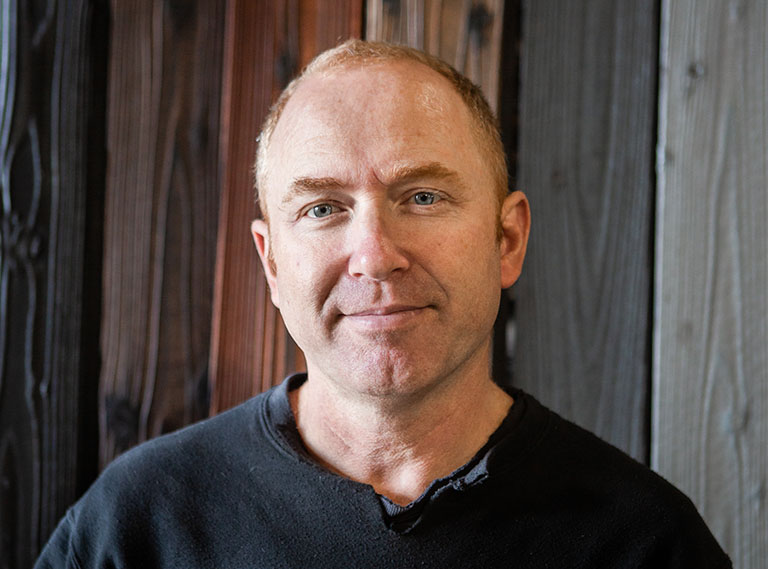 Bill Beleck, General Manager Nakamoto Forestry
Nakamoto Forestry is the world's largest manufacturer of 'shou sugi ban' (also known as 'yakisugi') in Japan. What exactly is the product, applications and benefits?
'Shou sugi ban' is a wall and ceiling cladding material made exclusively from Japanese sugi cypress trees that are intensely burned in a preservative heat treatment which hardens the surface. It also preserves the wood from rot, insects, fire, and weather, making it very desirable for exterior siding on all types of residential and commercial buildings.
Nakamoto Forestry, owned and managed by the Nakamoto family for over 100 years, is the only company supplying North America and Europe with authentically milled and heat treated shou sugi ban.
What makes Nakamoto Forestry's shou sugi ban unique in the industry?
We distribute the highest grade yakisugi in the world with a unique, holistic business model. The Nakamoto family has managed timberland in Hiroshima for over a century, perfecting a proprietary millwork and heat treatment process. I am not aware of another company controlling the entire manufacturing process from planting seedlings to jobsite delivery three generations later.
We start our process with careful log selection, grading for straightness and diameter before intentionally resawing into planks. Instead of standard carbon-intensive kiln-drying for several days, we slowly air dry the planks before flash-burning to heat treat the wood. Enough contained heat is applied to the boards so that the cellulose burns off, leaving a distinctly inky-black, charred surface. The intense heat treatment hardens the surface and preserves the wood from rot, insects, fire and weather.
Why is shou sugi ban ideal for residential and commercial applications?
Shou sugi ban is surprisingly durable and beautiful, making it ideal for exterior siding. It is also the most sustainable and fire-resistant siding option that I'm aware of.
Authentic shou sugi ban will last a minimum of 80-100 years with little to no maintenance. It will weather and gradually change color over time. Oil can be re-applied to maintain the color and extend its lifespan, though we encourage waiting a few years before doing so. The desirable wabi-sabi patina aesthetic is earned through timeless design and patience, resulting in a living material that deepens in beauty as it ages.
Is a charred black aesthetic the only finish option?
Black is definitely the most common color we ship. However, we've developed a broad product lineup of textures and colors to cater to a range of design visions. We offer three distinct variations of shou sugi ban—Suyaki™, Gendai™, and Pika-Pika™—with varying degrees of soot layer and a range of textures.
Is shou sugi ban more sustainable than traditional wood siding?
Sustainability really has to be achieved through an intentional manufacturing process from start to finish. The Nakamoto family starts by planting cultivars optimized to the final shou sugi ban product, and logging is selective instead of by clear-cut to keep forests productive and minimize carbon generation. Every step of the growing, manufacturing and distribution process must be intentional to achieve ideal carbon-capture metrics.