Ira Astrachan and his wife, Aliza, wanted their new home in Suncadia to "inspire a sense of freedom." The kind of open-air, unfettered sense of possibility that Astrachan experienced during his career as a pilot. The couple had chosen Suncadia to retire and build a home they could age gracefully within – including thoughtful adaptive design principles like single-story living, barrier-free bathrooms, and a smaller footprint overall. "Our goal was to build something smaller, but higher quality," said Astrachan. "With an emphasis on only what we needed, in exactly the right place."
To achieve this "just right" design, they hired Kyle and Lauren Zerbey of Studio Zerbey Architecture + Interiors. "Modern design can often feel sterile," said Kyle Zerbey. "In this case, we focused on natural materials that reflect and complement the surrounding views. We also engineered the home to capture all the moods of the changing seasonal weather without compromising on energy efficiencies." Excellence in quality building and craftsmanship from Suncadia builder, Swiftwater Custom Homes, brought the vision to life.
Riffing on the aviation theme, the asymmetrical roof extends out dramatically from the house, evoking a wing. It also serves as a passive heat moderator. It mitigates the hot summer sun without obscuring the mountain view during the summer. During the shoulder seasons, it allows firepit users to shelter from the rain.
Inside, wood finishes like the Douglas Fir and Hemlock ceilings are complemented by maple cabinetry with a warm finish. Poured concrete floors feature hydronic radiant heat. The cable-suspension lights serve an aesthetic, as well as practical purpose. "In this part of Washington, you get a lot of snow pile-up, and recess ceiling lighting can be problematic for snow management and roof leaks in vaulted ceilings," said Zerbey. "We also had to accommodate the larger ceiling beams necessary for this level of ceiling height. The cables are functional with minimal sightline disruption and have an industrial feel reminiscent of aviation undertones."
One unique feature of the home is the cozy media room adjacent to the great room. "We have ties to the film industry and wanted a genuine experience when watching films," said Astrachan. This room can be completely closed off from the light-infused home via custom, contemporary barn doors designed by Studio Zerbey and fabricated by Modern Millwork. When the doors are open to the great room, the TV is still visible for more casual viewing from further out.
The home has two wings, including the resident's bedroom and bath and another ensuite for guests opposite. In the main bedroom, a smaller version of the ceiling fan from Big Ass Fans in the great room is a match for a plane's propeller.
Four-season appreciation of the surrounding nature can be experienced firsthand on the expansive outdoor patio. A custom, built-in firepit invites guests to gather on the multilevel steps or surrounding bench. The large-scale sliders from the kitchen and great room allow the Astrachans to move their dining table outside during summer. Everything has been kept light and bright – including the whole build-out experience. "The team, including Studio Zerbey, Swiftwater Custom Homes, and all the small, local craftspeople that contributed to this home, were amazing," said Astrachan. "This design was different from the average Suncadia home, and the level of quality and craft is unsurpassed. We love everything about this home."
PROJECT SOURCES
CONTRACTOR
Swiftwater Custom Homes
swiftwatercustomhomes.com
ARCHITECT & INTERIOR DESIGN
Studio Zerbey Architecture + Design
studiozerbey.com
Shoptalk - Lauren & Kyle Zerbey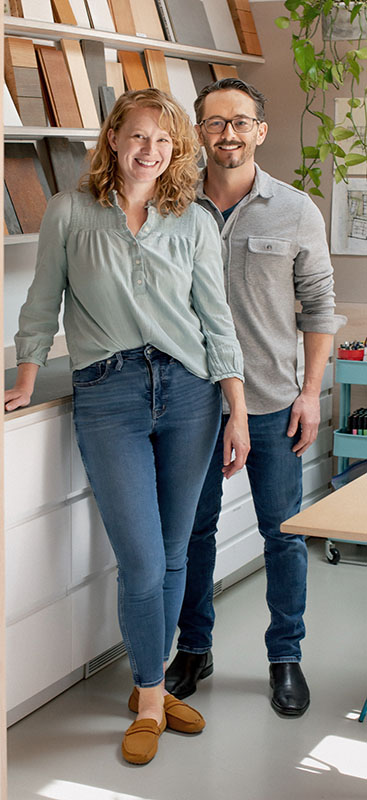 Lauren & Kyle Zerbey, Owners | Studio Zerbey
Tell us about your introduction to architecture and why it originally interested you?
Lauren: I was originally drawn to architecture as a blend of art and math, a career that was effectively a series of puzzles to solve in the most beautiful ways possible.
Kyle: Original inspiration was from childhood experience of creating dozens of tree houses and other primitive huts and forts with my brother and friends. I was the oldest and the "architect" by default.
What was the journey to building your own firm and how has your practice evolved?
Starting our own firm was a natural progression to practicing residential architecture in a way that was meaningful and balanced. We started Studio Zerbey at the same time our first child was born, so those two events will forever be intwined! Owning our own firm was a way to achieve work-life balance that wouldn't have been possible at our previous firms. Now that all our kids are in school, we're growing our firm.
How does your focus on sustainable design impact your work?
For us, sustainable design is part of good design, and we practice sustainability to the extent possible for each client. We start the process with questions like, "How small can we make this while still meeting your needs?" and "How can we design for durability so everything lasts longer and there's less maintenance?" to "How can we best take advantage of the natural features of the site and fit your home into the land?" After that there are other passive and active solutions that we present to our clients as options.
As you look to the future, are there any ideas you think should be front and center in the minds of residential architects?
Lauren: I hope we see more focus on quality over quantity, as well as the idea of a house adapting to the changes that life brings (starting families, children moving away, aging in place, working from home). A well-designed house should work for its inhabitants – the home as a refuge and haven. The homes we design serve as the backdrop for living.
Kyle: Artificial intelligence, automation and sustainability. We should consider how technology will continue to evolve and affect design processes and the built environment, both good and bad, to find the best path forward.
What is your favorite design rule you use again and again?
Lauren: Scale and composition, to me that's the basis of good design.
Kyle: Prospect-Refuge and the compositional rule of thirds. My current favorite book on design is Universal Principles of Design by William Lidwell, Kritina Holden and Jill Butler.
Describe your design style or philosophy.
Lauren: natural modern, complex problem solvers.
Kyle: Thoughtful. Constantly evolving. Everything changes, always. Design for smaller footprints of higher quality design and construction so that it may be built to last.
Favorite travel destination for inspiration?
We haven't travelled as much these last few years, but that inspired us to explore and renew an appreciation for the PNW. We recently renewed our passports and got passports for our kids and are planning an adventure to England, Ireland, Wales and Scotland!