Lydia Ramsey grew up on this land nestled in the Kitsap Peninsula. Ramsey, a singer-songwriter, remained connected to the local creative community of musicians and makers.
When work-life and commuter access shifted, she and her husband, Seattle architect Jon Gentry of GO'C, decided to settle into their dream home in the woods.
Drawing upon Ramsey's network and Jon's skills, and out of a necessity predicated by Covid-19 restrictions and budget, Ramsey and Gentry became deeply involved in the day-to-day construction, along with SSF Engineers, and Mike Stuntz of Sparrow Woodworks, their contractor of record.
"Jon and Lydia were freed up to be an integral, hands-on part of this project," said Stuntz. "We had a previous relationship working on Jon's projects, but this was a special opportunity to create together in a deeply collaborative manner."
Gentry's vision for the home followed his fundamental edicts for residential construction – a mix of clean, rational, and contemporary modern design. For this home, he was able to dig deeper into an exploration of a natural and hand-crafted execution, honoring the resources of the site and tapping into the talents of local craftspeople.
"Lydia's creative connections gave us access to an incredible roster of talent for this project," said Gentry. "At the end, we celebrated with over 80 people who all had a hand in the home's creation."
The one-level home, dubbed "The Rambler," is a modest 1800 square feet, but feels like an expansive extension of the natural surroundings. Built with sustainability in mind, including felled cedar milled onsite, and formed concrete filled with rock aggregate unearthed during excavation. The concrete harnesses, and releases heat through radiant tubes when needed, but remains cool in the summer.
A 10,000-gallon infiltration basin collects run-off, protecting from erosion. The flat roof has space for a future solar array to supplement the clean all-electric heating, and appliances. Natural ventilation through operable skylights and the chimney structure complement and enhance the passive heat and light captured through the tall glazings. Less glazing and more light-quiet spaces to the east create a calmer, cooler zone where the bedrooms are located.
Inside, the interiors are a highly considered marriage of beauty and utility. "We leaned in heavily to the talents and expertise of Sparrow Woodworks," said Gentry. "Their level of craftsmanship and attention to detail is unsurpassed." The cabinetry, entry doors, a specialty pivot door to the bedroom, the built-in daybed, and the dining table and accessory furniture were built down the street from the site at Sparrow's workshop.
Other notable features include the dramatic black brick-and-mortar masonry that defines the entry, outdoor shower, and a hidden courtyard dubbed the "whiskey snug." "The brick is an integral part of the dark outer shell of the home," said Gentry. "It adds a horizontal counterpoint to all the verticality of the windows." The outdoor shower is positioned off the main bedroom and along a small trail leading to the beach.
Recently "The Rambler" received one of only two awards given by the AIA to single-family homes this year. The award recognizes recipients who "…show the world how beauty, safety, sustainability, and comfort can come together."
"It's a well-thought-out house, meticulously built, and considerate of sustainability and efficiency, as well as esthetics," said Stuntz. "It's also a testament to the special relationship developed between the architect, homeowners, land, and local talent resources."
PROJECT SOURCES
CONTRACTOR
Sparrow Woodworks
sparrowwoodworks.com
ARCHITECT & INTERIOR DESIGN
GO'C
gocstudio.com
HARDSCAPE & MASONRY
Mutual Materials
mutualmaterials.com
Shoptalk - Jon Gentry & Aimée O'Carroll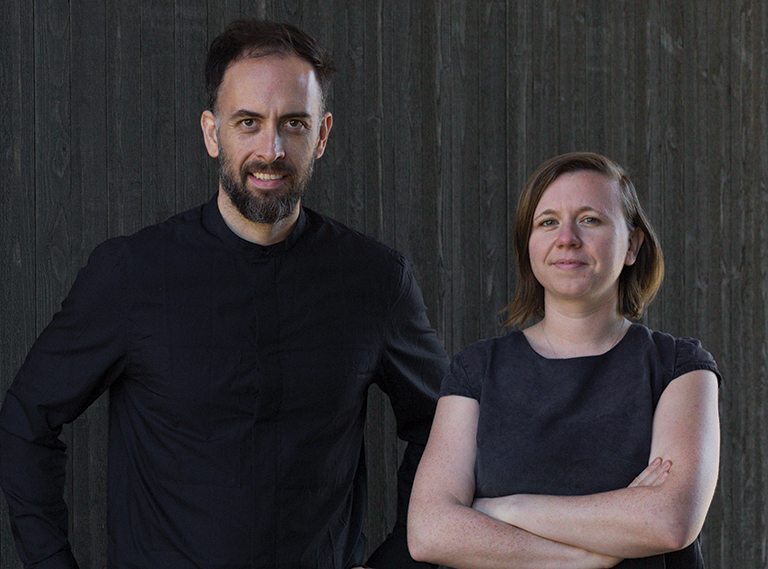 Jon Gentry & Aimée O'Carroll, Founding Partners, GO'C
How have your differing backgrounds influenced your work?
Jon grew up in North Carolina, developing an eye for utilitarian structures and an impulse to challenge norms. Aimée grew up in the heart of London and comes from a family of architects that reaches back three generations. With lived experiences in the US and Europe, we draw inspiration from varied ways of living, scale of spaces, and a relationship to different climates. Our work draws from personal memory and experience and site-specific input. The more we expose ourselves to the unfamiliar, the more we can expand our own vision of the built world.
Tell us a bit about your approach to architecture and what has shaped your vision.
We describe our design process as being similar to improv and the "Yes, and'' approach. The basis of this is to listen to what is offered and respond, rather than judging the idea. In our design process, we are listening to and learning from the client, the site, and the sustainable opportunities that we are offered. This encourages discussion and a democratic approach to problem-solving that helps the best ideas rise to the top. This also leads to unique projects that are expressive responses to their site conditions, programmatic requirements, and the aspirations of our clients.
Your firm is known for balancing the analysis of space while pushing the limits of design. How does one area of design inform the other?
When we begin designing, we enjoy finding opportunities revealed in the various constraints of every project. We like to explore these opportunities through different plan layouts, examining the spatial relationships. This process, if we listen closely, will often reveal a project narrative that we can follow. Most decisions that arise from those early design stages to the end of construction can usually be informed by this narrative.
As you look to the future, are there any ideas you think should be front and center in the minds of residential architects?
We believe that a responsible approach to using natural resources and an optimistic approach to projects that are sustainable (and ideally that give back to their natural environment) is the way forward. We know that technology will continue to advance and change the way we make buildings. We also like to balance our future projections with our founding values: a democratic approach to decision-making, a tactile nature to studying sites and materials, a sense of kinship with our teams, and a daring practice that will push what is possible; leading us to sustainable outcomes.
You have a wide-ranging portfolio, what speaks to you about these different projects?
We believe that our diverse portfolio exemplifies our commitment to listening closely to our clients and to the particularities of the sites we get to work with.
What are some major takeaways from designing homes?
A concept that continues to stand out on every project, be it a house or winery or arts-focused public space, is that we should continue to follow the natural light and how that can inform and influence the design of our spaces. The connection of our projects to their sites is often the expression of the architecture and how it responds to natural light. We find that once you begin to explore spaces in relation to light, there are endless possibilities for making informed design decisions.
What keeps you excited about residential architecture?
The relationships we develop with everyone we get to work with keeps every project exciting. Our clients are our collaborators, our partners in creation. The relationships we build with them, as well as our community of artists and craftspeople, are as enduring as the work. Designing houses for a specific client allows you a very unique and intimate glimpse into the intricacies of their daily lives. There is something exciting to learn about ways of living each time we work on a new house.