Three years ago, when Amy and Mark Radich bought their waterfront Lake Oswego house, they followed an old real estate adage in the process: "We bought a pretty undesirable home on a great street in a great neighborhood," says Amy. Originally built in the late 1950s, the house had outdated finishes and an awkward layout that the couple wanted to overhaul to make their own, so they reached out to local design-build firm Vanillawood.
Vanillawood co-founders Kricken and James Yaker joined the couple on an early visit, in order to counsel on what was possible in a remodel. "Oftentimes, we will walk through with clients while they're in escrow or before they make an offer, just to help them really see the potential," says Kricken. "Amy and Mark had already lived in a house that we had redone for a former client, so there was an innate trust and excitement for what we could bring to this one."
From the front, the house still retained its charm. "We wanted to enhance the first impression while embracing a southern California bungalow aesthetic," says James. Vanillawood added a fresh coat of stucco and metal roof, as well as a private front garden for the primary bedroom, then drastically reimagined the interior. There, the previous floorplan had obscured the Radichs' favorite feature: the home's lakeside setting. "You would not know when you walked inside the house that you were even on a lake," says Kricken.
Vanillawood has since resolved that with a gracious entry hall that offers peekaboo views, drawing visitors into the newly reconfigured living areas at the rear of the house, where the firm raised the roof and added 702 square feet, as well as a wall of glass that captures the lake and surrounding trees. Large stacking glass doors open to a new deck with dedicated areas for lounging, cooking, and dining, all surrounded by a glass railing so as not to impede the views. "Our goal was to have really great outdoor living as well as great indoor living," says Amy. To that end, Vanillawood tucked an additional covered outdoor lounge beneath the upper deck, complete with infrared sauna, and wired for television and heat, for optimal multi-season use. A fourth outdoor area sits closer to the dock, with a custom built-in sectional and firepit.
Lookswise, the Radichs wanted a "California modern feel, but still very comfortable," says Amy, who's originally from Southern California. Vanillawood responded with custom furnishings, including furniture, lighting, and rugs, and a material palette apropos of the "barefoot lifestyle." Wood flooring and painted tongue and groove ceilings comingle with soft white walls and earth tones are layered with natural textures, like the unfilled travertine clad fireplace in the living room, and custom light installation made of hand-wrapped rope. "We wanted the glass wall on the main level to allow nature to be the color," says Kricken. "We are surrounded by trees and greenery here in the Pacific Northwest, so the color palette inside the house is all very soft so we don't compete with that."
In their downtime, Amy and Mark can often be found in one of their four outdoor spaces, relaxing and waving to neighbors boating by on the lake, including the Yakers, who live and have their design studio in the community. Even during the week, Amy, who works from home, gets pulled from her office to the kitchen island. "I just love the back of my house and would much rather sit in the kitchen and look out the window," says Amy. "We get great natural light even on a gray Oregon day."
PROJECT SOURCES
CONTRACTOR/ARCHITECT/INTERIOR DESIGN
Vanillawood
vanillawood.com
LANDSCAPE ARCHITECT
Victor E Design Build Landscape
designbuildlandscape.com
APPLIANCES
Basco Appliances
bascoappliances.com
STONE & TILE FABRICATOR
Artistic Stone Design
artisticstonedesign.com
Shoptalk - James & Kricken Yaker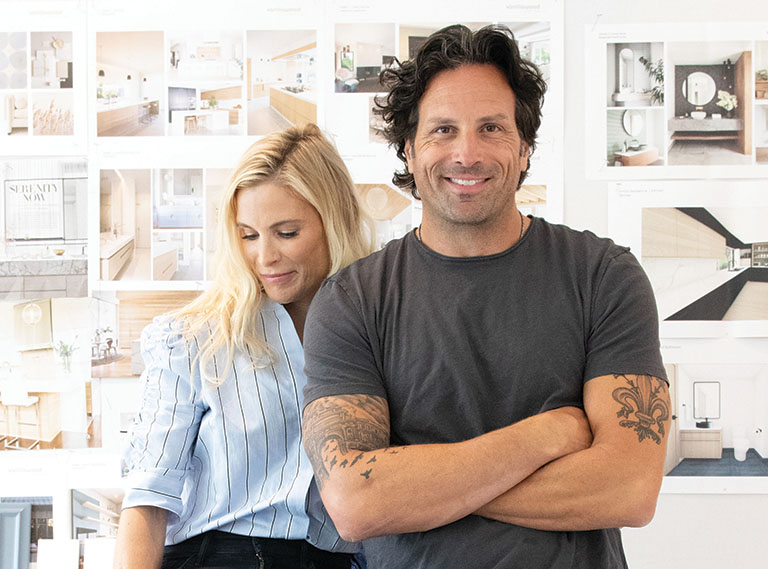 Kricken & James Yaker, co-founders | Vanillawood and VIP (Very Important Pooch) Charlie.
Photograph © Katie Larsen Photography
Tell us about your approach to design and what has shaped your vision.
It is imperative to really understand the hopes and dreams of our client and the reality of their budget. We then dive into "what are the bones of what we are starting with" – where are the best views in the house, how can we capture more natural light, how does our client live and hope to use their space? Whether we are designing and building new, remodeling an existing structure, or furnishing an already built home – a collaborative approach and exceptional listening skills are integral to achieving great design. Our goal is always, "How can we elevate beyond what our clients have even imagined?"
Are there common themes that distinguish your work?
Clean lines, thoughtful storage, organic textures, unexpected design moments, statement lighting, fabulous wallpaper and thoughtful, inviting, layered luxury.
What part of the design process do you find most rewarding?
Empowering our client to be bold. When clients embrace the process from day one, seeing the sheer joy and awe on their faces when they walk into a completed project is heartwarming.
What are some major takeaways from designing homes?
Hire a great design/build team! Having one entity to work with from start to finish eliminates unnecessary headaches, egos and cost overruns. Having a dedicated team who will have your back throughout the process eliminates stress. We love the fixed bid approach of our construction. We spend more time on the design side so we can have decisions and cost decided before we even break ground on construction. We sleep better at night and so do our clients.
What was the "lightbulb" moment when you realized you wanted to pursue architecture, construction, and design?
James and I bought our first home in LA and did a lot of the work and design ourselves. We realized that not only did we love the process, we worked really well together and discovered we were actually pretty good at it. That's when we decided to quit the jobs we didn't love and pursue this full time together.
What is your favorite design rule you use again and again?
I'm not a great rule follower which is why I left corporate America and became an entrepreneur, but I'd say using fabulous lighting is something we never stray from in any project and not being afraid to push our clients out of their comfort zones to introduce them to ideas and solutions they never considered. That, and never take ourselves too seriously.
Does the ambition of designing unique spaces mean that the bar is continually raised for you personally?
Absolutely. We never want to do the same thing twice and we want to be challenged and try new things, stretch ourselves and are always seeking new materials, ideas and products to try.
What are indulgences you like integrating into a space?
Floor heat in the all bathrooms, show-stopping lighting and wallpaper and a well-designed kitchen with all of the bells and whistles because we all live in our kitchens.