For many years, Holly Freres and David Horning dined regularly on the patio at OK Omens, a nationally renowned restaurant that perches on the edge of historic Ladd's Addition. The natural wine hotspot is within walking distance of their studio, JHL Design, an award-winning design studio that specializes in wineries, restaurants, and other high-end hospitality projects.
Over time they became friends with sommelier Brent Braun and restaurateur Monique Siu. This fortuitous connection led to the recent refresh of OK Omens by JHL Design. With earthy tones, bright natural light bursting through ample windows and leafy plants tucked into corners and unfurling from modern shelving, the wine-focused restaurant is now a perfect respite.
"When we launched in 2018, we were inspired by the wave of neo-bistros coming out of Paris and New York City," says chef Justin Woodward. Also known as bistronomy, the rousing idea was rooted in enjoying creative food and wine, but in a more relaxed environment. It's a movement that resonated with Woodward who describes his cooking as ingredient-driven and innovative.
On the menu you'll find snappy and satisfying spins on vegetables, like the summer bean salad and snap pea toast drizzled with tarragon oil, blistered asparagus with sorrel and brassicas cooked in seaweed butter. "After fourteen years of cooking in Portland, the produce grown here is still what inspires me the most," says Woodward.
He works closely with Canby Farm and Kitchen and Sauvie Island Growers throughout the year to source what's in season. Other popular standouts include the all-season torito salad topped with crispy fried chicken bites and a six-spice duck leg served with flageolet beans braised in red wine.
In 2022, Wine Enthusiast magazine named OK Omens one of the 50 Best Restaurants in America and most recently they were recognized as a 2023 nominee for Outstanding Wine Program by the James Beard Foundation. The playful wine list by super somm Braun is packed with rare global finds, alongside captivating local producers — so expect food and wine pairings unlike any other place in town.
Reservations: resy.com
Open seven days a week for indoor dining 5–10pm.
Outdoor dining weather permitting.
Walk-in parties welcome.
1758 SE Hawthorne Blvd., Portland, OR 97214
okomens.com | (503) 231-9959
RECIPES
SEARED HALIBUT WITH SHIO BUTTER SAUCE

SERVES 2
Ingredients
Shio butter sauce (beurre blanc)
Shaved fennel
Sorrel chiffonade
Coriander oil
Seared and butter basted Halibut
Coriander Infused Olive Oil
1 cup olive oil
½ cup grapeseed oil
Peels from 3 lemons
10 coriander seeds
5 black peppercorns
2 sprigs thyme
Combine all ingredients in sauce pan. Bring to a boil, let cool, then strain.
Separate into two portions, for marinating garlic scapes and plating.
Shio Butter Sauce (beurre blanc)
1 bottle white wine
1 cup white vinegar
2 each shallots
5 each whole black peppercorn
½ cup liquid shio koji
2 sticks butter
Combine first four ingredients in sauce pan. Bring to a simmer and reduce to 200g. Strain. Add liquid shio koji. Whisk in butter. Keep warm.
Garlic Scapes
10 garlic scapes
Blanch and shock scapes.
Marinate in coriander oil, salt and red wine vinegar. Grill.
Halibut
Preheat sauté pan.
Cut 4 oz portions from a 8 oz halibut loin.
Season filets on both sides with salt.
Add oil (plain) to the hot pan and sear the fish till golden, flip fish and add butter to the pan.
Baste fish with butter.
When the butter has browned lightly and the fish is cooked, remove from pan.
Plating
1 fennel, fresh shaved
2 oz sorrel, cut into a chiffonade
Plate fennel and sorrel, drizzle with Coriander Oil, place halibut filet on top. Coat with Shio Butter Sauce. Garnish with warm Garlic Scapes.
Wine Pairing
Morgen Long, Willamette Valley, Oregon 2021 Chardonnay
BUTTERFINGER DESSERT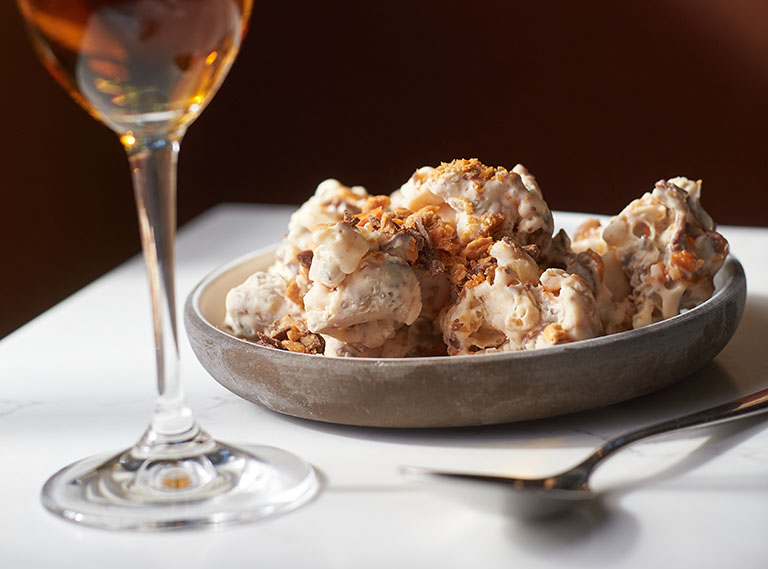 SERVES 4
Ice cream base
2 cups milk
1 cup sugar
4 tablespoons milk powder
1 teaspoon salt
½ teaspoon guar
½ cup cream
5 Butterfinger bars, crushed
Preparation
Blend everything in a blender.
Add 5 Butterfinger bars crushed up.
Use an ice cream machine per manufacturer instructions. (Alternatively, pour ice cream base into a pool of liquid nitrogen. Crush with a sturdy spoon and store in the freezer.)
Plating
Spoon into a frozen bowl.
Garnish with more crushed Butterfingers if desired.
Wine Pairing
Chateau de Fargues, Sauternes, France 1996 Semillon blend