Peter and Erin Krengel love to cook together and host guests. But their townhouse kitchen wasn't cutting it. "The existing kitchen layout made these things extremely challenging," said Erin Krengel. "A peninsula cut the space in half, and French doors cut the kitchen off from the rest of the living area."
The Krengels wanted to create better flow and usability in their small townhouse footprint. They also wanted a look that would diverge from the dated 1990s cherry cabinets, stainless steel appliances, and dark-flecked countertops, which would ring more classically timeless. Inspired by some of the design features they did like in the home, including crown moldings and decorative columns, the Krengels were drawn to the enduring style of English cottage kitchens.
Designer Kat Lawton of Kat Lawton Interiors was brought on to achieve the Krengels' design and usability goals. "The idea was to create this jewel box of a traditional space, but with highly functional and durable features that would defy the small footprint," said Lawton.
Aesthetically, the space leans into the cottage kitchen look through an overall calm, neutral color palette, painted wooden cabinetry with inset doors, a farmhouse sink, classic unlacquered brass hardware, timeless lighting, and an inset range. A narrower beadboard is proportionally congruous with the small space. Baseboard tracks around the kitchen, giving the range a built-in look. The existing red oak of the floor was maintained, as well as the curved windows, which are slated to be replaced by the townhouse association later.
The color choice was a significant feature. "The Krengels love green, and this putty color called Winter Wood from Benjamin Moore has a green undertone that helps it to blend well with the decor in adjacent rooms while remaining neutral," said Lawton. Contractor Ross Smith of Bevel painted the cabinets in place. "This worked well for the kitchen, tying in the bead board and trim with the cabinets. There are no transitions between color and paint texture."
Modern appliances are concealed behind cabinets, with minimal decorative elements to avoid a feeling of clutter in the petite space. The bold black and brass cooker becomes a focal point. "We made some budget-conscious decisions, but also splurged where it was important. This range checks all the boxes for the look of European heritage at a stateside price," Lawton said.
Functionally, Lawton pulled out all the stops. The kitchen was reconfigured for better flow, including a mobile island on casters, which provides a place for guests to perch or can be moved out of the way entirely. Every inch of possible storage space has been used and cleverly disguised. "In a situation with a kitchen at this small of scale, it's a good opportunity for clever customization," said Ross Smith of Bevel, the contractor on the project. "Kat did an incredible job with that and the proportions – this sets her apart as a great designer."
"Both Ross and Kat were amazing to work with," said Krengel. "They were able to meet our needs, were great communicators, and we love the result."
PROJECT SOURCES
CONTRACTOR
Bevel
bevelbuilds.com
INTERIOR DESIGN
Kat Lawton Interiors
katlawton.com
PAINT
Benjamin Moore
benjaminmoore.com
---
Shoptalk - Ross Smith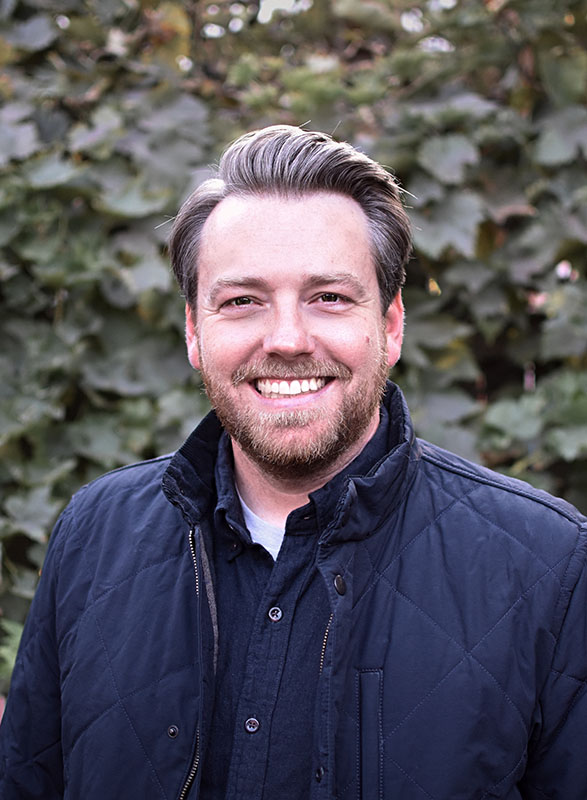 Ross Smith, founder, Bevel
You come from a long line of master woodworkers, was this work something you've always felt strongly about?
I've always been drawn to building and creating. While growing up, I thought I'd be an architect. At 18, I was working for a family friend's remodeling company while going to school. I started design courses in college and realized how much time I would spend behind a computer, and it was clear that remodeling was a better fit in the long run. I love being hands-on and the variety of projects in this field.
When you founded your own company, what were your goals? Was there something different that you wanted to accomplish?
I wanted to be more involved. Before creating Bevel, I spent a few years as a Project Manager for a few design/build companies. While working for those companies, I realized how much I missed building relationships with the clients and workers on-site. My goal with Bevel was to keep things small, deliver high-quality work, and create a positive experience for my clients.
Can you trace your interest in transforming spaces back to a particular influence?
Growing up on the East Coast, I fell in love with historic homes. Appreciation for design characteristics such as tall ceilings, beautiful staircases, and intricate millwork have stayed with me over the years.
What types of woodworking projects do you take on?
Our primary focus is cabinetry and millwork (shelving, bookcases, fireplace mantles, cabinets and more) for our projects, ranging from single rooms to whole-house remodels.
How do you ensure attention to detail and a quality product while simultaneously meeting onsite requirements?
As an owner/operator, I am personally on-site and engaged in every project. I lead by example and have high expectations around the quality of work that my team creates. I look around corners and get ahead of obstacles; working backward from the target completion date, knowing how far in advance certain milestones need to be completed.
Each project is full of fresh and unique custom woodwork, how do you stay inspired?
I've had the opportunity to partner with incredible designers and architects on projects; they have been truly inspiring. It's easy to fall into a pattern of repeating design elements from project to project in this business, so I love that each designer brings their own unique aesthetic. It's incredibly rewarding to bring the design and technical elements together to create beautiful spaces.
How do you like to work with your clients?
Transparency is huge for me. Remodeling a home can be a stressful and intimidating process. It's important that my clients are comfortable approaching me with questions and ideas. I remain highly engaged and personally invested in all projects from start to finish.
What is your ideal project?
While I appreciate modern design, I enjoy creating more traditional spaces. Seattle is full of some amazing pre-war homes with beautiful architectural details. I love updating these older homes while maintaining a balance of new features, character, and charm of the original construction.
Favorite way to spend a weekend in the Northwest?
I love trying different restaurants around Seattle and going to Mariners games, but nothing beats a fall day watching football at home with family.
What's next on the boards?
We're excited about a handful of kitchen projects with great details and a mid-century whole-house remodel coming up!
Favorite detail of your childhood home?
Growing up we had a large, stone wood-burning fireplace in our den. It was such a cozy space to gather in.