When Julie Kleiner of Massucco Warner and architect Mike Troyer, principal of Studio AM Architects & Interiors, were asked to view a San Juan Island property by the Seattle clients whose home they'd updated, they were intrigued. Warned that the house was dark and somewhat dated, the clients' sole proviso was to accommodate their very active family by quite simply, "Making it more us."
"It was pretty amazing to fly up there with Julie and the homeowner," recalls Troyer. "The property was extraordinary with unobstructed views of the sound and the home had good bones. But from the moment we walked into the living room where four very disjointed exotic woods with colors ranging from oranges, red and maroon, Julie and I knew we'd have to paint everything to correct it."
"It's wonderful to work with someone like Mike," says Kleiner, "who understands the scale of the great room's 16' ceilings, where even with clerestory windows, the woods made the room dark and distracting." Together they decided to create a cleaner, more cohesive backdrop by expanding the use of horizontal shiplap and painting it Benjamin Moore Simply White. Troyer also noted that any exterior structural stone walls also found in the interior must remain intact. He solved the lack of mudroom by flipping the awkwardly located laundry on the opposite end of the house and adding it to a mudroom near the garage entry.
Kleiner had Bryan Wygal of Wygal Builders, the team's trusted contractor who she considers key to realizing the vision she and Mike had, engage Morgan's Painting to finish the copper metal panel entry door with the happiest high sheen yellow imaginable.
After Wygal replaced its copper panels with glass, the formerly dark entry is now drenched with light and adorned with delectable ice cream artwork.
Kleiner reiterated the happy yellow color in the Artistic Frame leather dining chairs for a unique dining experience when cozied up to the family's oft-used ping pong table. Knowing that their games can get rowdy, the homeowner requested a non-breakable light fixture. Kleiner wisely added UV rated plexiglass to protect the adjacent artwork.
"The beauty of this client," adds Kleiner, "is she put a lot of trust in the team. She set her design goals for a slightly more casual, modern looking home with Navy blue, polished nickel, white walls, and lots of fun artwork."
To mitigate the choppiness of the former layout, the team moved walls to create one large space. Dark, exotic orange flooring which led to a large slate floor were both replaced with 7" white oak plank flooring throughout. "The white oak not only reflects the light, but also addresses the homeowner's request to keep everything durable given the heavy traffic of kids, adults, and dogs in and out with dirty feet and paws," says Kleiner. Staining the ceiling beams gray draws the eye upward toward the clerestory windows now able to light the open space appropriately.
"We were fortunate to keep the range wall cabinets, which we painted," continues Kleiner. "Mike designed a new stainless-steel hood and transformed the dark metal island with the same detail that's found on the range cabinets."
Troyer's project managers, Brittney Wilson and Lisa Sidlauskas took occasional flights to assess the progress. "To tone down the rustic cabin vibe, we replaced the stone fireplace walls in the den and living room with tongue and groove siding to brighten and unify with the other spaces." says Sidlauskas.
With plans for a party to celebrate the transformation, the team worked feverishly to complete it. "It was a much happier place when we were done," says Troyer, "thanks to having Julie and her team be such great partners to work with, not to mention Bryan Wygal's team's excellent work."
"Now whenever orcas pass alongside the house, or people are seen kayaking," muses Kleiner, "they're temporal reminders to the homeowners that family time is precious, and joy now inhabits the happy home inside and out."
PROJECT SOURCES
CONTRACTOR
Wygal Builders
wygalbuilders.com
ARCHITECT
Studio AM Architects & Interiors
studioamarchitects.com
INTERIOR DESIGN
Massucco Warner
massuccowarner.com
LANDSCAPE ARCHITECT
Land Morphology
landmorphology.com
DOORS
Windows, Doors & More
windowshowroom.com
SELECT FURNISHINGS
J Garner Home
jgarnerhome.com
Seattle Design Center
seattledesigncenter.com
PAINT
Benjamin Moore
benjaminmoore.com
---
Shoptalk - Michael Troyer & Aaron Mollick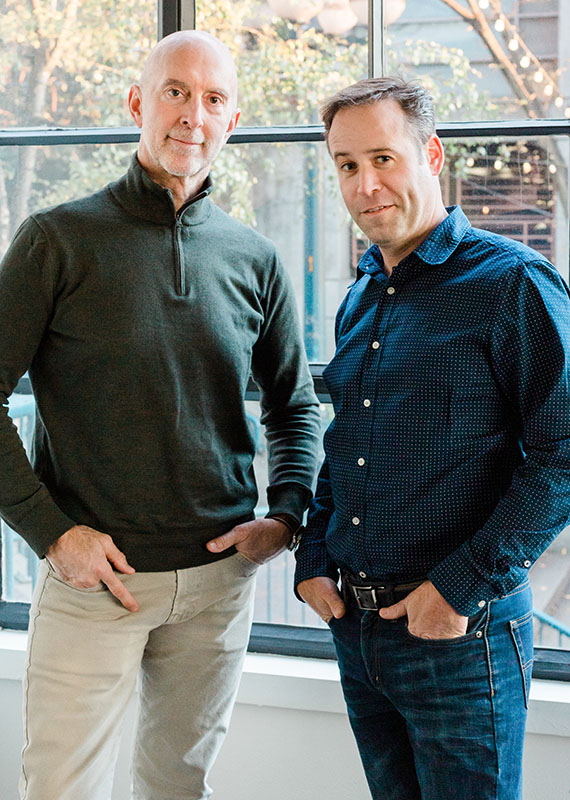 Michael Troyer & Aaron Mollick, co-founders, Studio AM Architecture & Interiors
Photograph ©Miranda Estes
What does building and interior design collaboration look like for your team?
Architectural and interior design are two components in the design process. Clients are a third component playing a major role in our collaborative process. Our task is to listen to and distill information from our clients to ensure their dreams are met. The best projects are a result of having a full design team assembled at the inception of the project.
Tell us about your introduction to architecture and why it originally interested you?
It's in our DNA. Lots of kids build forts and explore neighborhood construction sites; for us, it became our calling. There's something magical about creating your own space, and testing what works and what doesn't. It's a wonderful way to explore your world and discover the essential qualities of shelter.
Your experience includes contemporary and traditional design. How do you balance these diverse approaches?
Our passion is for architecture and a willingness to create lasting structures. Each style has its own specific appeal. Understanding historical precedents and how they relate to both styles is our assignment when interpreting our clients' vision. Collaboration with our clients allows a diverse portfolio by responding to a multitude of project conditions.
How has experience with architecture in other countries impacted your view on design?
International travel inspires and exposes you to building craft that has endured for centuries. Buildings account for 35% of the world's use of natural resources. Studying how buildings have survived the centuries helps to inform us how to produce projects today that function well, use fewer resources and last longer.
You focus on a collaborative approach with clients, how has this experience shaped the firm's design aesthetic?
Our clients have become bolder and braver in their decision making throughout the process, which is evident in our pro-jects today. Being sequestered at home during the pandemic has crystallized our clients' thinking about creating a space tailored to their own unique needs.
As you look to the future, what should be front and center in the minds of residential architects?
Where we live…our homes…should be responsible to global concerns through the thoughtful use of natural resources, reduced energy consumption through sustainable technologies and creative designs producing legacy projects for generations to come.
Outside of architecture, what are you currently interested in and how is it influencing your design thinking?
Climate is at the forefront of our thought process. We challenge ourselves to address climate changes projected in the future and apply principles to our designs today that support our collective future.
Your firm is known for guiding your clients through each step of the process; how do you approach this process?
Good communication is paramount. For most people, building a home is a once or maybe twice-in-a-lifetime occurrence, so we take time to educate our clients and discuss the process and what to expect up front, and all through the design and construction process.
What part of the design process do you find rewarding?
When the design develops to a point where our clients can visualize themselves in each space and make it their own.
What is your favorite space in your own home and why?
While a sunny outdoor deck can be a delight in summer the same could be said for a warm interior fireplace in the winter.
Latest design discovery?
We regularly test materials and methods, adopting those that offer promise. However, we most often rely upon time-tested materials and methods.