Originally intended as a second home, clients of Prentiss Balance Wickline Architects' (PBW Architects) were retirees relocating from the Midwest to be closer to family in Oregon. Inspired by the rich wine-growing region, the couple purchased a ten-acre parcel of land intending to establish a vineyard and build a modest home they could inhabit while visiting children and grandchildren nearby.
"The clients contacted us because we are experienced in remote and off-the-grid areas," said Dan Wickline, principal, PBW Architects. "They wanted a home that would feel part of the landscape, integrating into the new vineyard design and topography." Other goals included maximizing views and maintaining a sustainably small footprint with room to entertain.
The home sits into the hillside, growing organically from the slope of the land. It is set at a 45-degree angle to the rows of vines, allowing for varied views of the vineyard stretching down the hillside. The northern-facing angle also captures the sun's movement for passive solar heating.
"The studied orientation of the home was achieved by getting to know the site before delving into the design," said site architect, Kelby Riegsecker. "It was exciting to coordinate our work in tandem with planting the vines."
Exterior board and batten cedar siding strategically manages heat, filter light, and screen for privacy. A series of "notches" – rooms that extend outward into three sides of windows – further explore the idea of being embedded in the landscape. This creates a varied visual experience in and out of the home.
Many materials were locally sourced. Both indoor and outdoor spaces were carefully curated to reflect the surrounding domain. "This is a small house," said Wickline. "So, every inch matters. Keeping the palette of materials down creates a calm and serene interior – and exterior."
The hydronic radiant heat concrete floors have been acid etched dyed to match the rich Jory soil of the area. Cedar beams, milestone plaster walls from Traditional Natural Plaster Company, and dark soapstone countertops harmonize with the innate surroundings.
The architects also assisted the couple with furniture and objects of design. "Stylistically, the homeowners were very collaborative about selecting pieces," said Riegsecker. "They brought a few traditional pieces with them – but they wanted to move to something with more warm, contemporary appeal." Walnut was used for built-in and custom furniture. The lighter fir wood cabinetry and casework throughout the home contrasts to the earthier tones.
The Elmar Brazilian Black Soapstone kitchen counters from Stone Age Marble and Granite are extra deep to maximize counter space in the small kitchen. The kitchen finish package includes appliances integrated into the cabinets. The design palette was "Stain grade fir and ebony finishes throughout," said Riegsecker.
One of the home's most unique features is the primary bedroom. The room is turned to look down through the rows of vines. Then, the custom walnut bed by Big Branch Woodworking is pushed into the corner of the windows. "It's quite unusual," said Wickline. "When you awake here, you look right down where the topography drops off. There is an experiential quality of floating in the vineyard."
The exterior living spaces also express this constant connection to the terrain. Multiple patios step down along the slope of the land, guided by wood screens and colored concrete retaining walls, giving the homeowner plenty of room to entertain in almost all weather.
The dramatic semi-transparent acrylite roof of the pavilion is cantilevered out to encapsulate the outdoor living room and kitchen area. "This was a challenging, but fun build," said Stephanie Lynch, project manager for Hammer & Hand. "Everything looks very clean and simple, but it was very technical to achieve this effect."
The overall feel is a home at peace with the surroundings. This couldn't have been achieved without the positive collaboration of the homeowner, architect, and builder. "It was a great experience working with Hammer & Hand," agree Wickline and Riegsecker. "Their attention to detail and access to local, expert craftspeople can't be overstated."
"PBW Architects seated this house into the landscape with respect for that landscape," said Lynch. "It's become part of the vineyard like it was always meant to be there."
PROJECT SOURCES
CONTRACTOR
Hammer & Hand
hammerandhand.com
ARCHITECT & INTERIOR DESIGN
Prentiss Balance Wickline Architects
pbwarchitects.com
APPLIANCES
Eastbank Contractor Appliances
eastbankappliance.com
CABINETRY
Big Branch Woodworking
bigbranchwoodworking.com
DOORS & WINDOWS
Portland Millwork
portlandmillwork.com
FIREPLACE
Lisac's Fireplaces & Stoves
lisacsfireplaces.com
LIGHTING
Globe Lighting
globelighting.com
PAINT
Benjamin Moore
benjaminmoore.com
PLASTERWORK
Traditional Natural Plaster Co.
traditionalnaturalplaster.com
---
Shoptalk - Dan Wickline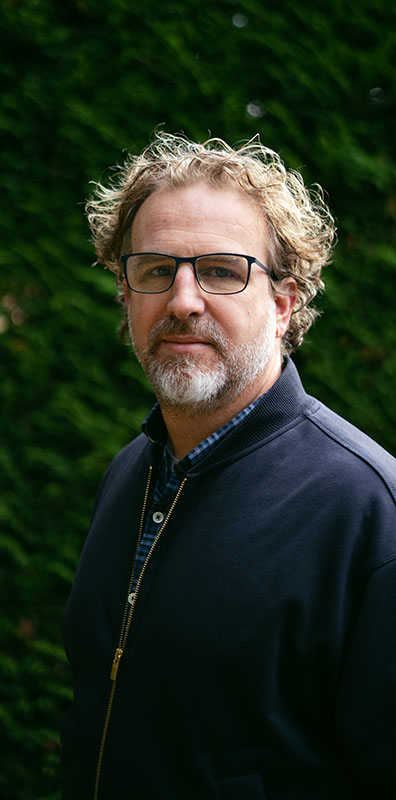 Dan Wickline, owner & principal | Prentiss Balance Wickline Architects
Photograph ©David Burns
How do you use the natural environment as inspiration for your architectural projects?
Growing up in the Pacific Northwest, I've developed a deep well of inspiration exploring the varied landscapes of our region. I'm still amazed by the beautiful sites our clients bring to us. Walking with clients on-site, our first goal is to find out what they love about the land. We typically also fall in love with the land as we become familiar with it over time. We see most of the houses we design as spaces that interact with these landscapes as opposed to objects that inhabit them. By extension, the surrounding outdoor spaces are often as important as the indoor ones.
How does starting from a foundation that "nothing is impossible" shape your work?
This belief comes from our mindset that the challenging aspects of a project often drive the best design solutions. We try to hold challenging things loosely and keep an open mind as we explore ideas and solutions. We bring this mindset to initial conversations with a client, letting their needs and desires shape our process. While there is a consistent level of thought and care to our work, we don't let preconceived philosophies or style divert us from the best architectural solution to a client's aspirations.
What is the process like to select materials that are efficient, sustainable, and harmonize with nature?
Materials play a big role in our design process. We're always looking to use locally sourced materials that reflect the region, typically providing the added benefit of economy and sustainability. Being in the Pacific Northwest, we often use wood grown in this area in our interiors to create warm, inviting spaces and on our exteriors to reflect the natural setting. We have a deep bench of experienced architects that are researching products and constantly expanding our palette of materials as well.
Your firm is known for integrating structures into difficult terrain. How does the environment shape your design?
Our regional focus has exposed us to a myriad of tough environments – from the windswept rocky shores of San Juan Island, to mountainous snow country, to the sunbaked hills of Okanogan County. We've developed a host of key strategies to deal with these extreme environments that have been field-tested the last 30 years. We pride ourselves on buildings that are both beautiful and robust.
As you look to the future, are there any ideas you think should be front and center in the minds of residential architects?
Sustainability is always at the forefront of our mind. We incorporate it into all levels of the process from bigger decisions such as efficient plan layouts and thoughtful siting, to material choices and heating and cooling systems. With the increase in wildfires, "firewise" strategies are an important part of our site development and exterior material selection as well.
How does 30 years of experience in the Pacific Northwest shape and inform your design work?
Designing for dense urban areas, coastal sites and mountainous snow country in the Pacific Northwest has given us a wide breadth of experience in varied climates; we are able to apply this experience to similar environments throughout the country. Our open mindset also allows us to conform our process to whatever challenge comes into our office.