After a couple had driven miles of Oregon's coastline seeking a beachfront property for their dream home without luck, they finally struck gold. While stopping to admire the ocean from a hillside road, they noticed a battered "For Sale" sign buried face down in a patch of blackberry bushes. At first glance, the shoreline property appeared to be exactly what they had been looking for.
"We told our realtor about it, and he found the owner who agreed to sell," recalled the homeowners. In turn, their realtor recommended Daren Doss and Lisa Chadbourne of chadbourne + doss architects, whose modern design for an Astoria home he thought they'd like.
Ironically, Daren, who had been surfing since he was a tot, was familiar with the location which sits in front of one of his favorite surf breaks. "I was super excited," recalls Doss, "because it meant I could surf after site meetings."
What the architects and the homeowners soon discovered, however, was just how challenging this "perfect" site would be to build on. The long and narrow plot required two variances just to get started. "One for increased height to accommodate access to an upper garage," says Doss, "and another for reduced front yard setback to fit between the road and the ocean setback." In fact, the steep hillside waterfront plot, considered unbuildable by some, would also require a strong foundation system that ties back to the hillside to accommodate the way Doss planned to cantilever the home 11' over the bank to save the owners on foundation costs.
The homeowners were happy to have already placed their trust in Tom Buckingham of Buckingham Resources after learning how constricted the building envelope was. Having an experienced custom builder with whom they had worked on other projects, they were certain Buckingham would build the home they desired. "Building a custom home is a very personal thing," explains Buckingham, "and all the interactions I had with these very special clients helped me to build a home that they love."
One of the first steps was to engage the best pile driver in the area, PLI Systems, whose experience made them experts at installing the 51 deep pilings needed to secure the house and ultimately ensure the integrity of its interior construction.
To accommodate the long linear lot, chadbourne + doss architects created a 130' glass wall along the view side, and loaded the primary spaces along that line, with secondary spaces toward the back. Cedar ceilings bring warmth inside and out. "This house borders on commercial construction," says Doss, "because of its steel construction, concrete foundation, hydronic radiant porcelain tile flooring, and a heating and cooling system that exceeds code requirements. A large house should be as sustainable as possible. Therefore, the house is designed to reduce energy usage throughout the year and has a large unseen solar array on the roof that powers most of the house."
The homeowners worked with Mari Design to create a computer-controlled shade system for the entire house. The flexible design enables them to lower the shades individually or all at once with a single touch. This protects furnishings from the sun's rays and provides privacy at night.
By drawing on the experienced cabinetmakers at Pacific Design and their proprietary product, nFusion black glass cabinetry, the homeowners were able to feature it in a remarkable way in their new home's kitchen. Now, even if they have their backs turned away from the ocean, they can see its reflection in the glass.
Stefan Krupelak of DOMOV I.D. in Portland, an interior designer with whom the couple had worked on several other projects, was commissioned to work on this home. "We had several meetings in my showroom," recalls Krupelak, "where they discussed being drawn to modern European sensibility, fixtures and furnishings." A palette of gray, black and white with pops of color in every room prevents the spaces from feeling austere. Krupelak plays off the colors found in the homeowner's own stunning photography to enhance the unique Roche Bobois furnishings. "I staged all my photographs," recalls the owner, "in the rental home we were living in nearby waiting to move in. Now, those photos remind my wife and I of the trips we've done together." Krupelak also subtly reiterates the shapes found throughout the home. Rich textures are found everywhere, whether in the piano room's cowhide rug, the triangular shaped wallpaper that mimics the shape of the home or the Romo Group wallcovering traveling alongside the extraordinary glass and metalwork staircase.
The decision to add a landing to the staircase design was instrumental in transforming the crucial transitional element that descends from the entry down to the main floor, where it has become another striking part of the excellent architecture. The metalwork and glass staircase by founder and artisan Alex Zukowski of MW Design Workshop in Salem features laminated glass treads with anti-slip texture and a plate glass railing, all of which is cantilevered off the interior wall.
For Buckingham, who believes homes are not just brick and mortar, but art, this project was a dream job. He loved working with these creative homeowners. "They came up with such wonderful ideas that made the home special." In turn, his exacting building standards and flexibility delighted them. Thus, when they wanted to replace the already ordered entry door with a larger one, he agreed to make the changes. "We went back to Modern Steel Doors," say the homeowners, "and they engineered the door based on the two photos we sent to Tom."
The homeowners feel very blessed. "We cannot stop looking out at the ocean, clouds, and sky. It's mesmerizing and so spiritual. Living here, our lives have been so enriched by the number of incredible sunsets we've experienced. That's why we feel incredibly fortunate that the house turned out to be so amazing. It has given us so much joy in our lives. The fact Daren and Lisa could take advantage of every square foot of the lot that was buildable despite its setbacks and then gave us the opportunity to work with the inside, just gave us so much fun!"
PROJECT SOURCES
CONTRACTOR
Buckingham Resources
buckinghamresources.com
ARCHITECT
chadbourne + doss architects
chadbournedoss.com
INTERIOR DESIGN
DOMOV I.D.
domovid.squarespace.com
APPLIANCES
Eastbank Contractor Appliances
eastbankappliance.com
CABINETRY
Pacific Design
pacific-design.net
COUNTERTOPS
Stone Center Inc.
stonecenterinc.com
CUSTOM METALWORK
MW Design Workshop
mwdesignworkshop.com
FIREPLACE
Lisac's Fireplaces & Stoves
lisacsfireplaces.com
FURNITURE
Roche Bobois
roche-bobois.com
OUTDOOR LIGHTING
Oregon Outdoor Lighting
oregonoutdoorlighting.com
---
Shoptalk - Daren Doss & Lisa Chadbourne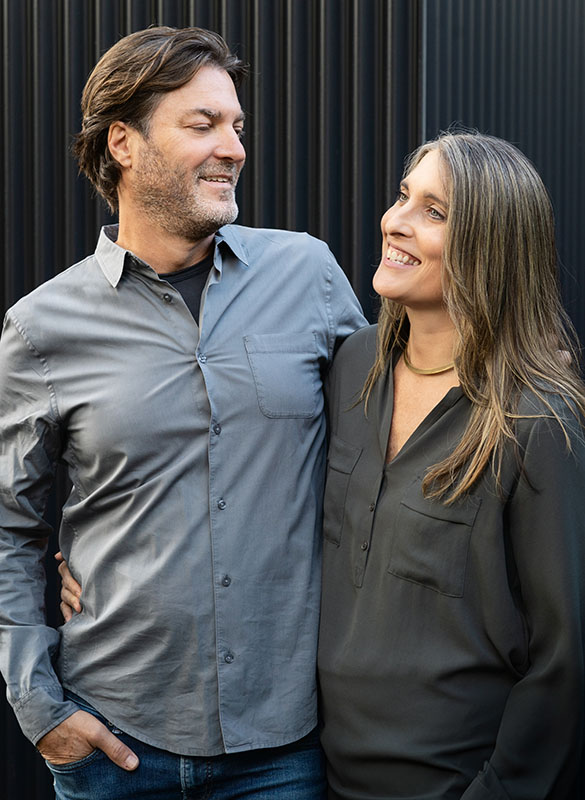 Daren Doss & Lisa Chadbourne, principals | chadbourne + doss architects
Photograph ©Jamison Weeks
What was the journey to building your firm in your Seattle and Astoria locations and how has your practice evolved?
We met in our first year of the Master of Architecture program at UW. We collaborated on projects in school, and after working for other local firms, we formed our own practice in Seattle in 2001. The Astoria, Oregon branch was started in 2002, after we purchased a historic fishing complex on the Columbia River called Alderbrook Station. We decided early on to stay small so that we could give our full personal attention to our clients and their projects. After 20+ years, we still find this to be a rewarding business model that focuses on creative collaborative relationships in both Washington and Oregon.
Can you trace your interest in architectural design back to a particular influence?
Daren: I have traveled extensively and lived in Mexico and Japan. After I saw firsthand the cultural differences in how buildings are designed and used. It has been fascinating and has shaped my approach to design and construction.
Lisa: My uncle was an architect and had an interesting life. He worked with Charles Moore, taught architecture at Harvard, worked in museum exhibit design all over the world, and lastly, became a published photographer. Visiting him as a child, I was inspired by his lifestyle and immersion in art, food, travel, and architecture.
Your work emphasizes the connection between inside and outside spaces. How do you use form, materials, and light to accomplish this?
Light is such a valuable resource in the Pacific Northwest, from craving it in winter months to the abundance in summer months. We emphasize visual and physical connections to light and nature by incorporating areas of expansive windows, doors, and skylights; extending the interior floor and ceiling planes and materials from the inside to the outside; and using dynamic landscapes to draw your eye to the exterior.
How would you describe your relationship with architecture? How has it changed over your career?
We are always learning. Architecture is an amazing profession that is so dynamic, and though we have quite a bit of shared experience, each project teaches us something new. Every client brings their own unique building site, dreams, stories, and lifestyle to learn about. Discovering the particular design quirks in each project is what keeps us interested and engaged in the profession.
What are indulgences you like integrating into a space?
Most of our clients are interested in using low maintenance materials, and often they come at a higher initial price. We look for products that are durable, integral, and will age gracefully over a long time. In our minds, low maintenance is the greatest luxury.
Outside of architecture, what are you currently interested in and how is it influencing your design thinking?
Lisa: Cooking is one interest of mine that I think relates directly to design in the combination of elements that create a cohesive dish. I love the aesthetics and sensuality of it and try to use those qualities in our design work.
Daren: Travel and outdoor activities, such as surfing and motorcycle adventures, continue to give me new experiences and exposure to different environments. This always recharges my batteries and helps keep ideas about design, space, and materials fresh.
Where are you most inspired in nature?
Lisa: The edge of the Pacific Ocean.
Daren: Beyond the edge of the Pacific Ocean.
What's next on the boards?
We're currently working on the design of an off-grid fire lookout residence on a forested mountaintop. It's been a great opportunity to dig deep into sustainable, fire-resistant, off-grid strategies that will likely be more applicable to all of our projects in the future.