Over the past fifty years, Oregon has evolved into a top wine destination, distinguished by its ideal growing climate, offbeat sensibility, and innovative winemakers. Oregon Wine + Food celebrates this dynamic community with stories from 40 of the state's most influential wine professionals alongside 80 recipes showcasing the region's bounty. With a focus on ingredients abundant in the Pacific Northwest and inspired wine pairings, this book will appeal to those who crave a taste of Oregon's magnificent and varied terroir in their glass and on their plate.
256 pages, hardback published by Figure 1 Publishing powells.com
---
Corn Soup with Dungeness Crab and Roasted Apple Relish
recipe by CHRIS SMITH, JORY RESTAURANT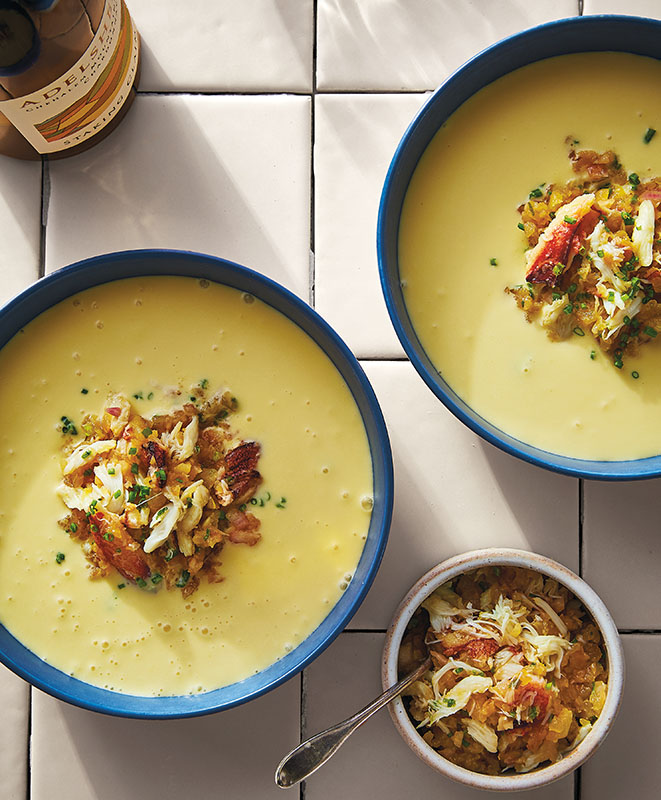 SERVES 4
Ingredients: Corn Soup
7 ears corn, shucked
½ cup (1 stick) butter
1 large onion, diced
1 leek, white and light green parts
only, thinly sliced
6 cloves garlic, finely chopped
1 cup dry white wine
1 large russet potato, peeled and
cut into ½-inch cubes
2 cups heavy cream
Salt, to taste
Sherry vinegar, to taste
Preparation: Corn Soup
Cut corn kernels off the cobs. Set kernels aside.
Put corn cobs in a stockpot and add just enough water to cover. Bring to a boil and then simmer on medium heat for 30 minutes. Strain corn stock and reserve separately. Discard the cobs.
Melt butter in the same saucepan over medium heat. Add onion, leek, and garlic. Sauté for 7 minutes, or until translucent.
Pour in wine, stirring to scrape up the browned bits. Add 1½ quarts of corn stock and bring to a simmer.
Add potato and simmer for 5 minutes, until cooked. Stir in corn kernels and simmer for 10 minutes. Remove from heat.
Add cream and purée the soup with an immersion blender until silky smooth. (Alternatively, blend the soup in a traditional blender, puréeing in batches. Be careful not to let steam build up.) Thin out with more corn stock if desired.
Season with salt and sherry vinegar to taste. Keep warm. Or, if you prefer a cold soup, refrigerate until chilled. (Can be made up to 4 days ahead and refrigerated.)
Preparation: Roasted Apple Relish
Preheat oven to 400ºF. Roast whole apples on a baking sheet lined with parchment paper for 30 to 45 minutes, until charred and tender. Cool completely. Remove the skin and cores and finely chop.
In a medium bowl, combine roasted apples, shallot, chives, lemon zest, and oil. Season with salt to taste. Refrigerate until ready to serve. (Can be made up to 2 days ahead.)
Assembly
In a bowl, drizzle crabmeat with a little olive oil. Add apple relish and gently mix. Ladle soup into bowls and divide the crab mixture on top. Drizzle with olive oil to finish.
Wine Pairing
Adelsheim Staking Claim Chardonnay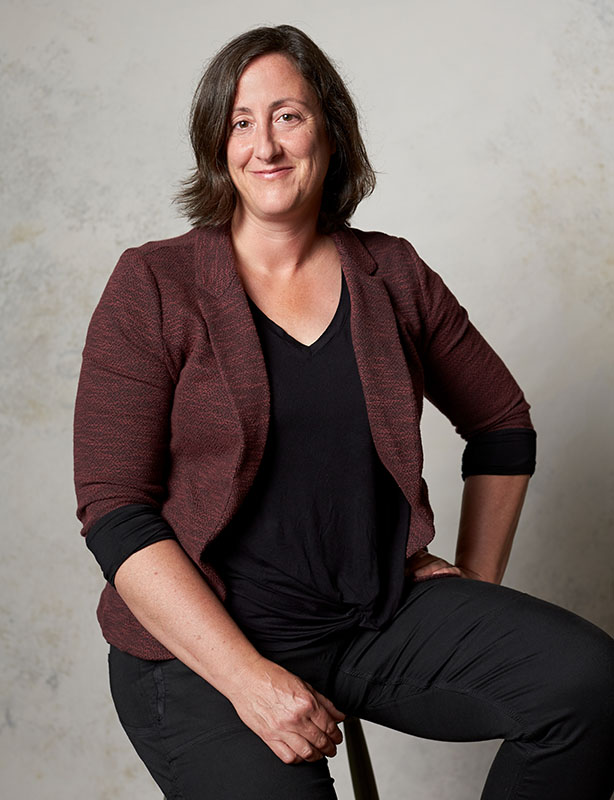 Gina Hennen, winemaker Adelsheim
Vineyard Region: Willamette Valley adelsheim.com
When Gina Hennen was a chemistry student, she had no idea those long hours working on her thesis would lead to a career as a winemaker.
She found opportunities to engage in the process of making (wine)...one afternoon spent experiencing a sliver of the grape harvest was particularly memorable. "As I was watching people punching down the fermenters, the physicality of it, the smells…it was all so compelling. I love how winemaking engages all of your senses."
No longer able to ignore the lure of the grape, she went back to school to learn the craft. One of her earliest jobs in the industry was at Adelsheim Vineyard. She liked it so much, she's been there ever since, working her way from cellar hand to winemaker in her fifteen-year tenure. Clearly, winemaking was a perfect fit, blending her creativity with her chemistry degree, and satisfying her itch to make things with her hands and share them with others.
---
Nonna's Chicken with Farfalle
recipe by CHEF RUDY MARCHESI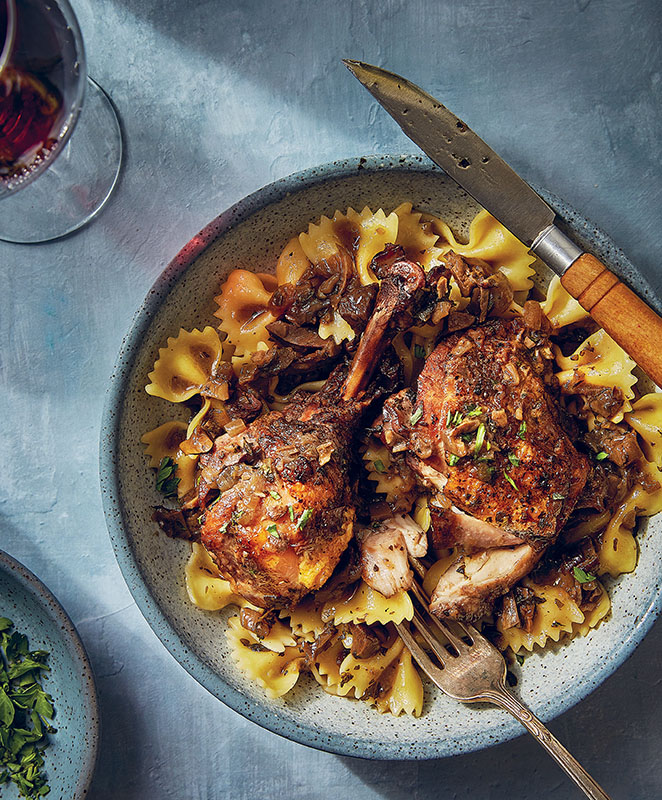 SERVES 6 TO 8
Ingredients
1 (4- to 5-lb) whole chicken
Salt and black pepper, to taste
½ cup (½ oz) dried porcini mushrooms or a mix of dried shiitake and other wild mushrooms
½ cup extra-virgin olive oil (divided)
4 cloves garlic, chopped
1 yellow onion, chopped
1 Tbsp dried basil
1½ tsp dried thyme
1 ½ tsp dried marjoram or oregano, plus extra for garnish
1 ½ cups Pinot Noir
1 lb farfalle pasta
¼ cup grated Parmesan, plus extra for garnish
Preparation
Cut chicken into parts, separating legs from thighs and quartering the breasts. (Freeze back and wings for another use, such as making stock.) Season with salt and pepper.
Place mushrooms in a small bowl and add just enough hot water to cover. Soak for at least 30 minutes.
Heat ¼ cup oil in a large Dutch oven over medium-high heat. Add chicken skin side down and sear for 8 minutes, or until pieces easily release from the pan. Turn chicken and add garlic, onion, basil, thyme, and marjoram (or oregano) on top. Cook chicken for 5 minutes, until browned.
Lift chicken pieces up and set on top of the onion mixture. Cook for 5 to 7 minutes, until the onion becomes transparent and starts to caramelize.
Pour in wine, scraping up the brown bits at the bottom of the pan. Reduce heat to a simmer and cook, stirring occasionally, for 10 minutes.
Remove soaked mushrooms from water and squeeze dry. Chop, then add to the pan. Pour soaking liquid through a finemesh strainer into the pan, taking care to leave any sediment behind in the bowl.
Cover and simmer for 1 hour, stirring occasionally. (If mixture is sticking to the pan, lower heat and add a little water.) Remove lid and simmer for another 10 to 20 minutes, if necessary, until sauce thickens. Season to taste with salt.
Meanwhile, bring a large saucepan of salted water to a boil. Cook pasta according to package instructions. Drain, then transfer to a large bowl. Toss with the remaining ¼ cup olive oil until coated, then the Parmesan.
Divide pasta among bowls and top with braised chicken and sauce. Garnish with a sprinkle of Parmesan and dried oregano.
Wine Pairing
Montinore Estate Teroldego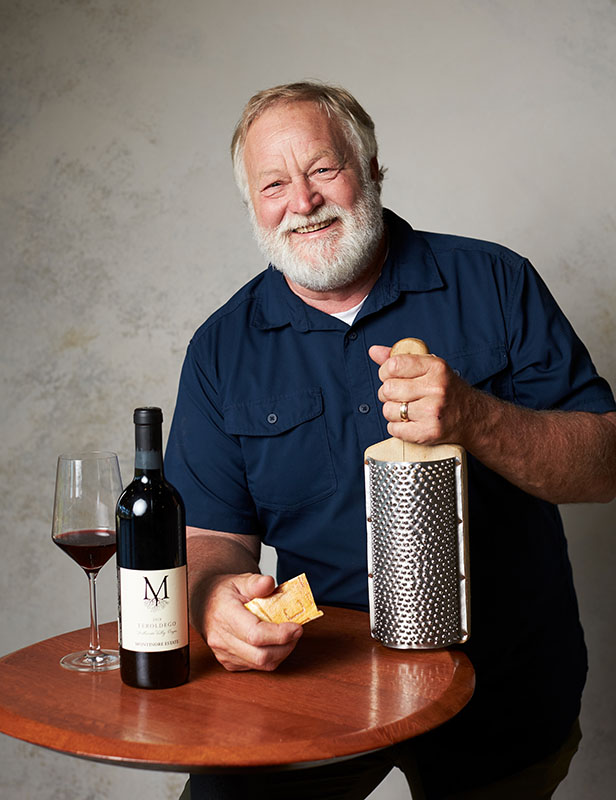 Rudy Marchesi, partner and chef Montinore
Estate Region: Willamette Valley montinore.com
Rudy Marchesi had a storied career in wine, but his work in Oregon is where he's made a significant impact and transformed the landscape with his heart and soul. In 2005, he bought Montinore, a 200-acre wine estate that was planted in 1982.
Over the next few years he transitioned to biodynamic farming and winemaking. "The goal is to make the best wine you can," he says. "If you're enhancing that life in the soil, you're making things more interesting and more complex. It's going to show up in the glass."
Today, Montinore is one of the largest producers of certified estate wines made from biodynamic grapes in the country. As his wines continue to become more expressive and distinct, Rudy's motivation to spread the gospel of sustainability deepens. And he's embraced leadership roles on national and international biodynamic farming.