Sherri and Ali Anissipour have traveled all over the world, closing in on five out of seven continents, but it wasn't until 2019 that they took a trip to Suncadia, which is just a short drive from their Seattle home. The couple quickly fell in love with the resort's natural beauty and potential for four-season fun. "It felt like a getaway, but you're so close to the city," says Sherri. "We thought it could be a really great place to build a house, bring our friends and family, and make memories together."
Shortly after, they bought a lot and assembled a team to help them realize that vision, including local builder WoodRidge Custom Homes and designer Jessica Nelson, the latter whom they had worked with on their Seattle home remodel and trusted implicitly to guide them through the process of a new build. "When you have a client's trust, that's when the magic happens," says Nelson.
While the couple's other home is a traditional Tudor, this project called for a cabin aesthetic: "They really wanted to lean into the mountain feel of this home," says Nelson, who started by choosing wood tones that would feel timeless, rather than trendy. That meant nothing too pale, orange, or heavy, so Nelson specified knotty Alder with a mid-tone stain to be used for the windows, doors, and paneling in the bunk room. Nelson then added additional natural materials, like soapstone, terracotta, and limestone for floors and counters, to achieve a balanced mix.
With seven en suite bedrooms for guests and voluminous ceilings in the main living areas, Nelson's careful color selection delivers coziness, including a dark charcoal on the kitchen cabinets, inky finishes in the downstairs whiskey bar, and white walls that don't create too much stark contrast. The elevated craftsmanship of the builder is another important component. "WoodRidge was really great about all of the custom things that I asked them to do," says Nelson, pointing to the wood header inserted into the kitchen range hood, and custom bunk beds in the kids' room. "We have extremely high-level craftspeople who take pride and painstaking time in their work," says Cliff Melby, President of WoodRidge Custom Homes. "So, we love having Jessica focus on those details."
Since the home was completed, the Anissipours have named each bedroom suite for a favorite international hike, from Mount Kilimanjaro to Machu Picchu, and stay at the home often, whether bringing friends out for Labor Day, hosting large family gatherings for Christmas, or just stealing away for the weekend. "It's just pure joy when we open the door," says Sherri.
PROJECT SOURCES
CONTRACTOR
WoodRidge Custom Homes
woodridgecustomhomes.com
ARCHITECT
Rick Jones + Associates
INTERIOR DESIGN
Jessica Nelson Design
jessicanelsondesign.com
ROOFING
Peak Construction
peakconstruction.net
---
Shoptalk - Cliff Melby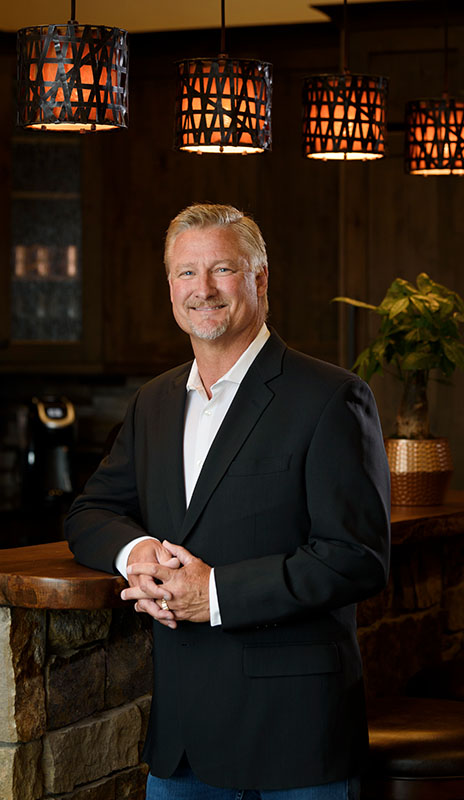 Cliff Melby, president | WoodRidge Custom Homes
Photograph ©Tim Van Asselt at Clarity Northwest Photography
How did you get started in the business?
I framed my first home in 1976 at the age of 17, with a high school friend and his father who owned the company. I had to learn fast, as I was the only green horn on the job. It was a great experience that stuck with me through my entire life. With a family-owned precision machine shop to fall back on, I was eager to gain another skill. I brought my metal fabricating and machining skills together with my passion for woodworking to provide a blend of industrial, mountain modern looks that melt into the landscape.
WoodRidge has been building luxury homes in Suncadia for 18 years, how has this influenced your business?
The extreme weather on the eastern slopes of the cascades certainly has its challenges and has helped us become a quasi-expert building in this environment. With multiple feet of snow at any given time and minus temperatures in the winter and over 100 degrees in the summer, we are challenged with weather conditions that call for years of experience, knowledge and anticipating the unexpected change in conditions.
You have built a reputation for creating excellent client experiences, going beyond expectations. How do you approach the build process?
As with any business, client satisfaction is paramount and we work hard to ensure client satisfaction. I have been on the other side of the table several times and understand the complexities of this process. Our clients are making a once in a lifetime investment and we want to provide the best experience possible.
How do you offer fresh and unique ideas after two decades of working in high-end residential builds?
We put our expertise to work in multiple areas, ensuring we stress the extreme elements and focus on the structural integrity of the build. We surround ourselves with high quality interior designers and provide our customers with a list of the designers we work with. All interior designers are required to provide detailed spec sheets, approved by the client in BuilderTrend and then posted in the corresponding room in the home.
How does your inside knowledge of Suncadia Resort and Kittitas County building regulations help the building process?
Working within the Suncadia DRC guidelines and the county for so many years, it has become more instinctive, what benefits our clients. We guide them in the direction of success through permitting and application approvals at Suncadia and other developments.
What is your favorite space in your own home and why?
I truly love every room in a home as I see them as a separate pallet. My favorite is the kitchen! Who doesn't like to hang out in the kitchen…
How do your interests outside of work keep you motivated?
I take things outside of work and bring them in to work!
Hidden talent?
Custom car and motorcycle building.